Cateye ORB Light Set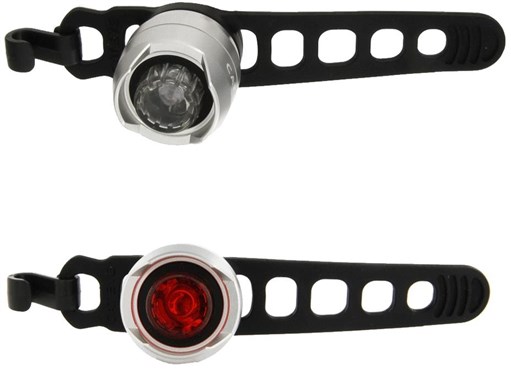 hover to zoom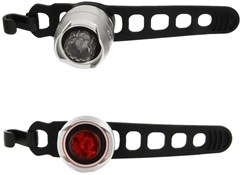 Be the first to write a review
Product Description
The Cateye ORB light set offers simple, strong and bright illumination for your next commute. These bright bike lights (400 lumens on the front) are constructed from durable aluminium to withstand the daily grind. Cateye's ORB lens acts as the power and brightness mode button with a simple double-click.
With a low profile, the ORB lights don't disrupt the sleek lines of your bike, and they only weigh 20g. Strong sideways visibility enhances your safety when approaching junctions and crossing. The ORB light set is 70% brighter than the former Cateye Loop 2 battery powered lights.
Front Light Features
Double-click to high (headlights 400 Lm and above) to achieve maximum brightness instantly without cycling through modes.
Double-click to flashing (headlights up to 200 Lm) to cycle between constant and flashing modes, ideal for commuting use.
Rear Light Features
True 180-degree visibility; battery auto-save, automatically changing to flashing mode to allow more time to finish the ride as opposed to being left in the dark.
ORB Key Features:
Simple, strong, bright lights.
Durable aluminium construction with anodised finish.
The lens acts as power/mode button
70% brighter than former Loop 2 battery lights
Low profile, low weight – only 20g
Strong sideways visibility
2 x 2032 batteries included
Mode: Output, Runtime
FRONT: 10 Lm
Constant: 50 hrs
Fast Flashing: 100 hrs
Slow Flashing: 100 hrs
REAR: 5 Lm
Constant: 50 hrs
Fast Flashing: 100 hrs
Slow Flashing: 100 hrs
Extra Information
QC Testing
To underline their quality and reliability, Cateye products undergo the most stringent QC tests in the industry, many of which exceed the requirements of CE. Also used in the Japanese auto industry, Cateye's testing equates to a return rate of less than 0.9% across the brand.
Opticube Lens Technology
Cateye maximises the best beam pattern from any LED, utilising superior lens and reflector technology to emit a higher quality light and beam pattern in front of the rider, even with lower Lumen amounts.
Long Press To Turn On & Off
A feature appreciated by consumers to prevent accidentally switching on lights and losing battery power. This feature also ensures that a light is not accidentally turned off during a ride.
Integral Heat Dissipation
Superior heat dissipation maximises the lumen power of the light for consistency of lumen output
Never Cycles Through The Off Mode
Cateye was the first to introduce this feature, to avoid the rider being accidentally left in complete darkness while changing beam modes.
There are currently no customer reviews
Write your own review
Light Sets Guide
Delivery & Guarantee