Lezyne Hecto 400/KTV 10 Light Set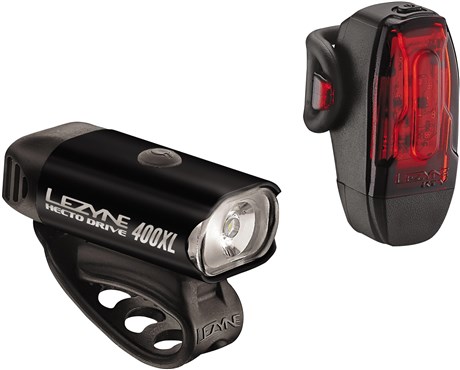 hover to zoom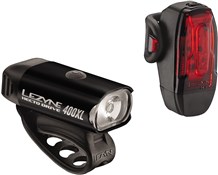 Be the first to write a review
Product Description
FRONT
Multi-purpose performance LED cycling light.
Compact, durable and heat-dissipating CNC machined aluminium construction.
Ultra high-output LED delivering up to 400 lumens.
Mode Memory function returns to selected mode after turning off. Seven combined lumen and flash modes.
Enhanced MOR (Maximum Optical Reflection) lens with built-in side visibility.
Integrated cable free recharging USB stick.
Versatile strap securely mounts to all standard bar shapes, including aero bars.
Advanced Li-Poly battery for superior run time.
82g (including strap mount)
Blast: 400 lumens, 1h:00min
Enduro: 150 lumens, 2h:00min
Economy: 75 lumens, 4h:00min
Femto: 15 lumens, 17h:30min
Flash 1: 50 lumens, 10h:45min
Flash 2: 50 lumens, 10h:00min
Day Flash: 400 lumens, 5h:45min
Pulse: 50 lumens, 12h:30min
REAR
Compact, high visibility safety light with two ultra bright LEDs.
Durable, waterproof construction. Super lightweight.
Provides up to 10 lumens and three output/flash modes. Extended for 180 degrees of visibility. Unique aero and round post compatible design.
Integrated USB stick for convenient cable free recharging.
Blast: 10 lumens, 3h:00min
Economy: 3 lumens, 7h:45min
Flash 1: 10 lumens, 9h:00min
Flash 2: 5 lumens, 13h:00min
Pulse: 10 lumens, 4h:15min
There are currently no customer reviews
Write your own review
Light Sets Guide
Delivery & Guarantee