Sigma ROX 10.0 GPS Cycle Computer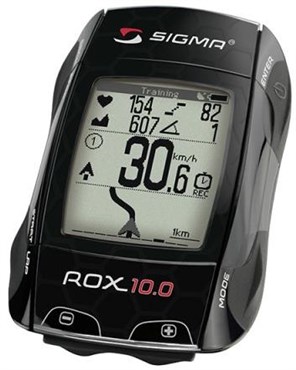 Out of Stock
Sorry, you missed it.

But you still have options...
Recommended

alternatives
We've found some items that may interest you...
Recommended Products
Top Rated
Best Deals
New in Wireless Computers
Archive

Product Details
Comparing? Here's the info from the out of stock item
Product Description
The new ROX 10.0 GPS is the first SIGMA SPORT bike computer with GPS. With its ANT+ compatibility, GPS receiver, and route navigation, it impresses as a bike computer with that extra something.
Thanks to its five navigation functions, nine bike, nine heart rate, eight performance, and five altitude measuring functions, as well as several other functions, the ROX 10.0 GPS is the perfect companion for any professional athlete in training. The PC interface and comprehensive DATA CENTER 3 evaluation and planning modules with map connection give everything users could need when it comes to analyzing and planning training and trips.
Bike functions
Current speed

Average speed

Maximum speed

Current vs. average speed comparison

Distance

Current expansion**

Average expansion**

Current cadence**

Average cadence**

Maximum cadence**

Heart rate functions

Current heart rate**

Average heart rate**

Maximum heart rate**

HR as a % of HR max**

Average % of HR max**

Kcal**

One target zone**

Four intensity zones**

Automatic calculation of the intensity/ target and HR zone(s)**

Four intensity zones

The ROX 10.0 GPS features 4 intensity zones and will show riders how much training time was spend in each zone. Choose the pre-programmed intensity zones or create your own training specific zones. The default settings for the intensity zones are based on the abbreviations BE1, BE1/2, BE2 (development zone) and CE (peak performance zone).

BE1: Basic endurance 1, 60-70% of the HR max
BE1/2: Basic endurance 1/2, 70-80% of the HR max
BE2: Basic endurance 2, 80-90% of the HR max
CE: Competition endurance, 90-100 % of the HR max

Target zone

A defined heart rate range in which the rider should train. Riders can choose between the customized zone, the fitness zone, or the fat burn zone, or choose to disable this function. The device indicates in graph format and audibly if the rider leaves the zone..

Time functions

Training time

Trip time

Time (12/24 h)

Date

Countdown timer

Stopwatch

Power functions

Current power (Formula /ANT+)**/***

Three-second average power (Formula /ANT+)**/***

30-second average power (Formula /ANT+)**/***

Average power (Formula /ANT+)**/***

Maximum power (Formula /ANT+)**/***

Work in kJ (Formula /ANT+)**/***

Current power in watt/kg (Formula /ANT+)**/***

One power target zone (Formula /ANT+)**/***

Compatibility with ANT+ power meters

In addition to the tried-and-tested integrated power calculation of the ROX Series, all power meters using ANT+ transmission technology can be coupled to the ROX 10.0 GPS.

Power target zone

Define the upper and lower thresholds in watts. Once defined, the device indicates in graph format and audibly if the user leaves the zone.

Temperature functions

Current temperature

Minimum temperature

Maximum temperature

Altitude measurement functions

Current altitude

Gradient (%)

Current incline rate

Elevation profile for the next 3 mi

Elevation profile for the last 3 mi

Uphill functions

Altitude gain

Maximum altitude

Distance uphill

Trip time uphill

Average speed uphill

Maximum rate of ascent

Average incline uphill

Maximum incline uphill

Average expansion uphill**

Downhill functions

Altitude loss

Distance downhill

Trip time downhill

Average speed downhill

Maximum rate of descent

Average slope downhill

Maximum slope downhill

Average expansion downhill**

Status functions

Low battery indicator in %

GPS accuracy

GPS signal strength

Navigation functions

Time to destination

Time at destination

Distance to destination

Direction

Mini track navigation for the next 1 mi

TRACK NAVIGATION

The GPS receiver makes it possible to re-travel trips previously loaded via DATA CENTER 3 or stored on the device. Multiple navigation functions such as time to destination, distance to destination, off-track alarm, waypoint alarm, wrong direction alarm and the track view; simplify navigation.

Favorite functions

Lap functions

Maximum no. of laps (784)

Current no. of laps

Lap time

Time since start

Lap distance

Distance since start

Average speed per lap

Maximum speed per lap

Average HR per lap

Maximum HR per lap

Kcal per lap

Average cadence per lap**

Maximum cadence per lap**

Average power per lap**

Maximum power per lap**

Average altitude per lap

Maximum altitude per lap

Altitude gain per lap

Altitude loss per lap

Average ascent per lap

Average descent per lap

Lap times

Laps can be evaluated in detail with 20 different functions recorded per lap. If you use the lap counter, a pop-up window opens in which the three to six previously defined functions are displayed.

Miscellaneous

LOG book

GPS receiver

Low battery indicator-computer

5 available languages

Automatic start/stop (Can be switched on/off)

Automatic detection of the second or third bike (3)**

Backlight

Backlight duration configurable

Zone alarm can be switched on/off**

Adjustable contrast

Switchover kmh/mph mode

Integrated storage chip for data backup (total and setting values)

Battery type - receiver (Rechargeable battery)

Battery type - transmitter (CR 2032)

13 h receiver battery life*

1.4 year transmitter battery life*

Watertight (IPX7)

Short menu

During a training session, the short menu can be accessed by pressing a two button combination. This can be used to quickly switch between favorites A and B, load a track, make important track settings, define the target zone, switch the auto-pause function on and off, calibrate the altitude, select the bike, or calibrate the digital three-axis compass.

Favorites A+B

Of the 87 functions, up to 10 can be defined at a time in BIKE COMPUTER mode, six in track mode, six in elevation profile mode and six in the lap display.

Total values

Total distance for multiple bikes (3)

Total trip time for multiple bikes (3)

Total kcal for multiple bikes (3)

Total altitude gain for multiple bikes (3)

Maximum altitude for multiple bikes (3)

Total distance uphill for multiple bikes (3)

Total trip time uphill for multiple bikes (3)

Total altitude loss for multiple bikes (3)

Total distance downhill for multiple bikes (3)

Total trip time downhill for multiple bikes (3)

Altitude calibration

3 preset start altitudes

Calibration using air pressure at sea level

Calibration via current altitude

IAC+

PC interface

PC interface

Transmission of the settings to the bike computer

Automatic LOG book

Memory capacity of approx. 249 hours

Programmable recording interval (1, 2, 5, 10, 20, 30 s)

Rest time calculation for selected memory interval

Waypoints

Transmission of the trip values to the PC

Transmission of the total values to the PC

Logging

The ROX 10.0 GPS stores all data with recording intervals as short as one second. The recording intervals can also be increased if such frequent saving is not required (1, 2, 5, 10, 20 and 30 sec). The position, altitude, speed, distance, cadence, heart rate, time, temperature, incline, and power are all saved.

DATA CENTER 3 Functions

Individual memory evaluation

Comparison of 2 individual memories

Summary of total values

Device settings via PC

Statistical evaluation

Calendar function

Displaying the trip cycled in graph format

Displaying the speed, cadence, heart rate, and temperature in graph format

Comparison of two LOGs

Distribution of the heart rate zones

Intensity zone distribution

Start altitude correction available

Sub-area evaluation

Print all evaluations

Note function

Deletion of LOG sections/parts of the LOG

Training analysis with DATA CENTER 3

Before setting off on a ride, the DATA CENTER 3 can be used to create a track which can be transmitted to the ROX 10.0 GPS. After training, the device can be read and analyzed on a Mac or PC. DATA CENTER 3 can be used to transfer GPS data and conduct comprehensive statistical and graph-based evaluation of all the recorded data.

* With high quality batteries and 1 hour use per day or 4536 mi year at 12.43 mph average speed (batteries available from SIGMA SPORT)

** optional with ROX 10.0 GPS without transmitter

*** The ROX 10.0 comes with two options for displaying the power.

Option 1 (formula): Calculation of the power from the system weight (cyclist + bike), wind resistance, incline, speed, and cadence (cadence transmitter required) data. Option 2 (ANT+ power meter): Measurement of the power using an ANT+ power meter from another manufacturer (e.g. SRM etc.)

Item Includes:

Micro USB Cable Rox

Handlebar Mount Rox 10.0 GPS

USB Charger



There are currently no customer reviews
Write your own review