Road bikes are lightweight, stiff and strong allowing for fast paced riding. At under £1,000 you've got a great range of road bikes to choose from and most fall into the endurance or sportive category.
Less aggressive than race bikes, sportive or endurance road bikes put you into a more upright and comfortable riding position. Compliance features are also built in to the frame which helps to absorb the bumps and vibrations you get when riding on less than perfect road surfaces. These two features combine to reduce fatigue on long rides and help you to perform at your best for longer.
Our pick of the best road bikes under £1,000 feature expertly crafted aluminium frames matched to carbon bladed forks with capable Shimano componentry. At this price point, you'll see entry-level own brand wheels to keep the price down and fast rolling 25c tyres that blend performance and grip.
Giant Contend 2 2018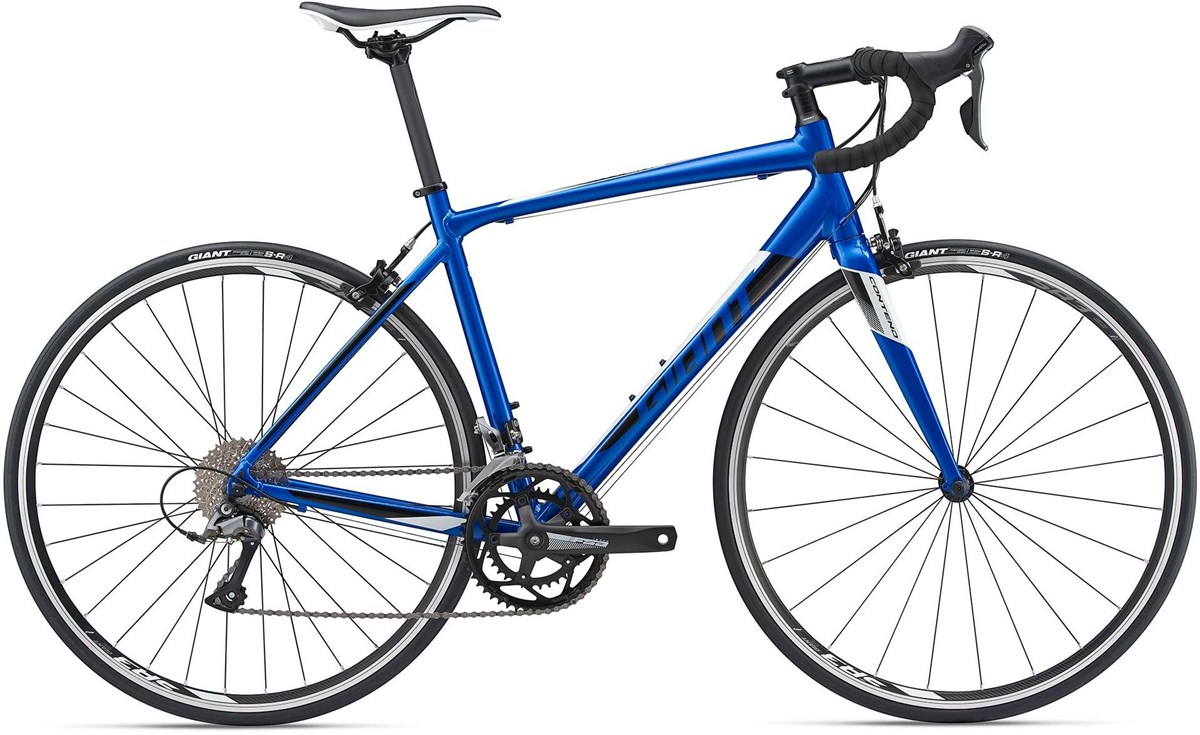 Frame ALUXX-Grade Aluminium
---
Fork Hybrid Composite
---
Groupset Shimano Claris 2x8 speed
---
Wheels Giant SR 2 Wheel Set
---
Brakes Tektro R312 Dual Pivot
---
Review
The Giant Contend 2 is one of the best entry level road bikes on the market at just over £500. You get an expertly crafted aluminium frame with responsive acceleration and a comfortable, smooth rolling ride. The Contend is designed for endurance cycling so a more upright riding position lowers stress on your lower back for a more comfortable ride.
Up front, you get a carbon bladed fork that keeps weight low and also helps to soak up vibrations from the road. This leaves your muscles feeling fresher for longer. You also get a good quality Shimano Claris drivetrain with plenty of gears to tackle the climbs. It's a solid first road bike you can use for commuting, fitness training as well as riding sportives. The frame is superb.
A great introduction into the world of road cycling..
Cube Attain 2018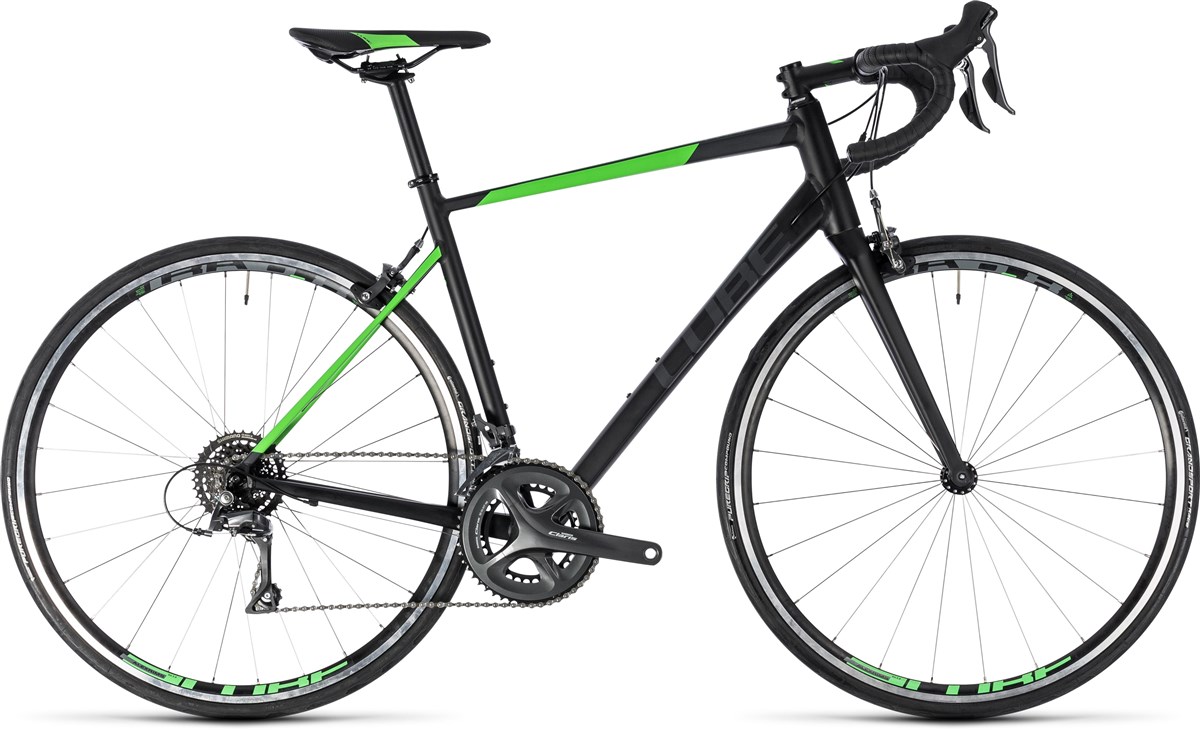 Frame 6061 T6 Aluminium
---
Fork Carbon blades
---
Groupset Shimano Claris 2x8 speed
---
Wheels Cube RA Aero
---
Brakes Shimano Claris
---
Review
Blending comfort with agility, the Cube Attain is an entry level road bike that is packed full of features usually found on higher-end machines. The superlight, double butted, 6061 T6 aluminium frame features dropped rear stays for a more compliant ride which combines with the endurance style riding position to offer a comfortable and efficient ride. Internal cable routing is a nice touch at this price point and gives the Attain a slick look.
Cube are well known for their high component specs, and it's great to see that you get a full Shimano Claris groupset including brakes and chainset. Giving you that confident connection to the road Continental Ultra Sport tyres are another plus for the Attain.
The Attain offers the perfect blend of ride comfort and safe, predictable control in any situation.
Specialized Diverge E5 2018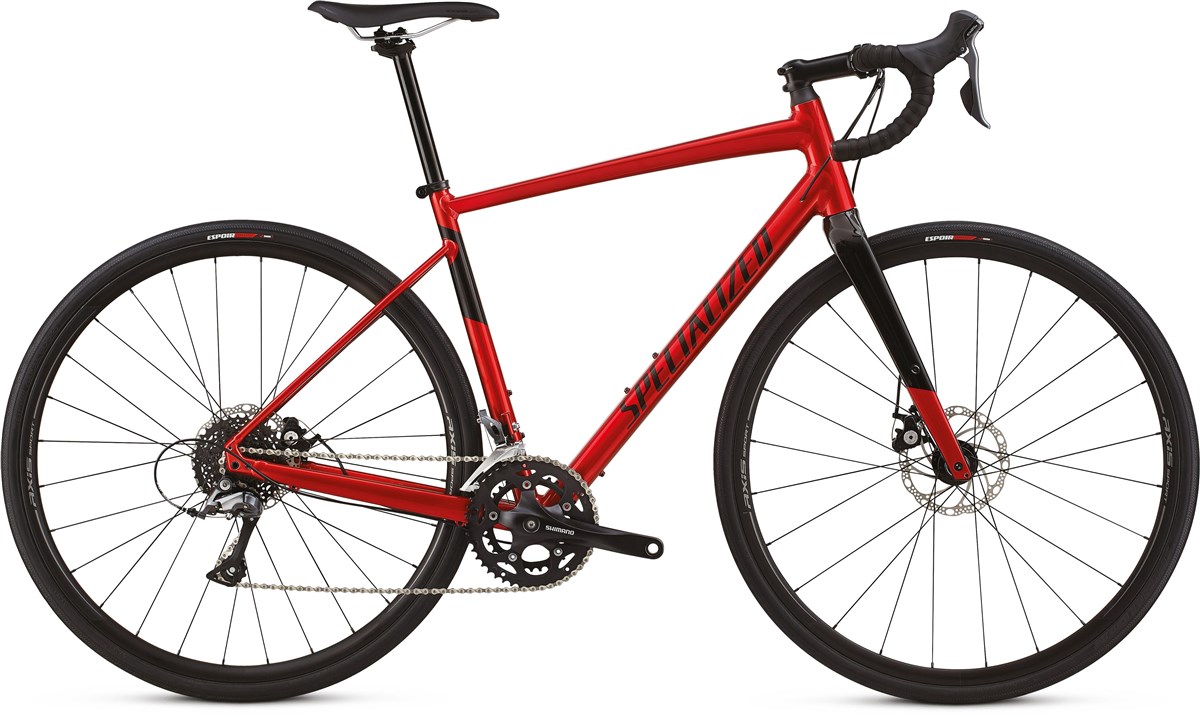 Frame Specialized E5 Premium Aluminum
---
Fork FACT Carbon Fibre
---
Groupset Shimano Claris 2x8 speed
---
Wheels Axis Sport Disc
---
Brakes Tektro Mira Mechanical Disc
---
Review
The Specialized Diverge is different to the other 5 road bikes in this review. It's not specifically designed for racing or for endurance riding. It's actually a versatile all-rounder. The Diverge rides like a road bike on tarmac and a cyclocross bike on rougher stuff. On-road, off-road you can choose how and where you ride. This makes the Diverge a very capable commuter, recreational, fitness and gravel bike. Key to performance is a compliant frame that keeps your wheel tracking the ground. A FACT carbon fork takes the sting out of rough road riding.
Mechanical disc brakes provide extra braking performance compared to rim brakes and offer consistent stopping power in all weather conditions. They're performance is unaffected by rain and muddy conditions which make the Diverge ideal for year-round road cycling as well as off-roading.
On-road, off-road, the Diverge lets you decide..
Cannondale Synapse Disc Tiagra 2018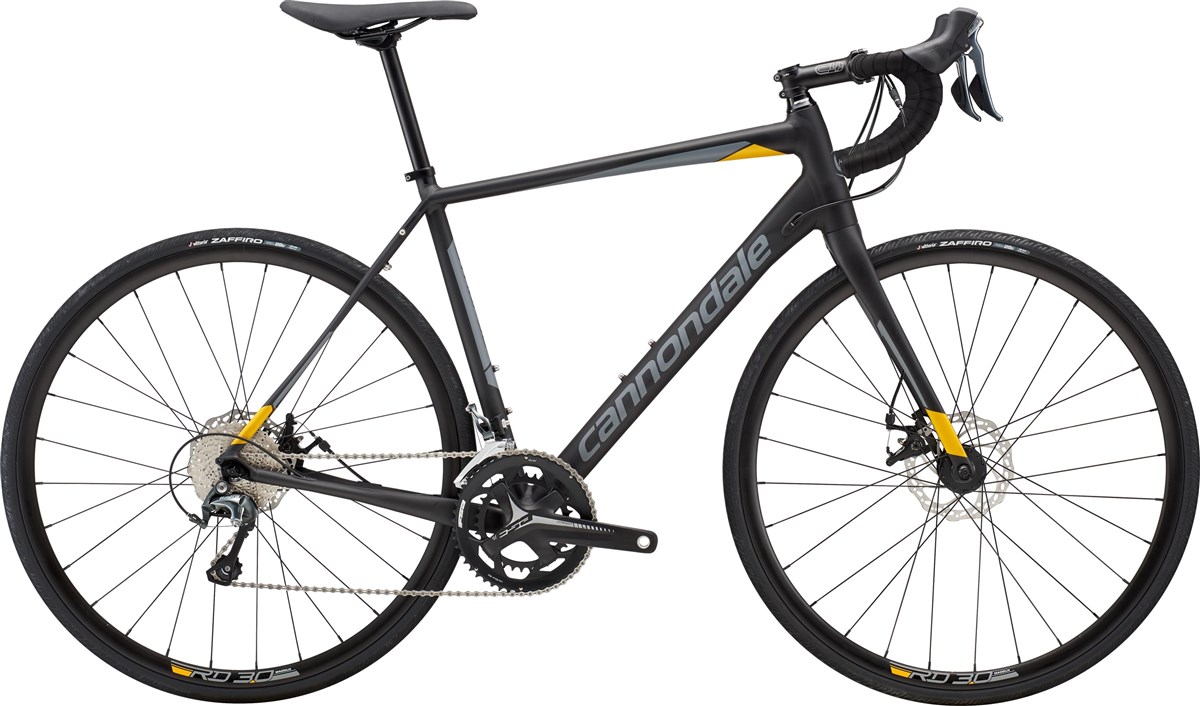 Frame SmartForm C2 Alloy
---
Fork SAVE Asymetric Carbon Blades
---
Groupset Shimano Tiagra 2x10 speed
---
Wheels RD 3.0
---
Brakes Promax DSK Mechanical Disc
---
Review
The Cannondale Synapse is a classic endurance road bike that has an impressive race winning pedigree. The Alloy framed Synapse we review here borrows features from the high-end carbon models. These are the bikes that the pros ride on more gruelling races like the iconic Paris-Roubaix.
Cannondale are well known for their aluminium frame building expertise and the Synapse features double pass welds that add strength as well as offering a smooth look. SAVE compliance is built in to the frame and carbon fork for a smoother ride over rough roads.
Smooth rolling performance with a race winning heritage.
Giant Contend SL 2 Disc 2018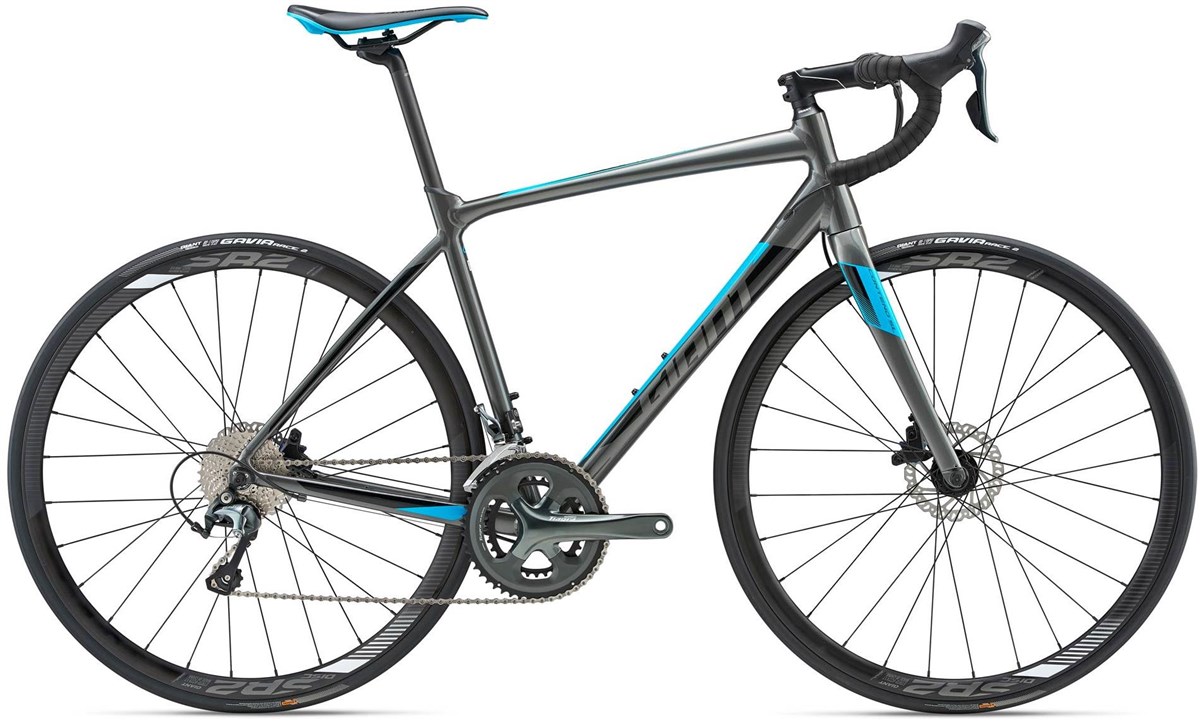 Frame ALUXX SL-Grade Aluminium
---
Fork Hybrid Carbon Composite
---
Groupset Shimano Tiagra 2x10
---
Wheels Giant SR 2 Disc
---
Brakes Giant Conduct Hydraulic Disc
---
Review
The Giant Contend SL 2 Disc is the second model from the brilliant Contend range – it just shows the quality. This model is the perfect endurance road bike under a grand. You get a quality ALUXX SL aluminium frame with double butted tube walls to shave extra weight. Also equipped is a carbon bladed fork and D-Fuse seat post. Both are composite carbon to reduce weight and also work to soak up road vibrations for comfort. The D-Fuse seatpost has a 'D' shaped profile that improves vertical compliance (a little flex) for comfort without sacrificing pedalling efficiency.
You also get a capable Shimano Tiagra 2x10 drivetrain and Giant Conduct hydraulic disc brakes. The Conduct brakes are a clever system that uses conventional brake levers yet delivers the high-performance of full hydraulic brakes.
A lightweight and lively allrounder with the confident stopping power of hydraulic disc brakes.