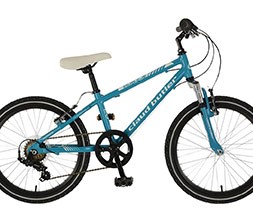 Claud Butler 20 inch wheel kids bikes
Claud butler 20 inch wheel kids bikes are built to give your young ones more freedom and independence on two wheels. They're available in a variety of styles and colour schemes that stimulate young minds and fuel their playground adventures. Among them are bikes with lightweight aluminium frames that are easy for children to ride, using components designed specifically to fit little hands and legs.
They're not short on safety features either. Claud Butler 20 inch wheel kids bikes are fitted with revoshift grip shifters, so that children can safely learn how to change gear without taking their hands off the handlebar. Certain models also come with dual-position crank arms, which allow you to extend the length of the cranks to make the bike easier to ride as your child's legs grow longer.