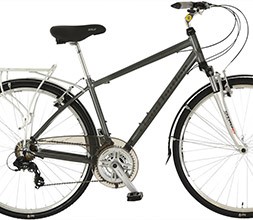 Claud Butler Hybrid Classic Bikes
With a history of bike building spanning over 130 years, Claud Butler bikes are made with British heritage at their core. The hybrid classic bikes bring back the classic styling and quality, delivering a bike that is perfect for cruising city streets and commuting easily every day.
The Claud Butler Odyssey comes in both men's and women's models, with the women's version getting a step through frame for easy mounting. They get robust steel frames, full length mudguards, rear racks and lights, so you're sorted for hitting the streets for years to come. For the absolute classic look, the Cambridge puts you perfectly in position for a great time.