After taking those initial pedal strokes, a junior bike offers a crucial step on the journey to mastering a bike. Junior bikes help girls and boys to develop the skills needed for a lifetime of enjoyment on two wheels.
Our junior bike guide gives you all the information you need to get your kids the best bike. Choosing the right bike and setting it up properly will make all the difference to their cycling journey.
Who are junior bikes for?
Junior bikes bridge the gap between kids bikes and adult bikes. With 24" wheels junior bikes are ideal for children who are over 135cm (4' 4") tall, which is usually around the age of ten years. Junior bikes are much like scaled down adult bikes with a wide range of gears and powerful brakes. Like adult bikes, junior bikes are available in different styles. Hardtail mountain bikes are most popular, but you can also get full-on road bikes with drop handlebars, relaxed hybrids with baskets on the front and even mini full suspension MTBs. Girls 24" bikes and 24" bikes for boys all feature 24 inch wheels. Some junior bikes, made for older kids and teenagers, have larger 26" wheels. We will look at these bikes a bit later.
Which is the best junior bike for my child?
The best junior bike for your child will depend on what type of cycling they like doing. Most kids at this age will not have settled on a specific cycling discipline, which is why hardtail junior mountain bikes are most popular as they offer all-round performance. Hardtail junior bikes, with flat handlebars, are a great choice for cycling around the local area on roads and cycle paths as well as off-road trails. These bikes are also ideal for Bike Ability cycle training as they are the easiest to ride. If your child is a keen mountain biker or roadie then a junior road bike or higher spec MTB will be a better choice.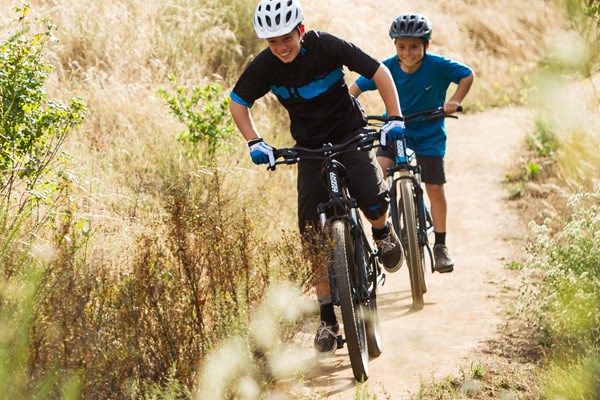 What are the things to look out for in a junior bike?
Frame and Fork
The best junior bike frames are built from aluminium alloy. This material is lightweight and robust, making it perfect for all types of junior cycles. Steel frames are just as strong as alloy, but are significantly heavier making them harder for youngsters to ride. Rigid forks are best for road cycling with aluminium alloy forks being lighter weight than steel ones. Rigid forks are also good for light off-roading, but a suspension fork will give a smoother ride on rough surfaces. For proper off-road tracks a suspension fork is ideal.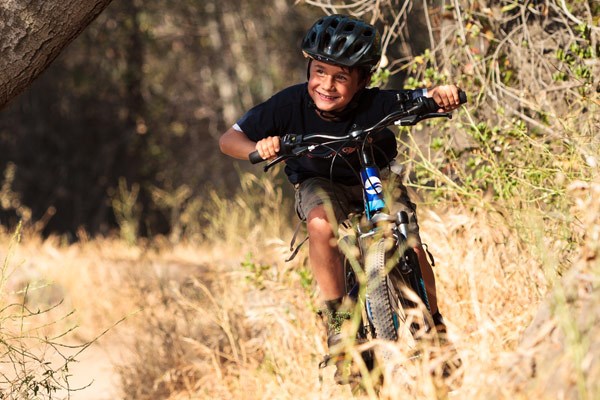 Wheels and tyres
While all junior bikes have 24 inch wheels, the tyres vary quite a lot and this makes a big difference to how the bikes ride. Generally speaking the narrower a tyre is the faster it will roll, and the wider a tyre is the more grip it will offer. This means that wider tyres are better for off-roading while narrower tyres are better for tarmac cycling.
Common Junior Tyre Sizing Chart

Tyre Width

Best For

1.125"

Rapid road cycling

1.75"

General road cycling

1.95"

Road and off-road cycling

2.1" up

Off-road trails and gravel tracks
Gears
Most junior bikes feature derailleur gears to make cycling up and down hills easier. However more gears aren't necessarily better. Bikes listed as having more than 10 gears usually feature double front chainrings, which many kids find difficult to manage. Single front chainrings with 6, 7, 8 or 9 speed cassettes are easier to use, especially on mountain and hybrid bikes, and still provide plenty of gear options for the climbs. Road bike style junior bikes usually have double chainrings like their adult counterparts. These bikes are ideal for keen young road cyclists who want the performance of an adult bike.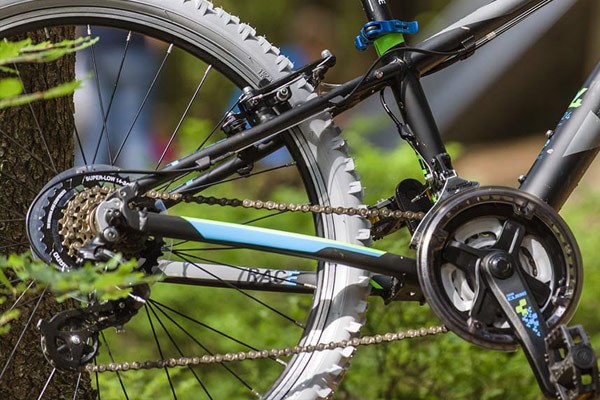 Brakes
Like adult bikes, there are two types of brakes on junior bikes. Rim brakes are the most affordable option and offer good stopping control, especially in dry weather conditions. Disc brakes are becoming more popular and offer a big advantage over rim brakes as they work equally well in both wet and dry conditions. Hydraulic disc brakes are the most powerful and are easiest to use.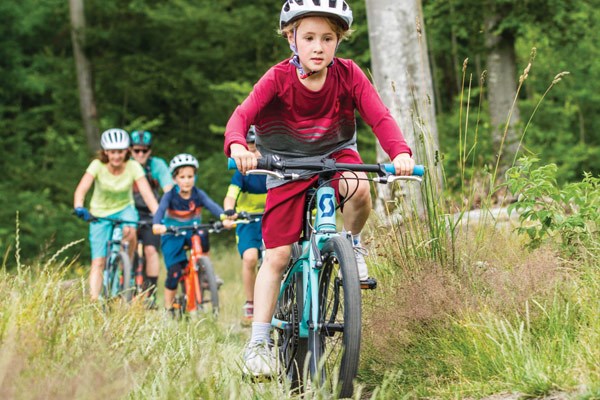 What about 26" junior bikes?
For slightly older, taller kids and teenagers, 26" wheel bikes are a great option. These bikes are much closer to full adult bikes with similar specifications. Hardtail mountain bikes with 26" wheels are most common, but you can also find a wide range of hybrid bikes with 26" wheels that are suitable for juniors. There are even a few road bikes with 26" wheels, these are a great choice for aspiring young road racers.
While some of these bikes are designed for junior riders and others for smaller adults, both will be suitable for girls and boys who are tall enough. See our bikes size guide to choose the right size 26" wheel bike for your child or teenager.
How to get the right fit
Once you have chosen the correct size bike using the kids bike size guide, there are a couple of adjustments that you can make to get the perfect fit for your child.
Saddle Height
If your child is relatively unexperienced, then set the saddle height so that they can put both feet flat on the ground. This will give them the confidence to stop and start whenever they like and reduce the chances of them falling off. Once they are comfortable on the bike you can move the saddle up for a more efficient cycling position. See our saddle height how-to for step by step instructions.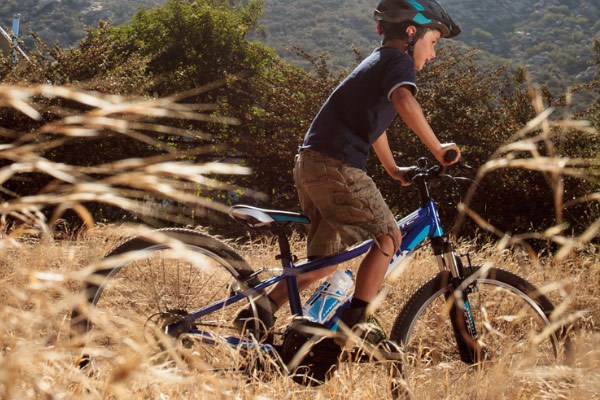 Brake Reach
It is important that your child can reach the brakes easily without having to stretch their hands or unhook their thumb from the handle bars. It's easy to adjust the reach of the brake levers and move them closer to the handlebars allowing them to brake more easily. Most brake levers have a small screw that moves the brake lever closer to the bars, all you need is a small screwdriver or allen key to do this. Some premium junior bikes even have a tool free reach adjustment knob. You may also need to adjust the brake cable tension with the barrel to get the brakes working optimally for your child.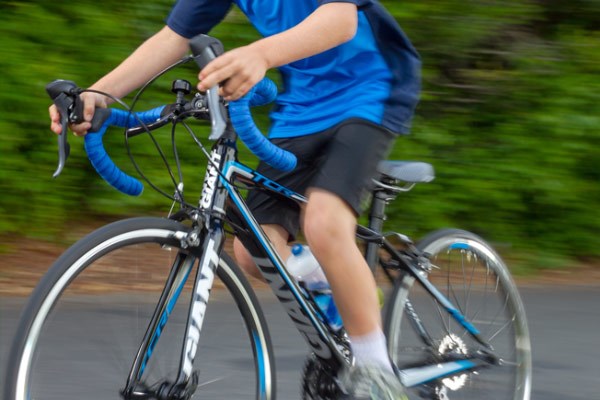 Handlebar Height
While this is less important than saddle height, you can also adjust the handlebar height on junior bikes. This is easily done by repositioning the spacers (on a A-headset) or by loosening the expander bolt and repositioning the stem before retightening (on a quill stem). Start with the stem in its lowest position then move it higher it as they grow to maintain the ideal riding position.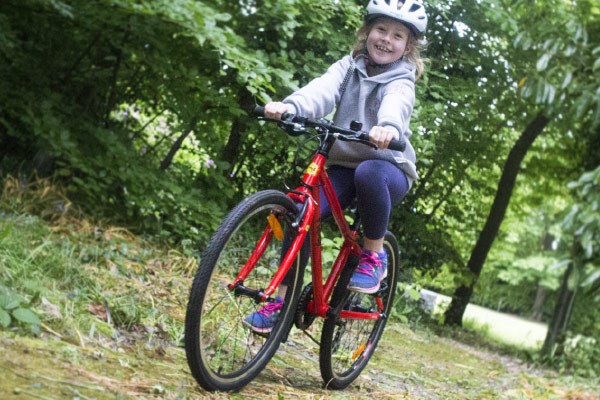 Bike Weight
After sizing, weight has the biggest impact on your child's enjoyment while cycling. To understand why, remember that an adult bike can weigh around 20% of your body weight. Most kid's bikes can weigh up to a hefty 50% of their weight. Imagine strapping concrete blocks to your pedals and start riding, it wouldn't be a nice experience. Generally speaking, the more you spend on a junior bike, the lighter it will be. This means the bike is easier to handle and manoeuvre, and that translates directly into fun and enjoyment.