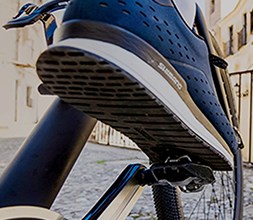 Shimano Leisure Shoes
Shimano leisure shoes are a stylish range of more casual shoes for cycling. Leisure shoes are perfect for long days in the saddle, riding for fun, touring or commuting.
Shimano's cycling leisure shoes often look very similar to ordinary footwear, but you can fit a recessed SPD cleat into the sole. This means you can ride clipless SPD pedals, but will still be able to walk around in comfort when you're off the bike.