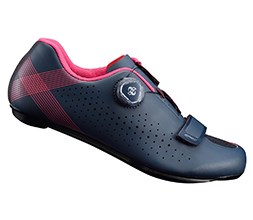 Shimano Women's Road Shoes
Shimano women's road shoes are stiff, fast and light footwear with female-specific design. When you choose from Shimano's ladies' road shoe range you'll get a cycling shoe that's narrower and shaped for a woman's foot.
Shimano women's road shoes are mostly designed to accept Shimano's SPD-SL three-bolt cleat system, although some will have fittings for Shimano SPD two-bolt cleats as well. Make sure your new shoes are compatible with your pedals and cleats before you buy.