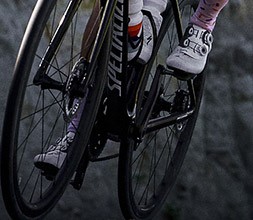 Specialized Road Shoes
Specialized road shoes are make for absolute performance riding, bringing superb technologies even to their entry level offerings. In terms of stiffness, comfort and power transfer, they are market leaders, giving riders wonderful footwear for every road riding occasion, be it sportives with friends or competitive racing where every watt of power counts. Specialized road shoes have the SPD-SL cleat fitting, meaning that cleats with the 3-bolt pattern will fit, and some shoes keep versatility in mind, offering the 2-bolt SPD cleat option too.
They use their Body-Geometry comfort technology and high-tech materials in their advanced road shoe range. Both men's and women's shoes are available, both delivering superb performance. Specialized road shoes use a variety of fitment systems, including laces, Velcro straps, ratchet mechanisms and Boa® rotating dials.