Ibis Ripley LS V3.0 GX Eagle Alloy Wheel 29er Mountain Bike 2018 - Trail Full Suspension MTB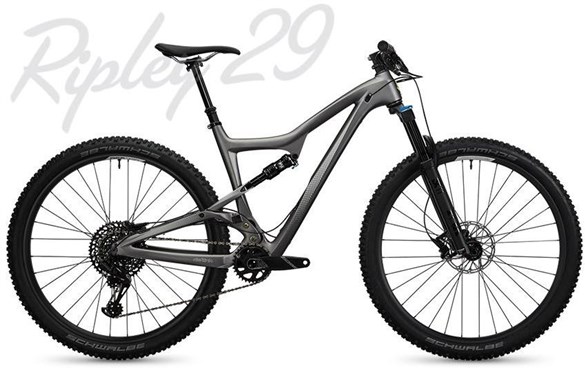 hover to zoom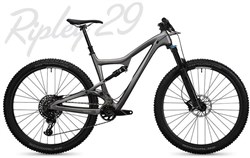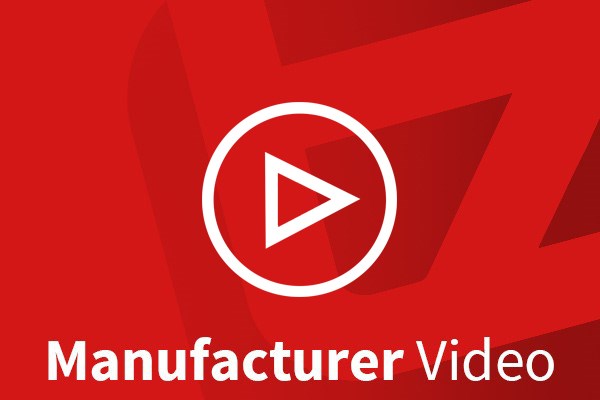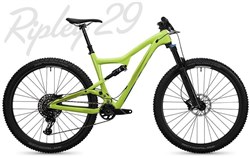 Be the first to write a review

Product Description
3rd Generation RIPLEY
The Ripley LS is a 29" wheel trail bike with 120mm of rear wheel travel, mated to a 130mm travel front fork.
The talented Mr. Ripley, our first 29er trail bike, has been in production for 4 years. During that time it's grown a little burlier, a little longer, and become slacker. With the Generation 3 release, we've added clearance for the new generation of not quite plus sized, wide rim specific tires. It will come stock with pretty much perfect-for-a-29er Schwalbe 2.6" rubber. If you're an enduro bro, and like to point it downhill through rock gardens without using your brakes very much, this new Ripley also has clearance for burly Maxxis 2.5 WT tires. Both the Schwalbe 2.6 and the Maxxis WT are designed specifically for the wider rims that we've been producing for the last few years. And just like that, the Ripley became even more versatile.
The 3rd Generation Ripley has an all new swingarm and clevis, and a wider upper eccentric. Oh, and new paint and graphics. The swingarm will accommodate 29" tires like the Schwalbe 2.6" Nobby Nic.
Even with the new wider eccentrics, the new swingarm accommodates the 2X Shimano side swing front derailleurs including Di2 (and of course 1X, which you already knew, right?). The front derailleur mount also makes a nice upper chain guide mount.
WHAT'S NEW IN THE 3rd generation RIPLEY
We have increased the tire clearance to accept up to 29 x 2.6" Schwalbe or Maxxis 2.5 WT tires
The upper eccentric is wider, resulting in a stiffer swingarm connection
Two new colors (we're calling them "Vitamin P" and "Ti-Ho Silver")
Key Features:
Fox Float 34 Factory Series 130mm, 29", 15QR Fork
Fox Factory FLOAT DPS Shock
Shimano BL/BR-M615 Brakes
SRAM Eagle GX
Ibis 938 Alloy Rim
ABOUT THE Generation 3 RIPLEY
The Gen 3 Ripley inherits the more aggressive Ripley LS geometry, and in fact will continue to be called the Ripley LS.
When we first conceived of the Ripley in 2007, it was actually going to be a 100mm travel 26" XC bike. That morphed to a 120mm bike and then to a 120mm travel 29er. Because of the phenomenal dw-link suspension and superior 29er speed and traction, racers found they were faster than on more traditional enduro bikes on just about any terrain short of a ski slope. Then there's the confidence-inspiring Ibis wide rims and wheels that we introduced in 2014, a game changer as far as traction and control go. That combined with huge improvements to mid travel forks and shocks that allowed people to go much faster required some addressing. We started by introducing the longer and slacker LS geometry. Here are the further refinements we did with Generation 3.
EVEN MORE TIRE CLEARANCE
Since we originally designed the Ripley, 29er wheel and tire technology has continually and dramatically improved. A 2.1" tire on a 21mm rim was common when we were designing the Ripley. The ride of the bike improved with a little more volume and 2.2"–2.35" tires became popular. Then we made our mark on rim design with the wide carbon 941's, followed by the 942. We updated our clearances in 2015 with the 2nd Generation Ripley. Now tire manufacturers have caught up to our rims with tires specifically designed for our prefered 35mm inner width. What they came up with ranged from 2.5-2.6" so we've decided to up the ante once again. The swingarm will accommodate 29" tires from 2.0 all the way up to the 2.6" Nobby Nic. The 2.6" Schwalbe Nobby Nic delivers a nice balance of traction, durability and low rotating weight. They look like what mountain bike tires probably should have been all along. If your tire preferences skew towards ultimate traction and control, that's where the Maxxis Minion DHF 2.5 WT comes in.
ECCENTRICS-BEEFIER
We are extremely happy with the performance of dual eccentric suspension on the Ripley. On the Generation 1 and 2 Ripley, we maintained compatibility with the increasingly rare 3X chainrings. Maintaining that clearance meant we had to use a slightly narrower upper eccentric. Now that we have ultra wide ratio cassettes from Shimano and SRAM, we decided that sacrificing 3X compatibility was a good trade off for increased stiffness of the rear end of the bike. So we've made the upper eccentric the same as the lower, getting more stiffness in the process.
THE BACK STORY
The story of the Ripley 3 is one about tires. Our original idea for a Plus tire bike was to make a new Ripley swingarm to accommodate the upcoming 27.5 Plus tires. When the tire manufacturers actually made these tires, we measured them and found out that the Plus tires we enjoyed riding were much smaller than 29er tires. So we shelved that swingarm redesign and made a purpose build 27.5" Plus bike instead and called it the Mojo 3 (the Ripley is still a purpose built 29er, and it's not 27.5" Plus compatible).
After a while, the tire manufacturers started showing us designs for new tires that were smaller than plus but still designed for our prefered 35mm inner rim width. Maxxis lead the way with their burly 2.5WT line and now Schwalbe is making excellent trail tires in a 29 x 2.6". The new crop of 29 x 2.6" tires are a happy medium that provide most of the traction of plus tires but without the bounce and vagueness. The result is is a volume and profile that just look and feel just right. We revived the half drawn Plus swingarm design and optimized it for the 29 x 2.6" tires. The resulting bike, even more versatile, is called the New Ripley LS.
LONGER AND SLACKER GEOMETRY
Compared to the original geometry ("OG") Ripley, the "LS" features a 15mm longer top tube and a slacker 67.5 degree head angle. This allows for shorter stems and adds stability at speed.
CABLE ROUTING
Our versatile port system is adaptable to just about any configuration of derailleurs and droppers you might have, just look at our cable port line up.
You can run internally routed droppers, mechanical or hydraulic. Additionally, the new Ripley is optimized for Shimano side pull 2X front derailleurs, including Di2.
You can now run internally routed droppers, mechanical or hydraulic. Additionally, the Ripley is optimized for the new Shimano side pull front derailleur.
EXCEPTIONAL NEW FOX SUSPENSION
While we've done a lot of work on the frame itself we actually think that one of the most noticeable changes is the latest Fox suspension. We have worked closely with Fox to develop a tune for the excellent 2017 (and soon 2018) Float DPS shock with EVOL sleeve. It provides more supple small bump sensitivity in the initial part of the stroke and then ramps up to provide better support in the mid to end stroke. The result is a plush ride that doesn't wallow and pops off of jumps in a very controlled way. Translation: it's super fun.
The fork makeover that happened with the 2016 model year was equally impactful. The new Float 34 weighs the same as the prior year's 32, has greater stiffness and plushness, and doesn't dive under braking. The Ripley LS ships with a 130mm travel version of this fork.
Boost 148
148 Boost rear dropout spacing helps build a stiffer rear swingarm and the boost hubs with their wider flange spacing helps to build a stronger wheel.
BOTTOM BRACKET
There is a threaded (73mm BSA) bottom bracket on the Ripley.
ECCENTRICS-THE REST OF THE STORY
The heart of the Ripley is its dual-eccentric dw-link suspension. Instead of using external linkages like we do on our longer travel bikes, we were able to construct the Ripley with two small eccentrics, hidden inside the seat tube, which act as the suspension linkages. This clever system was conceived by Dave Weagle (he's the dw in dw-link) in 2005, and we started development of the system in 2007. Since then, we have been building, testing refining, racing and simplifying the eccentric system. We had been developing a system with angular contact bushings, and at the same time we were developing a more traditional bearing version. In the end, the traditional bearing system was chosen for production for a variety of reasons.
The system that we finalized has fewer parts and uses readily available bearings. Along the way we kept reminding ourselves about one of our favorite quotes:
Everything should be made as simple as possible, but not simpler.
Albert Einstein
We feel that we succeeded.
There are many benefits to an eccentric linkage system. Because the bearings are located inside the seat tube, they are shielded from wheel spray and contamination. The look is very clean, as everything is hidden inside the frame. Additionally, the eccentric system is lighter than our external linkage systems.
A great benefit, particularly on the 29" platform is that the eccentrics let us build the bike with shorter chainstays, giving more room in the tight area around the rear tire and front derailleur.
Though the linkages are small and close together, the eccentrics allowed us to make a right side upright between the front of the chain and seat stay, resulting in added stiffness, critical for the larger loads of the big wheels. Not only that but we could mount the front derailleur to it so that it would move with the swingarm. This meant the chainstay didn't have to be dropped to provide front derailleur clearance at bottom out. This is particularly important with the smaller gears that 29er's typically use because you don't want the chain dragging on the bottom of the chainstay.
All in all, the eccentrics were a huge challenge that resulted in many nice benefits. Here's an exploded view.
ECCENTRIC BEARINGS
The main bearings are shielded from contamination and are hidden in the frame and behind hardware designed to protect them from the elements. The load ratings on the main bearings are higher than those used on the Mojo HD, a bike which has proved to be durable in the field, so we expect a long service life. Our real-world testing, putting in tons of hard miles on the system over the last few years has given us confidence that it works well in all conditions. Well, at least all conditions you're likely to find here on earth.
The bearings we spec are black oxide (to resist corrosion but maintain the high load rating of steel), full complement (there is no retainer so they have extra balls and a higher load rating), 100% fill (completely filled with grease means less room for moisture), and the seals are contact seals. The seals actually contact the groove on the race. This specification would not be ideal for a part like a hub where the friction needs to be as low as possible, but in a suspension application where the forces are high and the small amount of seal drag is acceptable, it provides better sealing of the bearing without any noticeable change to the suspension.
We have replacement bearings available in our webstore, here's the link. If you're not near a computer and you need to replace the bearings, procurement is easy. The size of the bearings in the frame are standard BB30 bearings, which can be found in just about any decent bike shop on the planet. The bearings in the swingarm are identical to very common skateboard and rollerblade wheel bearings, so all you need to do is put on your hoody and head to the closest skate shop where you'll be able to find the bearings.
We have a special bearing press tool for installation of the bearings in both the frame and swingarm. Here's the webtore link. You can remove and reinstall the bearings without this tool, but we highly recommend using our tool, it will make your life a lot easier, and you'll have a lower probability of messing something up. Here's a Chris McNally artist's rendition of what it looks like.
GEARING
We asked Dave Weagle to create suspension kinematics that would provide a very responsive feel, even sprinting out of the saddle in the big chainring. However we realized that there was no need for a 42 tooth big ring on a 29er so we are optimized for a 32–34 tooth big ring. This was unique at the time we made the decision but turned out to be perfect for the smaller doubles available now and all the 1X systems that use 28 to 36 rings.
SIDE SWING FRONT DERAILLEUR (if you like to swing that way)
The Shimano side swing front derailleur moves all the pivots and cable anchors forward away from the tire and the cable path off of the seat tube. This allowed us to rework the right upright to give more tire clearance. A swingarm mounted front derailleur is always in the right place in relation to the chain and chainrings so front shifting is more consistent throughout the travel.
This mounting system also reduces chain slap since the chainstay can be located further from the chain. Also since the derailleur is moving with the chain there will be no chain rub at the extreme ends of the travel, particularly problematic with lower chainstay bikes and the smaller chainrings found on many 29ers.
TWO BOTTLES
We've made a provision on the Ripley for 2 water bottles, one inside the triangle and one below the down tube. It's best to use a side-loading cage if using a large bottle inside the triangle, such as this one from Arundel
All Tredz bikes are:
Fully built & ready to ride
Fully checked & tested by Cytech qualified mechanics
Available with 0% APR finance on baskets over £99
UK price match
365 day no hassle returns
Free delivery in the UK Mainland on a date that suits you
In the box with every Tredz bike is:
Free Tredz 9 key trail tool
Free Tredz pedal spanner
Free basic pedals
Tredz drawstring kit bag
16 point quality control check sheet
Basic bike setup instructions
Free Cycle Plan insurance voucher (8 weeks)
Occasionally, without notice, manufacturers change product design and/or specifications.
Specification
| | |
| --- | --- |
| Frame: | Ripley LS Complete Bike |
| Fork: | 2018, 34, K, FLOAT, 29in, F-S, 130, 3Pos-Adj, FIT4, Matte Blk, No Logo, 15QRx110, 1.5 T, 51mm Rake |
| Rear Shock: | 2018, FLOAT DPS, 3pos Evol LV |
| Headset: | Cane Creek 40.ZS44/ZS56 Headset |
| Stem: | Ibis 3D Forged Stem 31.8, 50mm |
| Bars: | Ibis Riser Bar 780mm, Alloy |
| Front Brake: | Shimano BL/BR-M615 180mm Front Rotor |
| Rear Brake: | Shimano BL/BR-M615 160mm Rear Rotor |
| Brake Lever: | Shimano M615 |
| Rear Mech: | SRAM Eagle GX 12-SPEED |
| Shifters: | SRAM Eagle GX Trigger 12 Speed Shifter |
| Speed: | 12 |
| Rims: | Ibis 938 Alloy Rim |
| Front Hub: | Ibis 6 Bolt 110 x 15mm |
| Rear Hub: | Ibis 6 Bolt 148 x 12mm |
| Spokes: | Pillar 14/15 Spokes |
| Front Tyre: | Schwalbe NOBBY NIC SnakeSkin, TLE, Apex, Folding |
| Rear Tyre: | Schwalbe NOBBY NIC SnakeSkin, TLE, Apex, Folding |
| Seat Post: | KS LEV-Si 31.6, KGP Remote |
| Chainset: | SRAM Descendant Aluminum, 175mm, 32 Tooth |
| Bottom Bracket: | SRAM GXP XR MTB68 ROAD WIDE AXLE73 SPACER |
| Chain: | GX EAGLE 120LINK POWERLOCK 12-SPEED |
| Cassette: | CASSETTE X-GLIDE 1275 EAGLE 10-50T |
| Pedals: | Basic Resin Flat |
There are currently no customer reviews
Write your own review
MTB Sizing
Mountain Bike Sizing
Read our bike size guide for more information on sizing.
Mountain bike size table
Height

Mountain bike size (Inch)

4'8" – 5'1"

143 – 155 cm

13" – XXS

5'1" – 5'4"

155 – 163 cm

15" – XS

5'4" – 5'7"

163 – 170 cm

16" – S

5'7" – 5'10"

170 – 178 cm

18" – M

5'10" – 6'0"

178 – 183 cm

19" – L

6'0" – 6'3"

183 – 191 cm

20" – XL

6'3" – 6'5"

191 – 196 cm

21" – XXL

6'5" – 6'9"

196 – 205 cm

22" – XXXL
Please note, all size information is provided as a guide - if you're unsure or need any further assistance you can call us on 01792 799508 ... we're happy to help!
Full Sus MTB Guide
Finance
How do I apply for finance?
Spend £99 or more at Tredz and you can spread the cost. Pay monthly over 6-48 months, interest free (dependent on repayment terms and amount).
1Fill your basket with everything you want from Tredz and go to the checkout.
2During checkout, select the finance option you want as your method of payment.
3You will be sent to our finance provider's secure server to complete your application.
4Finance providers PayPal & V12 will use the information provided to make a decision and complete checkout if you are approved.
Read more about buying on finance
Buy now, pay 12 months later.
Interest free credit with no deposit. Pay nothing for 3 or 6 months on orders over £850, or 12 months on orders over £1,500* *Not available through PayPal Credit
Flexible finance options
Choose your deposit.
Choose your term.
£3,399.00
Your basket
+ this product
Lowest £0 deposit / 0% interest
Popular 0% finance
per month
for 36 months
+ deposit of £339.90
Delivery & Guarantee
UK Delivery Information
We are committed to offering fast and free delivery, whether you're ordering bikes, accessories or clothing. Our standard delivery service is FREE in the UK, regardless of the size and on all orders over £20.
Please note that bulky products and bikes shipped to outlying UK regions are excluded from free shipping.
Please note that Pre-Order dates can sometimes change due to updated stock information.
Click here for more UK and international delivery information.
Returns & Warranty
It's easy to return a product with our 365 day, hassle free returns.
We will give you a full refund or exchange on any item that is returned to us unused/unfitted, in a resaleable condition and in its original packaging (where possible).
Please note: For hygiene reasons, we cannot accept returns of facemasks, undershorts or underwear if the item has been removed/unsealed from its original packaging.
If your item develops a fault or arrives damaged, please contact us first so we can resolve the issue for you as quickly as possible.
For more information please visit our Returns & Warranty page.
What's In The Box
What's In The Box
As cyclists ourselves, we know you will be keen to get out on your new bike as soon as possible. That's why we provide you with all the essential kit you need to get your shiny new bike rolling for the first time.
Most bikes don't come with pedals as standard so we include a set of basic pedals, free of charge with every bike we send out. We will also provide you with a pedal spanner to fit them and a 9-key trail tool, along with full instructions for setting your bike up out of the box. Each bike is sent out with a 16 point, quality control check sheet so you can be confident that your bike has been fully checked by our qualified mechanics.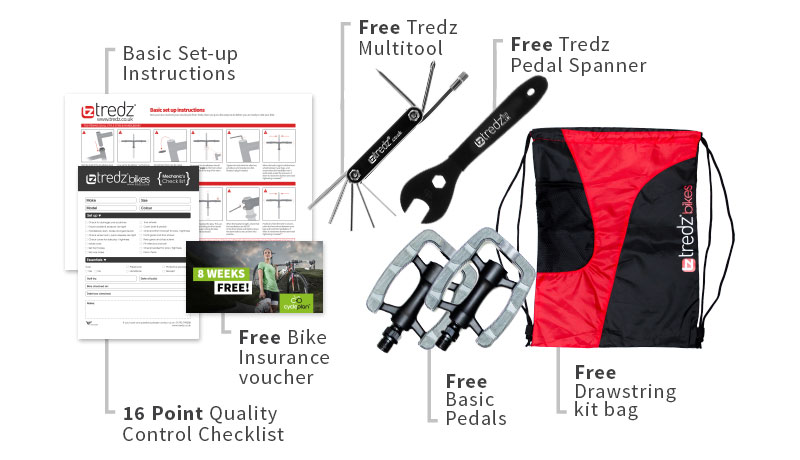 Basic setup instructions
16 point quality control checklist
Free tredz multitool
Free tred pedal spanner
Free basic pedals
Free drawstring kit bag
Free bike insurance voucher
All these items are provided at no extra charge and are packed into a Tredz drawstring bag that doubles up as a handy backpack for carrying your ride essentials.
Basic bike setup instructions
Free 'basic' pedals
Free Tredz pedal spanner
Free Tredz 9-key trail tool
Free Tredz drawstring bag
Free 8 weeks insurance voucher
16 point, quality control check sheet
Tredz Service:
Free UK delivery, on a date that suits you
We will ring to choose a suitable day. Find out more
Tredz bikes are fully checked & tested by Cytech qualified mechanics
0% APR finance available on any basket over £99
Price match
365 day 'no hassle' returns
Free UK delivery, on a date that suits you
Show finance options for:
Available finance options:
Buy now, pay later over £850. Find out more Finance provider options available