Shimano Ultegra HG Cassette Sprocket - 11 Speed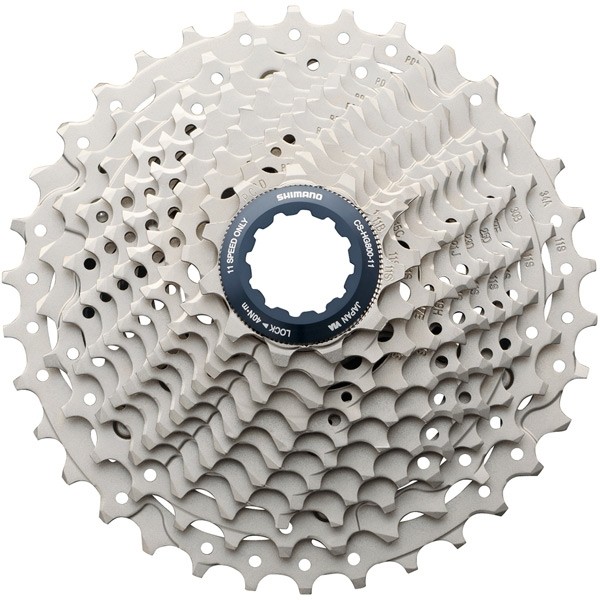 Lightweight 11-speed HG-EV cassette with rigid alloy sprocket carrier for better-shifting performance, even under the most demanding gear changes. The Alloy sprocket carrier is also designed to deliver a lighter-weight cassette.
Key Features:
Hyperglide EV sprockets have been designed with improved teeth shaping providing accurate shifting and reduced wear
Hyperglide EV sprockets make the cassette even lighter
Wide gear range to meet the demands of all types of rider
Can be used on narrower MTB freehubs when used without a spacer
For use with 11-speed HG-EV chains
Occasionally, without notice, manufacturers change product design and/or specifications.
Customer reviews and Q&A's are disabled because you declined functional cookies.
To enable reviews and Q&A's click the 'Cookie Settings' button below and enable functional cookies.
Shimano Ultegra HG Cassette Sprocket - 11 Speed
Experience top-notch shifting performance with the Shimano Ultegra HG Cassette Sprocket - 11 Speed. Precision-engineered for cyclists who demand excellence, this cassette delivers crisp gear changes and enhanced power transfer.
Read More
In Stock
-
despatched in 1 working days
We only have 4 left in stock
Christmas Delivery
-
will be delivered in time for Christmas
Cycle to Work is a salary sacrifice scheme, where you can save up to 42% off a new Bike and Safety equipment. This means the cost is deducted from your salary as a non-cash benefit, so you save on tax and national insurance.

Here at Tredz, we accept Cycle to Work vouchers from all national schemes. For more information click here.

At Tredz, we offer a fast high quality service, with a range of options from free delivery on orders over £20, next day and convenient click & collect from one of our stores. Simply select within the checkout.

When you receive your bike, all you'll need to do is unpack it, attach the pedals, turn the handlebars and ride.

To help you get started we have put together a handy Bike Building Guide, click here.

At Tredz, if you are not 100% happy with your order, then you can use our simple hassle free returns service. Simply return the item new and unused in the manufacturers original packaging within 365 days of purchase. Bikes and larger items are collected by courier.
Average from 3 customer reviews
As always a five star service from a five star company. tredz remains my go to place for all my cycling needs.
Simon M., 2 years ago
£5 off voucher
Sign up to our newsletter
Get all the deals and special offers first