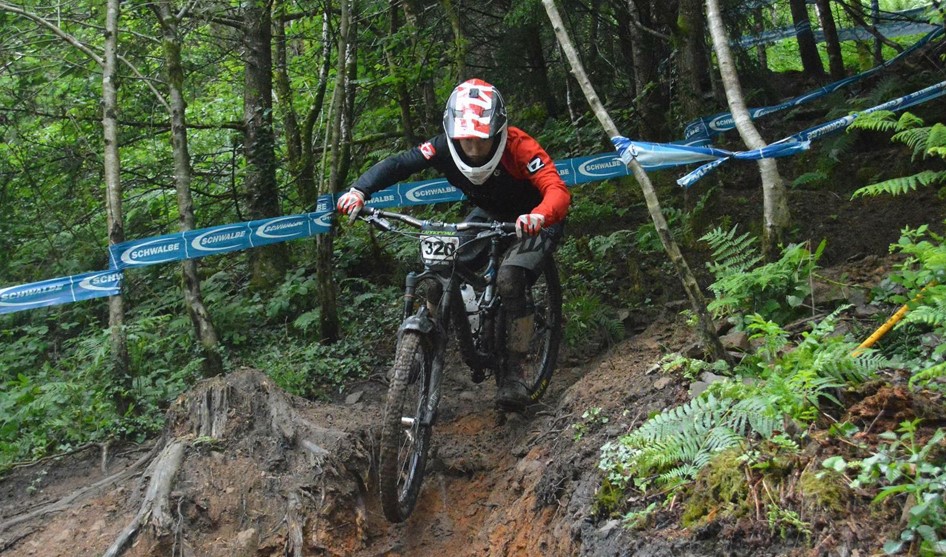 MY FIRST BRITISH ENDURO SERIES PODIUM
This is the one race I have been looking forward to all year as its on home soil, but it also adds pressure to do well!
I decided to go up Friday for a track walk and have a look at the tracks before riding them Saturday morning, it was a mixture of trail centre and new off-piste natural sections that looked amazing to ride!
The Race
Saturday morning and the weather was bleak, misty and drizzly rain made the natural sections very slippery… some sections like ice! But it was good fun to say the least. Half way through practice, I had a small tumble down one of the stages I knew well and slit my knee open, forcing me to go to the medical tent and get it patched up, costing me valuable riding time. A nice hole in my knee and a bit of pain but it wasn't going to slow me down too much. I practised all the stages except for the stage 2 as it was a long ride over to the 'Blade Trail' and wanted to save some energy for seeding in the afternoon.
Stage 1
After some lunch and a change into some dry clothes, I was ready to go seeding/stage 1. This was the top of '373' before a natural section that lead down to the 4x track, a good mixture of everything along with a long sprint down the field to finish. I pushed hard on the physical pedal sections and kept flow on the technical aspects of the course and came down in 6th place, 1 second off 3rd. Sunday was going to be tough as times were so close but I knew I had the pace and fitness to be up there.
Overnight, the bad weather rolled in and changed the tracks completely. I have never ridden the tracks in this condition but stayed positive and hoped for a good day ahead.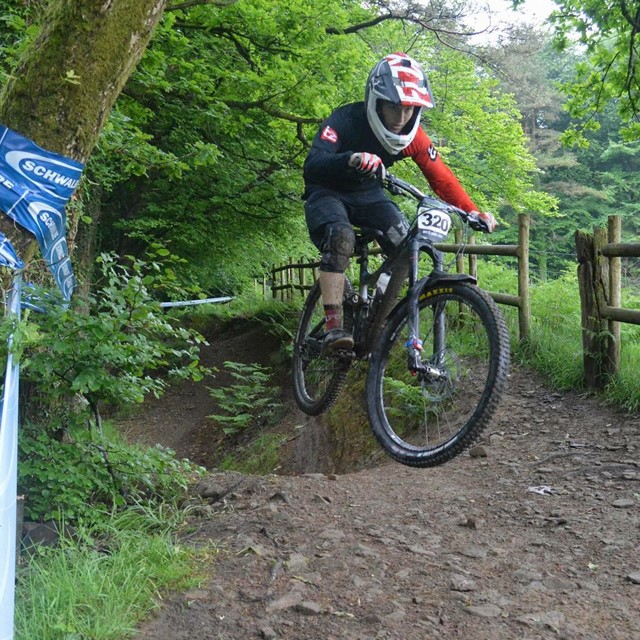 Stage 2
This was two sections of the blade trail combined for the longest stage of the day. 'The Rock' into 'Happy Life' is physical not only on your stamina but upper body strength as it is rocky and hard to keep momentum, I didn't push too hard as I didn't want a puncture and kept it smooth.
Stage 3
This was at the Top of the BikePark before crossing the road into a new natural section. I knew that I could give it my all in the BikePark and chill out after the road. I had a good top section and sprinted where I could, before sliding everywhere on the lower section with an OTB crash just before the end. I was still only 3 sections off the 2nd fastest time though so it didn't cost me too much time.
Stage 4
Fully natural and new, I let some air pressure out of my tyres for maximum grip on the way down. It was also nice to have a stage that was technical top to bottom and no uphill! Keeping it smooth and steady on the top half, where the track was ruined from the 100+ riders before me. I pushed hard on the lower section where the track was still in good condition. The aim was to let the bike do the work and keep flow. This was my best stage of the day and kept me in the running for a good finish position.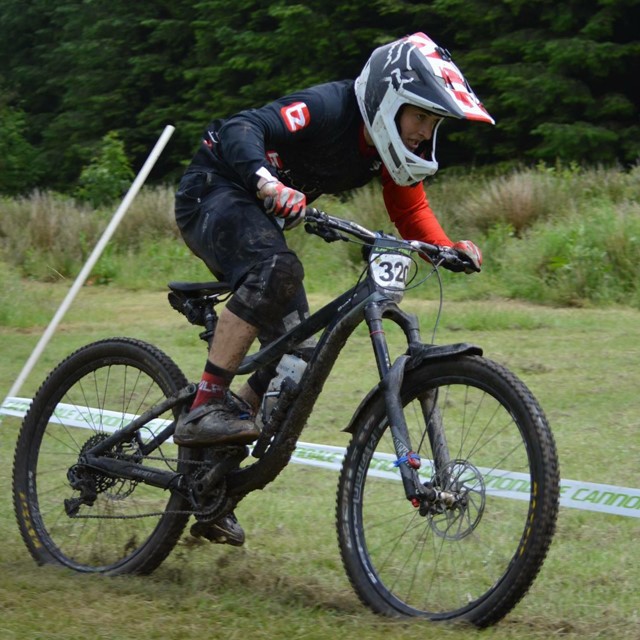 Stage 5
This was also a mix of trail centre and natural off piste, we used the top of 'corker' before cutting across into the 'black' option the on the ' Y Wall' trail. I kept it smooth on the top section and let it all hang out on the steep and muddy section below, somehow I didn't crash and stayed on! Luckily my tyres had enough grip to hold me on the steep stuff and not another crash.
Stage 6
This was the same stage as stage 1, this takes you back into the finish arena. I was pretty tired because of the amount of climbing involved throughout the day but I knew I could give it my all. Like stage 1 yesterday, I pushed where I could and kept flow on the technical parts, but this time felt harder due to the conditions and after 4 stages today. I got into the finish field and pushed all the way, it was about 300 metres long and brutal. After crossing the finish line, I couldn't stop and slid into someone else's bike and took someone else out! I managed to get the hot seat and stay in it for a few positions before getting knocked off.
I ended up finishing 4th in seniors with an overall time of 20 minutes and 10 seconds! This was my first ever British podium and couldn't be happier after a crash but as well! Well done to teammate Charles Jones who also won seniors, making it a good day for Team Tredz.
Hope to catch you out on the bike soon,
Lewis
Photos by Daniel Black Photography