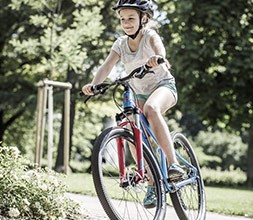 Merida 20 inch wheel kids bikes
With a Merida 20 inch wheel kids bike, children can inherit a love of cycling that will never be lost. Their exciting and fun designs will capture youngsters' imaginations, and with their lightweight aluminium frames, they're both easy and fun to ride. They're available in both girls and boys styles so that every child can enjoy riding one.
Merida have seen fit to equip their 20 inch wheel kids bikes with a number of safety features. They have guards over the chains to reduce the risk of trapped fingers, and have grip shift gears which can be changed up and down without taking a hand off the handlebars. The bikes also have a kickstand to make mounting and dismounting easier, and the brake levers are designed specifically to fit best in little hands.