Effetto Mariposa Carogna Roll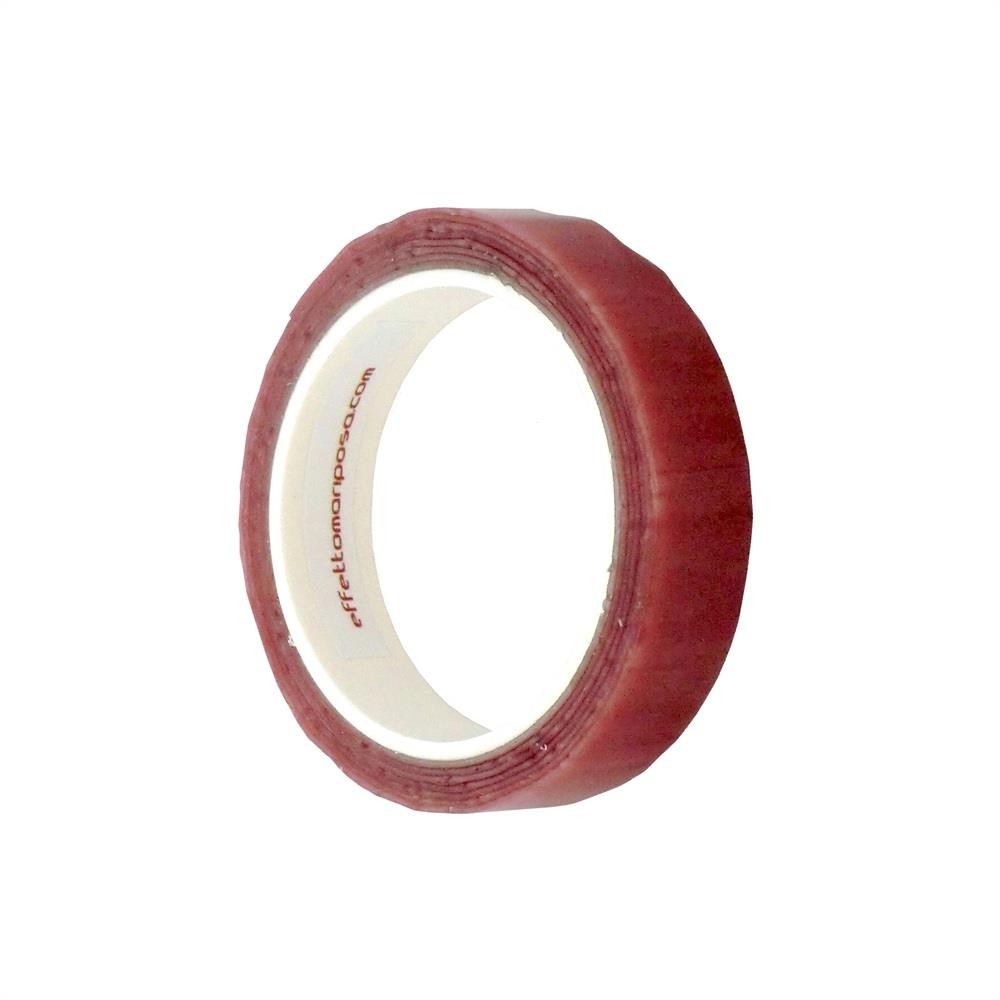 Carogna double sided adhesive tape for tubulars bridges the gap between previously existing tapes and mastic in terms of gluing performance and heat-resistance.
Key Features:
Extremely easy to use compared to mastic
Very reliable adhesion, in any condition
Once removed, Carogna leaves the rim ready for the next gluing, without additional cleaning
Works for road and cyclocross
Also available in very convenient Shop rolls
Why we created it:
We started developing Carogna (pronounced "car-own-ya") double sided adhesive tubular tape with a clear and ambitious goal: to bridge the gap between previously existing tapes and mastic in terms of gluing performance and heat-resistance, while retaining all the advantages of tapes.
In addition to this, we gave specific additional consideration to cyclocross (read the specific how-to guide here!) and mountain-bike tubulars, where specific features are needed from the gluing standpoint.
Universal performance:
Carogna has been tested and is designed to perform flawlessly on any rim material (aluminum, carbon), with any tubular (seamless, handmade, vulcanized sew-ups…), on and off-road.
The tape has two application-specific sides:
Semi-structural and removable on the rim-side: adhesion is guaranteed by industrial-grade acrylic glue, native to the base tape; this means that when removing the tubular (breaking its bond with the rim), the acrylic glue will stay on the tape, not on the rim. Acrylic has a good adhesion on both aluminum and carbon without any specific surface preparation.
Permanent on the tubular side: there's a 1 mm-thick layer of a recently-developed permanent glue for underwater applications. This thick glue film will move and spread when the tubular is first inflated, ensuring optimized contact with any tubular base tape geometry. Humidity is obviously not an issue, and this glue adheres well to any kind of base tape material (nylon, cotton, poly-cotton) or external finishing (raw, brushed, or coated by neoprene).
Wide temperature range in use:
Once adhesion is set, the use at low temperatures (down to -40°C) is not a problem. Thermal resistance of all materials used in the manufacture of Carogna was a high priority: Carogna will provide a perfect bonding at 150°C for extended periods (hours), exceeding the heat-resistance of even the best mastics and widely exceeding the heat-resistance of any other tubular tape.
Optimized adhesive surface:
Adhesion is very strong and uniform across the whole circumference of the rim for all tubulars and it is also uniform across the tubular base tape. One short-coming of tubular tape to-date has been limited adhesion at the edges of the base tape or in the center of tubulars with a raised center seam. Carogna solves these problems.
Temperature range when mounting :
The ideal thermal range for application of Carogna is between 21°C and 38°C (70 to 100°F), allowing 8 hours to reach 80% of the adhesive strength . Applying the tape below 10°C is not recommended.
We recommend cleaning surfaces (rim and tubular base tape) using iso-propylic alcool or mineral spirits.
Occasionally, without notice, manufacturers change product design and/or specifications.
Tubeless Sealant and Accessories Guide
Riding with tubeless tyres means that you'll spend less time fixing flats and more time shredding the trails or lighting up the open road. In this tubeless guide we'll look at all the things you need to get your wheels and tyres rolling without inner tubes.
Sealing all the little air gaps in your tyres, whether through a puncture or a less-than-perfect tyre/rim seal, tubeless sealant is an essential for every cyclist who wants to ride without tubes. There are a few different options to choose from, but they all work on the same principle: a liquid that solidifies when it leaks out of the tyre to seal gaps and punctures.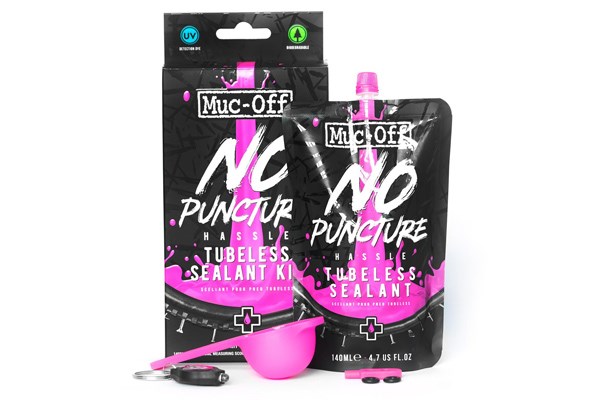 While simple latex-based liquids will work as sealants most brands sealants use special formulas and additives to improve longevity and sealing performance. Sealants with particles added are better at sealing larger holes so are ideally suited to mountain bike tyres. Lighter weight sealants are good for road bikes as puncture holes are generally smaller and easier to heal. Some sealants don't work well with CO2, so check for compatibility if you plan on using a CO2 inflator to seat your tyre.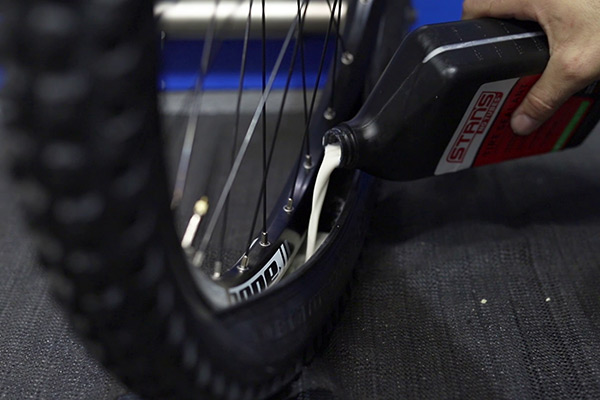 How much sealant should I use?
The amount of sealant you need to use will depend on the volume of the tyre. Brands will recommend specific amounts for their sealants which will be about 30 – 60ml for road bike tyres and 70 – 150ml for MTB tyres.
The table opposite shows typical sealant quantity recommendations to use as a starting point. If your tyres are a little porous some sealant may leak out. Don't worry about this, it's just the sealant doing its job, but you may need to top up with a little extra to be sure that there is enough left to seal any punctures.
| | |
| --- | --- |
| Tyre size | Sealant quantity |
| 27.5 x 2.0 | 75ml |
| 27.5 x 2.4 | 110ml |
| 29 x 2.0 | 90ml |
| 29 x 2.4 | 130ml |
| 700 x 25 | 30ml |
| 700 x 32 | 50ml |
---
Tubeless Sealant Accessories
Tubeless Rim Tape
If your wheel doesn't have tubeless ready rim tape installed, then you will need to tape the rim with tubeless compatible tape. Tape is available in different widths and you'll need a size that best matches the internal width of your rim.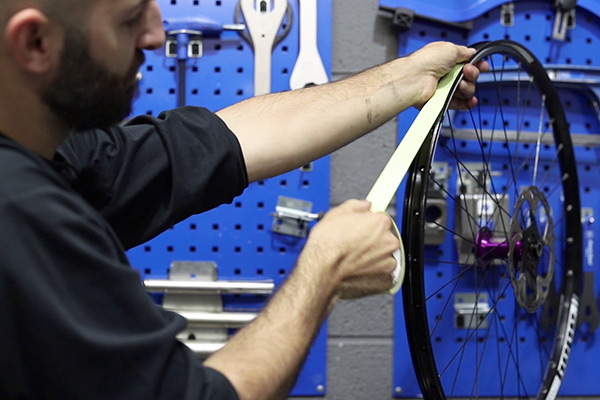 Tubeless Valves
As there is no inner tube the valve attaches directly to the rim of a tubeless wheel. These are usually Presta valves. Make sure that you get ones that are long enough to easily go through the rim of your bike. Longer valves are available for deep section rims. The valve cores tend to block up with sealant after a while so they will need taking out and cleaning and/or replacing from time to time.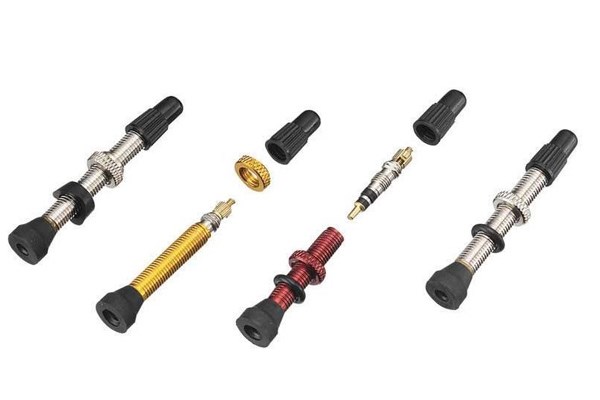 Tubeless Conversion Kits
Tubeless conversion kits contain sealant, tape and valves as well as fitting instructions, so these are the best option when converting your wheels for the first time. When buying a conversion kit make sure that you get one with the correct tape width and valve length to fit your wheel.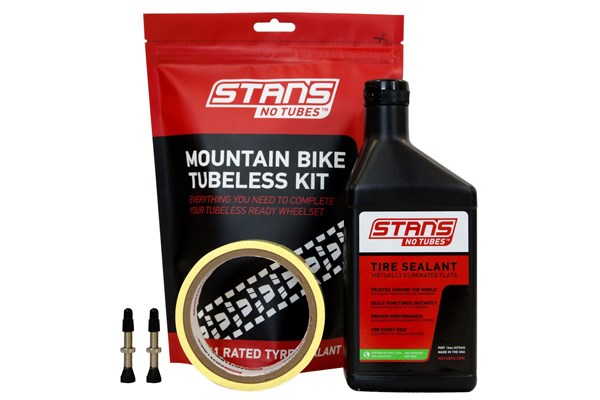 Sealant Injector
You can pour sealant into the tyre before you finish putting the tyre on, but many people prefer to inject the sealant through the valve. You can use a normal syringe, but specific injectors usually include a valve adaptor that makes the job easier. Some Tubeless Kits include an injector.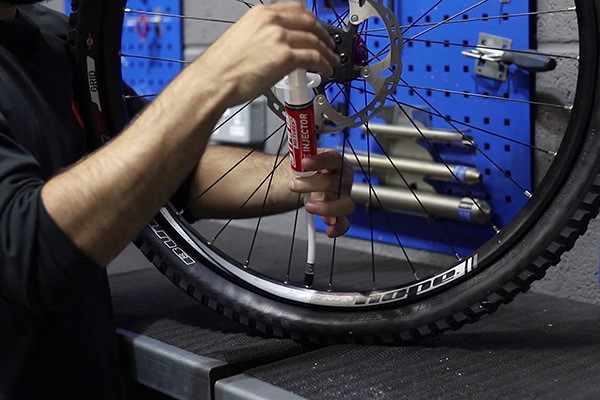 Tubeless Tyre Repair Kits
While sealant will heal smaller punctures by itself a larger hole or tear in the tyre will need to be plugged or patched. Tubeless plug systems offer long lasting repairs and are very quick and easy to use even at the road or trail side. If you don't want to have a small bit of the rubber bung showing through your tyre, then you will need to take the tyre off and patch it from the inside.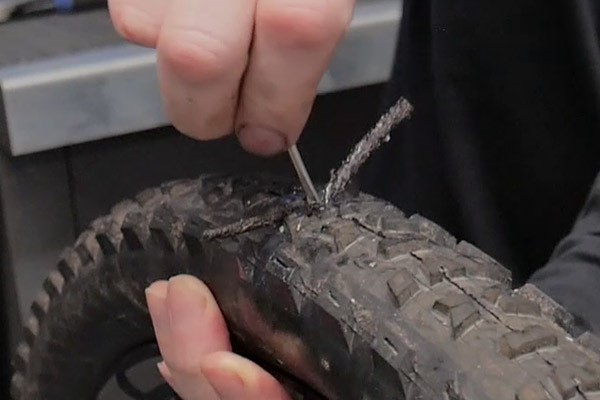 Tyre Inserts
Foam tyre inserts cushion the blows from rock strikes, especially when running low tyre pressures. They are a great way to protect your MTB tyre and rim when riding through rough terrain. Inserts can also help to keep the tyre on the rim more securely to avoid burping air when cornering.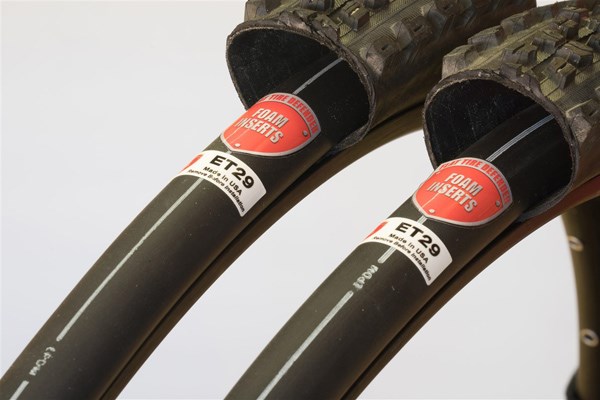 Tubeless Inflators
When you fit a new tubeless tyre, it can sometimes be difficult to get the tyre seated properly on the rim. This is because a normal track pump doesn't blow the air out quick enough to overcome the initial gaps between tyre and rim. Tubeless inflators allow you to blast a shot of air directly into the tyre to pop it onto the rim.
Tubeless inflators like the original Air Shot need to be pumped up with a separate track pump whereas others combine both track pump and inflator tank. See our range of tubeless inflators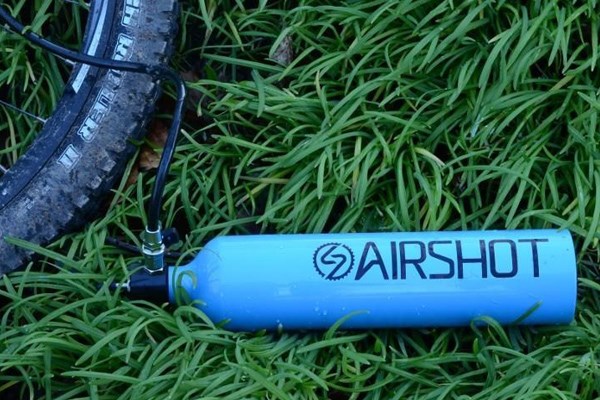 How to Convert to Tubeless
While tubeless systems will save you time in the long run, they do take a little more care to set up.
Customer reviews and Q&A's are disabled because you declined functional cookies.
To enable reviews and Q&A's click the 'Cookie Settings' button below and enable functional cookies.
Effetto Mariposa Carogna Roll
Available with supplier
-
usually despatched in 5-6 working days
Christmas Delivery
-
will be delivered in time for Christmas
Cycle to Work is a salary sacrifice scheme, where you can save up to 42% off a new Bike and Safety equipment. This means the cost is deducted from your salary as a non-cash benefit, so you save on tax and national insurance.

Here at Tredz, we accept Cycle to Work vouchers from all national schemes. For more information click here.

At Tredz, we offer a fast high quality service, with a range of options from free delivery on orders over £20, next day and convenient click & collect from one of our stores. Simply select within the checkout.

When you receive your bike, all you'll need to do is unpack it, attach the pedals, turn the handlebars and ride.

To help you get started we have put together a handy Bike Building Guide, click here.

At Tredz, if you are not 100% happy with your order, then you can use our simple hassle free returns service. Simply return the item new and unused in the manufacturers original packaging within 365 days of purchase. Bikes and larger items are collected by courier.
£5 off voucher
Sign up to our newsletter
Get all the deals and special offers first
© Performance Cycling Limited 2023. Tredz is a trading name of Performance Cycling Limited. All Rights Reserved Company No. 03398601 | VAT No: 797 0776 69
† IMPORTANT INFORMATION: Performance Cycling Limited FRN: 720557 trading as Tredz & Tredz Bikes are Authorised and Regulated by the Financial Conduct Authority. We are a credit broker, not a lender – credit is subject to status and affordability, and is provided by a panel of lenders of whom we have a commercial relationship. Terms & Conditions Apply. Performance Cycling Limited trading as Tredz is registered in England and Wales 03398601. Registered office: Icknield Street Drive, Washford West, Redditch, Worcestershire, England, B98 0DE. Performance Cycling Limited trading as Tredz is authorised and regulated by the Financial Conduct Authority. Our registration number is 720557. Credit provided subject to age and status.
† Novuna Representative Example: If total purchase price is £4,255.52 and your selected term is 36 months 14.9% APR Representative, Annual Interest Rate 14.9% p.a. Fixed with £0 deposit you would pay £145.38 per month. Total amount payable will be £5.233.68 with a cost of credit of £978.16.
† Novuna Buy Now Pay Later Example: If total purchase price is £4,255.52, payment holiday of 12 months and 24 monthly payments at 9.9% APR Representative, Annual Interest Rate 9.9% p.a. Fixed with £0 deposit you would pay £213.02 per month. Amount of Credit £4255.52, Total amount payable will be £5,112.48 with a cost of credit of £856.96. If the loan amount is voluntarily paid in full before the deferral period ends, interest will be waived but an early settlement fee up to £29 will apply.

Finance is subject to application, financial circumstances and borrowing history. Performance Cycling Limited FRN: 720557 trading as Tredz are authorised and regulated by the Financial Conduct Authority. We are a credit broker not a lender – credit is subject to status and affordability and is provided by Mitsubishi HC Capital UK PLC. Terms & Conditions Apply.
PayPal Credit is subject to status. Terms and Conditions apply. Performance Cycling Limited acts as a broker and offers credit from PayPal Credit. PayPal Credit is a trading name of PayPal UK Ltd Registered Office: Whittaker House, Whittaker Avenue, Richmond-Upon-Thames, Surrey, United Kingdom, TW9 1EH. † Full Representative Example: Representative 23.9% APR (variable), Purchase interest rate 23.9% p.a. (variable), Assumed credit limit £1,200.00.
PayPal Credit and PayPal Pay in 3 are trading names of PayPal UK Ltd Registered Office: Whittaker House, Whittaker Avenue, Richmond-Upon-Thames, Surrey, United Kingdom, TW9 1EH. PayPal Credit: Terms and conditions apply. Credit subject to status, UK residents only, Performance Cycling Limited acts as a broker and offers finance from a restricted range of finance providers. PayPal Pay in 3: PayPal Pay in 3 is not regulated by the Financial Conduct Authority. Pay in 3 eligibility is subject to status and approval. 18+. UK residents only. Pay in 3 is a form of credit, may not be suitable for everyone. Use may affect your credit score or make credit less accessible or more expensive for you. Consider if affordable for you. See product terms for more details.
Learn more about Pay in 3