Giant TCX SLR 2 2016 - Cyclocross Bike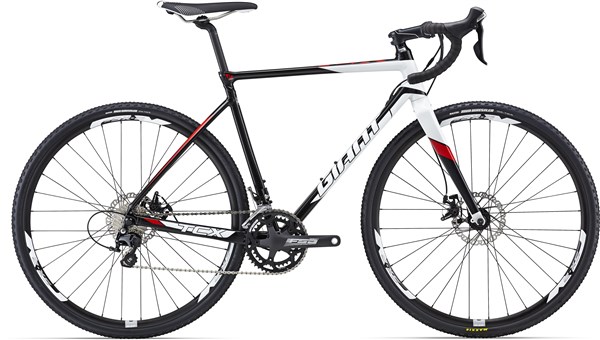 Out of Stock
Sorry, you missed it.

But you still have options...
New

Product
There's a newer version of this product now available...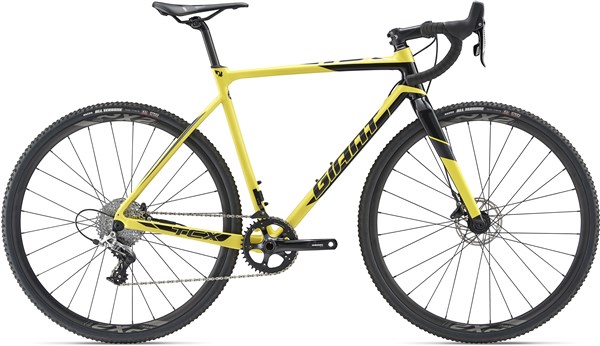 See more details
Recommended

alternatives
We've found some more items that may interest you...
Recommended Products
Top Rated
Best Deals
New in Cyclocross
Archive

Product Details
Comparing? Here's the info from the out of stock item
Product Description
Designed to take on the most challenging terrain, the Giant TCX SLR 2 is a cyclocross bike that is at home everywhere from tight muddy paths to open gravel gravel tracks and rough roads.
Superlight alloy frame
ALUXX SLR, Giant's highest grade aluminium alloy, makes the TCX SLR frame lightweight without compromising strength or stiffness. Advanced butting techniques reduce the weight of the tubes by 20% compared to ALUXX SL.
Wider tyre clearance than you find on a road bike provides plenty of mud clearance, even with wide knobbly tyres. Internal cable routing helps stop mud from sticking to the frame while keeping the cables protected from the elements.
The D-Fuse seatpost offers much needed compliance to help smooth out rough tracks.
Carbon fork
Composite fork blades help to dissipate vibrations from rough surfaces. The Overdrive tapered steerer keep things nice and stiff for precise steering and confident cornering.
Disc brakes
Disc brakes work much better in dirty wet conditions than traditional rim brakes so are a real bonus for rough winter riding.
Shimano 105
The Shimano 105, 11 speed, drivetrain provides crisp, reliable shifting and is combined with smaller chainrings on the FSA Omega chainset. This provides a low gear range that is ideal for hammering around muddy CX courses.
Mud Wrestler
The Giant S-X2 wheels are durable enough to take the abuse that cyclocross racing dishes out, while the Maxxis Mud Wrestler tyres provide plenty of traction on loose surfaces.
Not restricted to cyclocross racing the Giant TCX SLR 2 is a bike that can take on all sorts of terrain, from the rough to the smooth.
Key Features :
ALUXX SLR-Grade Aluminum with hidden rack mounts
Composite, aluminum OverDrive steerer
Shimano 105 22 speed
TRP Spyre mechanical disc Alloy arm
Giant S-X2 Wheelset
The Giant TCX SLR 2 2016 Features are:Frame
: ALUXX SLR-Grade Aluminum with hidden rack mounts
Fork
: Composite, aluminum OverDrive steerer
Stem
: Giant Connect
Speed
: 22
Front Mech
: Shimano 105
Rear Mech
: Shimano 105
Chainset:
FSA Omega 36/46
Bottom Bracket
: FSA MegaExo PressFit
Chain
: KMC X11L
Cassette
: Shimano 105 11x28
Rims
: Giant S-X2 Wheelset
Tyres
: Maxxis Mud Wrestler, 60 TPI Folding , 700x33mm Front Maxxis Mud Wrestler, 60 TPI Folding , 700x33mm Rear
Front Hub
: Giant Tracker Sport, 28H, QR
Rear Hub
: Giant Tracker Sport, 28H, QR
Front Brake
: TRP Spyre mechanical disc Alloy arm 160mm
Rear Brake
: TRP Spyre mechanical disc Alloy arm 160mm
Seatpost
: Giant D-Fuse SL Composite
Pedals
: Not Included
Giant TCX SLR 2 2016 - Cyclocross Bike Reviews
Write your own review
Customer Reviews (1)
Giant TCX 2 cyclo cross
by 25/08/2016 on
Firstly the online purchase and delivery of the bike was very easy and fast, the bike was delivered very quickly. Tredz kept me informed of the status which was appreciated. Upon opening up the box the bike was more complete in respect of its assembly than I expected, the handlebars needed positioning and its pedals fitted , that's about all that was required for assembly. The bike had been checked over and adjusted by Tredz. Really good looking bike, nice touches on the frame, the shaping and forming of the aluminium frame is really good. Things go downhill from here, I tried the bike for a short test ride, it was very disappointing as the bike made rattles, creaks and noises from everywhere, now I really dislike noises from my bikes so I decided to start on eliminating them, as I thought this would be easier and quicker than boxing and returning the bike by mail for Tredz to carry out the remedial work, in hindsight I wish I had just returned the bike. Here is the list of noises- 1. Spokes in wheels pinging, this was quite easy to fix though, took the wheels out, squeezing pairs of spokes together by hand and pressing the circumference of the rims whilst the hubs were flat on the floor, it took a while but all the noises eliminated, it seemed to "un stress" the wheel tension. 2. Seatpost creaking, although Giants D shaped post and nifty post clamp look trick, they are not that good at holding firm in the frame, fixed by using anti slip grease and overtightening the clamp bolts beyond the recommended limit, not something I wanted to do, but found to be the only way of eliminating the noise. 3. Internal cable routing, despite it looking really nice this was a source of a lot of clicks and creaks. I took to remove all the plastic frame bungs and lubricate the cables and bungs with gummi pfledge (german silicone lubricant suitable for rubber and plastics), also position the cables just in the places where they would be quiet. I'm guessing this will need repeating regularly. 4. Metal cable adjusters knocking together, fixed by shortening the gear cables which were too long and repeating all of the above cable adjustments. 5. Chain ring teeth and chain catching on front mech. Front mech was set too low, needed raising and cable adjusted. 6. Disc brake pad rattle, this one took me ages to pin down, riding the bike I was convinced that the noise was coming from the headset, however after much head scratching I found the brake pads were very loose in the calipers, despite being very well adjusted, these noises transferred all over the bike whilst rolling along. I expected far better from the TRP spyres, thinking they were the best cable operated disc brake available, in my opinion they are not. Avid BB7's on my other cyclo cross are far better. Fixed the rattles by changing the TRP pads to some generic organic pads with a bit of grease on the back of the pads, noises eliminated and an improvement in the braking too. 7. Bottom bracket, creaking and clicking under moderate load. This is as yet unresolved I have asked Tredz for their assistance . I believe the BB86 bearings have been distorted during the bike assembly, but that is just my opinion, I'm hoping that some new bearings, carefully fitted with the addition of Loctite bearing lock will cure the noises. I could buy new bearings and do this work myself but i'm hoping either Giant or Tredz will at least supply the parts. The rear wheel is very heavy, again I expected better from Giant. This is my second cyclo cross bike, the other is a Cannondale CAADX tiagra, in my opinion despite the older design of the Cannondale it is a far better bike, better handling and feels lighter than the Giant TCX 2. In submitting this review I am aware that it will come over as if I am a disgruntled customer of Tredz / Giant, this is not really the case, Tredz asked for me to write a review of the bike by an email, and I feel this is my honest review. In fairness to Tredz I have not passed on my experience of the bike to them, other than the bottom bracket issue, with regard to the other problems its been easier for me to rectify them myself than actually go through the process with the supplier,however keen they may be to help
Firstly the online purchase and delivery of the bike was very easy and fast, the bike was delivered very quickly. Tredz kept me informed of the status which was appreciated. Upon opening up the box the bike was more complete in respect of its assembly than I expected, the handlebars needed positioning and its pedals fitted , that's about all that was required for assembly. The bike had been checked over and adjusted by Tredz. Really good looking bike, nice touches on the frame, the shaping and forming of the aluminium frame is really good. Things go downhill from here, I tried the bike for a short test ride, it was very disappointing as the bike made rattles, creaks and noises from everywhere, now I really dislike noises from my bikes so I decided to start on eliminating them, as I thought this would be easier and quicker than boxing and returning the bike by mail for Tredz to carry out the remedial work, in hindsight I wish I had just returned the bike. Here is the list of noises- 1. Spokes in wheels pinging, this was quite easy to fix though, took the wheels out, squeezing pairs of spokes together by hand and pressing the circumference of the rims whilst the hubs were flat on the floor, it took a while but all the noises eliminated, it seemed to "un stress" the wheel tension. 2. Seatpost creaking, although Giants D shaped post and nifty post clamp look trick, they are not that good at holding firm in the frame, fixed by using anti slip grease and overtightening the clamp bolts beyond the recommended limit, not something I wanted to do, but found to be the only way of eliminating the noise. 3. Internal cable routing, despite it looking really nice this was a source of a lot of clicks and creaks. I took to remove all the plastic frame bungs and lubricate the cables and bungs with gummi pfledge (german silicone lubricant suitable for rubber and plastics), also position the cables just in the places where they would be quiet. I'm guessing this will need repeating regularly. 4. Metal cable adjusters knocking together, fixed by shortening the gear cables which were too long and repeating all of the above cable adjustments. 5. Chain ring teeth and chain catching on front mech. Front mech was set too low, needed raising and cable adjusted. 6. Disc brake pad rattle, this one took me ages to pin down, riding the bike I was convinced that the noise was coming from the headset, however after much head scratching I found the brake pads were very loose in the calipers, despite being very well adjusted, these noises transferred all over the bike whilst rolling along. I expected far better from the TRP spyres, thinking they were the best cable operated disc brake available, in my opinion they are not. Avid BB7's on my other cyclo cross are far better. Fixed the rattles by changing the TRP pads to some generic organic pads with a bit of grease on the back of the pads, noises eliminated and an improvement in the braking too. 7. Bottom bracket, creaking and clicking under moderate load. This is as yet unresolved I have asked Tredz for their assistance . I believe the BB86 bearings have been distorted during the bike assembly, but that is just my opinion, I'm hoping that some new bearings, carefully fitted with the addition of Loctite bearing lock will cure the noises. I could buy new bearings and do this work myself but i'm hoping either Giant or Tredz will at least supply the parts. The rear wheel is very heavy, again I expected better from Giant. This is my second cyclo cross bike, the other is a Cannondale CAADX tiagra, in my opinion despite the older design of the Cannondale it is a far better bike, better handling and feels lighter than the Giant TCX 2. In submitting this review I am aware that it will come over as if I am a disgruntled customer of Tredz / Giant, this is not really the case, Tredz asked for me to write a review of the bike by an email, and I feel this is my honest review. In fairness to Tredz I have not passed on my experience of the bike to them, other than the bottom bracket issue, with regard to the other problems its been easier for me to rectify them myself than actually go through the process with the supplier,however keen they may be to help
Close review