Mavic Crossmax Elite 27.5" MTB Wheels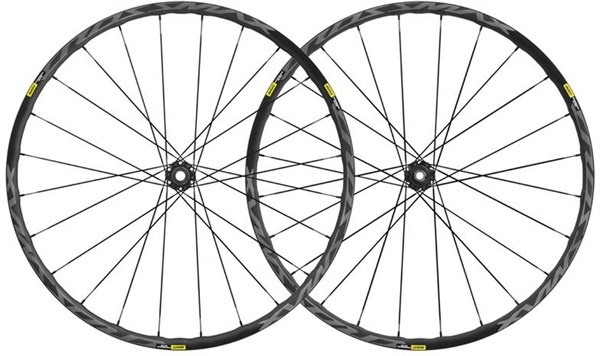 hover to zoom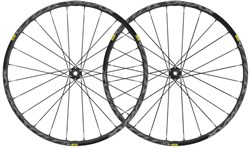 Product Description
The Mavic Crossmax Elite is a lightweight aluminium 27.5" mountain bike wheel delivers a dynamic XC ride quality.
Agile XC handling and dynamic ride quality.
Maxtal rim is both light and strong, with a 22mm internal width rim. ISM 4D machining makes the wheel lighter without compromising durability.
Easy-to-use tubeless performance.
Special rim tape and tubeless valve provides the lightest and simplest way to experience tubeless benefits. Better traction and comfort, and a reduced risk of punctures UST technology.
Performance and dependability you never have to think about.
ID 360 freehub system for durability, fast engagement.


Rims
Material: Maxtal
Joint: SUP
Drilling: traditional
Weight reduction: ISM 4D
Valve hole diameter: 6.5 mm
Tyre: UST Tubeless and tubetype
Internal width: 22 mm
ETRTO size 27.5": 584x22TSS
ETRTO size 29": 622x22TSS
Hookless profileli>Use with Mavic Tubeless Tape

Spokes
Material: steel
Shape: straight pull, flat, double butted
Count: 24 front and rear
Lacing: front and rear crossed 2
Hubs
Front and rear bodies: aluminum
Axle material: aluminum
Auto adjust sealed cartridge bearings (QRM Auto), front and rear
Freewheel: Instant Drive 360
Versions
Color: Black only
Disc standard : 6 Bolts only
Hub width : Boost (front 110, rear 148) or Non-Boost (front 100, rear 135/142)
Freewheel: Shimano/Sram or XD
Compatibility
Freewheel: Shimano/Sram or XD
Front axle: convertible from 15mm thru axle to Quick Release with adapters (delivered with non-boost wheel)
Rear axle: 12mm thru axle, convertible to Quick Release with adapters (delivered with non-boost wheel)
Compatible Adapters and freewheel bodies
Non-Boost : 15 to 9mm front adapter for quick release (99694101 - Delivered with the wheel)
Boost & Non-Boost : 15mm front hub cap (V2372501 - Delivered with the wheel)
Boost : Torque Caps (V2374401)
Non-Boost : 12 to 9mm rear adapter for quick release (V2510801 - Delivered with the wheel)
Non-Boost : 12x135 rear axle adapters (V2510901)
Non-Boost : 12x142 rear axle adapters (V2510701 - Delivered with the wheel)
Boost : 12x148 rear axle adapters (V2510701 - Delivered with the wheel)
ID360 Shimano alloy freewheel body (V3780101)
ID360 Shimano steel freewheel body (V3790101)
ID360 XD freewheel body (V3740101)
Delivered with
Front QR adapters (non-boost wheel)
Rear QR adapters (non-boost wheel)
UST valve and accessories
Tubeless rim tape
Intended use
ASTM CATEGORY 3 : CROSS COUNTRY AND TRAIL RIDING
For a longer longevity of the wheel, Mavic recommends that the total weight supported by the wheels don't exceed 120kg, bike included
Recommended tyre sizes: 36 mm to 64 mm (1.4" to 2.5")
Filters
Category: Cross-country
diameter: 29"
diameter: 650b/27.5"
e-bike: no
rim width (internal): 22mm
rim: aluminium
tubeless: yes
weight: 1601g to 1700g
Lightness
Efficiency & rigidity
UST Tubeless Ready
QRM Auto
Years of analyzing wheels as a complete system, and testing them under the most demanding XC race conditions, has proven one thing: the reduced inertia of a superlight rim creates huge performance gains. That's why we engineered the Crossmax Elite with our lightest aluminum rim, the same one used in the Crossmax Pro. The rim is engineered with ISM 4D technology, which machines the rim between each spoke hole to minimize weight without compromising strength. The 22mm wide (internal) rim features the UST tubeless system for improved traction, reduced risk of punctures and easier tire mounting. QRM hubs deliver smooth, long-lasting performance, and the fast-engaging ID360 freehub enhances the quick and dynamic feel. On the scales, the Crossmax Elite leads its category, weighing only 1596g in 27.5. And it's available in Standard (15x100 and 12x142, convertible to quick release) or Boost (15x110 and 12x148) hub spacing in 27.5 and 29 versions.

Weight Front 27.5" 723g
Weight Front 29" 753g
Weight Pair 27.5" 1595g
Weight Pair 29" 1655g
Weight Rear 27.5" 872g
Weight Rear 29" 902g
Occasionally, without notice, manufacturers change product design and/or specifications.
MTB Wheel Sizing
When buying a new set of wheels, it is essential that you choose ones that are compatible with your mountain bike. This means that you will need wheels that have the same diameter rim, the same hub width and the same axle diameter as the existing wheels on your bike.


Rim sizes
Rim Diameter
There are four mountain bike rim diameters that relate to the four main wheel sizes.
If you are upgrading your wheels, then in most cases you will have to use wheels with the same diameter as the originals. The exception to this is bikes that are specifically designed to work with both 29" and 27.5" plus sized wheels.
29"

The largest MTB wheel size, found on 29ers

27.5"

Also known as 650b, this is the most common MTB wheel size
27.5" + (plus) wheels have the same diameter as regular 27.5" wheels but have wider rims.

26"

The traditional MTB wheel size, now only found on dirt jump bikes, some small size adult bikes and junior bikes.

24"

Found on some dirt jump bikes and Junior MTBs.
Rim Width
Rim width can be measured from the inside or the outside of the rim, but it is the internal rim width measurement that matters most. Wider rims are best suited to wider tyres. Bikes with Boost hub spacing have more room for wide tyres. While all rim widths for a specific rim size will fit your bike wider tyres may not.
Hub Sizes
Axle Diameter
Traditional Quick Release (QR) axles have a 9mm (front) or 10mm (rear) axle diameter. These work with conventional dropouts similar to those found on road bikes. Many mountain bikes now use thru axles (TA) for improved handling.
Front Axle Diameter – 15mm thru axles, are the most common on trail, enduro and cross-country MTBs. 20mm thru axles are mostly found on downhill bikes. Many forks have some type of quick release thru axle so may be referred to as 15QR or 20QR. Traditional 9mm QR axles are found on affordable hardtails and MTBs with rigid forks.
Rear Axle Diameter – 12mm is the most common thru axle size. 10mm QR axles are found on more affordable full sus and hardtail MTBs. 10mm thru axles and 10mm bolt on axles are found on some older bikes, these are compatible with conventional dropouts.
Hub Width
Front Hubs – There are two front MTB front hub widths. The traditional width is 100mm. Many high-end mountain bikes now use the wider Boost axle standard which is 110mm. Downhill hubs with 20mm axles have traditionally used the 110mm hub spacing. New Boost downhill hubs use the same hub width and axle diameter but the hub flanges are wider so the brake rotor sits in a different position.
Rear Hubs – Rear axles are a little more complicated. The traditional MTB rear axle width is 135mm but 142mm is more common with thru axles. The Boost standard for rear hubs is wider at 148mm. Downhill bikes tend to have even wider hubs. 150mm is a common DH hub width but there is also the new 157mm Super Boost standard that is found on some Downhill bikes.
Front Wheel
| | | | |
| --- | --- | --- | --- |
| Hub Width | Axle diameter | Type | Common Use |
| 100mm | 9mm | Quick Release | Traditional, found on entry level hardtail MTBs |
| 100mm | 15mm | 15mm thru axle | For older trail MTBs |
| 110mm | 15mm | 15mm Boost thru axle | For Boost compatible single-crown forks |
| 110mm | 20mm | 20mm thru axle | For downhill forks |
| 110mm | 20mm | 20mm Boost thru axle | For Boost compatible downhill forks |
Rear Wheel
| | | | |
| --- | --- | --- | --- |
| Hub Width | Axle diameter | Type | Common Use |
| 135mm | 10mm | Quick Release or Bolt On | Entry level MTBs and Dirt Jump bikes |
| 142mm | 12mm | 12mm thru axle | Traditional MTBs with thru axles |
| 148mm | 12mm | 12mm Boost thru axle | Boost compatible XC, trail and enduro MTBs |
| 150mm | 12mm | 12mm thru axle | Downhill bikes |
| 157mm | 12mm | 12mm Super Boost thru axle | Super Boost compatible downhill bikes |
Note: some wheels are supplied with adaptors that makes them compatible with both quick release and thru axles.
Brake Compatibility
Choosing wheels that are compatible with the brakes on your bike is essential.
Rim Brakes
If you have rim brakes on your bike than you will need a non-disc wheel that has a braking surface on the rim. Non-disc wheels are not compatible with disc brakes.
Disc Brakes
You will need disc compatible wheels for a mountain bike with disc brakes. There are two ways of mounting discs to your wheel. If you want to use your existing disc rotors, then look for a wheel that has the same mounting system.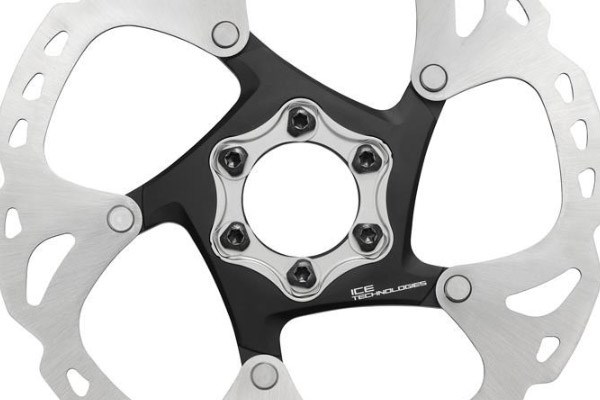 6 Bolt rotors – The disc rotor is attached to the hub with six bolts. This is the traditional way of attaching a rotor to your wheel and is still the most common.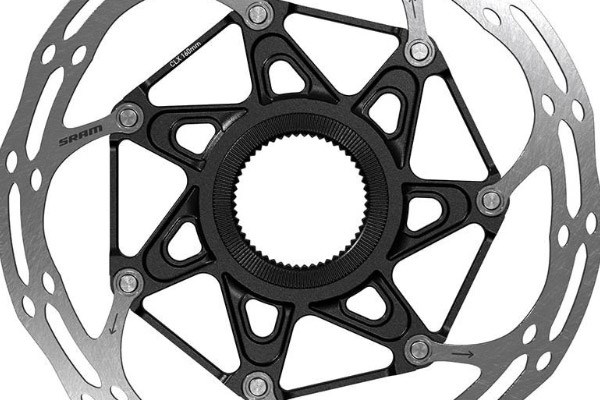 CenterLock – Developed by Shimano this system is easy to use but centre lock hubs are less common than six bolt.
Adaptors are available, so you can convert a 6 bolt wheel to CenterLock and visa versa.
Freehub Compatibility
The freehub is the part of the rear hub that the cassette is attached to. There are four main types of freehub for mountain bike wheels, each is designed for a specific type of rear cassette.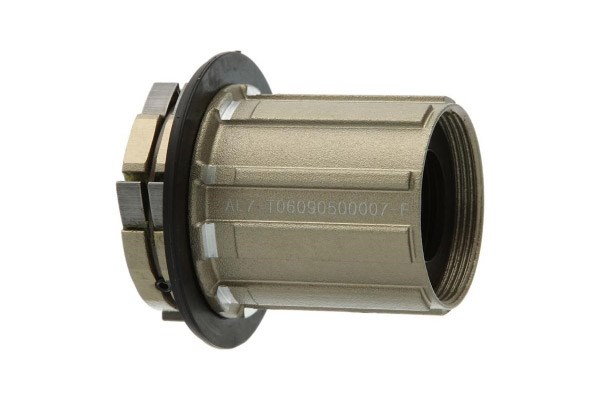 Shimano Hyperglide splined
This is the most common type of freehub body. Most 7, 8, 9 and 10 speed cassettes, as well as some 11 & 12 speed cassettes are designed to work with the Shimano Hyperglide splined freehub body. This includes SRAM 7, 8, 9 and 10 speed, as well as SRAM NX 11 & 12 speed cassettes.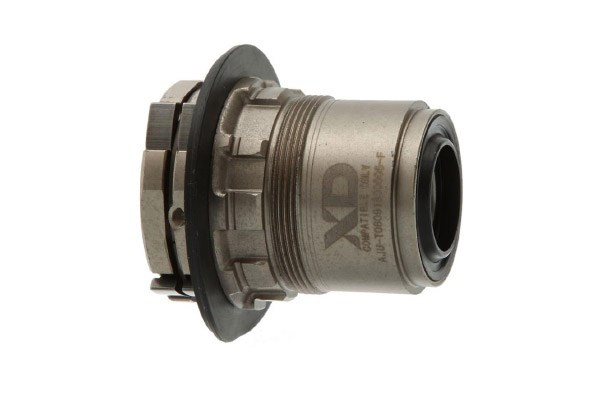 SRAM XD
Most SRAM 11 and 12 speed cassettes are designed to work with a SRAM XD freehub driver.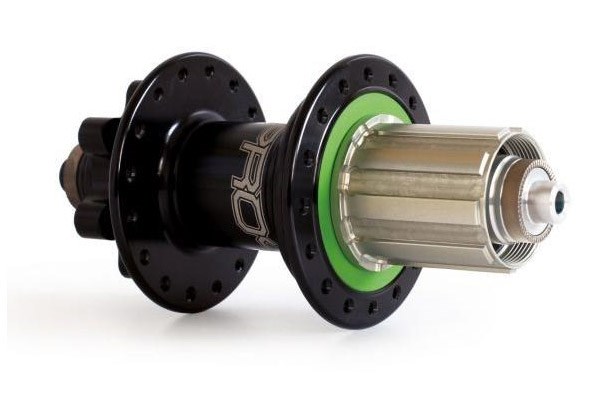 Hope Freehub
Hope's unique freehub body is designed to work exclusively with Hope cassettes.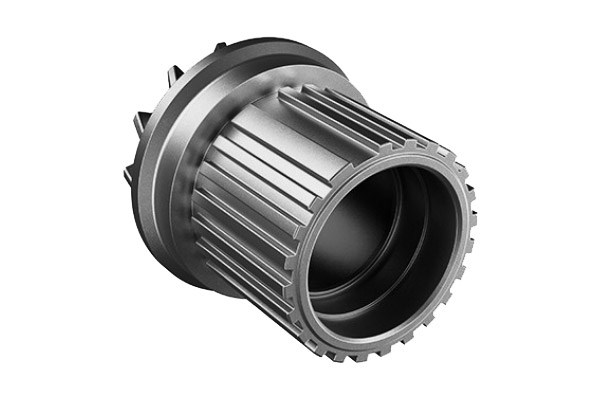 Shimano Micro-Spline
Shimano's new freehub body is designed to work with Shimano 12 speed systems.
Brand compatibility
While most rims and hubs are laced together in a standard way some brands do things a little differently. Cannondale use their Ai (Asymmetric Integration) system on many of their new full-sus MTBs. This means that the rim sits in a different position to a standard wheel, so you will have to either upgrade to a compatible Ai wheel or get a standard wheel adjusted by a professional wheel builder.
Jargon Buster
Bolt On – an axle that is incorporated into the hub with nuts on the end. Designed to work with traditional 9mm or 10mm dropouts.
Bolt Though Axle – an axle that goes through the hub body and fixes to the fork or frame of you bike.
Butted – where excess material has been removed from low stress areas.
Eyelet - A fitting in the rim that holds the nipple in place.
Freehub – The freehub allows the rider to stop pedalling whilst the bike is still moving forward. The rear cassette is attached to the freehub body.
Hub - The centrepiece of the wheel, from which the spokes branch out to the rim. Rotates around the axle, which is an external component attached to the fork or frame.
Hub flange - The collar of the hub that the spokes attach to.
Lacing - The pattern in which the spokes are threaded when building a wheel. The exact same wheel threaded in a different pattern can produce a completely different ride character.
Nipple – The small component that the spokes screw into at the rim.
Rim - The outermost component in a wheel. The bit the tyre sits on.
Spoke - The rods connecting hub to rim. J-Bend spokes are most common – they are identified by the bend at the hub end, and thread into the nipple at the rim. Straight-pull spokes have no bend and, as they are often proprietary to the wheel they are made for, are less readily available in bike shops.
Tubeless – Technology that allows does away with the inner tube
Tubeless rim tape – Rim tape that makes an air tight seal around the rim of tubeless compatible wheels
Tubeless Sealant – latex based liquid that you put inside tubeless tyres to get a good airtight seal. Tubeless sealant will self-repair small punctures.
True - A straight wheel is called 'true'. If it gets a wobble, usually caused by the spokes unequally going out of tension, it is out of true.
Valves – The port of the bike that is used to inflate and deflate the tyre. There are two types of valve for bikes. Schrader valves are the same as those on car tyres while Presta valves are narrower bike specific valves designed for high air pressures. Valves are attached to the rim in tubeless set ups or included with the inner tube on traditional wheel setups.
QR – Quick release. Designed to work with traditional 9mm or 10mm dropouts. A quick release skewer fits through the wheel and allows you to quickly change the wheel.
TA – Through axle. See Bolt Through Axle above.
Wheelset – both the front and the rear wheels are included in the wheelset
Please note, all size information is provided as a guide - if you're unsure or need any further assistance you can call us on 01792 799508 ... we're happy to help!
MTB Wheel Guide
Finance
How do I apply for finance?
Spend £99 or more at Tredz and you can spread the cost. Pay monthly over 6-48 months, interest free (dependent on repayment terms and amount).
1Fill your basket with everything you want from Tredz and go to the checkout.
2During checkout, select the finance option you want as your method of payment.
3You will be sent to our finance provider's secure server to complete your application.
4Finance providers PayPal & V12 will use the information provided to make a decision and complete checkout if you are approved.
Read more about buying on finance
Flexible finance options
Choose your deposit.
Choose your term.
£299.99
Your basket
+ this product
PayPal Credit Representative Example: Representative 19.9% APR (variable), Purchase interest rate 19.9% p.a. (variable), Assumed credit limit £1,200.00.
Delivery & Guarantee
UK Delivery Information
International Deliveries – Temporarily Suspended 11/11/20
Note: We are still offering deliveries to the Isle of Man, Scottish Highlands, Scottish Islands, Channel Islands, Isle of Wight, Jersey and Guernsey. We are no longer delivering to Northern Ireland.
Courier Delivery update: Due to the COVID19 situation, we are currently experiencing some delays with deliveries. Our couriers are working around the clock to get your order to you as soon as possible but there is a potential delay of up to 48 hours . Please check your tracking on track your order here.
Please download the TNT Track and Trace App for iOS here and Android here so you can keep an eye on your delivery and any further updates.
Please note on the TNT tracking app it may show your delivery status as 'Collecting' (as per image below). This means your delivery has left our warehouse and is currently held at TNT main depot and there could be up to a 48 hour delay.

Please keep checking the TNT tracking for further updates. On behalf of TNT we apologise for any delay and inconvenience this may cause.
We are committed to offering fast and free delivery, whether you're ordering bikes, accessories or clothing. Our standard delivery service is FREE in the UK, regardless of the size and on all orders over £20.
Please note that bulky products and bikes shipped to outlying UK regions are excluded from free shipping.
Please note that Pre-Order dates can sometimes change due to updated stock information.
Click here for more UK and international delivery information.
Returns & Warranty
It's easy to return a product with our 365 day, hassle free returns.
We will give you a full refund or exchange on any item that is returned to us unused/unfitted, in a resaleable condition and in its original packaging (where possible).
Please note: For hygiene reasons, we cannot accept returns of facemasks, undershorts or underwear if the item has been removed/unsealed from its original packaging.
If your item develops a fault or arrives damaged, please contact us first so we can resolve the issue for you as quickly as possible.
For more information please visit our Returns & Warranty page.
Show finance options for:
Available finance options:
Finance provider options available