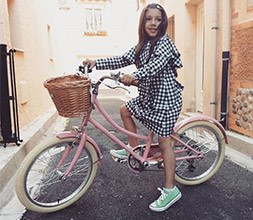 Bobbin 24" Hardtail MTB
Bobbin bikes bring the classic, vintage look to you. You can ride a modern quality bikes that features the style and eccentricities of another age. The Bobbin 24" hardtail bikes give junior riders that opportunity too.
The Bobbin Gingersnap 24w is a girl's bike that makes for a perfect city cruiser. It's available in a variety of colours to suit different tastes and comes with a wicker basket and full-length mudguards and chainguard to keep riders clean. The Hi-tensile steel frame is robust and helps to soften the road noise and bumps by absorbing them, making for a more comfortable ride.