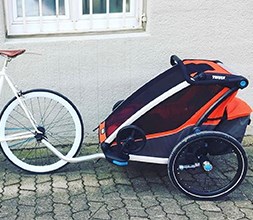 Thule Child Trailer Spares
These Thule child trailer spares make travelling with your child hassle free. Our range of quality engineered Thule trailer spares include baby supporters, Q/R skewers for Hitch mounts, hitch adapters, cargo racks and more.
Thule are a Swedish brand that prides themselves on creating premium cycling accessories including some of the best car racks for all types of vehicle on the market today. Their origins date back to 1942, so you can be sure they know what it means to create a top-quality cycling product, and their child trailer spares are no exception.