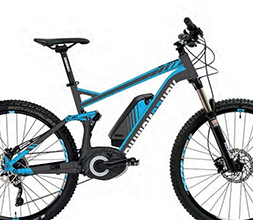 Diamond Back Electric Bikes
Ride more sweat less. DiamondBack electric bikes feature a powerful electric motor and long-lasting battery pack to boost your natural pedalling power, so you can ride further with less effort. DiamondBack have used their off-road experience to produce a range of electric mountain bikes that will help you to ride more trails than ever before. You will have more fun with less stress on a DiamondBack electric bike.
Available in both full suspension and hardtail designs DiamondBack use Bosch and Shimano ebike drive units with high capacity lithium ion battery packs. The 27.5"+ wheel size is ideal for eMTBs as they offer more float for riding over the roots and rocks on the trail. Take your riding adventures on the mountain to the next level with a DiamondBack eMTB.