Introducing: Moustache electric bikes
Moustache founders Manu and Greg began their e-bike business with a simple aim: to help people leave their cars in the garage. Little did they know that 10 years later, Moustache would be helping so many people choose two wheels over four.
History of Moustache Electric Bikes
Since their inception, Moustache who are based in the far eastern corner of France, have focussed solely on e-bikes. Designed and fully built in France, you won't find any Moustache bikes without electric assistance. OK, there is one - just one – but it's a knockout out of a kids balance bike!
Due to that laser focus on electric bikes, it's no surprise to hear that Moustache believe that bikes with a soupçon electric assistance are the future of our urban environments. As such, you'll spot thoughtful touches on every Moustache electric bike – features like integrated lights and robust mudguards.
And what of the name? Much like the facial hair, each Moustache bike has its own unique, recognizable style. There's Moustache's signature handlebar too, which look very much like the facial hair of the same name!
What began in 2011 as a condensed range of seven electric bikes, has quickly expanded into an e-bike tour de force. Indeed, today's Moustache e-bike range consists of over 65 bikes with every model powered by a Bosch motor and battery and controlled using a Bosch display.
Moustache's commitment to Bosch e-bike systems has been extremely fruitful, enabling them to work hand-in-hand with the electric specialist to design bespoke solutions for their bikes. Purchase a Moustache e-bike and you can ride away confident in the knowledge that you're onboard the most up to date, technically sound two-wheeled companion.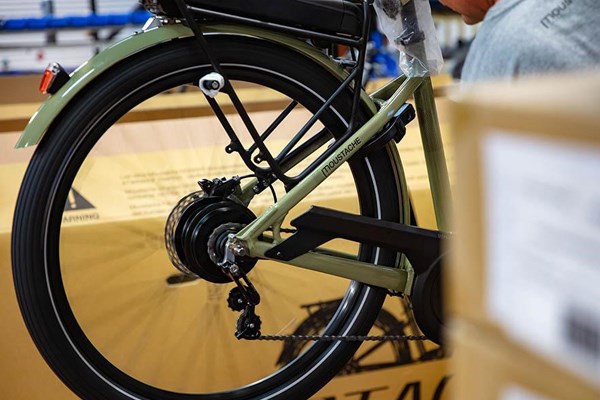 Most Popular Moustache Bikes