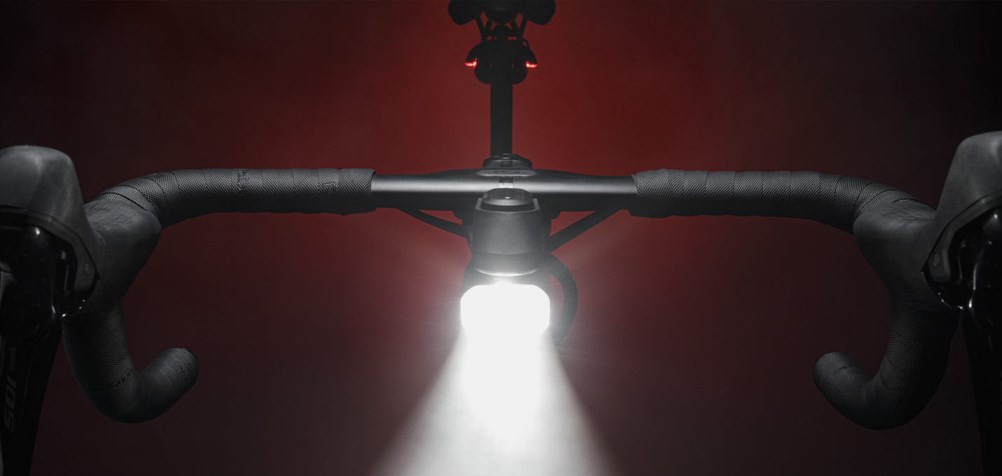 Cannondale Smart Sense
In partnership with Lezyne and Garmin
Integrated battery, lights and radar to increase visibility and enhance awareness
How does it work?
Take a closer look at how this new technology seamlessly blends into your riding to add safety, information and peace of mind.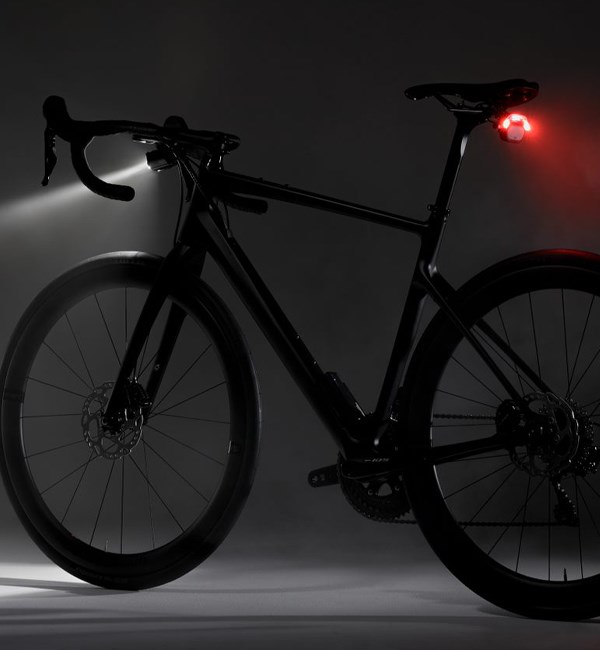 Front and rear lights.
Developed with Lezyne, the lights act as junction boxes connecting the system. Great lenses with 350 front lumens and 25 rear are powerful enough for most situations.
An ambient light sensor ensures optimal visibility in all light conditions. The lights adjust brightness when the radar detects cars approaching from behind - rear to alert the vehicle and front to alert you.
Brake "alert" - Rear light responds to braking decelerations and warns riders and vehicles behind you.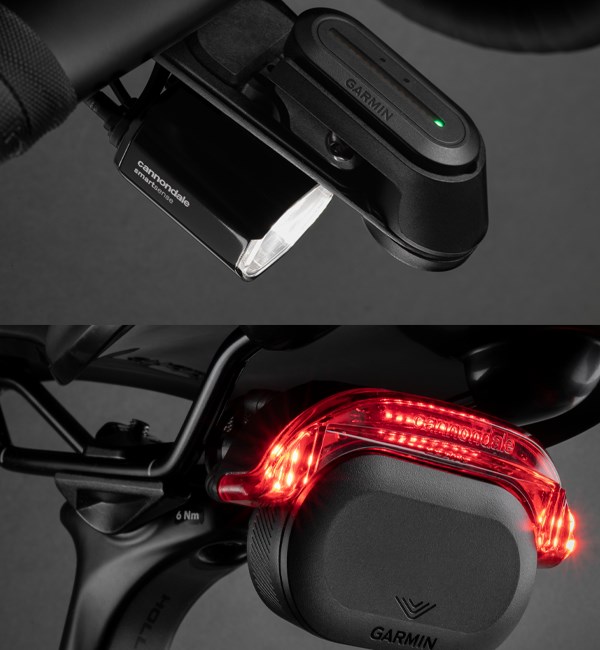 Rear-facing radar
Developed with Garmin, the rear-facing Varia technology detects vehicles from up to 140m away, the display shows relative position and speed of contact - plus warnings for cars coming too fast or too close. An adaptor allows the use of a saddle bag.
Radar models come with a removable LED strip showing proximity, and the Varia technology also works with most cycle computers and the Garmin App on your phone.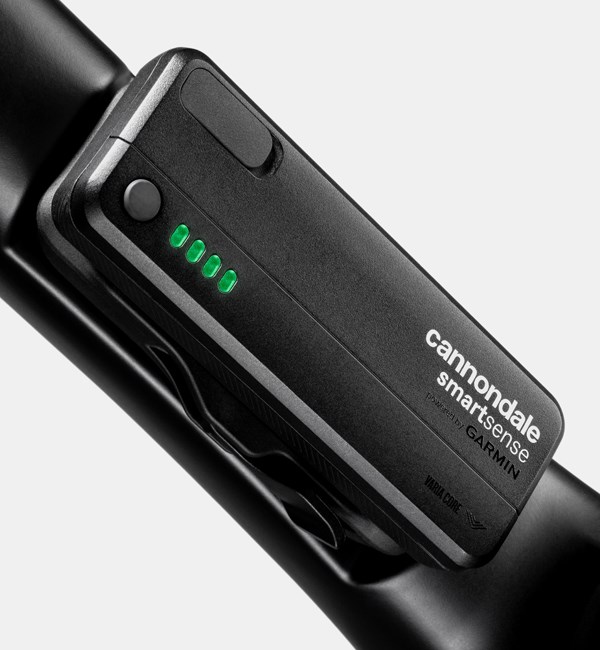 Central powerpack
The removable and rechargeable battery pack and smart cradle is the master control centre for the ecosystem. A single power source developed with Garmin solves the hassle of charging multiple devices - all other parts stay on the bike. Only 3 hours to charge with a 150-day battery life in standby mode. The battery is good for 5 hours on average and 2:45 at full blast.
With the proximity wake function, just walk up to the bike with the app and the bike will turn on. Or simply spin the front wheel to wake the system.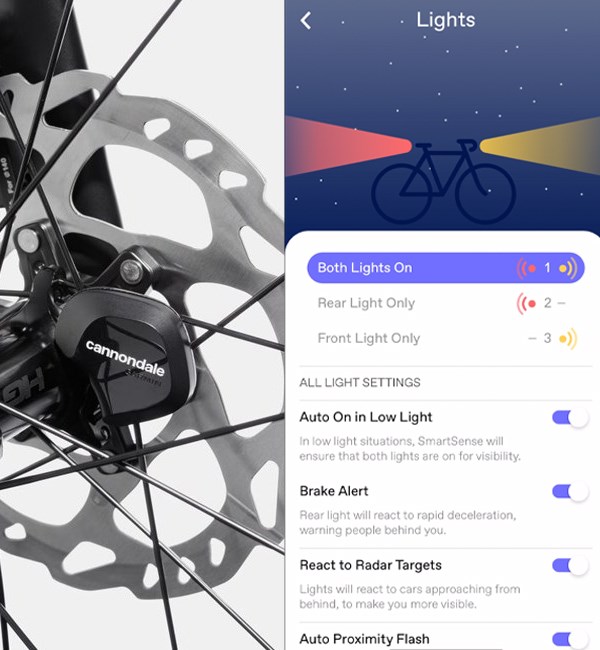 Wheel sensor & App
The sensor knows your unique Cannondale, and has all warranty, tech, parts and fit info on display. The app also has a tracking function to record your rides just like Strava.
All Smart sense features are connected and programmable via the app or a Garmin device. View light and radar status, cycle through light modes and customize settings. Smart Sense is greater than the sum of its parts.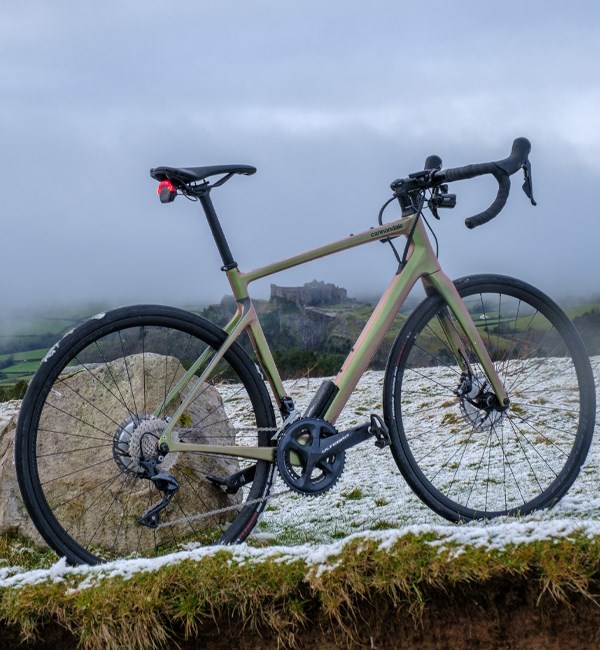 Smart Sense in use
Smart sense is very slick in its operation. No nonsense integrated lights with one central battery are easy to live with, as is the whole system, in conjunction with the app the features are easy to use and access.
With the added reassurance of features like proximity flash and the onboard radar display, riding with Smart Sense feels like wearing an extra level of security and visibility.
The all-new Synapse is the first bike from Cannondale to feature Smart Sense. Check out the range to see models that feature Smart Sense, and how well this technology integrates into one of the best endurance road bikes available.
See our video and range review here.
The front-wheel sensor is already featured on many bikes from Cannondale. Keep an eye out for Smart Sense and the wheel sensor appearing on more Cannondale models soon.