Bromptons are the iconic folding bike. The basic design is the same on all models but there are many different options to choose from. Unlike most other bikes sizing is based on seatpost and handle bar type rather than frame size. This guide will help you to choose the right Brompton bike for you.

The Folding Bike
Brompton set the bench mark that all other folding bike brands have tried to match, but no bike folds up as easily as a Brompton. With just four steps you can easily fold a Brompton in just 20 seconds. Once folded the bike is easy to carry. It's nice and small too (585mm high x 565mm long x 270mm wide) so you can easily store it under your desk at work or in a cupboard at home.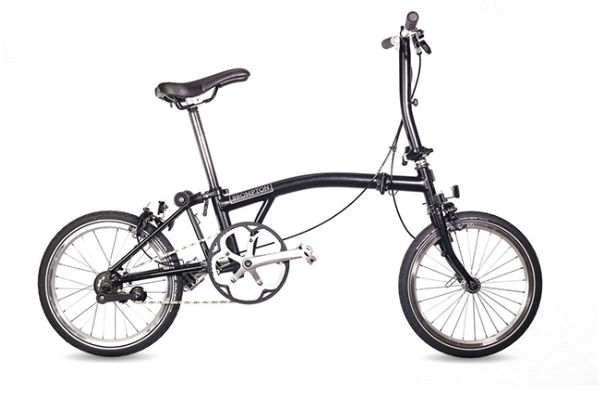 The basic characteristics of each Brompton bike is summed up in the three characters of the model name:
The first letter tells you which handlebar is fitted.
Next is a number which tells you how many gears the bike has.
The third letter tells you if the bike has mudguards and a rack.
If there is an X as a fourth character, then the bike is a Superlight model with titanium parts.
e.g. the Brompton M3L has an M Type riser handlebar, three speed drivetrain and is fitted with mudguards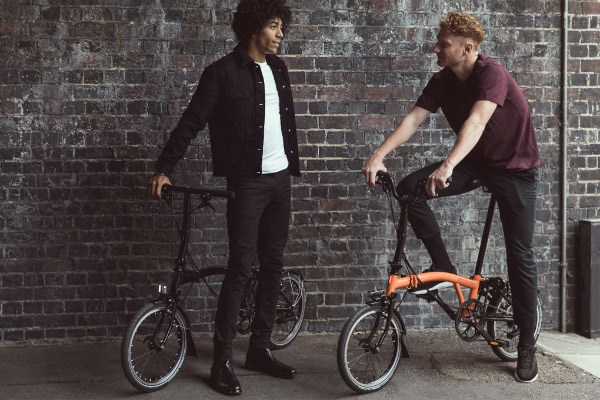 There are four different handlebar option on Bromptons.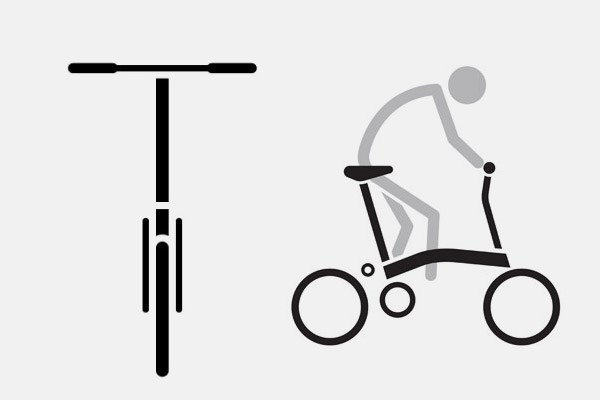 S Type – a flat handle bar that offers a sporty riding position with a handle bar height of 924mm. Shorter riders will find this option offers a regular riding position while taller riders will feel more tucked.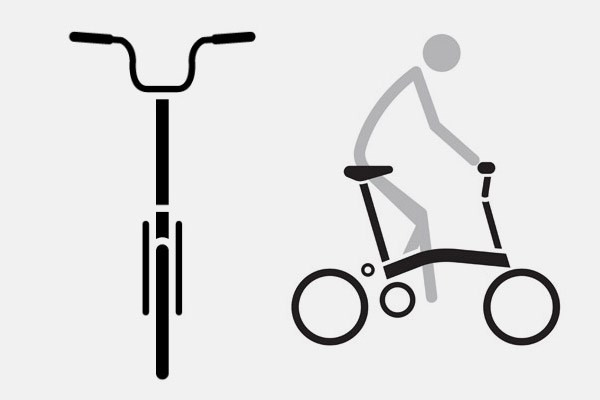 M Type - a riser handle bar that offers a medium-upright cycling position with a 1015mm bar height. The M bar gives you that classic relaxed Brompton feel.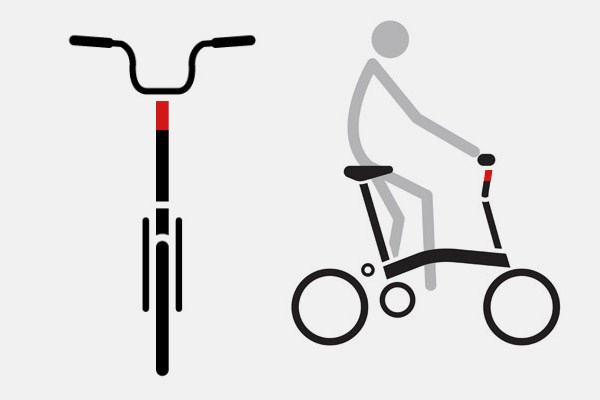 H Type - a riser handle bar with a high stem that offers a more upright cycling position. The bar height is 1072mm. Taller riders will find this position relaxed. For others this H handle bar version offers a similar feel to a Dutch bike with minimum pressure on the hands and wrists.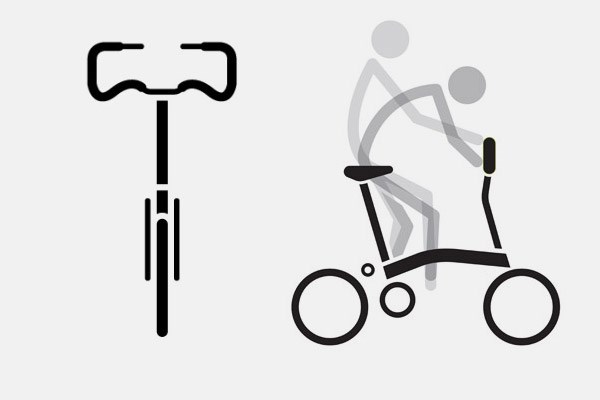 P Type - a P type multi position handlebar which offers multiple hand positions for different cycling situations. This gives you a variety of different riding positions from upright to tucked. Maximum height is 1030mm.
There are four gearing options for Bromptons.
1 Speed - Light and simple single speed - perfect for cycling on flat terrain.
2 Speed - Two gear options - for riding on flat terrain with the extra gear for those occasional hills.
3 Speed - Robust, enclosed three speed hub gears - good for riding flat and occasionally hilly terrain.
6 Speed - Six speed hub gears - for those who wish to take on longer rides and challenging inclines.
Each gearing option has a 50t chainring fitted as standard. You can also choose a custom chainring that is either smaller for easy pedalling, or larger for faster cycling.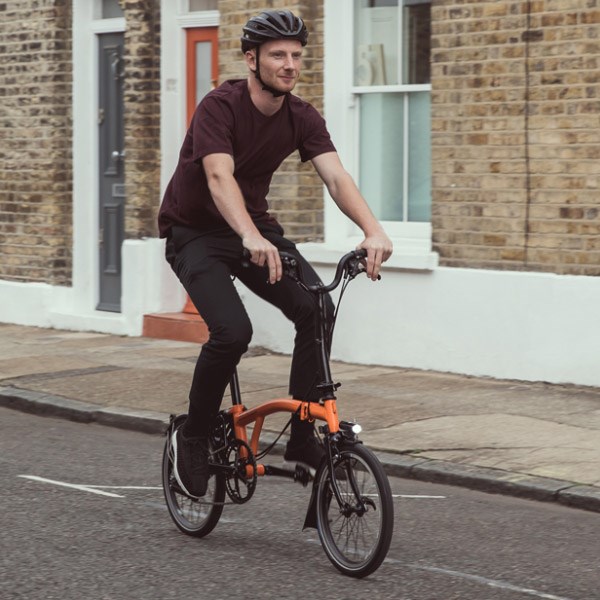 There are three standard mudguard and luggage rack options for Bromptons.
R – Rack, mudguards and pump are included.
L – Mudguards and pump are included.
E – No mudguards or pump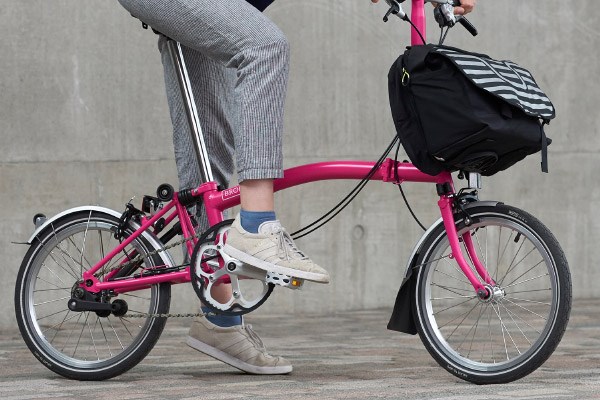 It is the seatpost that determines the sizing for Bromptons. There are three different seatpost options.
Standard Seatpost – inside leg measurement up to 33"
Extended Seatpost – inside leg measurement of 33" – 35"
Telescopic Seatpost – inside leg measurement greater than 35"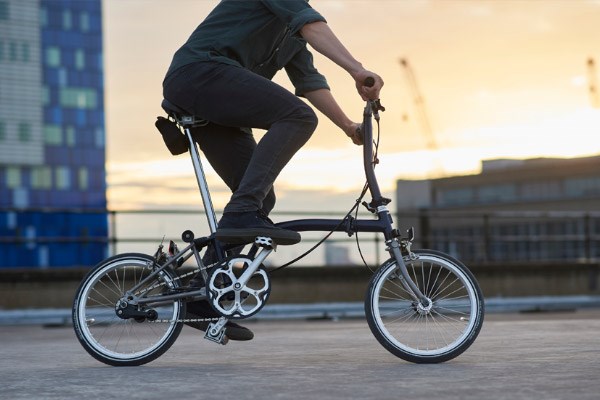 All Bromptons roll on 16" wheels, and there are three tyre options to choose from:
Schwalbe Marathon Racer – this is the standard tyre fitted to Bromptons with all-weather tread and a fast rolling construction
Schwalbe Marathon – this is a more durable version of the Marathon Racer with improved puncture protection
Schwalbe Kojak – this is a lightweight fast rolling slick tyre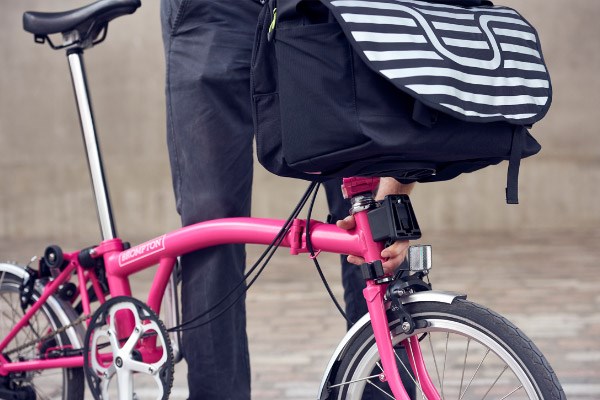 Bromptons have a variety of ingenious luggage carrying solutions. As well as a rear luggage rack, the optional front carrier block allows you to carry up to 10Kg of luggage. This mounts onto the headtube rather than the handle bar so the added weight doesn't affect the stability and handling of the bike. Brompton luggage is practical, stylish and made to last.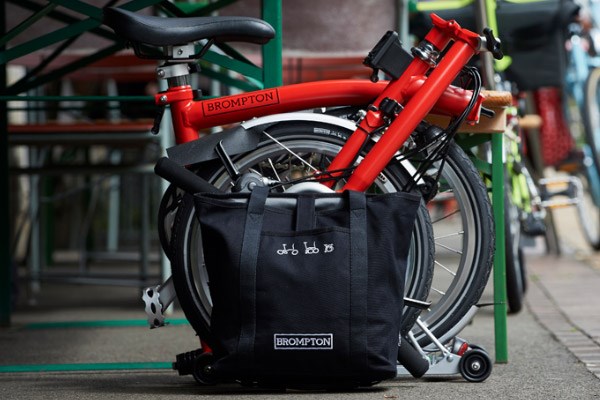 ---
Accessories and components
As well as luggage, Brompton have a range of accessories designed specifically for their folding bikes. These include Cateye light sets with Brompton specific mounts, luggage mounting blocks, racks, mudguards, saddles and seatposts as well as spare parts.