Women's cycling is booming. Big bike brands like Giant Liv, Specialized, Cube and Cannondale all have extensive women's specific bike ranges.
What makes a women's bike different from a unisex model?
It all comes down to fit and comfort. For an average sized woman these ladies specific bikes offer the best fit. This means you don't have to take your unisex bike to your local bike shop to chop down your handlebars, swap your stem or fit size specific components.
Key anatomical differences
Compared to a man of the same size, women generally have;
Wider hips
Narrower shoulders
Smaller hands & feet
Women also tend to be shorter & lighter
Women's bikes come in two distinct types. The first type are unisex frames that have been made female friendly by adding different components.
The second type are true 'women's specific bikes' with a frame that has been built from the ground up for a female anatomy.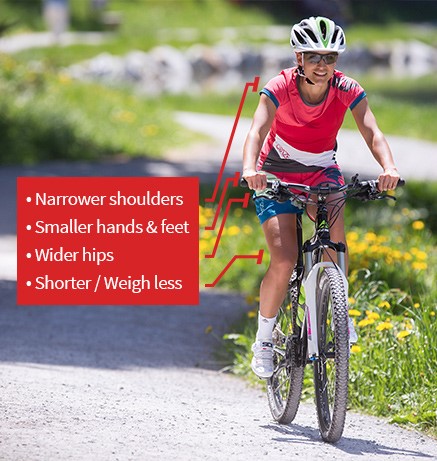 Modified Unisex Frames
Entry-level women's bikes come with smaller frame sizes and changes to componentry to optimise your fit on the frame.
There are only three contact points between you and your bike – the handlebar, saddle and pedals.
To optimise each of these areas, bikes will be fitted with a shorter stem, narrower handlebars, shorter cranks and, most importantly, a wider saddle.
Size-specific components
Shorter stem - brings the handlebars closer so you don't over-reach which can be painful
Narrow handlebars– reduces tension in your shoulders for comfort on long rides
Shorter cranks - ensures your feet are firmly planted on pedals for efficient riding
Wider saddle – A wider saddle at the rear supports women's wider hip bones, essential for comfort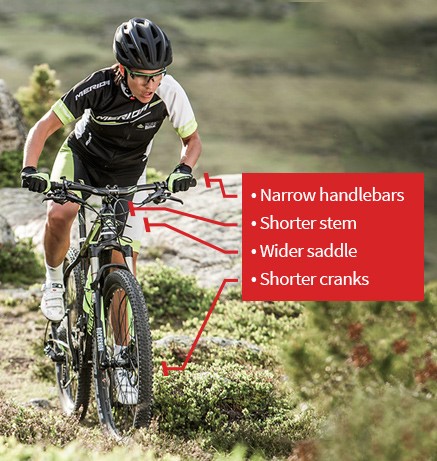 Women's specific frames
More bike brands are investing into the women's market with purpose built women's specific bikes. These bikes are built from scratch to offer the best fit and performance by having subtle differences built into the frame to change your riding position.
Women are a lot more sensitive at putting weight through their genital soft tissue and pubic bone, so prefer to ride with more weight back on the saddle. This is why bike brands make changes to the geometry so you don't need to over-reach to grab the handlebars.
Women's frames key features
Shorter top-tube - This is the bar between your legs. A shorter top tube brings the handlebar closer, so it's easier to reach.
Relaxed head angle – The short downward tube which the fork slides into is tilted backwards towards you. This brings the bar towards you and makes the front wheel more stable.
Taller head tube - Compared to a unisex frame, a women's model will have a slightly taller head tube which is easier to reach.
Steep seat tube angle – Compared to a unisex frame the seat tube angle will be a little steeper. This is to stop your toes hitting the front wheel when you turn corners (called toe-overlap) – a problem with shorter top tubes.
Low standover height - Many women's bikes will come with a slanted down top tube. This makes mounting the bike easier and offers confidence.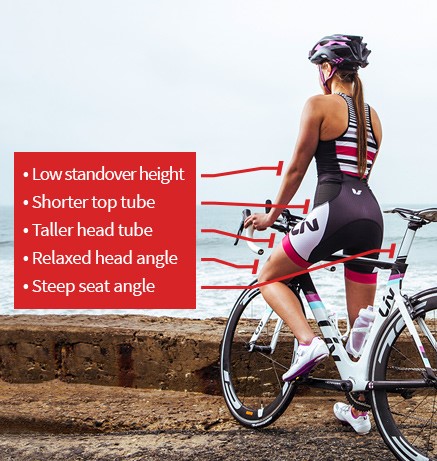 Choosing a women's specific bike can make a big difference to your enjoyment riding. With size specific componentry and specially engineered frames these bikes give you the best fit.
To see our entire range of women's specific bikes click a style below or view them all.
Popular Women's Specific Bikes