Black coloured clothing is a staple in any cyclist's wardrobe. It goes well with anything, it's subtle and it's flattering on your physique. However, black, grey and a dark coloured cycling clothing are not ideal for enhancing your visibility (and safety) when you're cycling during the daytime. In this hi vis clothing guide, we'll show you why you should be wearing bright coloured clothing on any ride.
---
Hi Vis Clothing Does Not Mean Reflective
To clear up any confusion, hi visibility clothing is not the same as reflective clothing. Jackets, jerseys, gloves and shoes with reflective elements are essential for night time riding.
Reflective clothing
Reflective clothing like the super impressive Proviz Reflect 360 range, use technical materials such as Scotchlite logos, stripes, pipes and chevrons to reflect the light emitted from car headlights (and even just the surrounding ambient light). This greatly improves your visibility during dark light conditions. Reflective clothing can be a black jacket with reflective piping, so would be OK for night time use, but near invisible during daytime riding.
We've put together a reflective jacket comparison guide to help you see just how powerful reflectives can be during night time rides.
Hi vis clothing still has a positive effect on your visibility during night time riding as the comparison images below show. On the left is the very popular Altura Night Vision hi vis jacket with a bright yellow colour scheme and reflective elements. Even when not under car headlights, the jacket is much clearer than the extremely reflective Proviz Reflect.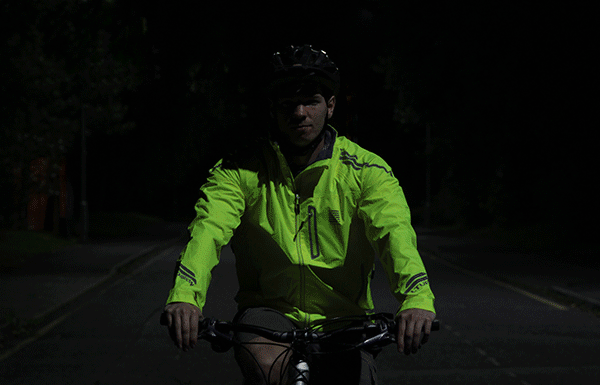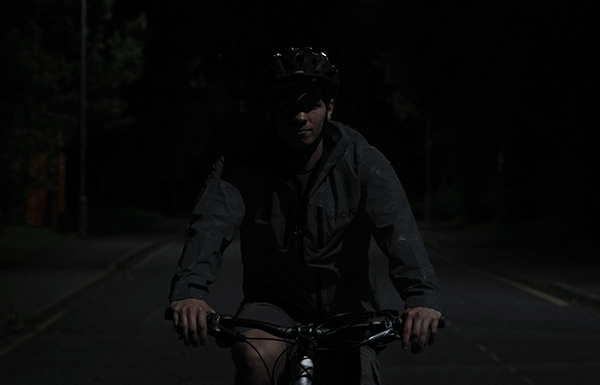 Hi vis clothing
Hi vis clothing uses fluorescent or bright block colours over much of the garment. From Spring through Autumn many of your commutes, fitness sessions and leisure rides will be during daylight hours, so wearing hi vis yellow, green, red or orange colour schemes are a great way to make yourself visible. These colours are eye catching and clearly distinguishable against the backdrop of concrete urban streets.
For the best of both worlds, many good quality high visibility jackets and jerseys will come with added reflective elements. This means you can optimise your presence no matter the time of day.
Choose your colour scheme to clash with your environment
It pays to think where you'll be riding most often when choosing a hi vis colour. Green is great in a grey concrete setting, but will not be so effective when you're riding in the countryside. Likewise, blue can get lost during clear skies. A hi vis yellow jacket will work great pretty much anywhere.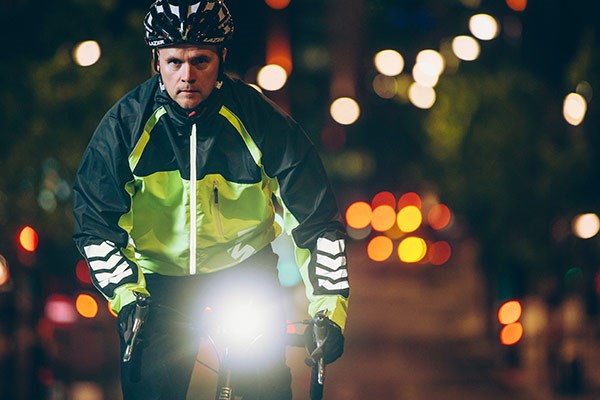 Choose hi-vis clothing with reflectivity for year-round use
If you plan on wearing your hi vis jacket or hi vis trousers year-round, then you'll want added reflectivity for those dark morning and evening commutes. Look for reflective elements on the edges of your profile. Think shoulders, your outer arms and thighs, down along your back, on your calves and ankles.
Remember that you can also find reflective elements on shoes, helmets, glasses, backpacks and you can even buy reflective stick on strips for your bike.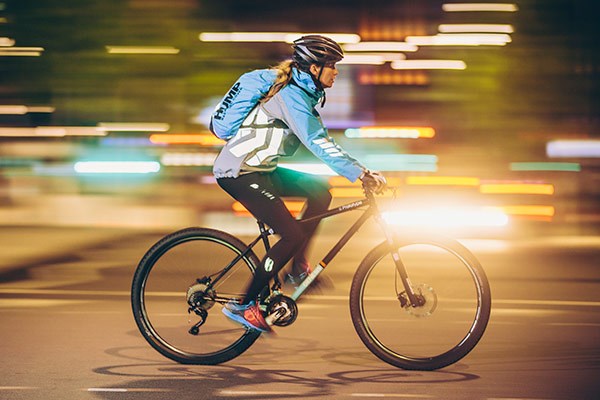 Some hi vis jackets come with integrated LED's
Hi vis clothing doesn't just mean choosing a garment that has bright colour schemes. Brands like Altura use integrated LED's directly into their clothing.
The Altura Night Vision jacket has an ILume rear LED built into the drop tail of the jacket. When you're bent over, in a riding position, this LED sits at eye level of the driver behind. The slightly bobbing effect as you cycle creates an unusual light source that will attract attention, especially when used alongside your main rear lighting system.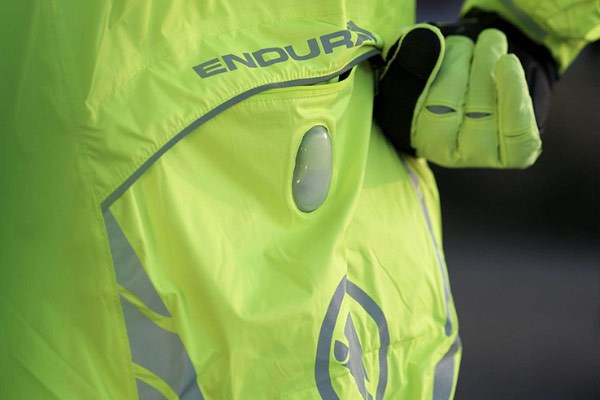 Don't obscure yourself with a low vis backpack
If you're commuting to work you're likely riding with a backpack or satchel to keep your clothing and other work essentials stored. However, a backpack will obscure a large part of your profile. Luckily, there is an answer.
You can get a hi vis bag cover that ensures you don't lose any rearward visibility. Brands like Hump sell a great range of hi vis covers for your bag, some which also include large reflective elements too. Or, you could just treat yourself to a new hi vis backpack.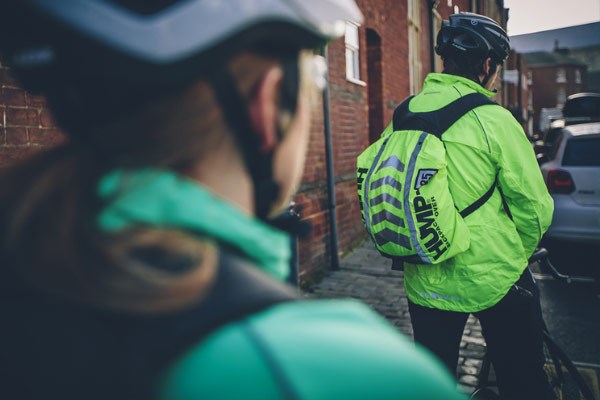 Use bike lights at all times
We all know bike lights are a must have for twilight and night time riding. In fact, they're law at these times. However, we strongly recommend you keep them on during the day too.
A bike light on a flashing setting during the day is more eye-catching that using your light on steady. Even better, you could have two bike lights up front and two at the rear.
Place your most powerful light on full beam and the other on flashing to create a pulsing strobe effect that is very visible during the day.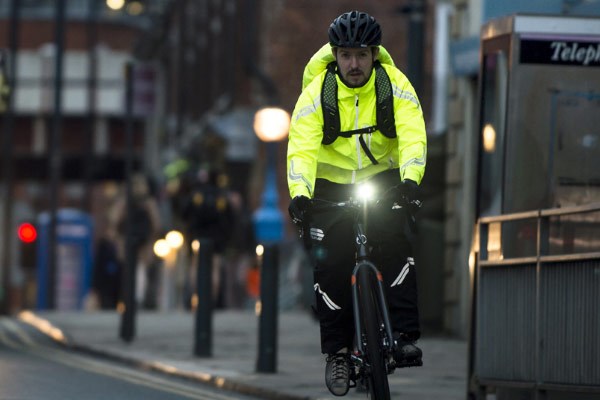 To help you see just how visible you can be wearing a bright coloured jacket we set up a simple demonstration. We took a photo of a cyclist wearing a yellow jacket and a black jacket at set distances; 50m, 100m and 150m.
You can see that the black jacket washes into the surrounding colours making it more difficult to spot on urban city streets, whereas the hi vis yellow jacket really pops out. This effect is heightened even more in overcast conditions where grey especially can almost vanish into the background.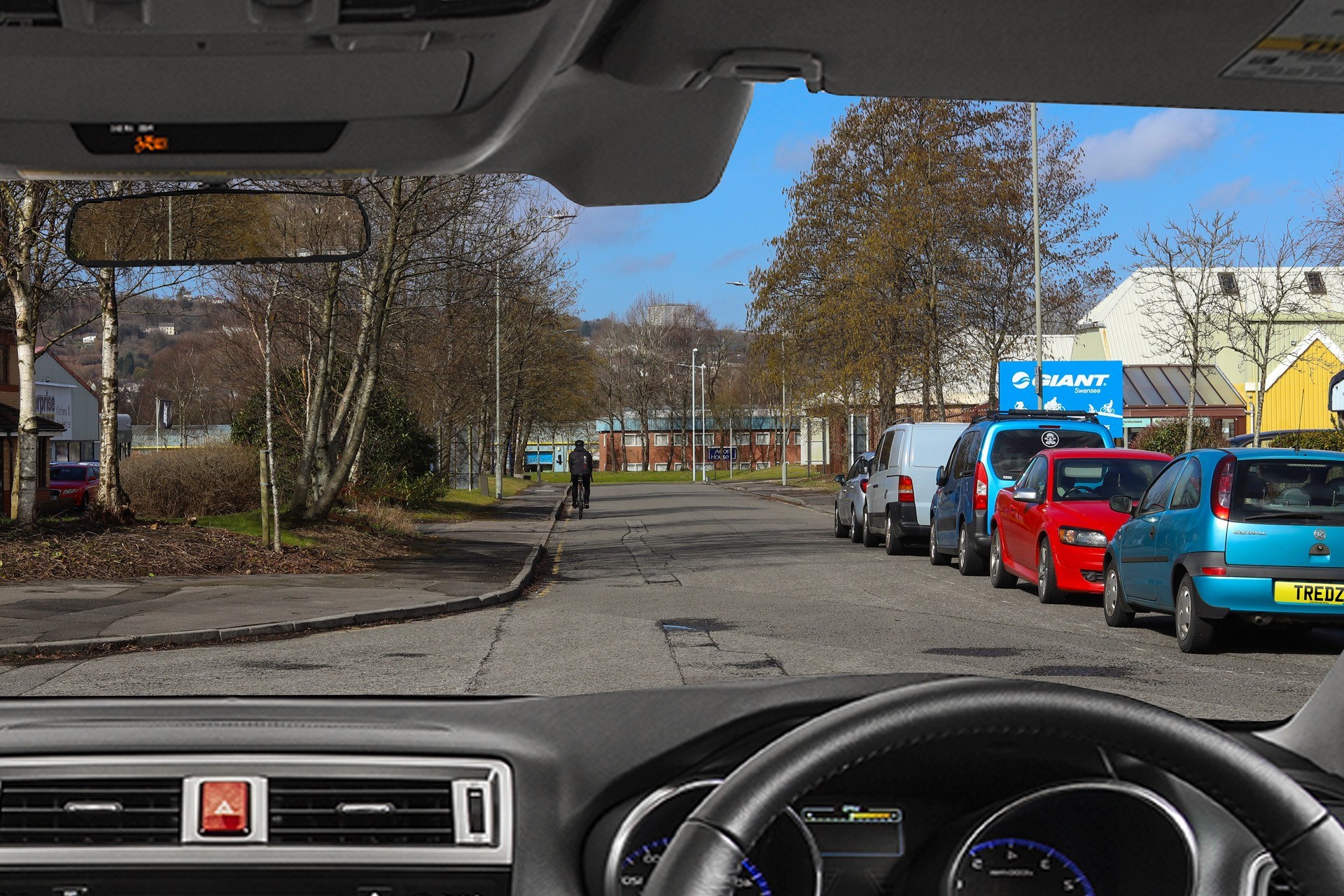 Black Jacket 50m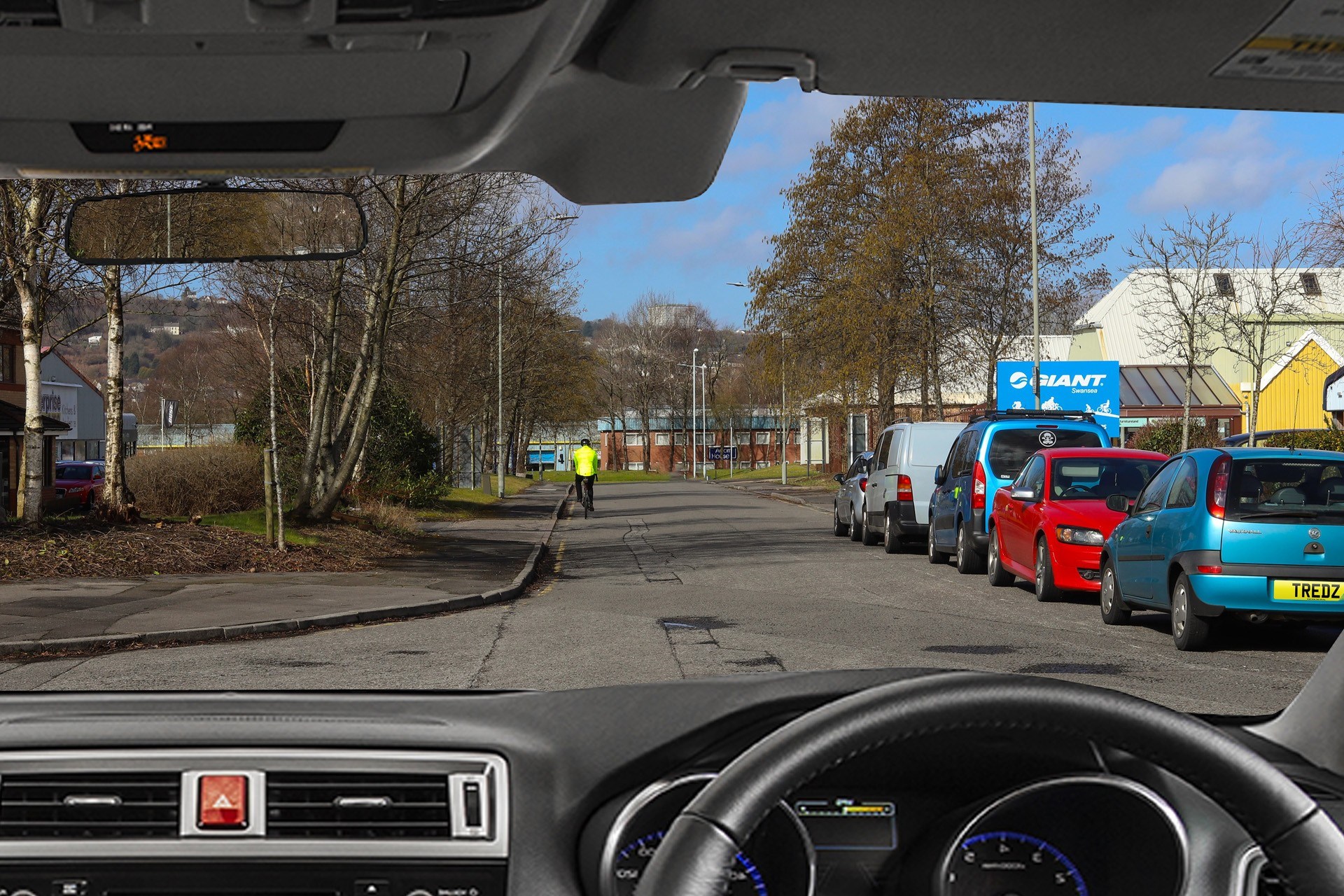 Hi Vis Jacket 50m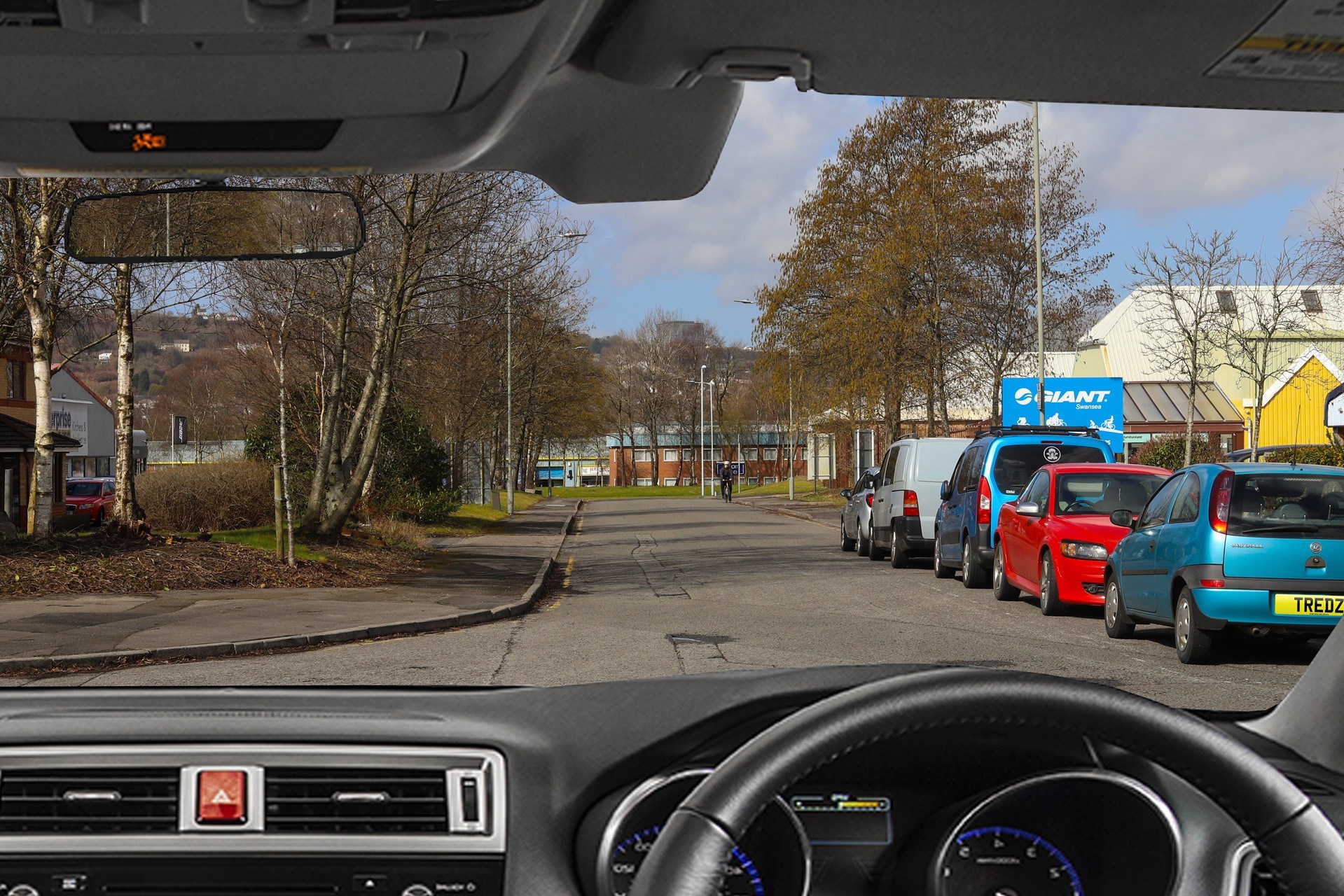 Black Jacket 150m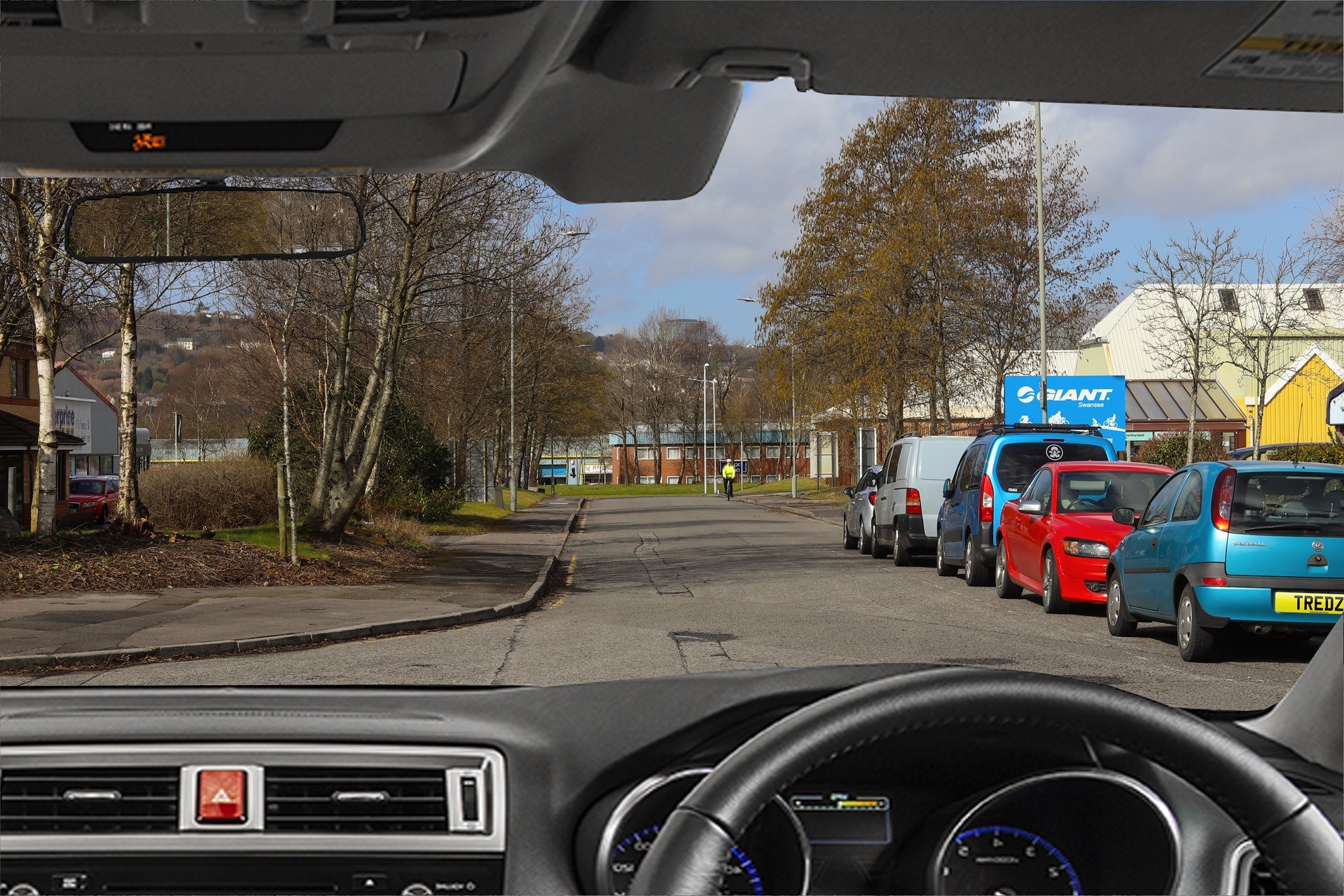 Hi Vis Jacket 150m
Stopping distances
Stopping distance is made up of a driver's thinking distance, which ranges from just 6m at 20mph, right up to 21m when you're travelling 70mph, and the braking distance. Braking distance will vary greatly depending if the road is wet or dry. On wet conditions the braking distance will double, massively increasing overall stopping distance.
As you will see on the chart, the stopping distance at 40mph in the wet or 50mph in the dry would be enough to collide with a cyclist just 50m up the road if the cyclist is stationary or pulling out of a junction, (or a lot less if the driver and cyclist are moving towards each other).
A car travelling at 60mph needs 122m to brake in wet conditions, which is more than enough to hit the cyclist in at the second distance in our photo above.
The sooner a car driver can see and recognise you, the earlier they will be able to brake and stop a potential collision. This is why it's a good idea to be as visible as possible at all times.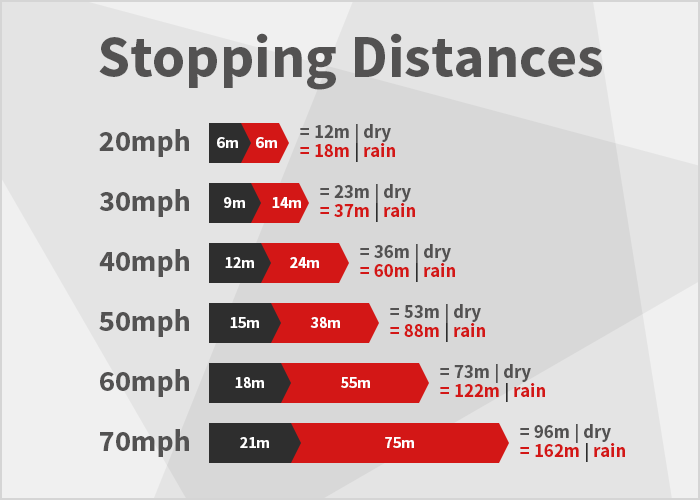 Most Popular Hi Vis Clothing