Mountain Bike Groupsets

Mountain bike groupsets have evolved significantly in the last 20 years, and are now truly set apart from their road bike counterparts. With a focus on strength and gear range, it reflects the demands of mountain bikers out there and the extremes in which they ride.
With big moves towards 1x setups which use one chainring in the front and a large cassette in the rear, MTB groupsets have become simpler to use and maintain. This move has been to improve reliability and performance. Clutch-style rear derailleurs maintains the tension in the chain, so that rough terrain doesn't affect the chain retention as much. Narrow-wide chainrings help with this too, making sure there is a greater grip on the chain's individual links, making dropped chains a thing of the past.
Double chainrings (also known as 2x) setups offer a greater gear range than a single ring (1x) alternative, but with the added complication of a front derailleur and second shifter. These setups are often found on cross country bikes where climbing is more important and the tracks are not as rough. For all mountain and enduro trails, 1x has become the norm.
Shimano's most popular groupsets are SLX (M7000) and XT (M8000), while the range topping groupset is XTR (M9000). For SRAM, the most sought after groupsets are GX and X1, with XO1 and XX1 being popular too. The new 12 speed Eagle XX1 and XO1 are the flagship groupsets, and the 12 speed technology has trickled down to include GX Eagle.
Disc brakes have become the standard form of stopping for mountain bikes, and only the very entry level mountain bikes will have V-Brakes. Cable operated (or mechanical) disc brakes will be found on MTB's just above the entry level offerings, with everything above getting more powerful, hydraulic disc brakes.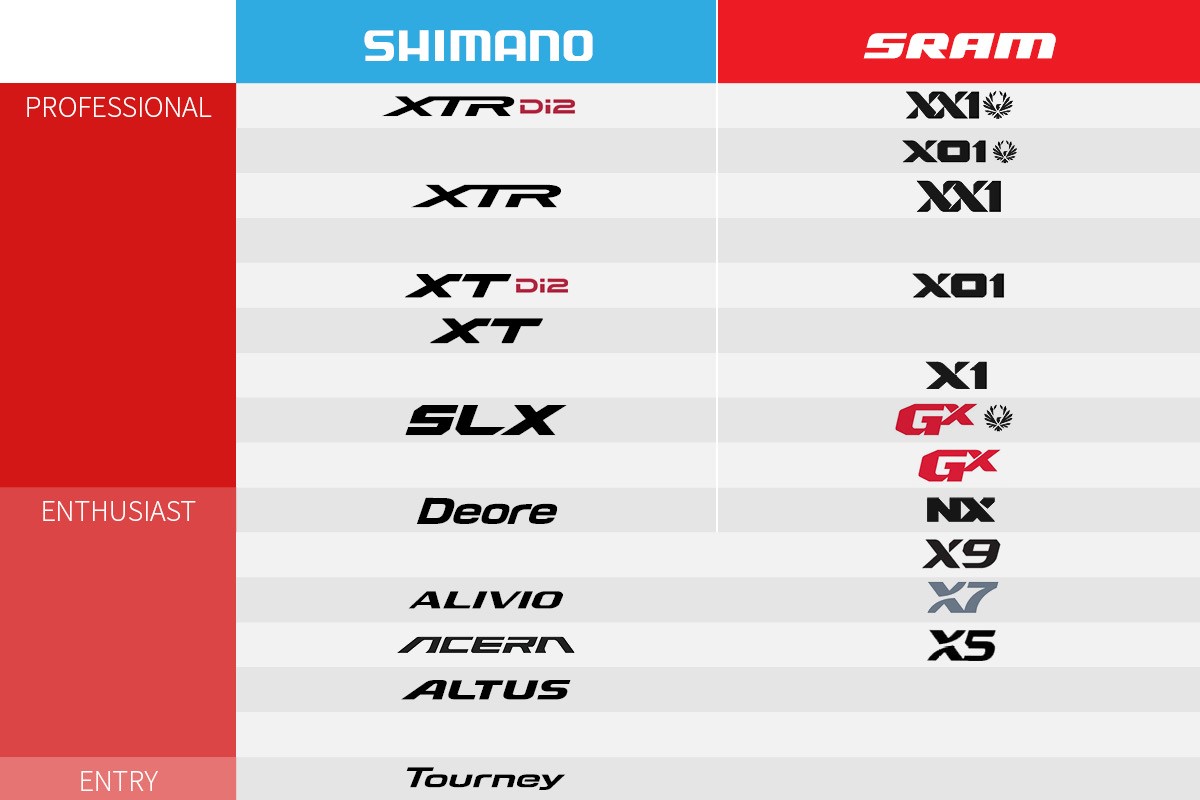 Shimano MTB Groupsets

Since the 1980's, Shimano has been at the forefront of mountain bike groupsets, introducing and refining technologies year-by-year. Shimano is known for offering a wide range of groupsets, from entry level hybrids, kids bikes and mountain bikes, to ultra high end, professional racing bikes.
Shimano's mountain bike groupsets offer particular reliability and robust performance in all kinds of conditions, whether it's their race level XTR groupset or their more modest Deore. The beauty of Shimano's groupset hierarchy is that no matter where you get in, you'll be getting fantastic performance with little to no drawbacks. Deore is the Shimano's lowest performance-level groupset, offering 10 speeds in 1x10, 2x10 or 3x10 configurations. The XT and Deore groupsets are the only MTB specific groupset to offer a 3x option, while SLX, XT and XTR all offer 1x11 and 2x11 options.
Shimano works on a trickle-down system, where the top end groupsets get the best materials and technologies, and over the years the technologies trickle down to the lower tiers of groupsets. Shimano first introduced 11 speed to their XTR (M9000) groupset, and since then their new XT (M8000) drivetrain has gotten an extra gear, as well as on the SLX (M7000). This also happened with Di2, Shimano's electronic drivetrain system. It was first debuted in MTB on the XTR Di2 (M9050) groupset and has since been developed for XT. All groupsets also feature Shadow RD+ clutch style rear derailleurs. These drastically reduce chains dropping by maintaining chain tension. The clutch is adjustable too, to tailor for different riding preferences.
Shimano MTB groupsets all get corresponding hydraulic disc brakes with 2-piston calipers. They use Shimano Mineral oil as fluid, and the levers have Servo Wave action that ramps up braking power by increasing leverage.
The non-discipline specific, recreational Altus (M2000), Acera (M3000), and Alivio (M4000) groupsets are found on the more entry level bikes. While they have strong performance, they do not have the specific technologies and robust nature of many of the more MTB specific grouspets. They are also commonly found on hybrid bikes.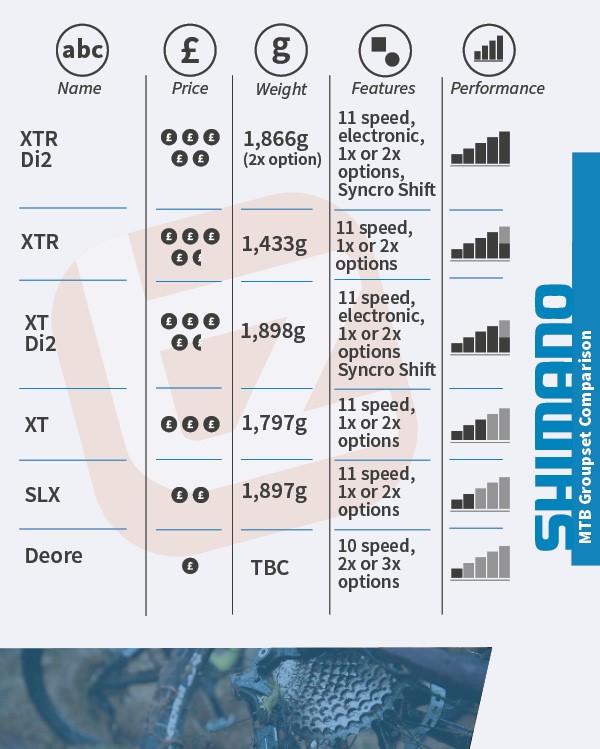 SRAM MTB Groupsets

SRAM MTB groupsets are known for looking to the future to see what the next big thing is, and then making it happen. SRAM were the first to introduce a 1x specific drivetrain with a wide range 11 speed cassette, taking the front derailleur out of the equation. This was generally seen as a vast improvement and a defining moment in the evolution of the mountain bike drivetrain. As a company that began less than thirty years ago with the introduction of the Gripshift shifter, they've come a long way in a short time.
SRAM's modern mountain bike groupsets started with the introduction of their XX1 drivetrain, which was the first to introduce 11 speed technology to mountain biking. With XX1, SRAM also established the first single chainring-specific groupset outside of downhill racing. They avoided the need for a front derailleur by using a wide range cassette that extended both the smallest gear to 10T and the largest to 42T, which was possible due to the new XD driver freehub body. What else made the 1x groupset possible was the new X-Sync chainring, which varied the chainring's tooth profile to retain greater grip on the chain, and the Type 2 clutch, which maintained the chain tension. Both of these technologies exponentially improved the risk of dropped chains.
Since the introduction of XX1, SRAM has extended the 11 speed 1x groupset all the way down their performance MTB range, starting at NX, through GX, X1, XO1 and up to XX1. And now SRAM has taken it one step further, recently releasing their new Eagle range.
Their new 12 speed Eagle groupset technology was first introduced in Flagship XX1 and XO1. It has since been extended into the GX groupset, offering a more budget friendly option. With 12 speeds, SRAM was able to offer a huge 10-50T cassette, giving a range of 500%, which is greater than many 2x drivetrains.
The acceptance of 1x drivetrains has truly revolutionised the mountain bike world, allowing for easier and simpler riding, with fewer dropped chains, less maintenance, and greater reliability.
SRAM does not offer groupset-specific brakesets, but rather two different brakesets in a variety of options for different price points. The SRAM Level brakes have a 2-piston caliper and are aimed at cross country and trail riders. Their more powerful Guide brakes have a 4-piston caliper and can be used from trail riding, to enduro and even light downhill.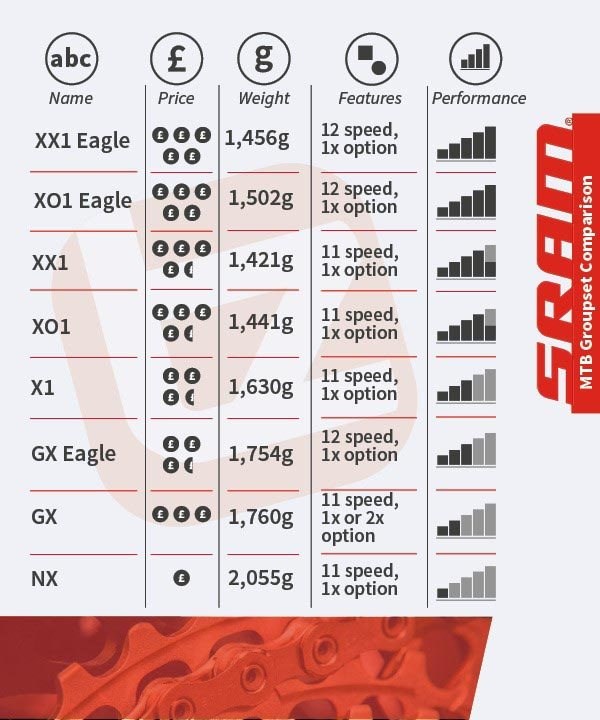 Downhill MTB Groupsets

Built for the rigors of the DH circuit, downhill groupsets focus on strength and reliability above weight savings, and have a few small yet important differences to other mountain bike groupsets. Because there is no need to point the bikes upwards, a wider range cassette is not necessary, allowing for smaller gaps between the gears which helps racers to find that exact gear ratio they need. A single chainring is all that's necessary up front. As there is no great range of gearing, derailleurs could be kept small, and so are also less in the way of danger from striking rocks and roots on the trail.
Shimano

Shimano was the first to offer a downhill-specific groupset in 2003 with the Saint M800. Since then, two more versions of Saint have been released, the M810 and M820. The current Saint groupset has 10 gears and features a Shadow RD+ clutch rear derailleur to keep the chain secure, avoiding excess chainslap for a quieter ride. The Hollowtech II chainset useshollow forged arms for a great balance between weight and strength.
Coming in at a more affordable price point, the Zee groupset is the entry level Shimano gravity drivetrain, aimed at riders that don't need all the exclusive features of the Saint group, but want a robust and dependable drivetrain. The Zee M640 groupset comes with a similar Shadow RD+ rear derailleur, yet does not have the lighter Hollowtech II chainset. The shifters too are slightly different. The Saint shifter allows for a double upshift, while the Zee only allows for a single upshift.
Both Zee and Saint groupsets have disc brakes to match. The calipers on both Zee and Saint are the same 4-piston design, which offers massive single-finger stopping power. The levers differ, with the Saint sharing much with the XTR brake lever. The Zee lever design is the same as the SLX brake, allowing for a more budget friendly price point. Both brakes feature Servo Wave technology for greater leverage.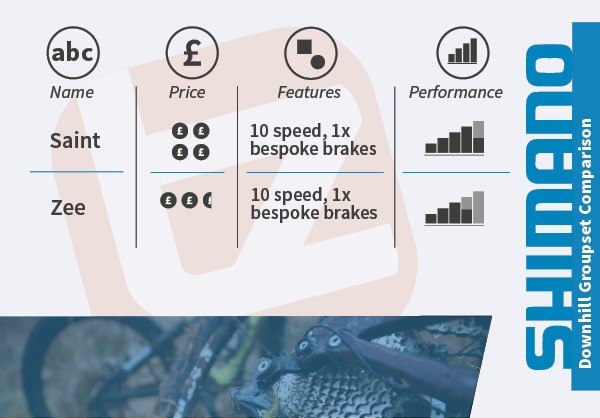 SRAM

SRAM could perhaps be said to be a bit late to the downhill groupset game, but they certainly can't be said to lack innovation, as they are so known for. The XO1 DH was the first offering by SRAM, which extended to the more affordable GX DH groupset shortly after. SRAM bucked the trend of greater gears, feeling that downhill riders seldom use as many gear ratios as other mountain bikers. So, instead of pushing for 11 speeds, they offered a new 7 speed option. The reasoning behind this was that riders were often double or triple shifting, trying to find the correct gear, and 7 gears was deemed ideal. They came out with a 10 speed option too, to cater for those who want more ratios. What makes the 7 speed cassette interesting is the Block X-Dome design, which takes up the extra room on the freehub with a domed piece of aluminium.
Carrying over from the XX1 and XO1 drivetrains, the derailleurs feature a Roller Bearing Clutch to maintain chain tension and reduce dropped chains and noise, while the X-Horizon parallelogram design allows for crisp shifts. On the XO1 DH cassette, a SRAM XD Driver freehub is necessary, whereas the GX DH takes the regular splined freehub body. The XD driver allows for a smaller 10T cog to be used, widening the gear range.
Unlike Shimano, SRAM does not have groupset specific brake options, but rather offer their Code downhill brakeset in a few different variants depending on budget. They also feature a 4-piston design for huge braking power thanks in part to the SwingLink™ technology that boosts leverage.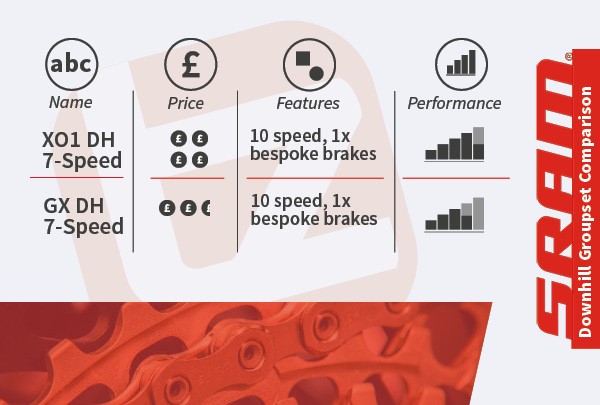 Shimano Hybrid Groupsets
Hybrid groupsets are often a mix between road and mountain bike components. Some are directly taken from mountain biking, like Deore (M6000), SLX (M7000) and XT (M8000), while others find their way from road. The Sora (R3000), Tiagra (4700) and Ultegra (6800) all offer flat handlebar shifters that work perfectly for hybrid bikes and offer the higher gear ratios of road bikes. The more entry level bikes, recreational drivetrains, like Altus (M2000), Acera (M3000) and Alivio (M4000) provide solid performance that doesn't break the bank, at the expense of greater weight and less technology.
The city/urban specific drivetrains from Shimano are Nexus, Alfine and Metrea. The first two are internal hub drivetrains, housing the gears inside the rear wheel and not needing a derailleur. They range from 3-11 speeds and the Alfine even comes in Di2 form. The Metrea groupset is Shimano's dedicated hybrid 11 speed groupset and even comes with its own disc brake set.
On entry-level hybrids, more basic Shimano drivetrain components can be found in the form of Tourney. These are often not available for sale separately and are not a complete drivetrain on their own.