Bike commuting has huge benefits
Only 3% of us in the UK cycle to work, despite a much greater number living just a few miles from the office.
If you drive to work and you spend your time crawling along at 5mph, just remember, you're not stuck in traffic, you are traffic! It's time to ditch the car and ride to work instead. You'll be fitter, less stressed and you'll probably get there faster too.
You will need the following kit - Bike, Lights, Lock, Bag, Cycle clothing, Helmet
---
What to ride - It's all about the bike
You can ride to work on just about anything, but it helps if you get a bike suited to your commute.
The two main things to bear in mind are how far you're riding, and what your route is like. Few people will need to hit the mountain trails to get to work, but if you do, you'll need a mountain bike for the commute. If, like most of us, your route is largely on tarmac, you'll be better off on a hybrid or road bike. Sounds obvious, but the way to keep up the commitment level is to choose a comfortable tool for the job.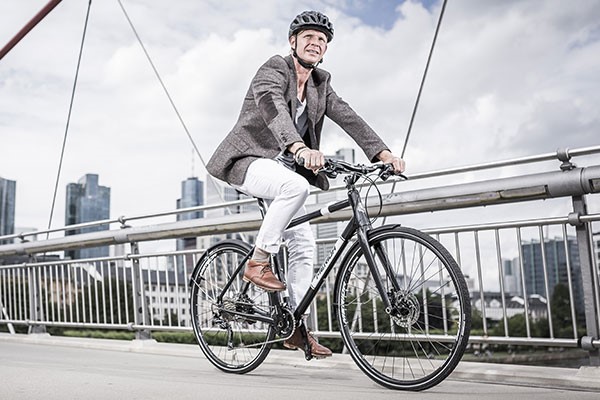 ---
Hybrid commuter
Hybrids are reliable, fast enough, but durable to cope with potholes and paths. They come in a massive variety of types, from a sit-up-and-beg Dutch-style bikes, to skinny-tyred lightweights that resemble race bikes with flat bars.
Hybrids and city bikes are really designed for commuting. Generally, they will have eyelets on the frame so you can easily fit mudguards and luggage racks if they don't have them already.
The frame geometry is generally upright and comfortable, though there are also lower, sportier versions if you're after something faster. Basically, the selection and variety of hybrids is massive. Some are like flat-barred road bikes, some more like skinny-tyred 29er mountain bikes, complete with suspension fork. Most are somewhere in between.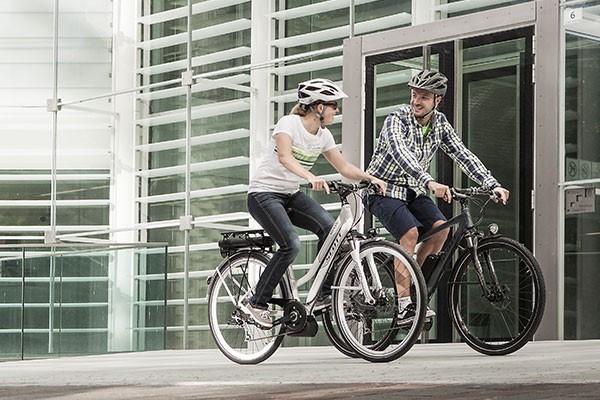 ---
Road bike commuter
If you're dedicated to a long-distance commute, speed is of the essence, or you want the ride to work to be part of your training regime, consider a road bike. Get your fitness sorted and a road bike will see you keeping pace with the motorised traffic in any city.
Comfortable aluminium bikes aimed at sportive riding are a great option for a fast commuter. Many have eyelets on the frame to at least add mudguards while some will also take a rack so you can carry your work clothes in a pannier. Once you start commuting on a road bike, beating the previous day's journey time can become a competitive obsession.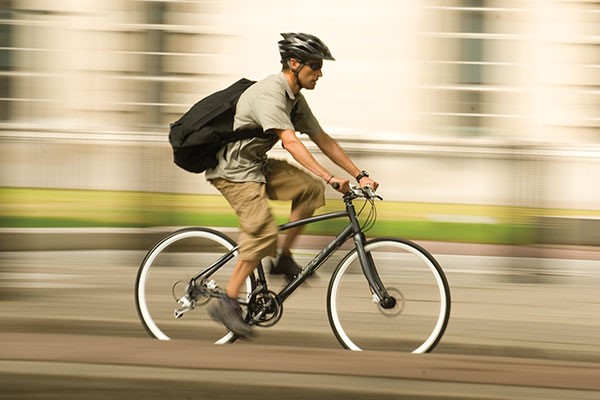 ---
MTB commuter
Mountain bikes, whether hardtail or full suspension, will handle the rigours of the daily commute just fine. They're just not the most efficient option if your entire commute is on the road.
If you can only have one bike and you like to hit the trails at the weekend, your mountain bike is certainly multi-purpose enough to get you to work. Hardtails with lockout forks are the best commuter MTB's, as you can effectively make the fork rigid to save energy when you don't need your suspension.
If you're one of the lucky few who gets to ride to work on the trails and without having to dodge the traffic, then a mountain bike is an obvious choice for you.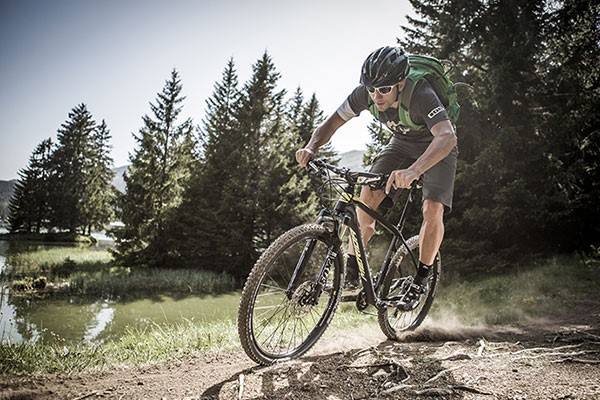 ---
Folding bike commuter
If you live a long way from work and usually get public transport, you could dramatically reduce your commute time with a folding bike. With a folder, just ride to the station or bus stop, fold it up, board and ride away again at the other end.
If you only need to cycle a fairly short distance before boarding a crowded bus, train or the tube, bikes with small wheels that fold up very compactly are your best bet. If you have a more substantial bike ride and there's a bit more space on the public transport you use, then one of the big-wheeled bikes which fold in the centre of the frame might be better.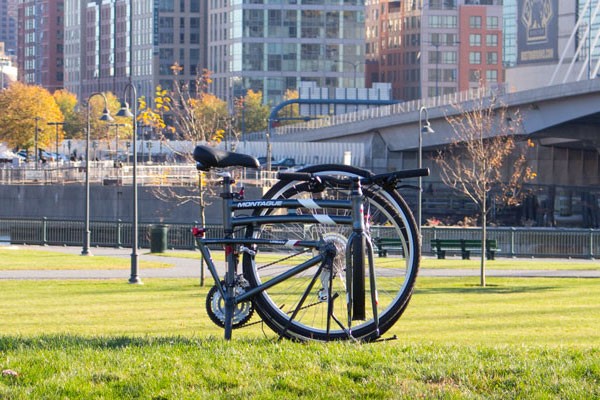 ---
Cross/touring commuter
Like hybrids, both touring bikes and cyclocross bikes are good multipurpose machines. The difference is, hybrids are generally built with commuting in mind, while cross bikes and tourers are made for greater things.
Cyclocross bikes are bred for off road racing and touring bikes have aspirations to carry you around the world. Sounds like you might be getting more bike than you need, but both are actually more than prepared for the ride to work.
Touring bikes will carry loads of luggage, so if you need to get a heavy load to work, they're ideal. These days, cyclocross bikes are generally set up to take a rack and mudguards too, but check before you buy. They have the added bonus of multi-purpose tyres that can handle on-road and off-road riding.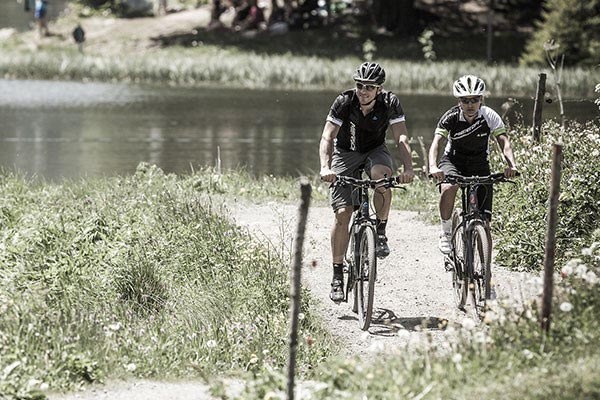 ---
Buy your bike - you can afford to ride to work
Most employers now run a cycle to work scheme. This effectively allows you to buy a bike and safety equipment with a substantial discount and pay for it in instalments through a salary sacrifice.
When you compare your salary sacrifice amount to the cost of your train season ticket or fuel for your car, you'll probably find you're quids in and have a bike to show for it at the end of the year.
Even if you can't take advantage of the cycle to work scheme, you could be eligible for interest free credit from Tredz. You'll pay a deposit, then pay back the rest of the loan in easy 0% interest instalments.
---
Bike preparation - Build your bike
As we've said, pretty much any bike can be used as a work commuter. But there are a few things you can do to prepare your bike for everyday riding.
If you're riding to work rain or shine, you really should fit mudguards. They don't just stop dirty water spraying up your back and in your face, they also help keep your bike cleaner. Even if your bike doesn't have eyelets to fit traditional mudguards, there are some available that attach to your bike with stretchy bands rather than bolts.
You'll probably want to carry a few things to work with you and you could use a rucksack, but a rack on the back of your bike will make things a lot more comfortable. Once it's fitted, you can either strap things to the top of it, or get some pannier bags. Finally, think about your tyres. If you're riding a mountain bike but never go off road, fitting a pair of smooth, hybrid tyres will make a huge different to your comfort and effort level.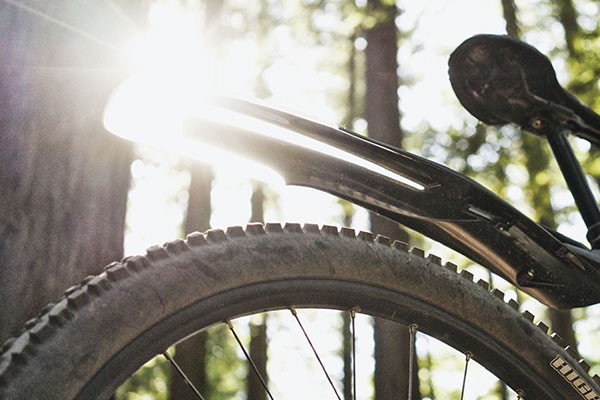 ---
Commuter clothing
If you only have a short, relaxed tootle to work, as long as you have sensible footwear, jacket and some mudguards, you'll probably get away with your normal work clothes. Even so, you should consider investing in a wardrobe of cycling kit and changing at work as you'll be more comfortable and will walk into the office less dishevelled. For those with a longer commute, proper cycling togs are a must.
For everyone, a decent jacket is essential. You'll want one that can keep you warm and dry, but is still breathable - especially if you have a long or hilly commute. Padded shorts might seem extreme to the uninitiated, but for longer rides, once you've tried them, you won't go back. A helmet is another priority. The roads are particularly hazardous at rush hour and it's not worth the risk of riding without.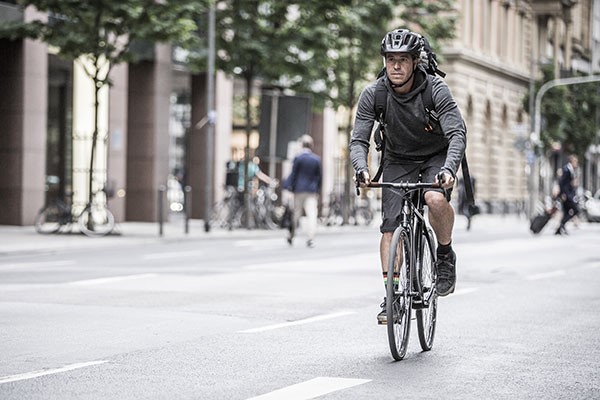 ---
Prepare for the worst - Don't get caught with a flat
Learning how to fix a puncture will give you the confidence to ride to work every day. For cyclists, punctures are part of life and you'll have to deal with them eventually.
There are three things you should never leave the house without: a spare inner tube, tyre levers and a pump. This is the bare minimum you need to get rolling again if your tyre lets you down. A more complete road toolkit will also include a multi-tool, a puncture repair kit and a £10 note for an emergency taxi. Practise removing and refitting your tyres and you'll be able to do it with confidence when you do suffer a flat.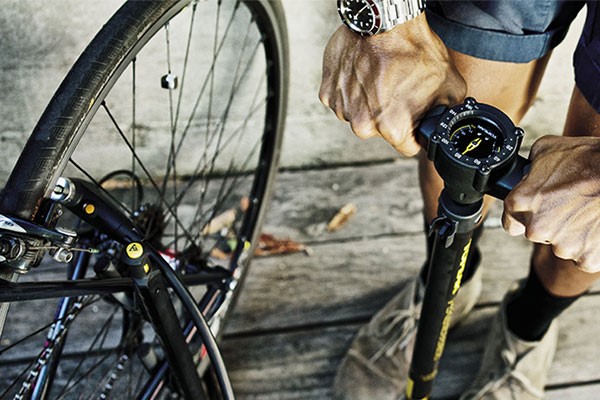 ---
Commuter must-haves
There are a few other items you should get for a successful commute.
Never cycle without lights after dark. It's illegal, but worse, it's incredibly dangerous for you and for pedestrians. Get the biggest and brightest you can. Ones that you can charge with a USB cable from your desk at work are ideal commuter companions.
To keep your precious bike safe, the same goes for a lock - buy the best you can afford. It's just daft to have an £800 bike protected by a £10 mini cable lock. A thief will destroy it in seconds. A mini D lock is an incredibly strong yet portable option, or go for a thick cable which is easy to carry on your bike. See our full range of bike accessories to make your next commute a breeze.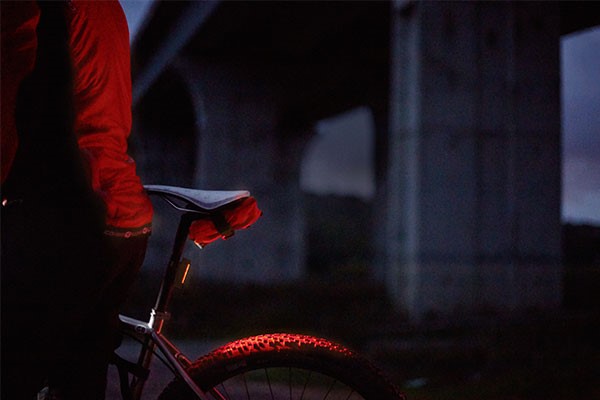 ---
Super commuter - Top tips
There's plenty you can do to appear collected and unflustered after a ride to work.
If your office has showers, take advantage of them. You can really push yourself, riding further and faster on the way to work. If you can, leave shower kit, a towel and spare outer clothes at work, so you only need to carry the bare essentials each day.
If your workplace doesn't have showers, a change of clothes is even more important. You may have to consider a shorter journey and cycle at a slightly more sedate pace to maintain your professional appearance. Again, leaving a few things in the office will mean you have less to carry each day.