Teaching kids to ride is time well spent
Whether they're attached to your bike or cycling alongside you, there are plenty of options to suit any age, competencies and confidence level. The patter of tiny feet shouldn't mean you need to hang up your cycling shoes. Cycling with children is fun, teaches them confidence and road safety and gets the whole family benefiting from exercise, fresh air and spending time together.
Learning to ride
First outings
Learning to ride a bike is one of the highlights and milestones of any childhood and as a parent/relative/friend you're teaching a skill and passing on knowledge which lasts a lifetime.
Bikeability runs cycling courses as an alternative. Encouraging your child to cycle to school will save hours of fighting over parking spaces, not to mention making your child the coolest in their class.
For children who are too young to ride their own bike or haven't got the legs for longer rides, here's some options to introduce them to cycling.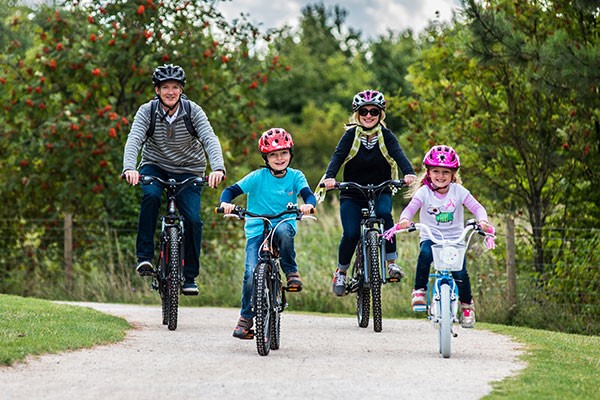 Trailers - King/queen of the road
Trailers most commonly attach to the frame of your bike, although there are models which fit to the seatpost, bike rack or axle. You'll really notice the extra drag uphill, so you'll need a bike with a low bottom gear. Make sure your brakes are always in perfect working order.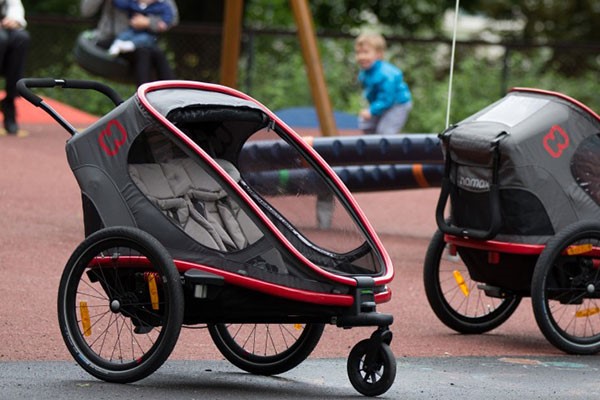 Trailer pro's
✔ Two children can be carried with room for supplies & toys
✔ More visible - passing vehicles will give you more room
✔ If the trailer doesn't remain upright if you fall, a roll-cage protects the cargo
✔ Most fold flat when not in use
✔ Great for cycling in bad weather
✔ A fun way for children to ride
Trailer con's
✘ Expensive
✘ Your passengers aren't as close at hand as with a childseat
Childseats - Sitting comfortably
Childseats attach to your seatpost using a quick release mechanism, with the child's weight acting as suspension. You'll need a bike without any cables behind the seatpost and a lower standover height is advantageous as the seat takes up leg swinging room.
Flat handlebars give better control and you'll find that positioning the base of the seat back above or in front of the rear axle provides better handling. The extra weight lowers your centre of gravity which can feel a little strange. Check your brakes are in full working order.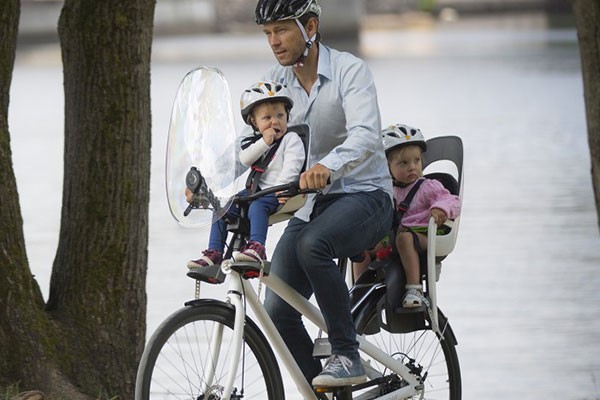 Childseat pro's
✔ Inexpensive
✔ Great views for the child
✔ The child feels closer to you than in a trailer
✔ You can ride anywhere
✔ Easy to clean
✔ Rain ponchos are available for bad weather
✔ Can often induce sleep
✔ Buy a second attachment and swap between bikes
Childseat con's
✘ Not great for bad weather
✘ Only carry one child
✘ Your passenger can get chilly sitting still on a windy ride
✘ Can be tricky to dismount without a kickstand
Tagalongs - Hitching a ride
Tagalongs are effectively half a bike that attaches to the rear of an adult bike. The child feels like they're on their own bike, complete with handlebars and pedals, but the adult gets to control the destination and speed.
Make sure that your passenger is no more than half of your body weight. As the child is so close to the rear wheel, a mudguard on the tagalong's downtube is useful - it'll also need its own reflectors and rear light.
A less sturdy variation on a tagalong is a tow bar which attaches your child's entire bike to yours.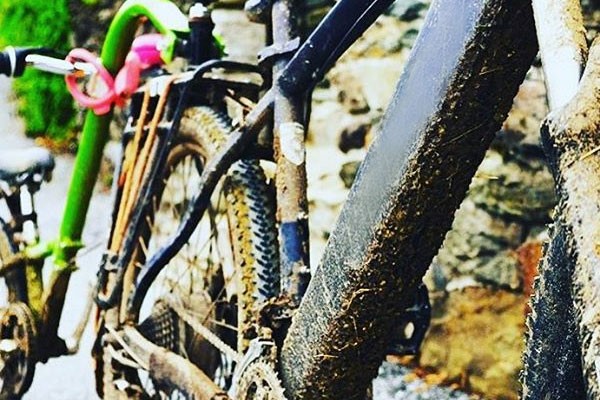 Tagalong pro's
✔ Inexpensive
✔ Give children a great view of their surroundings
✔ You can ride anywhere
✔ Rain ponchos are available for bad weather
✔ The child can stop pedaling if they get too tired
✔ Buy a second attachment and swap between bikes
✔ Some fold flat for storage
Tagalong con's
✘ Not great for bad weather
✘ Only carry one child

Children's bikes
Little wheeled warriors
From funky Wishbone balance bikes to the cool Cube junior bikes, there's a wide range to choose from according to age, height and taste.
Check out our kids bike size guide for more information.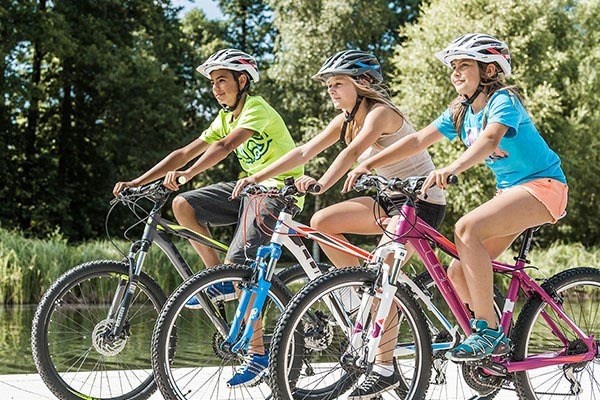 Top tips
Safety

Never leave a child unattended in a childseat or trailer & always put their helmet on. Make sure your passenger(s) are securely strapped in and there are no dangling accessories to get tangled up in anything. Always make sure your bike is in perfect working order, particularly the brakes. Carry a repair kit with you for any punctures.
Clothing
Your passengers can get chilly, especially if they're not on their own bike. Make sure they have plenty of layers on and a hat to cover their ears under their helmet. Wellies are for keeping feet dry. In the summer, slap on the sun cream and make sure children are covered up in light clothing.
Morale
Young children can quickly get bored of being sat around, so make your journeys short and interesting, stopping for breaks if needs be. Take refreshments for refuelling/bribery. You can always make the journey educational by playing I Spy, looking out for types of flowers, trees, creatures or Geocaching.
Routes
Cycle paths, forest tracks and country lanes are quieter, making conversation a lot easier and can provide more interesting scenery. For inspiration, check out Sustrans for cycle routes or British Cycling for ideas about events and activities suited to riders of all ages and abilities.
| Approximate age | Height | Bike/accessory |
| --- | --- | --- |
| 8 weeks- 6 years | N/A | Trailer |
| 9 months - 3/4 years | N/A | Childseat |
| 4 years+ | N/A | Tagalong |
| 1 - 4 | 75 - 105cm | Balance bikes |
| 2 - 4 | 85 - 105cm | 12" wheel bikes |
| 4 - 6 | 105 - 117cm | 14" wheel bikes |
| 5 - 7 | 112 - 125cm | 16" wheel bikes |
| 6 - 8 | 117 - 132cm | 18" wheel bikes |
| 7 - 10 | 125 - 136cm | 20" wheel bikes |
| 10 + | 136cm + | 24" wheel bikes |