The right clothes can make all the difference
Every cyclist knows, that wearing proper clothes will make you more comfortable on the bike. Cycling clothes help you to perform better, so why should it be any different for kids? While it is true that children can enjoy riding a bike in their normal street clothes, it is also true that wearing the wrong clothes can really spoil their fun. In this kids' cycle clothing guide, we will look at the best cycling clothes for children, from their first pedal strokes to longer biking adventures. Giving them the right start will lead to a passion for riding bikes that will stay with them for a lifetime.
Protecting their heads
Before we talk about cycle clothing let's look at the helmet, probably the most important piece of cycling apparel that any rider can wear. Cycling is a healthy pastime, but we all know how easy it is to fall off a bike, and the most vulnerable part of any child is their head. It is a good idea to get children used to wearing a cycle helmet every time they get on a bike, even if you are starting them off on a grassy field. This way they will get in the habit of wearing a helmet right from the start.
Fortunately, kids' bike helmets are available for boys and girls in a range of funky styles and colours. If you get a bike helmet that looks cool and fits properly, then your kids will want to wear it every time they ride. See our clothing size guide to see how to measure their head for the right helmet size.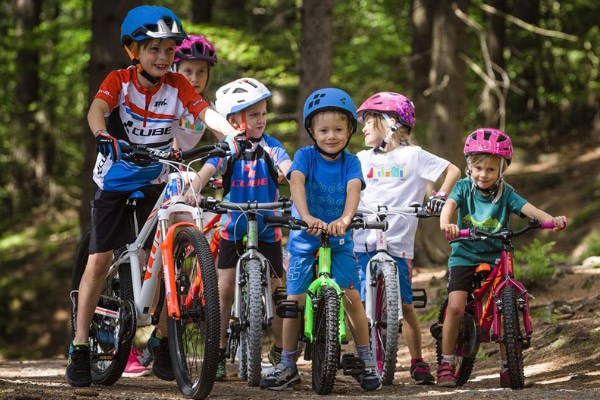 The first pedal strokes
When children are learning to ride a bike for the first time, normal street clothes are fine when combined with a cycling helmet. The important thing is to make sure that they are comfortable, and their clothes don't get tangled up in the bike. Shorts or leggings are ideal, long trousers are ok too, but they should be close fitting, especially on the lower legs, so they don't get caught up in the chainrings.
Flat soled shoes with a little tread to grip the pedals are ideal for their first pedal strokes. If your kids shoes are lace-ups, then the ends of their laces need to be tucked inside their shoes to prevent them from getting tangled up in the chain. Gloves are also a good idea at this stage because their hands are usually the first thing to hit the ground if they fall and road surfaces can be quite unforgiving.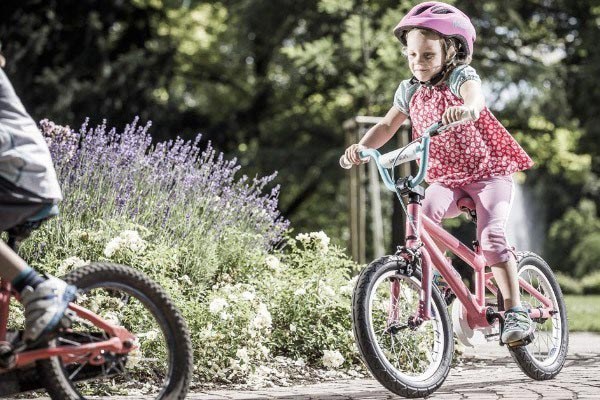 Cycle rides
For longer rides with family or friends, cycle specific clothing is more important as it will help children to enjoy themselves more. The most important thing is to keep kids protected from the weather. Even in the height of summer it is possible to get caught out in a shower, and while getting wet is all part of the fun, getting cold isn't. That's why it is important that they have a windproof or waterproof jacket that they can put on if the weather turns. Unfortunately, most normal kids' jackets are too bulky for cycling, so a bike specific jacket is best.
Proper cycling shorts with a pad or a padded liner will make their ride more comfortable. As well as giving them a little extra padding in the saddle, cycling shorts are designed to move freely while pedalling to avoid chaffing. Lycra cycling shorts can be worn underneath normal shorts or trousers on casual rides to make sitting in the saddle more comfortable.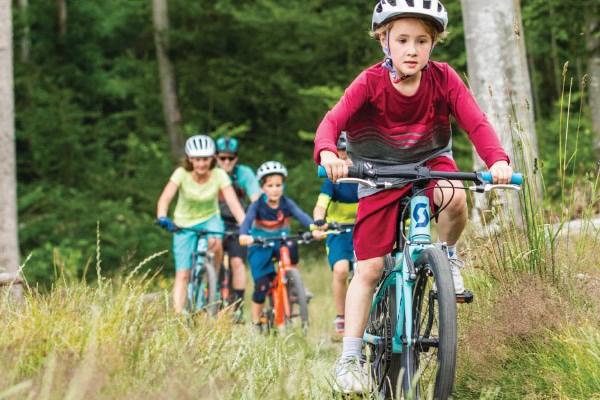 Taking it to the next level
As they get more into cycling, kids and juniors will often prefer road or mountain bike riding. Figure hugging lycra shorts and jerseys are ideal for road cycling, as they are more aerodynamic so will help them to ride more efficiently. Mountain bike clothing is looser fitting and more durable to cope with all the thrills and spills of off road cycling.
Sometimes looking the part is a real motivator and there is nothing better than a cool cycling jersey to make them feel like a proper cyclist. As well looking great, a cycling jersey will wick sweat away from their skin, to help keep them cool as they ride. Cycling jerseys are also quick drying which will help stop them getting cold when they stop for a break.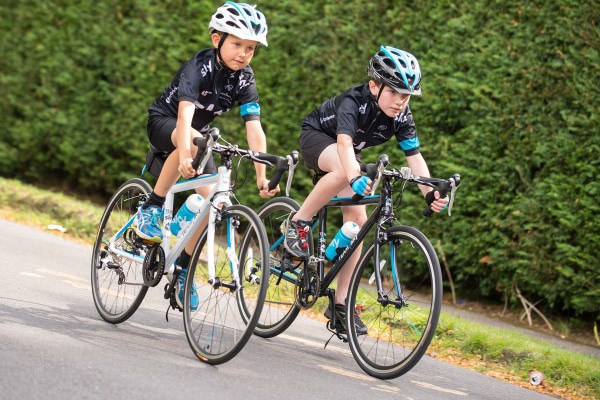 Kids will need cycling specific shoes when they take their biking to the next level, especially for road riding. Cycle specific shoes will allow junior riders to use clipless pedals, so they can ride more efficiently. As children get more into cycling, gloves become increasingly important. In warm weather gloves will improve their grip on the handlebars when their palms get sweaty. On cooler rides gloves will help stop their hands getting cold.
For mountain biking, it is a good idea to look at protective equipment for their body. After a helmet and gloves, knee pads are the most important, most serious MTB trail and gravity riders wear them. Cycling knee pads are comfortable to wear on the bike and will keep their knees protected if they crash on the trail. For budding young downhill riders, consider getting them a full face helmet as well as additional body armour.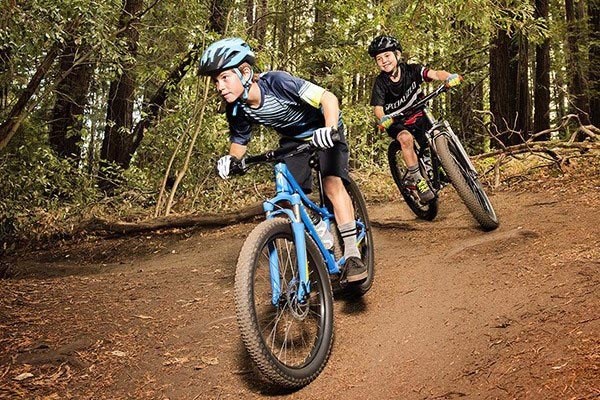 Most popular kid's clothing
Whatever their age or riding level, kids' cycling clothing will make their ride more enjoyable as well as safer.
Shop Kids' Cycle Clothing