It's not always easy knowing what the best kid's bike for your child is. Once you've chosen the right size bike for your child's needs, you'll want to get the most for your budget. Investing in the best kid's bike you can afford will make cycling easier, safer and more fun for your child. A good kid's bike will keep them in the saddle for longer and develop a love of cycling for life. In this guide, we'll show you what to look for in a good kid's bike and why you should spend a little extra if you can afford to.
Why invest in the best?
Buying a cheaper steel kid's bike can break and rust quickly and will spend much of its life in the shed, unused. A lightweight kid's bike is more fun to ride and will get used all the time and can be better value in the long run. A quality bike has a longer lifespan so can be handed down through siblings or sold online to recoup some of the initial cost.
Don't buy a bike they'll 'grow into'
It's very tempting to buy a kid's bike that your child can grow into, so you can wait a little longer before buying the next size up. However, a large, ill-fitting bike can be unsafe. Aside from the added weight making the bike ungainly and difficult to ride, if they can't properly reach the handlebars, brakes and pedals, they shouldn't be riding the bike.
Instead, by using our handy kids bike sizing chart you can see what size bike your child needs at their stage of development. Otherwise, by the time they 'grow into' the bike, they may not be that bothered to continue riding.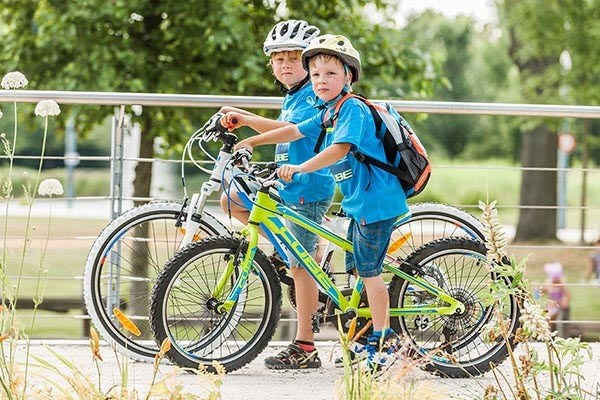 Buy a lightweight kid's bike
After sizing, weight has the biggest impact on your child's enjoyment while cycling. To understand why, remember that an adult bike can weigh around 20% of your body weight. Most kid's bikes can weigh up to a hefty 50% of their weight. Imagine strapping concrete blocks to your pedals and start riding, it wouldn't be a nice experience generally speaking. The more you spend on a kid's bike, the lighter it will be. This means the bike is easier to handle and manoeuvre, and that translates directly into fun and enjoyment.
It's also worth remembering you may have to lug the bike back from the park when they get tired. You don't want to be carrying a heavy kid's bike back all that way.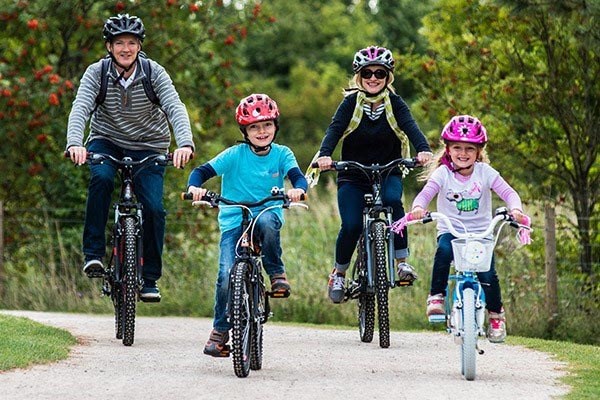 Frame features to look out for
Frame material
Kid's bikes are built from steel or aluminium. The most affordable kid's bikes are built with steel tubing that can be oversized and heavy. You can get steel bikes with slim tubes for a lighter frame but the price will increase. Aluminium frames are more desirable because they are lighter, stiff (for easier handling) and durable for long-lasting use. However, aluminium is usually fitted to more expensive kid's bikes, but the price point is falling every year.
Geometry
A low standover height (especially for 12" to 16" kid's bikes) helps make mounting and dismounting the bike easier. Also, if your child has a fall, they can easily step out of the frame without being tangled up. As they get older and start riding 20" – 24" bikes they won't need such a low standover height.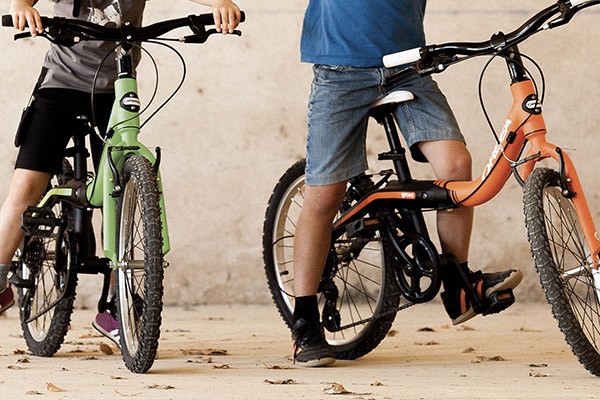 Suspension vs no suspension
Suspension can be an excellent feature on a kid's bike. It opens up the option of family riding on rough canal towpaths and off-roading for more exciting and adventurous rides. However, suspension can add a lot of weight to the bike frame, and to meet competitive price points you can get a lower spec than you would on a rigid framed bike.
You should make your decision on how and where you're likely to be riding with your child. If you want the flexibility of riding over all kinds of terrain, choose a bike with a front suspension fork. Look for a 50mm to 70mm suspension fork from a reputable brand like SR Suntour for better performance over the rough stuff.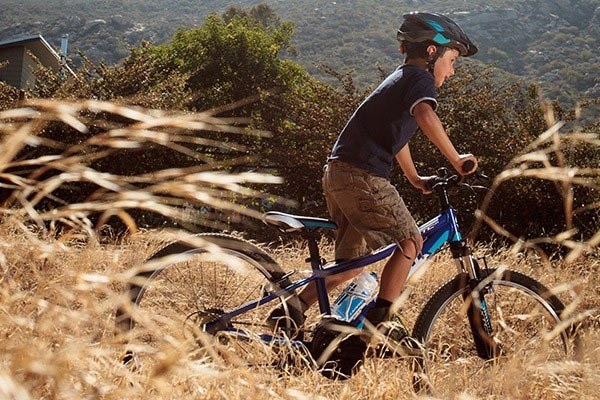 A premium feature is fork lockout, which lets you fix the fork in place, so on flat conditions the bike is more efficient to ride. If they're going to be riding only on cycle paths, pavements and roads, opt for a rigid fork for efficiency and more responsive handling. You can save weight by choosing a bike with an aluminium fork.
Components to look out for
Quality gearing
Good quality gearing that is simple to use and reliable is a definite bonus, but remember, more gearing is not always best. Go for simplicity and quality, so your kid's can focus on enjoying their ride.
For younger riders on 12", 14" and 16" kids bikes, single speed gearing would be ideal for simplicity, letting them focus on handling skills.
Once they progress to a 20" kid's bike you'll start seeing 7, 8 or 9 speed derailleurs letting your child get to grips with critical gearing skills.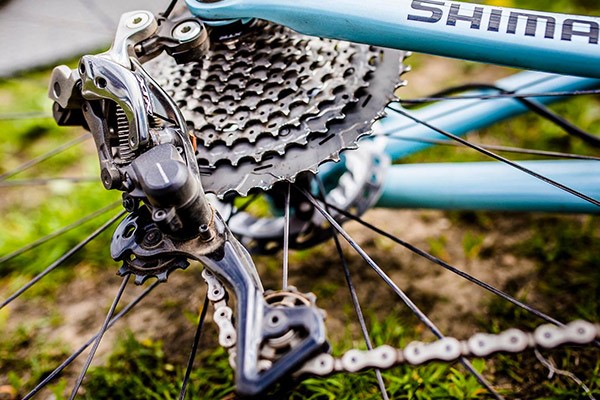 On 24" junior bikes, you'll see 'proper' drivetrains. Look for branded gearing from Shimano as a sign of quality. Shimano makes good quality gears which are reliable. At 24" bikes become more specialised, favouring mountain biking or sporty road riding. Most are hardtail mountain bikes with 18 – 21-speed gearing, while hybrid sport bikes may come with a single chainring and 7 or 8-speed cassettes. This system is lightweight, simple and easy to use, as there is only one derailleur to think about.
Fast rolling tyres
Most kids bikes are fitted with own brand wheels to keep frames to competitive price points. However, don't underestimate the benefits of a high quality, semi-slick tyre.
Knobbly tyres are great for off-roading, but if most of the time they're going to be riding on pavements these tyres will simply slow them down.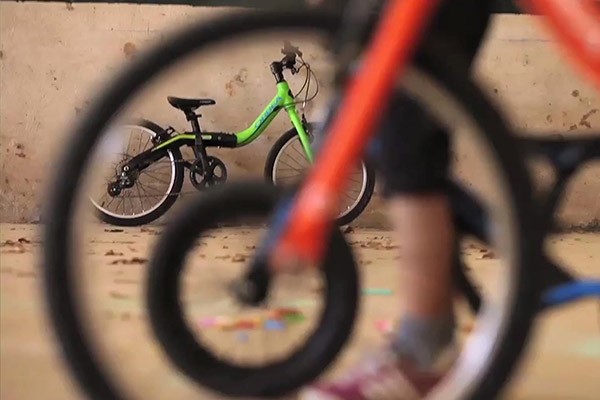 Easy to reach brakes
Brake levers that are easy to reach and use are a must for any kids bike. Once they get a bit older and ride faster you'll want to look for good V-brakes. On high-end junior mountain bikes, you may find disc brakes. These are very powerful brakes that work well consistently in all conditions for confident riding.
By spending a little more you'll find branded brakes from Tektro and Shimano which are lighter, more durable and reliable.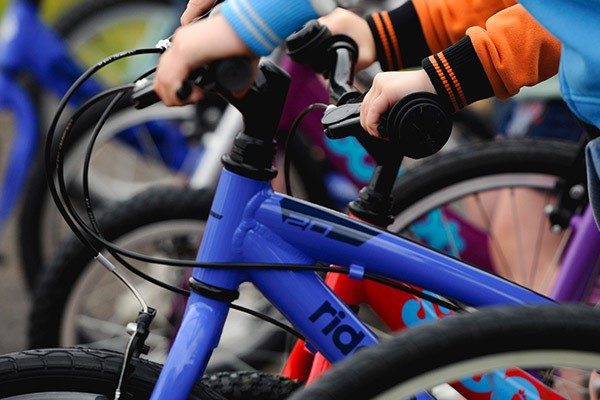 Summing everything up
It pays to invest in the best kid's bike. By spending a little more you can get a lighter frame and better components to make every ride more enjoyable for your child. The key to keeping them in the saddle is to have fun and that means a bike to can ride easily and confidently.