Much more than Just an extra gear
21st July, 2016 | by Phil Williamson
While the 12 speed cassette, with its massive 50t sprocket, is the most obvious development of SRAMs new top flight groupsets, Eagle is a complete redesign that offers significant performance advantages across the board. Eagle is quieter, smoother shifting, offers better chain retention and will last longer than previous MTB groupsets from any brand.
Groupset: SRAM Eagle 12 Speed
Discipline: XC, Trail & Enduro
Rider:Racer and enthusiast
Highlights: 4 times more durable
Eagle is two 12 speed groupsets in one
Recognizing that both XC and Enduro athletes want the same high levels of functionality but have different requirements, SRAM have opted to sit two groupsets at the top of the hierarchy tree. While there are some differences in the prices of some components it is intended use that is the real difference between XX1 and XO1 Eagle.
XX1 is designed for XC racing, with more of a focus on lightweight, while XO1 is for enduro racing with a little more emphasis on strength. Both groupsets are suitable for general trail riding and are completely interchangeable so you can run an X01 chainset with an XX1 mech etc.
We are reviewing the XX1 groupset here although XO1 is pretty much identical, except for certain features like the crank arms, which are stronger, as well as shifter paddles and derailleur cage which are aluminium, so they are more likely to bend rather than break in a crash.
While XX1 Eagle is 40g heavier than the old XX1, the complete drivetrain is still significantly lighter than an any 2x drivetrain.
Component weights
---
Crankset (32t):
465g XX1 / 495g XO1
---
Derailleur:
264g XX1 / 276g XO1
---
Trigger shifter:
122g XX1 / 126g XO1
---
X-Dome Cassette:
355g XX1 & XO1
---
Hollow Pin Chain:
250g XX1 & XO1

500% range – Is the front derailleur now obsolete?
The X-Dome Eagle, 12 speed, 10-50t, cassette offers a massive 500% gear range. That is more than, or equivalent to, the range offered by any 2x or 3x drivetrains, while being considerably lighter. The ratios are identical to XX1 11 speed with the addition of a 50t sprocket. SRAM have hailed Eagle as the death of the front derailleur and it's not difficult to see why.
Machined from a single 6kg block of Chromo steel SRAM claim that this is the strongest cassette on the market and the titanium nitride coating increases durability. Both the Gold and Black cassettes offer identical levels of performance.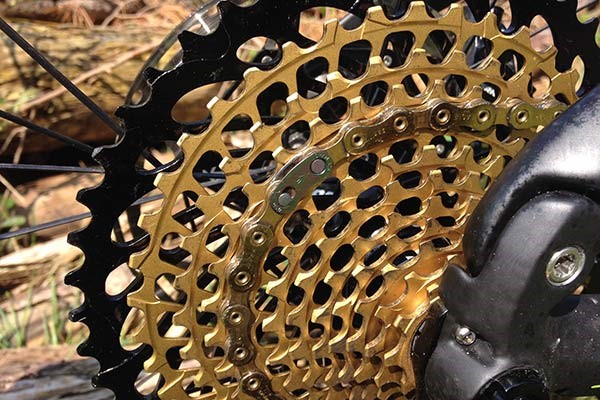 Lasts four times longer
The most welcome aspect of Eagle for us is the claimed increase in durability that will see your drivetrain lasting four times longer than their previous high-end groupsets. This is due to the redesigned chain and chainrings that are designed to work with each other in the most efficient way possible. The downside of this is that you can no longer use parts from other groupsets… at least not while still enjoying the benefits of a longer lasting drivetrain.
The X-Sync 2 chainrings are designed exclusively for use with the Eagle chain and feature longer teeth that have been shaped to increase chain retention, while reducing friction, noise and wear. The longer teeth improve chain retention while the shaping decreases clogging as well increasing durability.
the whole system is so quiet and the shifting so smooth, that it is easy to forget about the drivetrain
It's all in the chain
Often the most overlooked component in a drivetrain it is the redesigned Flowlink chain that is responsible for much of Eagles performance advancements. The links all have a smooth radius with no sharp edges or chamfers and the rivets are completely flush to the flat outer plates. This means that friction, noise and wear are all significantly reduced. The Hard Chrome construction is combined with a Titanium Nitride coating which further extends the optimal performance life.
The derailleur has also been completely redesigned. In order to allow for the increased range, the lower pulley now has 14 teeth yet the whole unit is more compact. A new clutch mechanism features roller bearings that offers a smoother torque curve for improved chain retention, as well as quieter running. The XX1 mech has a carbon cage while XO1 uses aluminium for improved durability on technical terrain.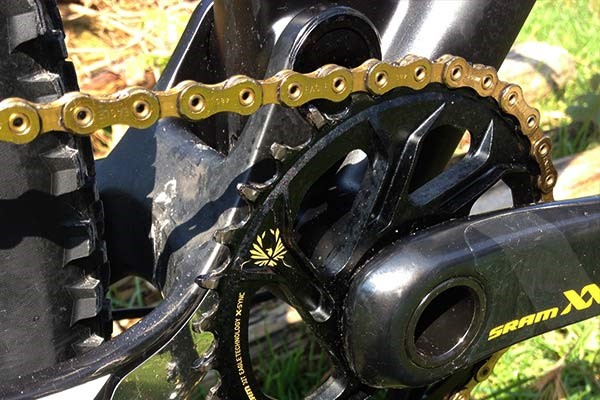 Lighter, Stiffer, Stronger
Shaving off the grams while increasing strength SRAM claim that this is the lightest, stiffest and strongest crankset available. This is just as well as Eagle is designed to work solely with the XX1 and XO1 crankset. The XX1 chainset features hollow carbon crank arms while XO1 uses 60g more carbon and is strong enough to take the abuse dished out by enduro racers.
While most of us in the UK will be looking at the Zero loss trigger shifters, it is worth considering the grip shifters which are now taken up by and increasing number of enduro riders. This is because the grip shift allows you to dump a whole load of gears in one go – useful for the quick changes in gradient you find on Enduro stages.
Close Look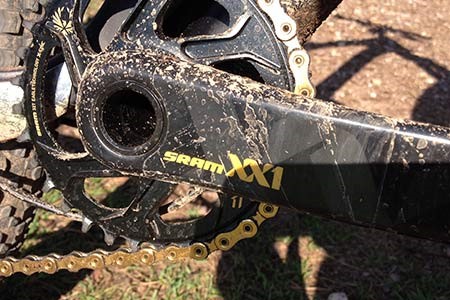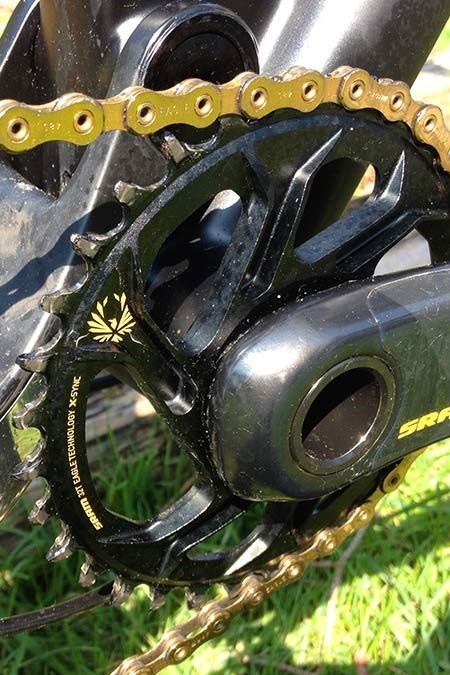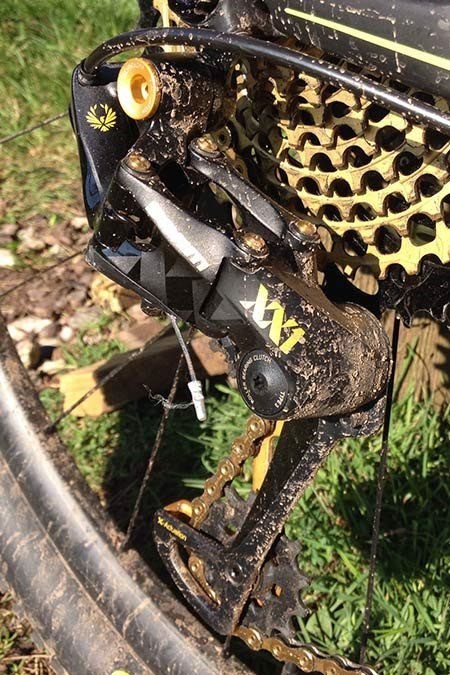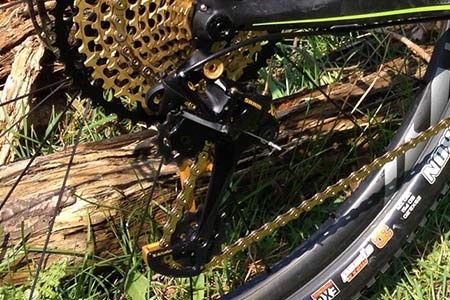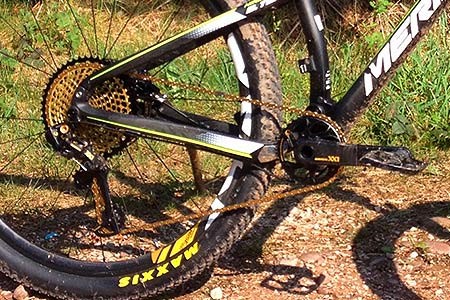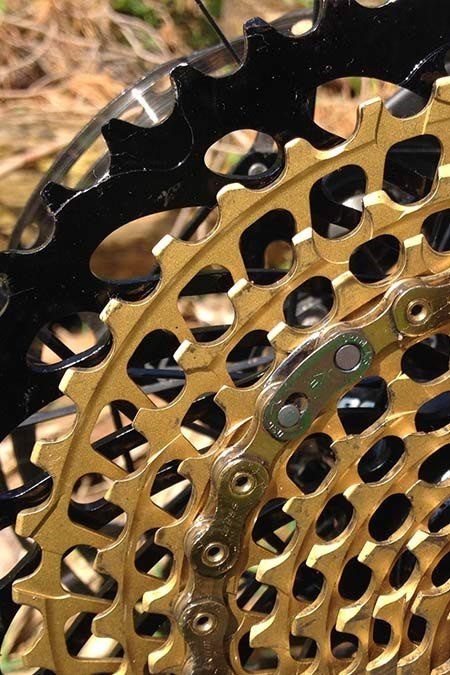 Tredz Verdict
The extra range offered by Eagle, when combined with the availability of 5 different chainrings, 30t-38t, mean that you will always have all the gears you need and won't need to compromise on either the low or high gear ratios. The low noise of the drivetrain is a welcome bonus while the increased longevity of the drivetrain makes this a sensible upgrade, rather than just something for the pros.