Welsh Gravity Enduro - Bike Park Wales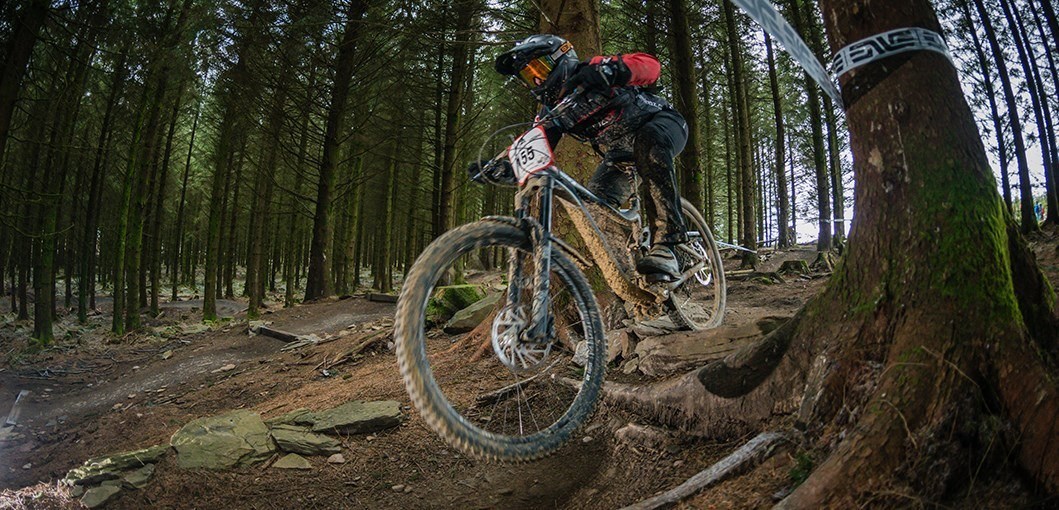 After round 1 at Afan was cancelled due to snow, my focus was the next round at Bike Park Wales. This was a collaboration between the Mini Enduro and the Welsh Gravity Enduro and was to be a one day format with time to practice in the morning and 4 hours of live timing in the afternoon.
The tracks being used were Die Hard, Hot Stepper and Roots Manoeuvre. Die Hard is the only track I have ridden before and that was well over a year ago, so a bit of Friday trail scoping was in order.
---
Friday Practice
My aim of the day was not to smash runs out, but to scope each trail out to study the tricky technical sections. Then go back and put a full run in, keeping my legs fresh for race day.
---
Stage 1 - Die Hard
Having only raced this track from half way down after joining from another trail. I spent a bit of time looking at the top section and a couple of small jumps at the start. But in the sticky wet conditions I was struggling to carry the speed out the first berm to smoothly clear the table top leading into the 2 doubles. So rather than risk the consequences of casing the landing I made the decision to just pump through these.
The mid section of the track was running fast and was unaffected by the weather, but when back out in the open it was a sticky in places slowing it down a little, but there was nothing really to worry about.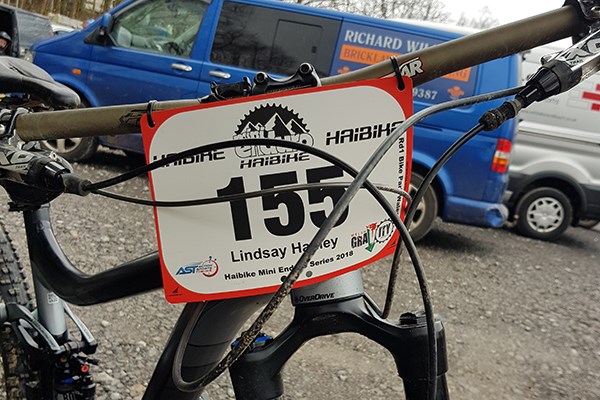 ---
Stage 2 - Hot Stepper
This the shortest of the 3 stages was a fun little stage, which was quite flowy with some rock drops. There was only one place to have a look at, which was a multiple line choice over a load of rocks, it was a shame the fastest line was the easiest line.
I like a tough techy line option to separate the times a little. Anyway, I managed 3 runs down this stage as it was so much fun and easy to get back to the start again.
---
Stage 3 - Die Hard
I had heard a lot about this trail, with its big root sections and gnarly rocks. I was hoping that this would be my strong point and where I could gain the most time. I was surprised that despite the wet muddy / sloppy conditions how well the track rode. Riding through it blind was great fun with mud, ruts and roots. I only really had to stop at one big rooty section to plan my lines, then back up again to put it all together.
Not sure what happened but I heard all sorts of strange noises going on behind me. I shouted to make sure the Bike Fairy was ok but all I heard was a faint yes in the distance. I stopped to turn round to see him splat on the floor, anyway he was soon back up on the bike and the giggles carried on as we slid down the rest of the trail. Desperate to go and do it all again we decided to call it quits and save my energy for race day.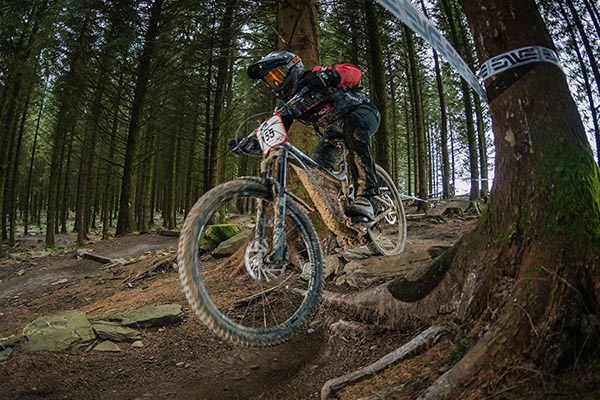 ---
Saturday Race Day
Race day tactics
I left the car park at 10.30am planning to do one sighting lap down each stage to warm up, then to wait at the top of stage 3 (root manoeuvres) for the live timing to start at 1pm. Thinking that if the weather was to deteriorate Stage 3 would suffer the most, so best to get a run down that as soon as I could. I packed as much as I could into my back pack - goggles, Banana, a couple of flapjacks, nuts and energy gels as well as plenty of fluid to keep me going till 5pm. Luckily for me I knew the Marshal at the start of Stage 3, who happened to have his Land Rover parked with him and blagged a spot in that to eat my lunch while waiting for the live timing to start.
It was lucky he was there as well, it was ridiculously cold once I had stopped riding, so I borrowed a spare coat he had with him to try and stay warm. In the -2 degree conditions, all the wet sticky mud on my bike had now frozen around my chain ring and mech, making gear changing a bit difficult, as well as packed in frozen mud causing clearance issues with mudguards and the frame. With no bike fairy on hand today I raided the tool box in the Landy, then armed with a screw driver I started to hack the mud off my bike, it was like chiselling cement. Hoping I had done enough to keep my bike moving and changing gear freely, it was time to get myself warmed up and ready to race.
Live timed run 1
Roots Manoeuvre, apart from a wobbly moment in some slop near the top where I had to slam the brakes on to avoid leaving the track and possibly parting company from my bike it all went ok, it wasn't pretty and with the state the track was in it was never going to be, but it was a good starting point.
Live timed run 2
Die Hard. Having to que at the start for 30 minutes in gale force winds and -2 temperatures was not going to make for a good race run but we all had the same situation. Despite having thick winter glovers on my fingers had started to go numb, going down the first straight I kept brake checking. Not that I needed to but more to make sure my fingers were working and would work when I needed them to. Apart from the dragging the brakes at the start I was pretty happy with my run, yes there were little mistakes but nothing too damaging.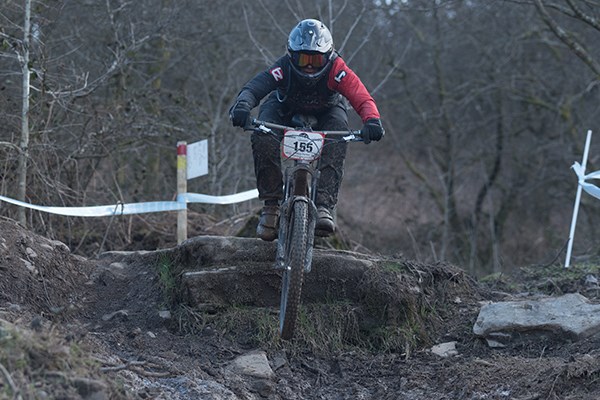 Live timed run 3
Hot Stepper. Before heading down this stage I took 10 minutes out for a break and more importantly checked the live timing to see how I was doing. So far in my class I was the fastest down both the stages I had done, although not everyone had been down both and with another 3 hours to go that could all change, but it was a promising start. Hot stepper was really good fun and nothing too technical to worry about. I came unclipped down one section, catching me of guard, I think the mud was freezing in my pedals and wouldn't let me clip in properly. While I was busy thinking about that I forgot about the uphill finish and was in a too high a gear, but I managed to get over the finish line ok.
Live timed run 4
Die Hard. Back up to the top and luckily no que, it was still blowing a gale but the sun was out which took the chill off slightly. A quick live timing check, knowing my main competition had just gone down this stage, she had shaved a good few seconds off her first time though I was still in the lead. I found that while tinted goggles may look cool on photos, sometimes they aren't ideal when you have low sun shining trough the trees.
The first straight was hard work, the sun was causing shadows this was making it darker and harder to see through my goggles, fortunately it was only isolated to the top straighter section and where it got more techy my vision was unaffected. Other than the first bit I felt much better. I was cleaner and quicker through this stage and after checking my times I had shaved off a few seconds increasing my lead to 5 seconds.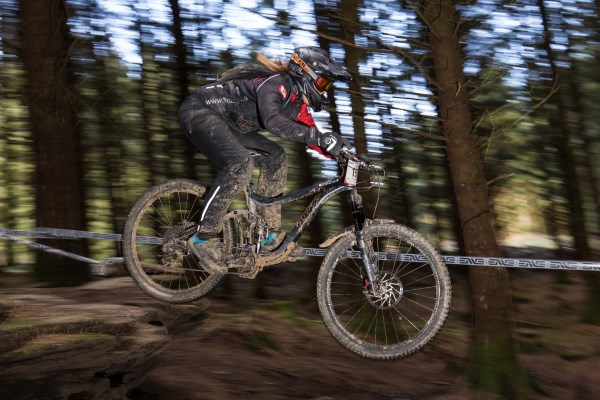 Live timed run 5
Hot stepper. My first run through this wasn't brilliant and my time shows that so hoping to clean it up and take a good few seconds off. Well it seemed to be going well with just a tiny wobble, nothing that would loose too much time then at the end where it goes uphill to the finish. My gears again started to play up and I was unable to change down, so stuck in a way too high a gear. I crawled up the finish straight and over the the line. Instead of going faster I had in fact gone 2 seconds slower.
Live timed run 6
Roots Manoeuvre before tackling this which would be my final run of the day. I tried to sort my gears out, I had picked up more sticky mud which had frozen to my bike. Armed with only sticks, pebbles and a plastic tyre lever I did what I could to remove the frozen mud from around my chain set and wheels. Again checking the competitors times before heading to the start I was still in the lead, second place had closed in but doubtful at this late stage in the day, they could do enough to take the win and I still had this run to improve my lead.
Through the top section I was going well and through all the gnarly rocks, but in the middle where I needed to use my gears they started slipping and not going up or down into a gear. I tried to carry on the best I could, at one point I had no gears and thought that was it game over. I started to pump my way down until I got to a bit where I knew momentum just wouldn't carry me over. Getting ready to unclip to push my bike up the hill, I did that one last desperate attempt to pedal and found that at some point it had gone into gear and I could pedal again. The bottom half of the track was running fast so I tried to make up for lost time in a last bid effort to rescue this run.
Not sure why as being unable to pedal through most of that, there was no way I would of improved my time. But after checking the other times, I was gutted to find I was only 2 seconds slower!!. What would my time have been if I had been able to pedal and had my gears been working properly. Oh well never mind I still won 😊 and as much as it was freezing cold, it was a great day.
---
Result
First in Female Vets - Third fastest female overall.