BMX (or bicycle motocross) was born in 70s California, iconic in the 80s thanks to ET and the Goonies, but the buzz died down in the 90s.
An Olympic sport since 2008, the BMX revival has seen an increase in indoor and outdoor BMX parks and these affordable bikes make riding fun and sociable. BMX bikes are light for speed but strong enough to take abuse such as landing after jumps. There are different types of BMX bike, so it's definitely best to check which genre you need if you're buying a BMX as a gift (or better still, let the recipient choose their own).
BMX biology
Small but mighty
Size: BMXs are small in size which makes them light and easy to manoeuvre. Almost all BMX wheels are 20" in size. Top tubes can range between 20"-20.75" and handlebar height and width can also differ.
Durability: BMXs will encounter a lot of physical abuse, which unfortunately can give them a relatively short lifespan, but luckily, parts are relatively cheap to replace. Headsets, chains and spokes will need to be tightened after the first few uses.
Components: Recognised component brands include ÉCLAT, Odyssey, SALT, Shadow, SNAFU or Weinmann. Look for a small gearing: a 30t or less front chainring will be lighter and have less metal to obstruct certain tricks. A lot of BMXs will also only have one brake.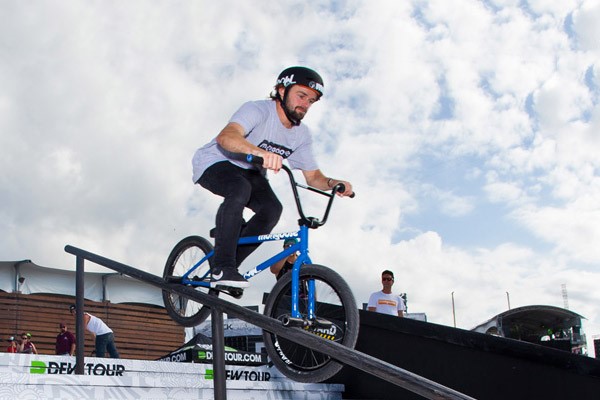 Frames: The lightest BMXs are made of aluminium, or super light chromoly which is a steel alloy. 4130 chromoly is the lightest, with Sanko being the ultimate material of choice.
Street BMX
Anything is an obstacle
Street riding allows riders to be creative, as rather than using set ramps and rails, they improvise with street furniture such as handrails and benches, steps, walls, banks and whatever they can find in urban areas.
The heaviest and strongest of all BMXs, street bikes have controlled handling, two or four pegs for grinding and are often set up without brakes.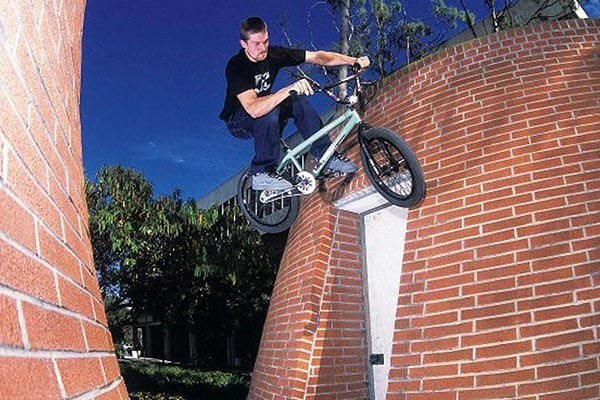 Park BMX
Indoor or outdoor
Park riding takes place on skate parks, whether indoors or outdoors. Park BMXs are lightweight, have gyros for 360 degree handlebar rotation and stunt pegs for grinds.
Concrete parks are usually outdoors, durable and often publicly funded, providing a fast, flowing style around bowls and pools. Wood is often used in commercial skate parks, due to cost and health and safety issues, and is great for technical tricks.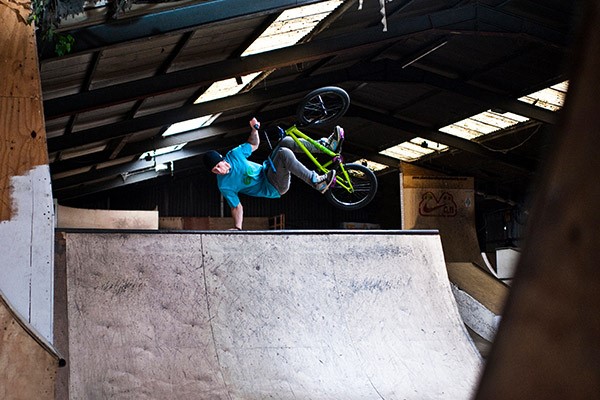 Dirt BMX
Tricks, flips and turns
Dirt riding takes place on heavily compacted mud, using mounds called 'lips' (the starting point) and jumps. The distance in-between is called a gap and can range from a few to over twenty feet.
Dirt riders often build their own ramps, allowing real creativity, variety and challenge. Dirt bikes are lighter than race bikes but heavier than freestyle bikes, only have a rear brake and, rather than a gyro, have a single straight cable from the lever to the brakes.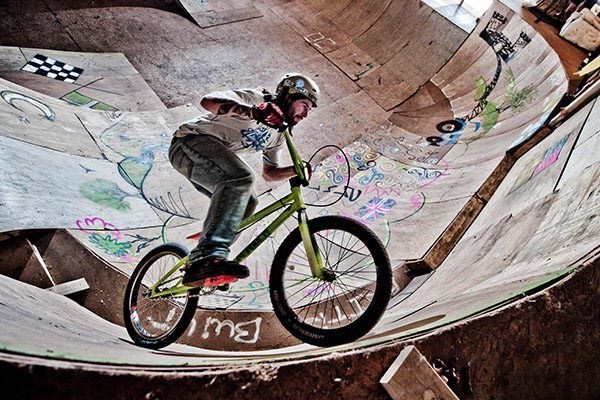 Race BMX
Fast and furious
Race BMX is the discipline which features at the Olympics, shooting professional BMX riders Liam Phillips and Shanaze Reade to fame. As the name suggests, it's all about speed, with eight riders at a time tackling a course consisting of jumps and berms (banked corners).
Race BMX bikes have amazingly light, responsive and strong frames, weight-reducing 36-spoke wheels, high ratio single gear and just a rear brake. Padding on the handlebars, stem and top tube protects the rider as falls at high speed can do some serious damage.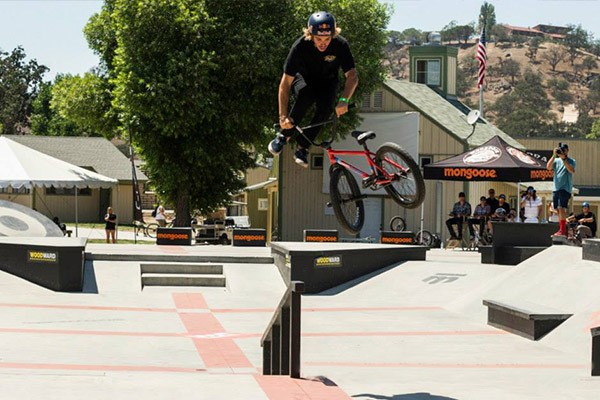 Flatland BMX
Straight talking
Flatland BMX is very specialist discipline, performing intricate tricks on flat surfaces such as car parks rather than ramps or equipment. Riders stand on one or more of the stunt pegs while balancing and spinning the bike in various positions.
Professional Flatland bikes have four pegs, on the end of each wheel axle, enforced frames and shorter wheelbases to make the bike easier to spin, giving them less stability if they are used for another discipline.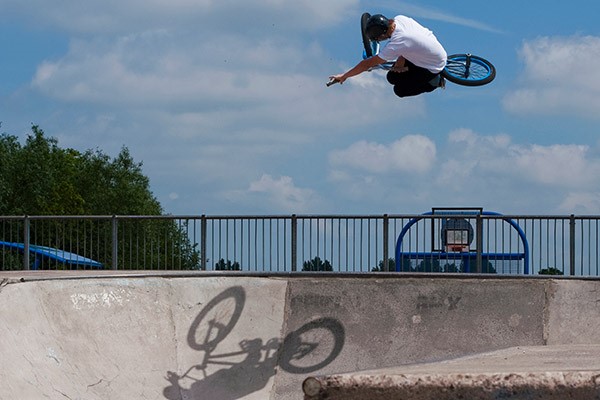 Terminology
A little jump and grind
Here's a handy guide to some BMX terms. If you want to throw in 'gnarly', 'awesome' or 'sick' that's completely up to you, but we can't guarantee that you won't sound foolish.
Berm An embankment built up on the outside of a turn creating curve.
Bunnyhop The action of lifting the bike off the ground without hitting a jump.
Chromoly A light metal alloy reducing frame weight.
Endo A reverse wheelie: lifting the rear wheel off the ground with the front brake.
Freewheel One piece rear gear which lets the rider back-pedal.
Grind A part of the bike other than the wheels (usually stunt pegs) slides along a rail/ledge/ramp edge.
Gyro A brake detangling system which allows you to spin the handlebars 360 degrees without cable in the way.
Half pipe Looking like half a cyclinder, a ramp made of two quarter pieces.
Hole Shot The rider is in the lead going into the first turn after the start of a race.
Jump A ramp for getting airborne or the act of launching yourself off one.
Moto A single racing heat.
Pegs A metal cylinder fitted over the axle nuts for performing tricks.
Roller An obstacle on a track which is rolled over instead of jumped.
Step-up A jump where the landing is higher than the launch point.
Tabletop A completely level or flat jump on the track.
Tailwhip Kicking the back end of one's bicycle in a complete revolution around the handlebars.