Mountain bike shoes are built tough to stand up to the rigours of off-road riding. Soles are stiff for efficient pedalling but tend to have more flexibility than road cycling shoes. This makes for easier walking. MTB shoes are made to keep your feet firmly on the pedals. There are two basic types: those that have holes in the bottom, for fitting the cleats that clip into clipless SPD pedals, and those made to work with flat pedals.
---
Do I need clipless or flat pedal shoes?
The type of shoes you will need depend on the pedals that you use. Most mountain bikers will have a preference for either 'clips' or 'flats'. Each has their own advantages and disadvantages.
Flat pedal shoes
Designed to work with flat or platform pedals, flat pedal shoes are becoming more popular with mountain bikers. This is thanks to the extra grippy soles. Traditionally your shoes would slip off the pedals easily as soon as they got wet or muddy. This has all changed now. Modern flat pedal shoes have 'sticky' rubber compounds which help them grip the pedals in wet conditions. The first time you try these shoes you will be shocked at how well they stay put when covered in sloppy mud.
The great advantage of flat pedals is that it is much easier to take your foot off the pedal and then put it back on again.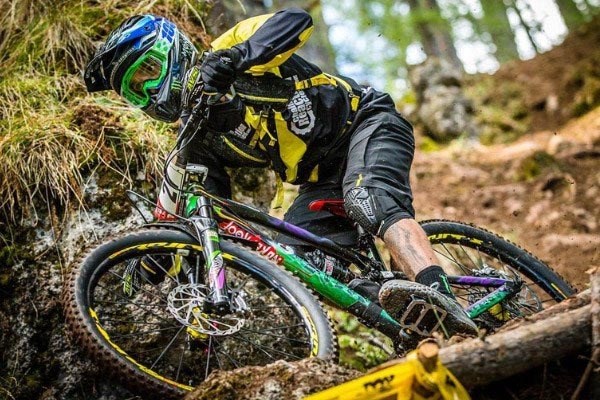 This is especially useful when riding loose corners. A quick dab of the foot can keep you upright when the bike begins to slide. Riding with flat pedals also forces you to develop proper bike handling skills as you can't pull up on the pedals to get the back wheel off the ground.
Flats are ideal for beginners and recreational riders as you don't need to learn how to clip in and out. Flat are also popular with MTB enthusiasts, and you will even find some topflight gravity riders who race on flats.
Clipless SPD compatible shoes
The term clipless can be a bit confusing, so it's worth a quick explanation. Traditionally, cyclists would use toe clips that wrapped around the shoe to hold their foot firmly on the pedals. Clipless SPD pedals do away with the toe clip and use cleats that attach to the pedals instead. Initially developed for road cycling SPD style pedals are now more popular with mountain bikers. This is because they are much easier to clip in and out of compared to modern road cycling pedals.
Clipless pedals have a major advantage over flats as they stop your foot bouncing off the pedals when riding over rough terrain.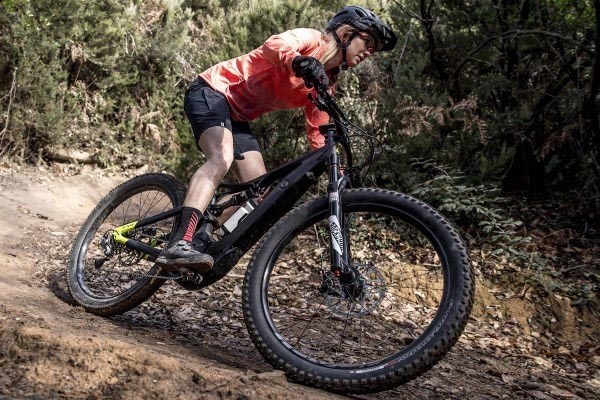 This means that you can still pedal efficiently over very rough ground. Without the need for sticky rubber soles, clipless pedals also transfer your pedalling power to the wheels more efficiently. It does take a bit of practice to get used to clipping in and out of clipless pedals, but most riders master this quickly.
Clipless pedals and shoes are best for racing but are also a good choice for recreational cycling. All Cross-country racers and most gravity racers use clipless pedals. It is more of a personal choice when riding for fun. Clipless pedals are best for climbing but many riders prefer descending on flats, the choice is up to you.
All mountain bike shoes have stiff soles designed for pedalling. If the soles are too stiff it can make it very difficult to walk, a real problem if you need to push the bike up a steep bit of trail. For this reason, clipless SPD compatible shoes will have extra tread or studs on the toe. This gives you some grip when walking up slippery inclines. As they are designed to work with a wide pedal platform, flat pedal shoes are more flexible. This makes them much easier to walk in, and the sticky rubber compound gives you grip on wet ground.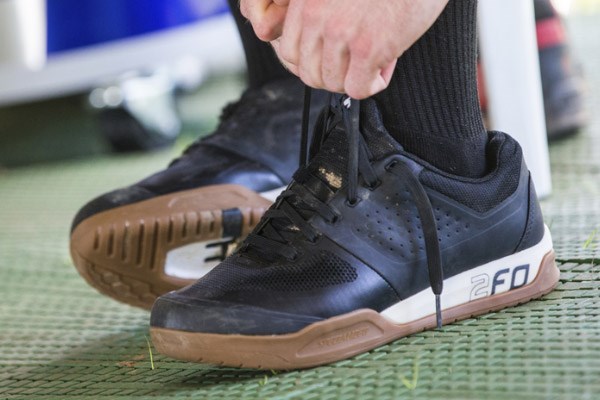 Some SPD compatible pedals are also suitable for use with flats as they have a cover over the recessed area used to attach the cleat. These shoes don't have sticky rubber soles though, so they won't perform as well as dedicated flat pedal shoes in wet and muddy conditions.
Shoes with ventilated uppers help your feet to breath and prevent overheating on hot days. When combined with waterproof socks you can use these shoes all-year-round. Dedicated winter MTB boots with waterproof lining help to keep your feet warm and dry when it is really cold and wet.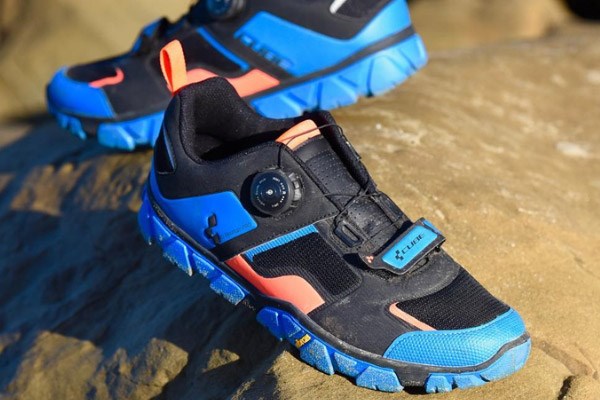 ---
Laces, straps, ratchets and BOAs
As with road cycling shoes there are number of different fastenings on mountain bike shoes. Because you don't 'pull up' on the pedals, flat pedal shoes mostly use traditional laces. Sometimes these are combined with a Velcro strap for added security.
Clipless SPD compatible shoes benefit from a tighter fit. Velcro straps are a convenient way to get a nice snug fit and you will find these on many entry level MTB shoes. Ratchet buckle closures give you a more secure fit and are easy to adjust.
BOA is a lace up system without the laces. Instead they use steel laces with nylon guides and a dial for easy closure and adjustment. As well as offering a very snug fit, BOA systems equalize pressure across the whole foot which is a major advantage.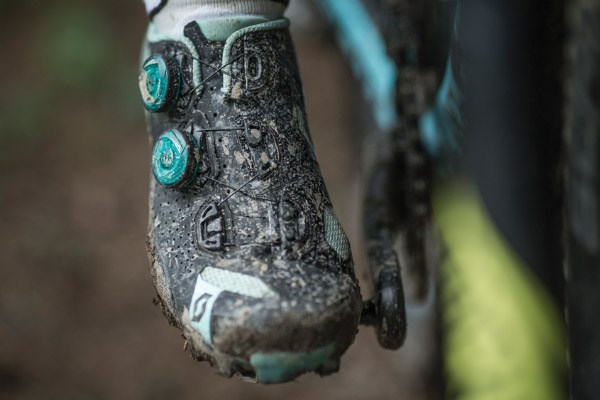 The BOA system is micro adjustable, so you can fine tune the fit more closely than with a ratchet. Two-way BOA dials make it very easy to adjust the fit during a ride.
Popular Mountain Bike Shoes