Order Before 19th December for Christmas Delivery
If you want the best performance and comfort on the bike, then a pair of proper cycling shoes are essential. There are many different types of cycling shoes available for both road cycling and mountain biking, as well as commuting and touring. While you can ride your bike in trainers, nothing beats proper cycling shoes, whichever type you choose. This cycling shoes guide will give you all the information you need to find the right pair of cycling shoes for you.
What Types of Cycling Shoes are Available?
The main categories of cycling shoes are: Road shoes for road cycling and MTB shoes for mountain biking. Within this you will find both 'clipless' and 'flat' shoes.
Clipless shoes are confusingly named as these are the shoes that you need for the pedals that you clip into. Traditionally, both road and off-road cyclists used toe clips that wrapped around the shoe to hold their foot firmly on the pedals. Clipless pedals use cleats fixed to the shoe that attach firmly to the pedals instead of these toe clips. There are two main ways of attaching cleats to your shoes; two-bolt and three-bolt. We will look into this in more detail later.
Flat pedal shoes often look like normal trainers but there are key technologies which set them apart. The soles are much stiffer than regular shoes but the main difference is in the rubber compound of the sole which is designed to stick to the pedal even when wet and muddy.
Road Cycling Shoes
Road cycling shoes are lightweight with stiff soles to help you push your power through the pedals more efficiently. You can spot road cycling shoes by their low profile and streamlined design. The soles are stiff made from nylon or at the high-end, carbon fibre. The soles are smooth, they are not designed for walking in. However, heel and toe blocks are sometimes added, so at least you can walk from the bike to the café without falling over.
SPD-SL style clipless pedals are most popular with road cyclists as these off the greatest pedalling efficiency. Most road bike shoes have three-bolt holes on the soles for fitting SBD-SL style cleats. Some road cyclists, especially tourers and those new to the sport, prefer the smaller cleats of two-bolt SPD style pedals as these are easier to clip in and out of. This is why you will find some road shoes with fittings for both three-bolt SPD-SL and two-bolt SPD cleats.
You'll find Velcro and ratchet style fastening on entry-level road shoes. Premium road shoes come with BOA dial fastening. With BOA you can micro adjust the fit to conform to your precise foot shape for a close fit without creating pressure points.
Road bike shoes are designed for maximum performance, so weight and efficiency are everything. The more you spend the lighter and stiffer these shoes get.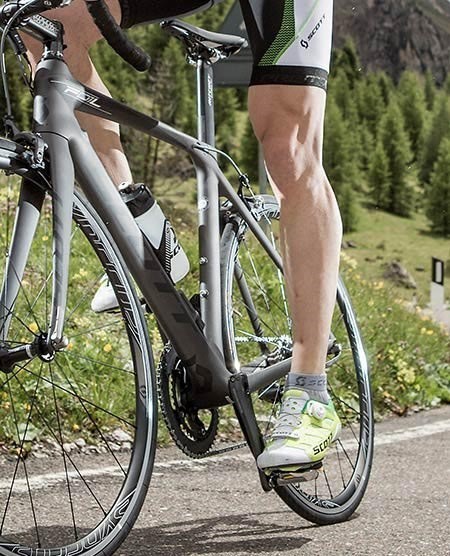 Mountain Bike Shoes
MTB shoes are tough and durable to stand up to the rigours of off-road riding. The soles are stiff for efficient pedalling but have more flexibility than road cycling shoes to make walking easier. MTB shoes are made to keep your feet firmly on the pedals. There are two basic types: clipless (aka clips) and flats.
Clipless mountain bike shoes, like road shoes, are designed to work with clipless pedals. Clipless MTB shoes are designed to work with two-bolt SPD style cleats. These are ideal for mountain biking as you can still take your foot out quickly when you need to. These MTB shoes tend to have proper tread on the soles with recessed cleats. This means that you can still walk properly, great for pushing the bike up slippery slopes. Most mountain bike racers of all disciplines use clipless shoes and pedals.
Flat mountain bike shoes are designed to work with flat or platform pedals. With sticky rubber soles these shoes offer incredible grip even in very wet and/or muddy conditions. These are a great option for beginners, but experienced mountain bikers often prefer the feel of flats. Some top flight enduro and downhill riders even race in flats.
Like road bike shoes you will find ratchets, straps, laces and BOAs used to give your foot a snug fit. Clipless SPD shoes make more use of ratchets, straps and BOAs to keep your foot snugly in place. As you can't pull up on the pedals with flat shoes, laces offer a sufficiently secure fit.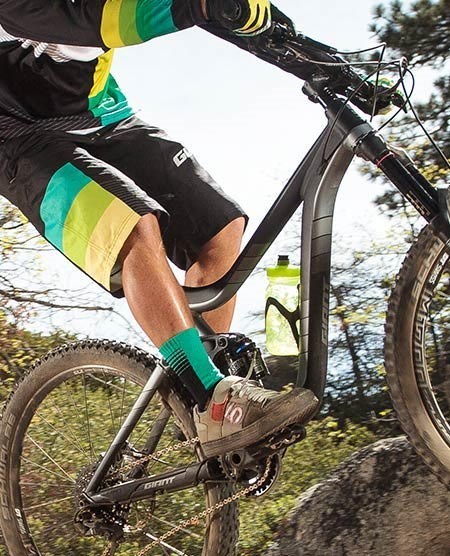 Different Cleat Systems
The most common type of cleat systems are two-bolt (SPD) or three-bolt (SPD-SL) so it's worth knowing the difference.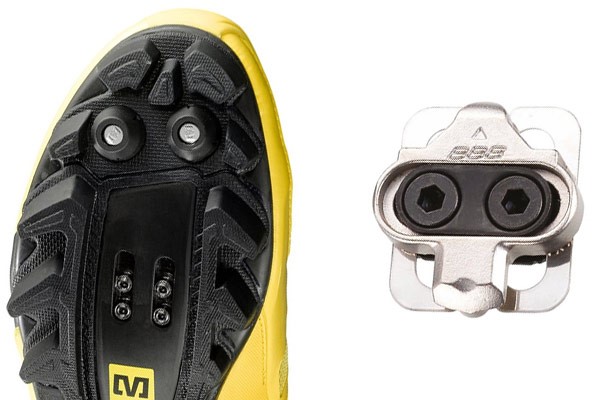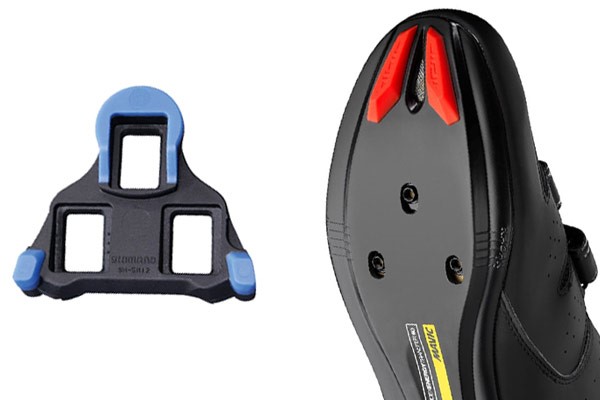 Other cleat systems
As mentioned above, some cycling shoes are compatible with both two and three-bolt cleat systems. There is also the 4-bolt system for Speedplay pedals. These are often found on high end shoes with key benefits such as improved power transfer, lighter cleat, a great range of adjustment and improved aerodynamics.
Women's cycling shoes
Offering all the same features as men's road and MTB shoes, women's cycling shoes offer a better fit for female cyclists. Women's cycling shoes built for a better fit with a narrower heel and shallower height between the sole and the upper. Women's cycling shoes are available in every flavour from carbon soled road shoes to 'sticky rubber' flat pedal MTB shoes and everything in between. You'll find women's shoes in smaller sizes too.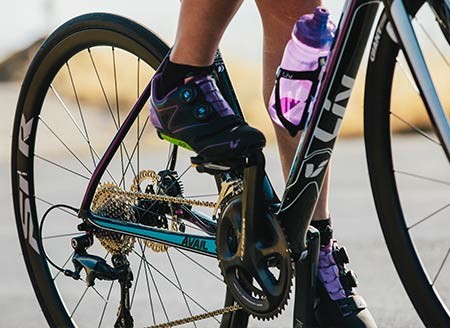 How to prevent numb feet
The most common cause of foot numbness is improperly fitting shoes. Check the size guide for sizing and if you're between sizes go for the next size up. This is because your feet will swell slightly so a tight shoe will contrict blood vessels, making toes and feet go numb.
Another cause could be improperly aligned cleats. You could consider positioning cleats further back towards your heel to offer more even pressure across your foot.
Summary
A pair of cycling shoes can make all the difference to your comfort and performance in the saddle. They're lighter and stiffer than causal shoes with a better fit. Most importantly, whichever type you choose, proper cycling shoes will give keep your foot much more securely attached to the pedals. If you plan on riding regularly then a pair of shoes should be high on your wish list – you'll never look back.
Most popular cycling shoes
Do clip in cycling shoes make a difference?
When directly connected to the bike with clipless pedals and shoes the rider benefits from increased efficiency and direct power transfer, along with the ability to maintain the correct foot position on the pedal minimising repetitive strain injuries.
Is it OK to wear a half size bigger shoe?
Some riders will use a slightly bigger shoe than usual through winter so they can wear a thicker and warmer sock to stay comfortable. For absolute performance, however, a well-fitting shoe is the best choice.
Do Shimano cycling shoes run small?
Shimano cycling shoes generally run true to size, winter-specific Shimano shoes can fit slightly larger to allow thicker socks.
What size is 41 in shoes?
Standard European Size size 41 is equivalent to UK size 7.5 and US size 8.
Are expensive cycling shoes worth it?
As with most things cycling, the more you spend the higher quality the parts and manufacturing. As one of the main contact points for the rider, and the main point of power transfer it is worth spending on cycling shoes for their increased efficiency and ability to reduce the likelihood of strain injuries.
Are clipless pedals dangerous?
While riding with clipless pedals and shoes does mean you are attached to the bike, it is not dangerous. The pedals release tension is adjustable, beginners will prefer this in the easiest setting, increasing the tension as they get used to the feeling of being clipped in. The key is to unclip before you stop while you are starting out.