As well as building on your fitness levels cycling is a great way to beat the winter blues. While it's easier to get motivated to get out for a ride in the summer, the rewards you get from cycling in winter can be even greater.
With the right clothing and a little bit of attention to your bike you can ride in almost any weather conditions. That post ride buzz will feel all the better knowing that you've boosted your skills and fitness levels by getting out while all the fair-weather cyclists languished indoors.
Very occasionally the trails and roads get snowed under, but the rest of the time there are almost as many opportunities to ride your bike in winter as there are at any other time of the year. Modern cycle clothing allows you to stay warm and dry when it's cold and wet on the roads and bikes can cope with harsh conditions better too. Winter tyres offer good traction and puncture protection while disc brakes give you consistent stopping power. Bike lights are bright enough to light up even the darkest trails, so even the long nights won't put the brakes on your winter cycling adventures.
Night riding guide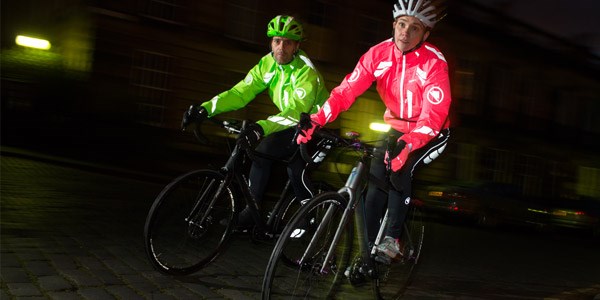 How do you ride a bike in the winter?
Cycling in winter is different to the summertime, but this can help build on your abilities. The roads or trails will likely be damp which means that you'll be riding with more care and speeds will be slower. Cycling in these conditions is great for building up your skill levels as well as maintaining your fitness. When you first start cycling in winter conditions you'll take longer to warm up and you may feel a little sketchy, but you will soon gain confidence as the season progresses. Then when things get warmer and dryer, you'll be feeling stronger and will be riding with more confidence than ever.
Winter Cycling Tips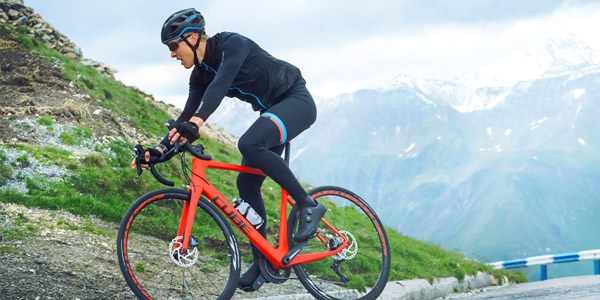 What do cyclists do in winter?
There are two approaches to cycling in winter. The first is to layer up with your colder weather cycling kit, winterise your bike and ride through every weather condition. The second approach is to move your training indoors and ride on your turbo trainer or static bike. Of course, you can combine these two approaches and we'll look at them both in more detail later.
Winter Commuting Tips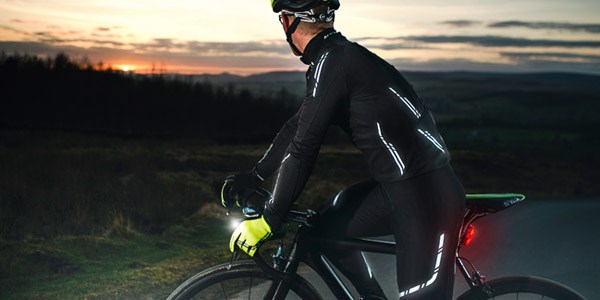 The key to a good cycle ride in winter is to keep warm and dry without overheating. Your muscles will work better when they are warm but if you overheat and sweat too much on a climb you'll feel a damp chill when you descend.
How should I dress for a ride in cold weather?
The best way to be comfortable on the bike in winter is to wear layers of technical clothing. A base layer will wick sweat away from your skin, so you don't feel damp. The mid layer or layers is there to trap the air that will keep you warm. An outer shell over the top will protect you from the wind and rain. The great thing about layering is that you can always strip off a layer if you get too hot and add one if you're not warm enough.
Layering Guide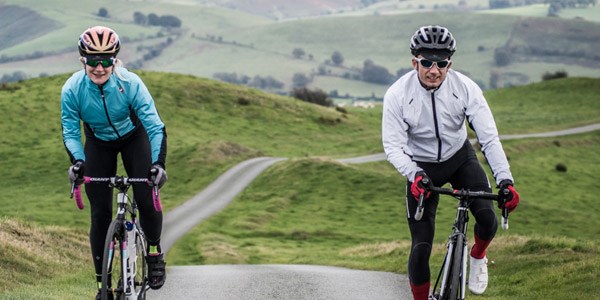 How do I keep my head, legs, feet and face warm when cycling in winter?
Just like the rest of your body you'll want to keep your extremities warm by protecting them from the elements. Thermal tights, leg warmers or winter cycling trousers will help to keep your legs warm and you can add additional layers if it is really cold.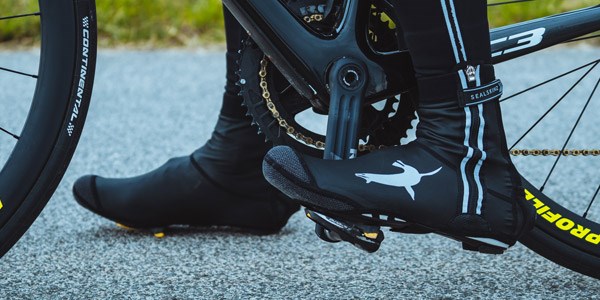 Feet and hands are probably the most difficult parts of your body to keep warm. The most important thing here is to stay dry and keep the wind off. Thicker winter gloves will keep your hands toasty. Overshoes are a great way to keep your feet warm and dry on a road bike and waterproof socks do a great job looking after your feet while you splash through the puddles on the trail. Windproof under helmet caps are a great way to keep your head warm while neck warmers are easily pulled up to protect your face from a chill wind.
What is the best winter cycling jacket?
The best winter cycling jacket for you will depend on the type of riding you do. For road cycling a close-fitting windproof jacket is ideal with a waterproof packable in the pocket just in case it rains. A loose-fitting waterproof is best for mountain biking as it will allow you to move about on the bike better. For urban cycling choose a high viz colour with plenty of reflective elements to enhance you r visibility on the road. It is worth investing in a jacket made from highly breathable fabric as this will make a big difference to your comfort on the bike.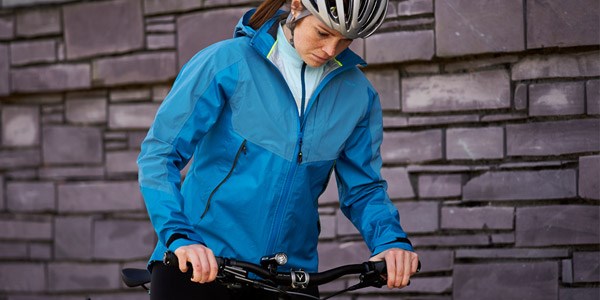 Can I leave my bike outside in winter?
It's not a good idea to leave your bike outside in winter, but if you have no choice then you can use a waterproof bike cover to protect it from the worst of the rain. Even with your bike covered you will need to take extra care to ensure that vulnerable parts like the drivetrain are properly lubricated to stop them rusting.
Winterise your bike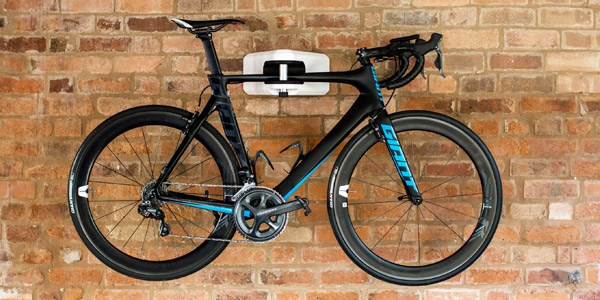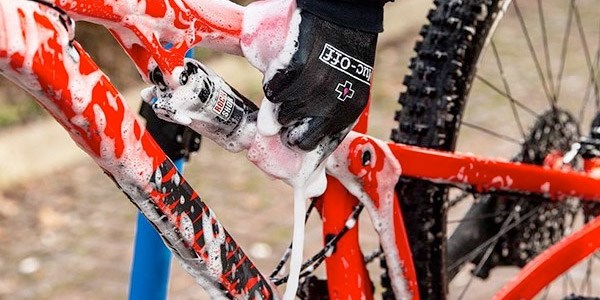 Do I need a winter bike?
While you don't need a special bike for winter riding it is certainly an option worth considering. Many keen cyclists like to keep their best bike for fair weather cycling and ride a more affordable and/or easier to maintain bike through the winter grime.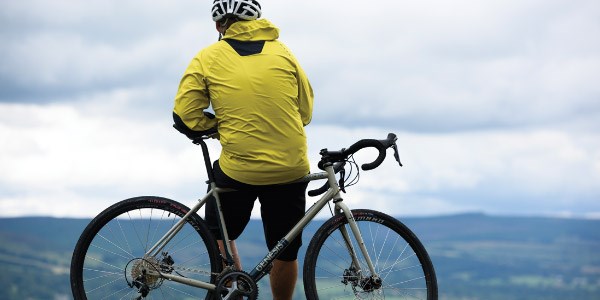 What makes a good winter bike?
A good winter road bike is one that has mudguards and winter tyres fitted. Slightly wider tyres offer a little extra grip on wet roads. Additional puncture protection is a good idea too as the risk of a flat tyre is higher in the winter months. Mountain bikers will often ride a hardtail to save the pivots and shocks of their full suspension bike from all the extra mud that is thrown up from the trail.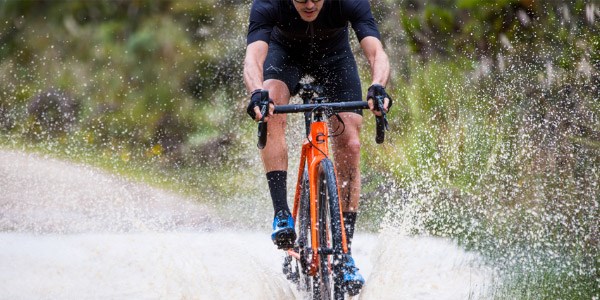 If you'd rather not brave the elements to maintain your fitness there plenty of indoor cycling options. Most people don't have access to an indoor velodrome, so a static home cycling experience is the way to go.
While you'll miss out on the real-world stimulation indoor cycling on a turbo trainer or smart bike trainer can still be a very engaging experience. By gamifying the ride virtual cycling apps like Zwift have transformed the way cyclists ride and train indoors. What was once a secluded pain cave is now as social challenge arena where you can ride with and even compete against cyclists from all over the world.
For the best indoor cycling experience choose a smart turbo trainer or static bike that can monitor your power output and change the resistance you'll feel at the pedals. This means that you'll get a realistic simulation of real-world cycling conditions that will match the road conditions you'll see on screen.