Here you'll find our pick of the best car bike racks on the market today. Whether you're just heading up the road, or travelling further on a bike holiday, a quality car rack can make your journey a breeze. Our list of top car racks includes options for any budget.
When choosing a bike carrier, it's good to consider what bikes you'll be transporting, and how many. While road bikes will fit any type of rack, MTB's that run 27.5+ or fat tyres may struggle to fit into wheel holders on some roof and towbar racks (you can be specific racks for these bikes). MTB's with suspension can also be difficult to fit to a boot rack, although you can get adaptor beams to get around this. Roof racks will carry one bike, but you can fit two or three racks to your roof (depending on size). Boot racks can fit up to three bikes and towbar racks can fit up to four.
Roof racks are great for securing your bike out of the way and you don't need to be careful when reversing. Towbar racks are the best for fuel economy and boot mounted carriers are generally the most affordable.
In this car bike rack review, we try to cover all types of carriers from top brands including Thule, Saris and SeaSucker.
Thule 970 Xpress 2-Bike Towball Carrier

Carrier Type Towbar Rack
---
Bike Capacity 2 Bikes
---
Load Capacity 30kg
---
Max Bike Weight 15kg
---
Best For Entry level, affordable rack
---
Review
The Thule 970 Xpress-2 is a great, affordable towbar rack from the biggest brand in the industry. This quality carrier can fit up to two bikes, regardless of type weighing up to 30kg, letting you and a friend get to your destination with ease. You can also buy a Thule padlock to secure your bikes when you're in the café, post-ride.
It only takes a couple of minutes to fix the rack to your car's towbar and mount your bikes. The Xpress also folds down for easy storage when you're not using it (folded dimensions 14 x 52 x 72cm). You also don't need to worry about paintwork and damage as your bikes are held away from the car. This towbar rack will fit all frame dimensions, so whether you're travelling with a full suspension MTB or a road bike – it'll fit.
A sturdy car rack weighing just 4kg with easy mounting
Popular Thule Towbar Racks
Thule 598 ProRide Locking Upright Cycle Carrier - Aluminium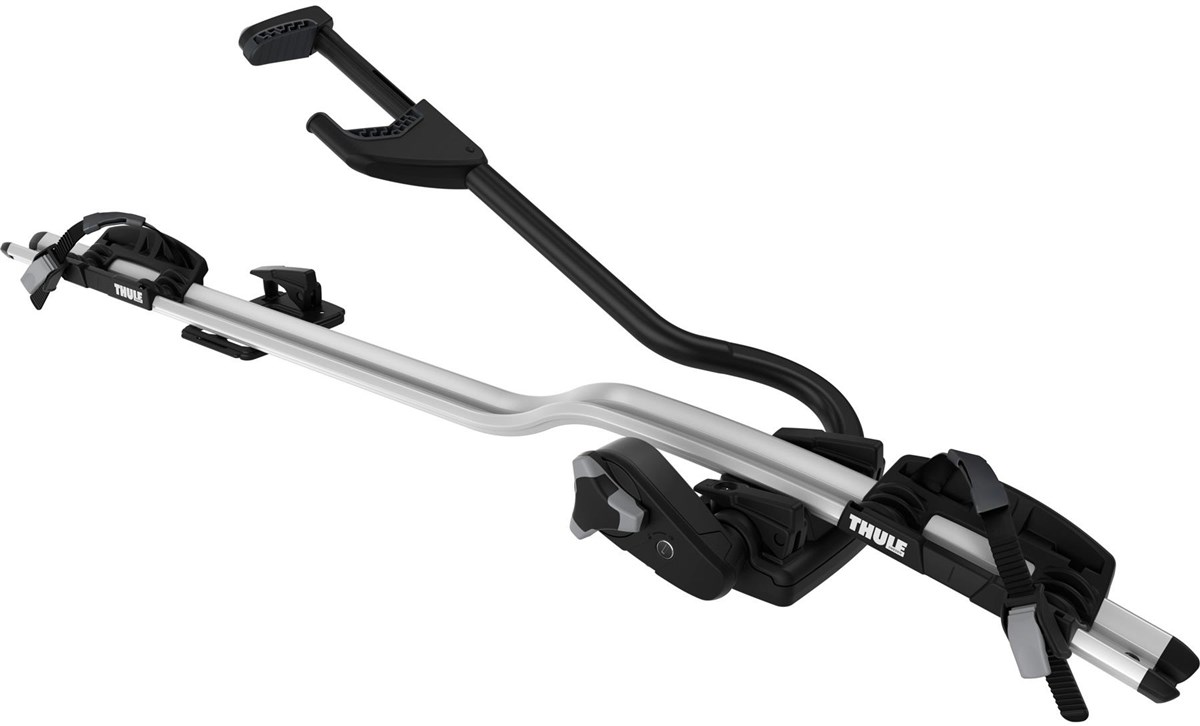 Carrier Type Roof Rack
---
Bike Capacity 1 Bike
---
Load Capacity 20kg
---
Max Bike Weight 20kg
---
Best For Securing your bike out of the way
---
Review
The Thule 598 ProRide roof rack is one of the quickest and most convenient bike carriers for transporting a single bike. This is down to an innovative frame holder and wheel tray that auto positions your bike when you secure it to your roof. To protect your frame from damage, the Thule rack comes with a torque limiter dial that controls the force of the clamp arm going into the bike frame – large soft claw pads adapt to your tubing.
Enhancing security is an extended lower jaw to stop your bike from falling, and the wheel is stable in a specially designed wheel holder with diagonal quick release straps. The clamp and mountings are lockable, securing the rack to the car and your bike to the rack for peace of mind when you're away. While the ProRide will fit tyre widths up to 3", there is a fat bike adaptor you can buy to ensure a stable fit for wider tyres. There is also a carbon frame protector to keep your paintwork pristine.
Simply put, this is the finest roof rack we've ever used. Its operation is simple, it's stable at speed and sleek in aesthetic. The price is certainly high, but it's sure to last – 5/5 | BikeRadar
Saris Bones Coloured Car Boot Rack - 3 Bikes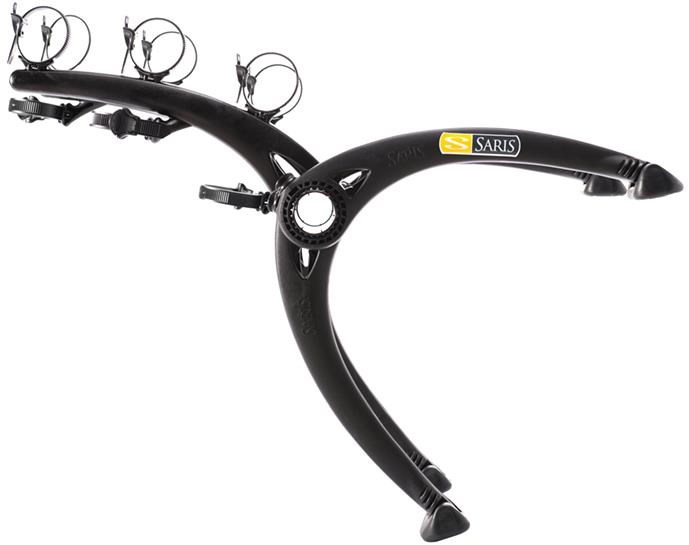 Carrier Type Boot Rack
---
Bike Capacity 3 Bikes
---
Load Capacity 45kg
---
Max Bike Weight 15kg
---
Best For This rack will fit almost any vehicle
---
Review
The Saris Bones is an iconic boot rack. The Bones is made from heavy-duty 100% recyclable plastic and comes with plenty of adjustability to get the right fit for your vehicle. In fact, the Saris Bones will fit almost any car (even those with spoilers). Injection moulded arms and legs won't rust and can easily support up to three bikes weighing 15kg. For the environmentally conscious, the Bones is made from 100% recyclable materials.
Saris' arc-based design means each of your bikes is separated into different levels, to ensure they don't rub or damage each other during transport. Articulated rubber feet also protect your car's paintwork. Easy ratcheting anti-sway straps offer a secure hold. If you want a bike carrier that can be easily transferred between vehicles, this is perfect for you.
One of the strongest and most environmentally friendly car racks on the market.
SeaSucker Talon 1-Bike Carrier Fork Mount Rack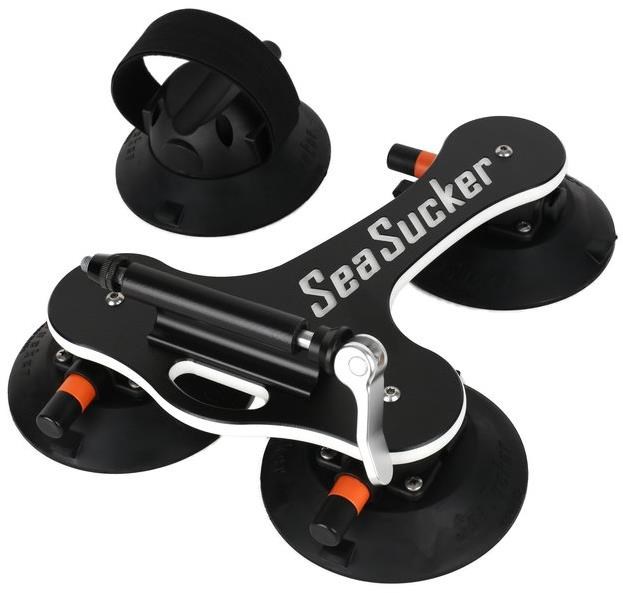 Carrier Type Roof Rack
---
Bike Capacity 1 Bike
---
Load Capacity 20kg
---
Max Bike Weight 20kg
---
Best For Extremely easy rack to secure
---
Review
The SeaSucker Talon bike carrier is something different to all the others on our list, and it's our favourite. This extremely versatile and easy to use bike carrier uses a vacuum to seal three powerful cups to the roof of your car. To get an idea for just how strong this seal is, SeaSucker claim each cup has a 95kg (210lb) pull-strength, and they have videos showing the Talon fitted to sports cars travelling at 140mph and lifting campervans.
This bike carrier is ideal for use on vehicles where you can't find available roof bars. You can use the suckers on the roof, boot and rear window without damaging your car's paintwork. A compact and lightweight design is great for storage when you're not travelling.
However, the best feature of the SeaSucker Talon is just how easy it is to mount to your car and attach your bike - it only takes a few moments. All you do is press the vacuum cups down to create an initial seal then press the vacuum pump until low pressure keeps the pump fully depressed. To attach your bike simply remove the front wheel and attach the front dropouts to the metal bracket with the QR lever. The Talon fits standard 9mm dropouts, but you can get adapters for 15mm or 20mm thru axles. One of the most innovative and versatile car bike carriers we've come across.
Ingenious rack sticks your bike on just about any car, and it's very quick and easy to use too - 4.5/5 | Road.cc
Popular SeaSucker Roof Racks