Hybrid bikes are extremely versatile making them ideal for commuting, fitness and recreational riding. These are the best hybrid bikes on market and sit at the premium end of the spectrum. They combine the latest frame engineering techniques with capable spec.
Hybrid bikes over £1,000 are premium machines for cycling enthusiasts and are designed for different purposes. City bikes feature lightweight frames with rigid forks and road bike style gearing. With flat handlebars for improved handling and visibility on urban roads and cycle paths, city bikes are ideal for fast commutes and intense fitness sessions. You'll be surprised by just how fast these urban bikes can go.
With a suspension fork to take the sting out of rough roads and off-road tracks, terrain or gravel hybrid bikes bridge the gap between a city bike and a mountain bike. The wider tyres are grippy on gravel tracks but are still fast rolling on tarmac. These bikes are fun to ride everywhere and are ideal for commuting and recreational cycling on mixed terrain. Touring hybrids are supplied with pannier racks ready fitted and are a great choice for riding through the city with luggage as well as long distance cycling adventures.
Look out for hub gears and belt drives for the ultimate in low maintenance cycling and carbon fibre frames and forks for a smoother, lightweight ride. All the hybrid bikes here feature hydraulic disc brakes for powerful all-weather stopping and with rack and mudguard mounts all are suitable for all-year-round cycling.
Merida Speeder 400 2019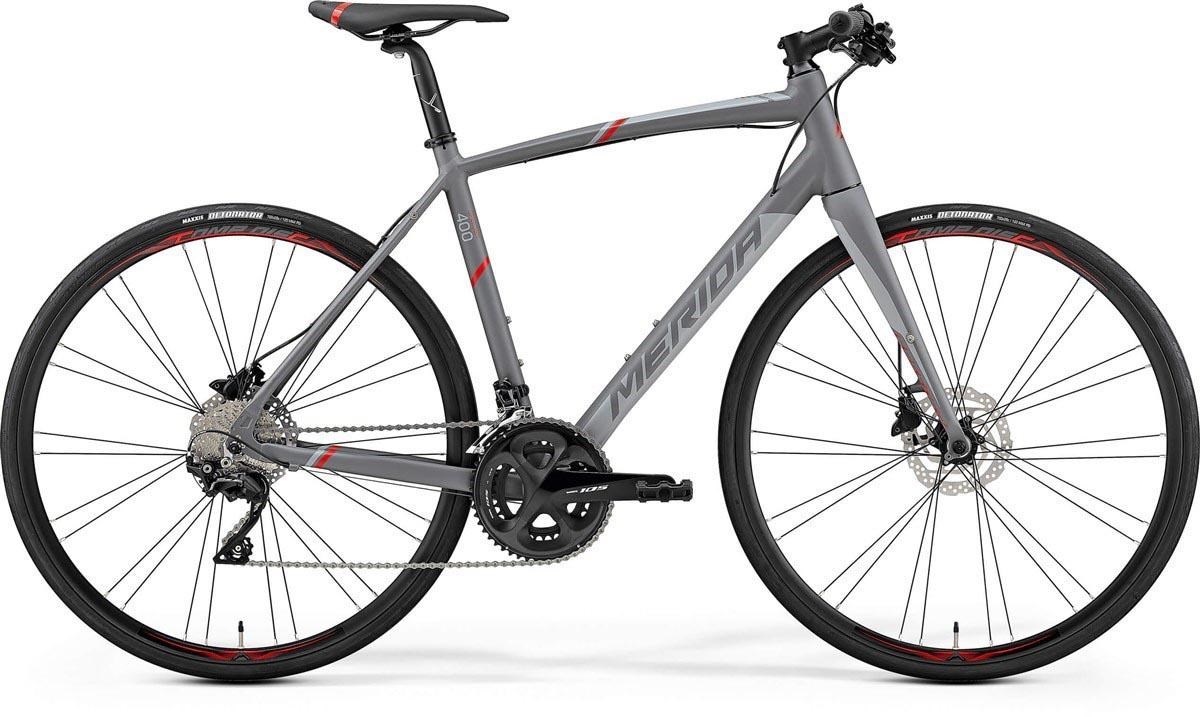 Frame 6066 triple butted aluminium
---
Fork Full carbon
---
Groupset Shimano 105 2x11 speed
---
Wheels Merida 700c
---
Brakes Shimano hydraulic discs
---
Review
Fast and efficient, the Merida Speeder 400 is a rapid hybrid bike that is ideal for cycling through the city streets. The lightweight triple butted frame gives you an efficient riding position which, combined with the flat handlebars, gives you the perfect combination of speed, efficiency, visibility and nimble handling. The full carbon fork is a real plus point as it offers a smoother ride thanks to the natural vibration damping properties that carbon fibre composite offers.
The lightweight 700c road bike wheels are shod with 28c Maxxis tyres that are fast rolling, grippy and comfortable. The Shimano 105 2x11 speed drivetrain with compact chainset gives you road bike speed while the wide range 11-32t cassette gives you a wide range of gears for tackling all the ups and downs on your route.
Merida's aluminium frames offer the very best quality at unbeatable price points
Orange Speedwork S 29er 2019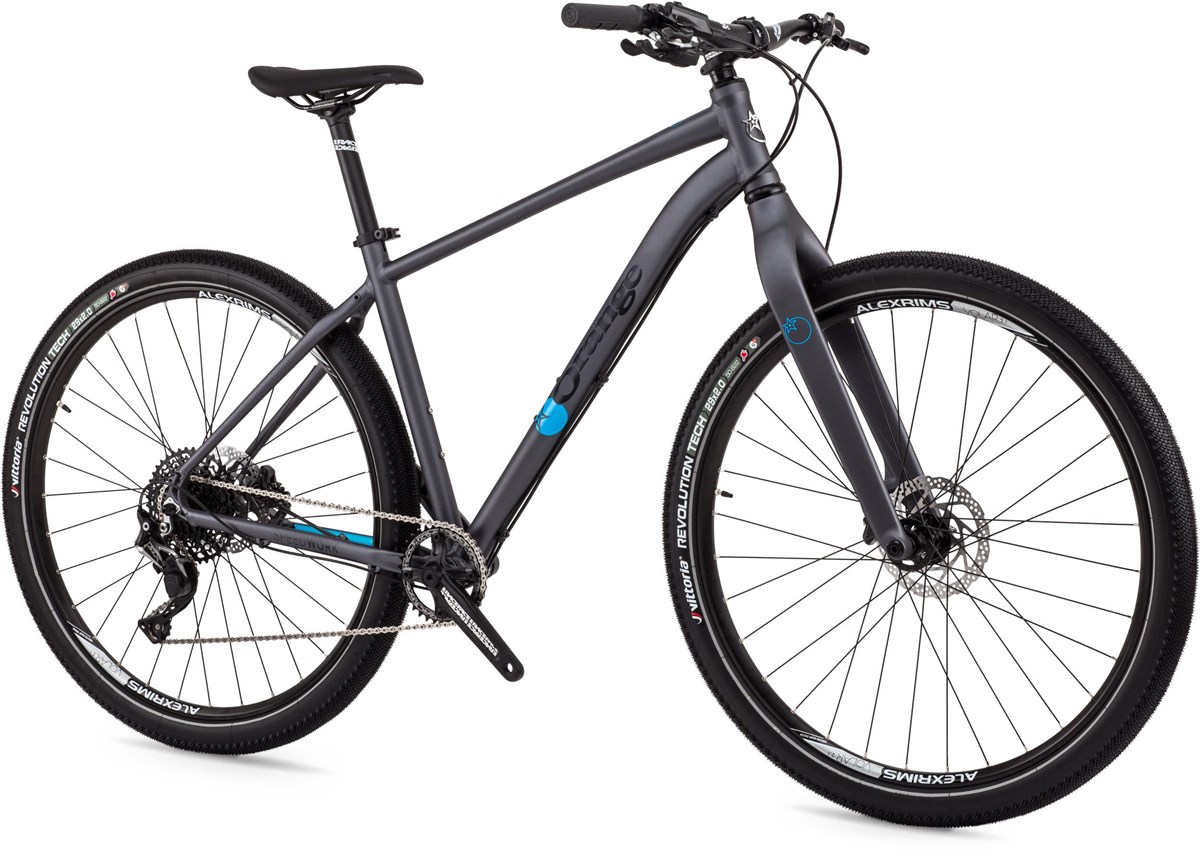 Frame 6061-T6 custom butted aluminium
---
Fork Full carbon
---
Groupset Shimano SLX 1x11 speed
---
Wheels 29" MTB style wheels
---
Brakes Shimano hydraulic discs
---
Review
Offering a slightly different take on the city bike, the Orange Speedwork borrows heavily from the mountain bike world. Designed for those who like to have fun while they ride the Speedwork offers the robust durability and confident handling you expect from an MTB combined with a lightweight carbon fork and fast rolling wheels. If you like to bunny-hop over obstacles and rail the corners then this is the urban bike for you.
While 29" wheels are usually reserved for off-roading, they are also well suited to urban cycling. This is because the rim diameter is effectively identical to a 700c road bike wheel, but you have the option of fitting higher volume tyres for a smoother ride with increased grip. The 1x11 speed Shimano SLX drivetrain gives you a good spread of gears with an emphasis on low end ratios that will make climbing a breeze. While not a fast in a straight line as some of the other hybrid bikes featured here, the Speedwork is hard to beat on tight urban streets.
Mountain bike fun meets urban utility
Specialized Sirrus Elite Carbon 2019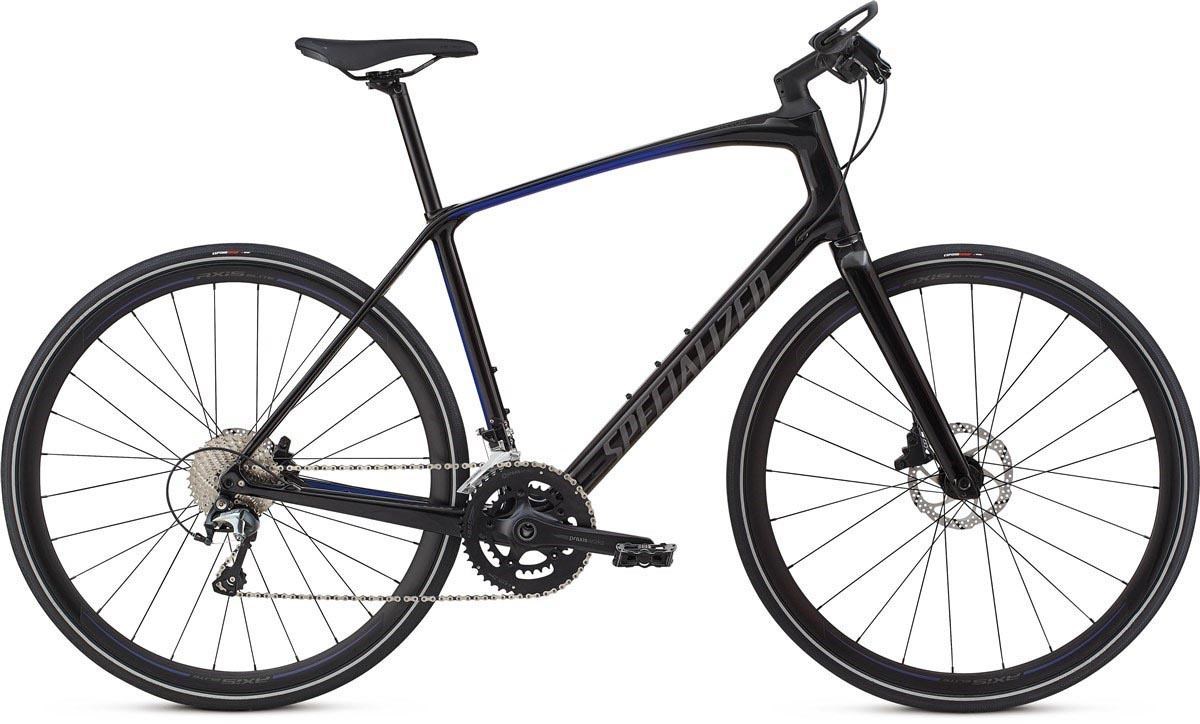 Frame FACT 9R carbon fibre
---
Fork FACT 9R carbon fibre
---
Groupset Shimano Tiagra 2x10 speed
---
Wheels Specialized 700c
---
Brakes TRP hydraulic discs
---
Review
Upgrade your fitness regime and race to your goals. The Specialized Sirrus Elite is a carbon framed road bike that is fast and efficient with the confident handling offered by the flat handlebars. The Sirrus Elite Carbon is ideal for urban road cycling and rapid commuting. With a high-quality FACT 9r carbon fibre construction that's lightweight and extremely responsive, not only making the Sirrus a better climber but also making it easier to carry up the stairs after your commute.
Crisp and precise shifting that comes at the hands of a microSHIFT & Shimano mix of components, powerful hydraulic disc brakes, and all the comfort that follows our scientifically tested and engineered Body Geometry components. The FACT 9r carbon fibre frame is engineered and designed with our Fitness Geometry, helping you ride more efficiently in a position that will see you riding comfortably, mile-after-mile.
Fast and efficient to upgrade your fitness and commute goals
---
Cube Editor 2019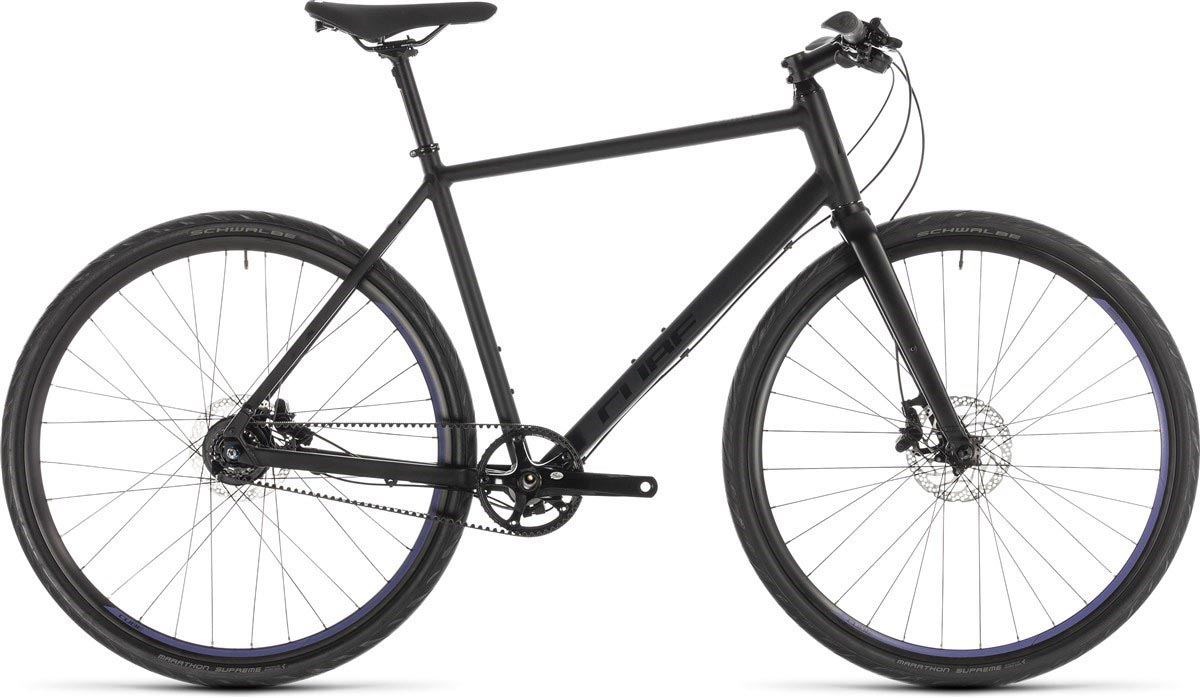 Frame Double Butted Superlite aluminium
---
Fork Cube aluminium
---
Groupset Shimano 11 speed hub gears
---
Wheels 700c Shimano/Cube
---
Brakes Shimano Deore hydraulic discs
---
Review
Don't be fooled by the stripped back style, the Cube Editor is an urban bike that uses cutting edge technology to deliver a trouble-free ride. Like the Merida Speeder featured above, the Editor offers a comfortable, nimble and efficient ride that is perfect for cycling through the urban jungle. The 11-speed gearing is hidden within the rear hub, so you get the slick lines of a single speed with a wide spread of gears for efficient cycling everywhere. Instead of a chain you get a belt drive which is incredibly long lasting, and like the hub gears, requires almost no maintenance to keep it running smoothly.
The 700c road bike wheels are wrapped in wide Schwalbe tyres that are fast yet smooth rolling and offer plenty of grip for quick changes in direction. Combine this with the all-weather stopping power of hydraulic disc brakes and you have the ultimate in low maintenance city cycling.
Low maintenance city style and efficiency .