The best hybrid bikes under £1,000 come in different flavours for different types of cycling. All the bikes featured in this review offer capable performance on urban roads, some however will encourage you to venture on to rough tracks and paths while others focus more on tarmac speed and efficiency.
Aluminium frames are strong yet lightweight and at this price point you start to see more use of butting and forming techniques which further reduce weight while increasing strength. Suspension forks are great for smoothing out rough tracks while rigid forks are lighter and more efficient on the road.
Disc brakes offer consistent stopping control in all-weather-conditions and you will find them on all the mountain bikes in this review. Hydraulic disc brakes are more powerful than mechanical ones as well as offering a better feel.
Hub gears offer the most reliable drivetrain performance and while they are slightly less efficient than traditional derailleur gears, they have the advantage of allowing you to change gear while being stationary. This is especially helpful in urban settings as you don't need to remember to brake and change gear as you stop at traffic lights. Of course, there is still a place for derailleur gears and the bikes here either feature mountain bike style gearing with lots of low ratios for easy climbing, or higher ratio road bike gears for faster riding on the flat.
All the hybrid bikes here feature hydraulic disc brakes for powerful all-weather stopping and with rack and mudguard mounts all are suitable for all-year-round cycling.
Merida Crossway Urban 20 2020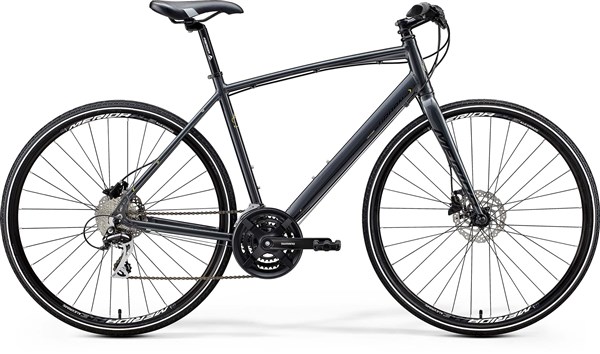 Frame 6061 butted aluminium
---
Suspension Rigid alloy
---
Drivetrain Shimano 3x8 speed
---
Wheels Merida with Shimano Hubs
---
Brakes Shimano Hydraulic discs
---
Review
Fast and comfortable, the Merida Crossway Urban 20 is stylish hybrid bike that is ideal for cycling through the city streets. Offering an efficient riding position with nimble handling characteristics, the Crossway Urban is an ideal bike for cycling through the city streets. The 6061-aluminium alloy frame is built with butted tubes which keeps the weight down for more efficient cycling. Mounts for mudguards, a rack and a kickstand make it easy to set up the crossway for all-weather commuting.
The Merida Crossway Urban rolls on 700c road bike wheels with wide 38c tyres. These offer a little extra cushioning on rough road surfaces while still rolling quickly and efficiently. You get a Shimano 3x8 speed drivetrain which gives you a wide range of gears with plenty of low ratios for the climbs. The Shimano hydraulic disc brakes deliver confident stopping power that works consistently well in all weather conditions.
Contemporary styling meets practical urban utility.
Giant Roam 1 Disc 2020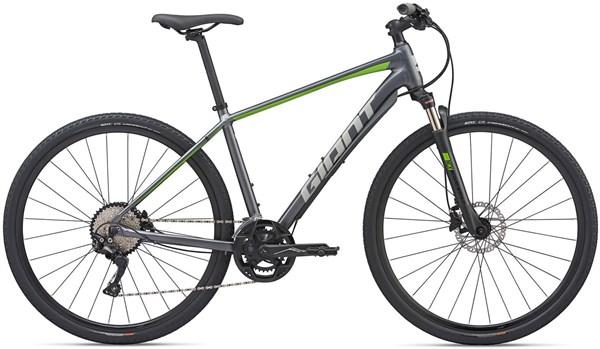 Frame ALUXX-Grade Aluminium
---
Suspension Sr Suntour NCX 63mm suspension travel
---
Drivetrain Shimano 2x10 speed
---
Wheels Giant GX28
---
Brakes Shimano hydraulic discs
---
Review
On-road or off-road, the Giant Roam 1 Disc is a hybrid sports bike that combines the efficiency of a road bike with the rugged potential of a mountain bike. You can ride anywhere from city streets to gravel trails with confidence on the Roam. The SR Suntour suspension fork offers 63mm of suspension travel to smooth the bumps on rough trails and features a hydraulic lockout so you can ride more efficiently on smooth roads.
Wide 38c tyres on the rapid rolling 700c road wheels offer cushioning and grip on rough tracks, yet are still efficient on the road. Shimano hydraulic disc brakes offer powerful stopping control for confident cycling in all-weather conditions. With the Shimano Deore 2x10 speed drivetrain the Roam 2 offers reliable shifting with a wide gear range – perfect for hilly rides.
Confident and efficient cycling everywhere from gravel tracks to smooth roads and everywhere in between.
Cube Hyde Pro 2020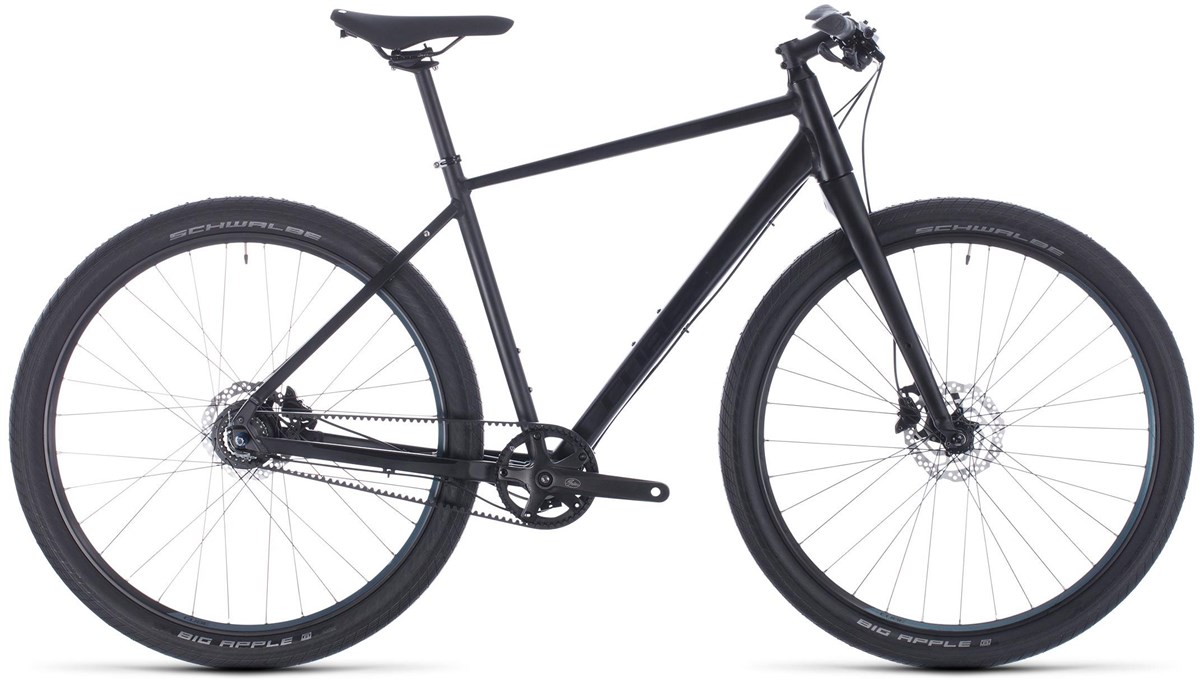 Frame Superlite double butted aluminium
---
Suspension Aluminium rigid
---
Drivetrain Shimano Alfine 8 speed hub
---
Wheels 29" Cube UX24 tubeless ready
---
Brakes Shimano hydraulic discs
---
Review
The Cube Hyde is a true urban utility vehicle, essentially designed to just make life that bit easier. The robust aluminium superlight frame offers a comfortable riding position and features double butted tubes which keeps the weight down. High volume Schwalbe Big Apple tyres are fast rolling yet offer extra cushioning on rough roads. Hydraulic disc brakes offer unrivalled all-weather stopping power so you can ride with confidence in all weather conditions.
Gearing comes courtesy of a Shimano Alfine hub gear system that offers 8 easy to use gear ratios in a very low maintenance package. The great advantage of a hub gear system on an urban bike is that you can change gear without pedalling so you can select a good starting off gear while you are stopped at traffic lights.
A high performance understated ride for negotiating the concrete jungle.
Cannondale Quick CX 2 2020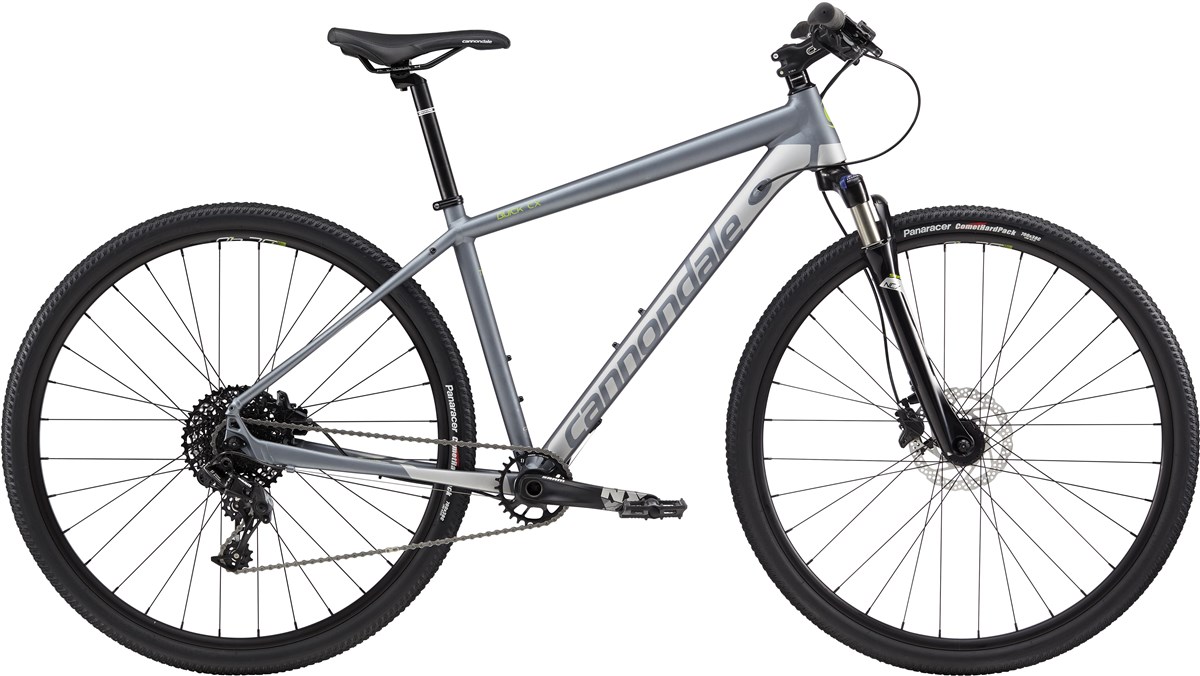 Frame SmartFormed C2 aluminium alloy
---
Suspension SR Suntour NCX 50mm suspension travel
---
Drivetrain Shimano Acera, 2x9
Wheels Maddux double wall alloy
---
Brakes Shimano hydraulic discs
---
Review
Quick and capable on rough tracks and smooth roads the Cannondale Quick CX 2 combines the latest mountain bike technology with road ready efficiency. The SmartFormed aluminium alloy frame is tough and lightweight and with the SAVE stays has a compliant rear end that offers a comfortable ride. The SR Suntour fork gives you just enough suspension travel to take the sting out of rough tracks while still offering efficient performance on the road.
Combining a very wide range rear cassette with a single front chainring the SRAM 1x11 speed drivetrain offers trouble free gear shifting with plenty of gears to get up even the steepest climbs. Shimano hydraulic discs provide confident all-weather stopping power and the wide 38c tyres offer grip and a little extra cushioning on less than perfect road surfaces.
Slick city styling meets capable rough road performance for confident cycling everywhere from smooth roads to rough tracks.
Specialized Sirrus Elite Alloy 2020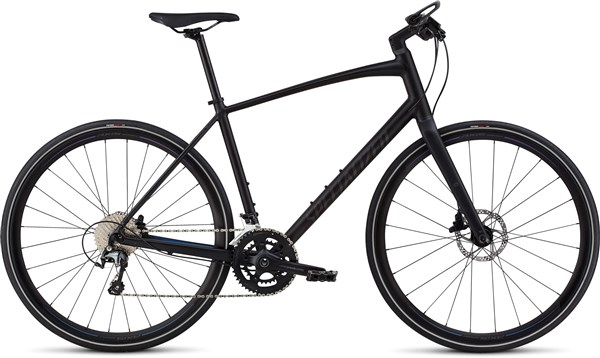 Frame A1 Premium SL butted and formed aluminium
---
Suspension FACT carbon fibre
---
Drivetrain Shimano Tiagra 2x9 speed
---
Wheels Deep section road
---
Brakes Tektro hydraulic discs
---
Review
By far the quickest tarmac bike in this review, the Specialized Sirrus Elite combines rapid road bike technology with a practical urban riding position. The lightweight aluminium frame is combined with a carbon fibre fork to offer an efficient ride with quick handling characteristics. You still get all the mounts you need for racks and mudguards which makes the Sirrus ideal for rapid commuter duties.
The Shimano Sora 2x9 speed road bike drivetrain gives you reliable shifting with a great spread of gears for rapid road cycling. The deep section wheels are fast rolling and are shod with 32mm tyres that are ideal for all types of roads. Reflective sidewalls on the tyres are a nice touch that improves your visibility in low light conditions.
Whether commuting or fitness training the Specialized Sirrus Elite Alloy is ready to hit the city streets