The best hybrid bikes under £1,000 come in different flavours for different types of cycling. All the bikes featured in this guide offer capable performance on urban roads, but some will encourage you to venture onto rough tracks and paths while others focus more on speed and efficiency on tarmac.
As with all bikes models of similar type get lighter in weight as they become more expensive. As well as the frame the components fitted will be lighter weight too. Look out for hydraulic disc brakes as these offer better stopping power in all weather conditions.
Hub gears offer the most reliable drivetrain performance. While they are a little heavier and slightly less efficient than traditional derailleur gears, they have the advantage of allowing you to change gear while being stationary. This is especially helpful in urban settings as you don't need to remember to brake and change gear as you stop at traffic lights.
Hybrid bikes that feature hydraulic disc brakes offer powerful all-weather stopping. Luggage racks and mudguards add practicality and can be fitted easily to those models that don't come with them as standard.
Rough terrain hybrids
Hybrid bikes with a suspension fork are designed for cycling on rough gravel tracks as well as smooth cycle paths and roads. These bikes also have wider treaded tyres that offer a bit more grip on loose surfaces without slowing you down too much on the road. Suspension seatposts add a little extra comfort too.
Rough terrain hybrids are great for riding through the park and along canal towpaths, but they are heavier than road hybrids so will be a little slower on smooth surfaces compared to an urban hybrid.
The Giant Roam and Merida Crossway are great examples of rough terrain hybrid bikes. They are built around lightweight aluminium alloy frames with wide tyres and a suspension fork so you can ride on and off-road with confidence. The Boardman MTX is another popular choice in this category.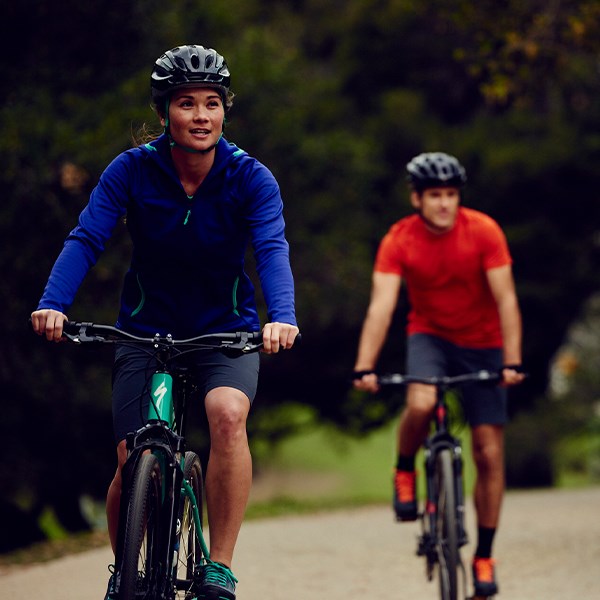 Road or urban hybrids
LYou don't need suspension on the road so urban hybrid bikes have a lighter weight rigid fork. Carbon forks are lighter still and offer a nice ride feel. These bikes tend to have narrower tyres with minimal tread to help them roll quickly on smooth road surfaces.
Urban hybrids are similar to a road race bike but with flat handlebars. The riding position is a little more upright than a road bike though which makes these hybrids more comfortable. The handling is nimble without being twitchy.
The Specialized Sirrus and Cannondale Quick are classic urban hybrids that offers a speedy ride around town. The riding position of these bikes is efficient but much more city friendly than a road bike. The Merida Speeder lives up to its name with performance that rivals the Sirrus and the Quick.