Hybrid bikes are great all-rounders thanks to their comfortable riding position and confident handling. Buying your first hybrid bike doesn't have to break the bank. We've highlighted the best hybrid bikes under £500 to help you choose the right one for you.
In this price point you'll find capable Shimano componentry with a wide spread of gears for navigating city streets and hills. These great value hybrid bikes are all built from lightweight aluminium which is durable for daily use and stiff for efficient cycling.
Look for hybrid bikes with mudguard clearance and eyelets for racks to improve practicality and a suspension fork if you want to venture onto off-road tracks. Strong V-brakes are common, as are fast rolling 700c road bike wheels with wide 32c-35c tyres for added grip on slippery roads. One of the best features to look for in a hybrid under £500 are disc brakes. This technology has been trickling down price points for a few years and you'll spot them on hybrids starting around £400. These brakes offer improved stopping power in wet weather making them ideal for commuting and training all year round.
Whether you're commuting, training or riding for fun, a hybrid bike is an excellent companion. Discover our favourite entry level models below.
Orbea Comfort 40 2019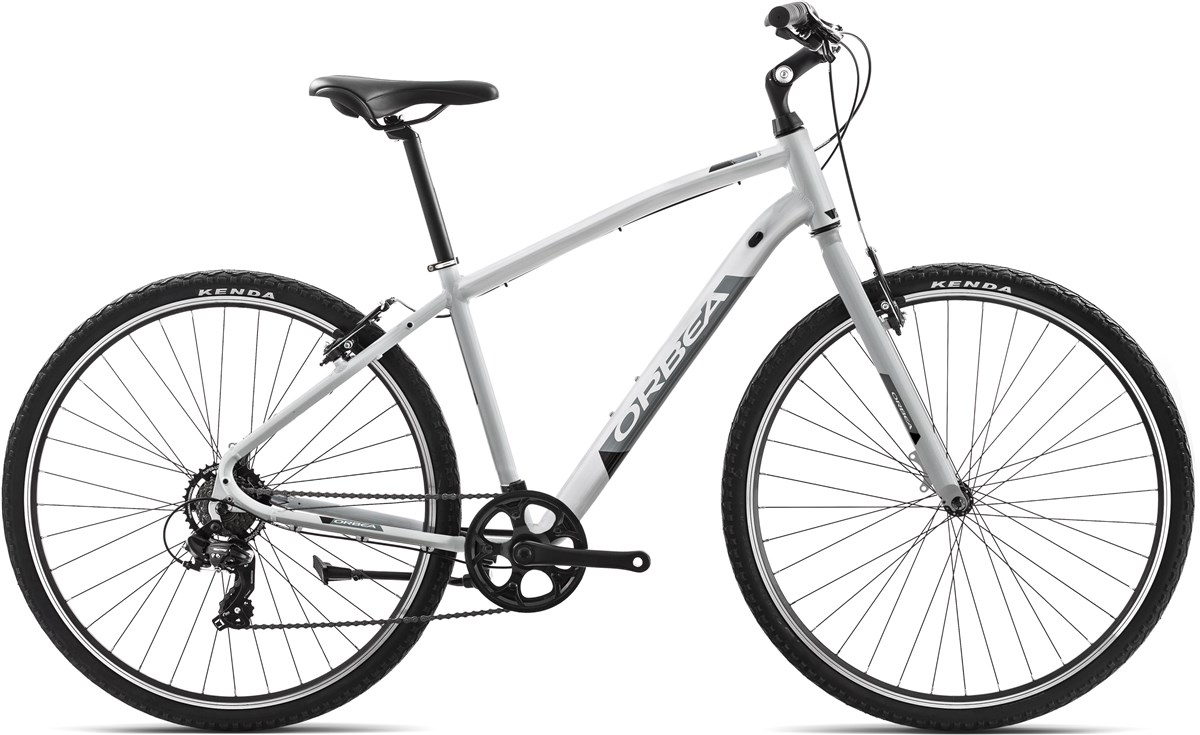 Frame Aluminium Alloy
---
Fork High Tensile Steel
---
Groupset Shimano 1x7
---
Wheels Orbea Double Wall Alloy
---
Brakes Orbea V-brakes
---
Review
As the name suggests, the Orbea Comfort 40 is a hybrid bike that is designed to make your cycling trips nice and comfortable. The aluminium alloy frame offers an upright cycling position which is helped by the high-rise stem that means you don't need to stretch to reach the handle bars. Wide 40mm tyres offer a little cushioning on rough roads and the reflective side walls help you to be seen on the roads at night.
Orbea keeps gear changing simple with a single chainring up front combined with a 7-speed Shimano rear cassette. This makes the Comfort 40 ideal for cycling in town and country where there aren't many steep hills. The Orbea Comfort 40 comes ready equipped with a kick stand for easy parking when you reach your destination.
A reliable ride for gentle cycling on flatter terrain.
Popular Orbea Hybrid Bikes
Giant Escape 3 2020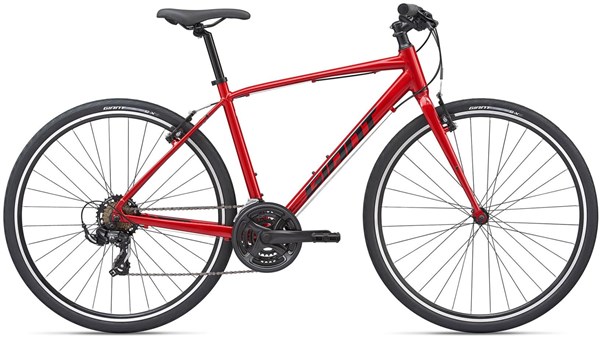 Frame ALUXX-Grade Aluminium
---
Fork High Tensile Steel
---
Groupset Shimano 3x7 speed
---
Wheels Giant Double Wall Aluminium
---
Brakes Shimano linear pull
---
Review
The Giant Escape 3 has a focus on getting the basics right to bring you the best possible quality on a bike priced under £350. Pairing a steel fork with an aluminium frame gives a great balance of comfort and weight which, along with wide 32mm tyres, help to keep things smooth when cycling over rough roads.
The Escape 3 gets a reliable Shimano Tourney drivetrain that features a triple chainring upfront to give you a spread of 21 gears, to help you tackle the hills when town and country riding. As it's finished with Giant's reliable own-branded parts throughout, you can be sure you're getting a quality hybrid bike that'll last for years.
Escape the car and transform your commute with this quality, beginner-friendly bike.
Specialized Crosstrail Mechanical Disc 2020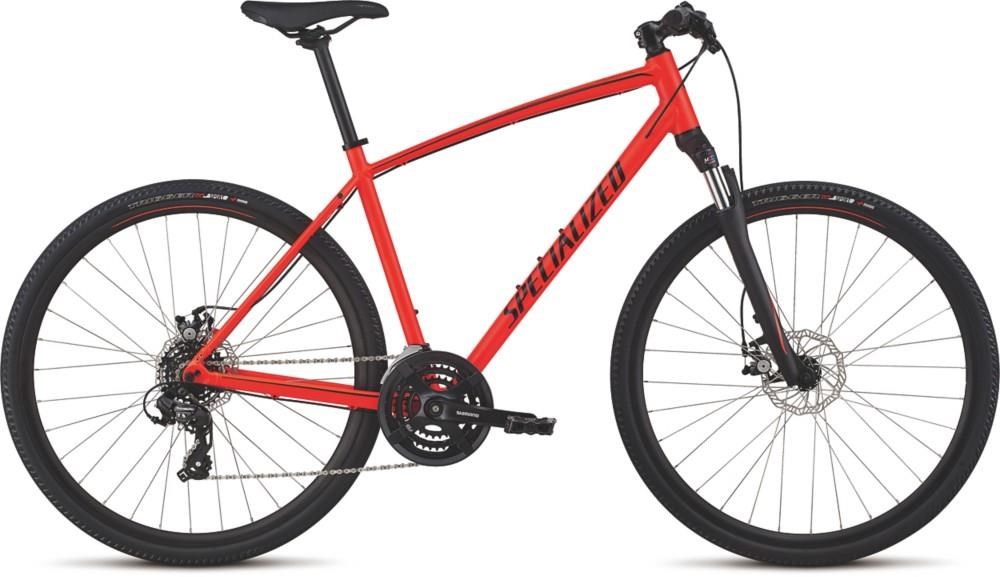 Frame Specialized A1 Premium Aluminium
---
Fork SR Suntour NEX with Multi Circuit Damping
---
Groupset Shimano 3x7 speed
---
Wheels Aluminium Double Wall
---
Brakes Mechanical Disc, 160mm Rotor
---
Review
The Specialized Crosstrail Disc is an efficient town and country mileage slayer that offers the quality ride you expect from a trusted brand. Specialized's lightweight A1 aluminium frame is complemented by a Suntour suspension fork, for a cushioned ride over rough ground that'll keep you comfortably in the saddle all day. The Suntour NEX fork features custom Multi Circuit Damping for a ride quality that is usually reserved for premium suspension forks.
Mechanical disc brakes give you consistent stopping power that works just as well in the wet as it does in the dry. The Crosstrail Mechanical Disc is easy to dress up with accessories however you wish, with eyelets for both luggage rack and mudguards. Adapt it to your own needs and it'll have you rolling off road and on in style.
On-road or off-road, the Crosstrail is ready for anything you can throw at it. It's great to see such a good fork at this price.
Cube Nature 2020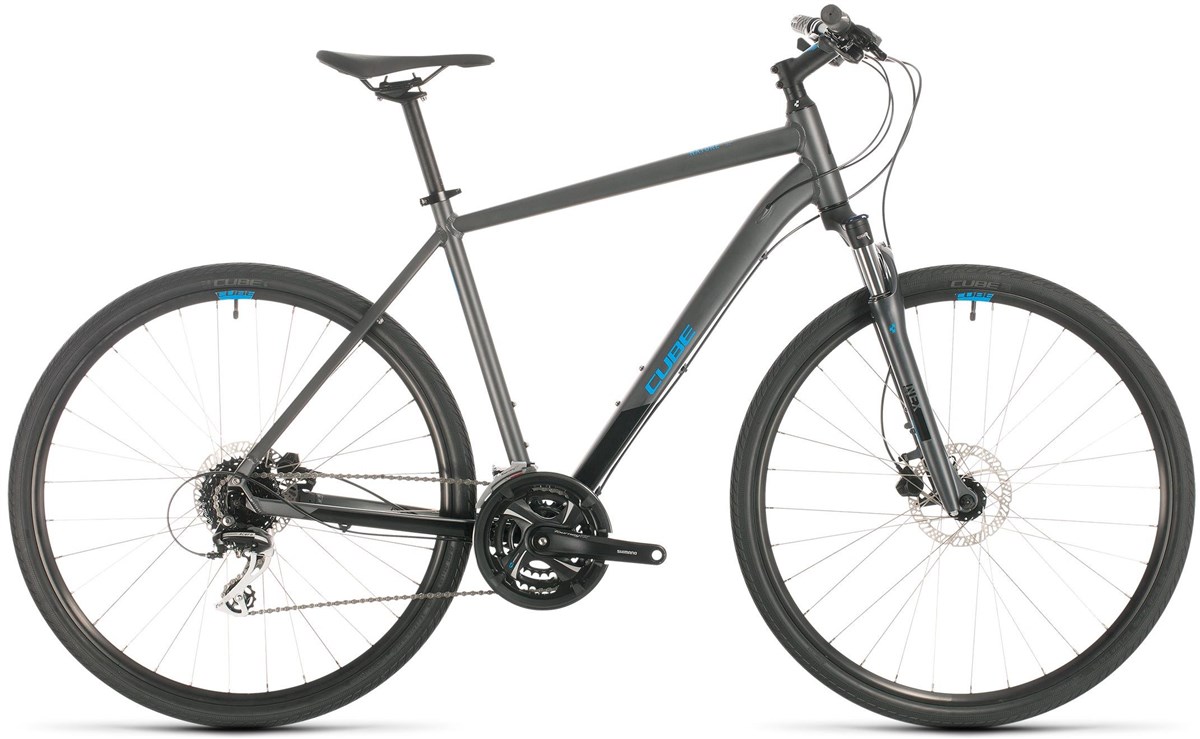 Frame Aluminium Superlite Trekking Cross Double Butted
---
Fork Suntour NEX suspension fork
---
Groupset Shimano 3x8 speed
---
Wheels Cube Aluminum Double Wall Disc
---
Brakes Tektro Hydraulic Disc
---
Review
The Cube Nature is an ideal hybrid bike for exploring on road, cycle track and off-road trail. A nice feature to see at this price is the use of double butted tube walls which makes the frame lighter without sacrificing strength. It is great to see hydraulic disc brakes at this price point as they offer unrivaled stopping power in all-weather conditions.
To help soak up potholes and rough paths and tracks you get a plush SR Suntour NEX suspension fork with 63mm travel. The fork is well matched to 42c wide tyres with excellent grip – just what you need when off-roading. The Cube Nature is reliable in any situation.
When the tarmac ends, the Nature keeps on going
Merida Crossway Urban 20 2020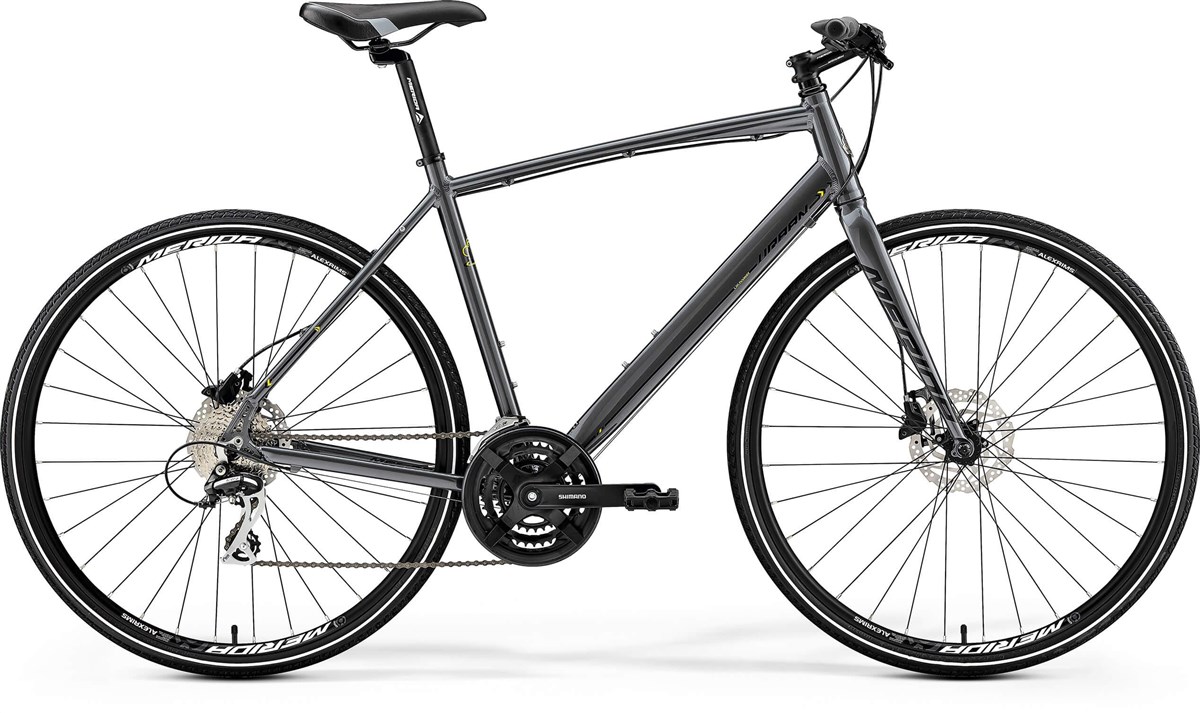 Frame Lightweight Aluminum
---
Fork Rigid 6061 Aluminum Blade
---
Groupset Shimano 3x8 speed
---
Wheels Merida Road Double Wall
---
Brakes Shimano hydraulic disc
---
Review
The Merida Crossway Urban 20 is a sporty hybrid for rapid commutes and fast-paced fitness sessions. It combines the swift performance of a road bike combined with the comfortable position of flat bars. Like Giant, Merida are a brand that make their own frames, so you get a high-quality double butted lightweight aluminium frame and fork at a very competitive price point. This gives you an efficient ride on smooth roads and paths.
The Crossway Urban is fitted with a quality Shimano 3x8 drivetrain that offers a wide range to make climbing easier. The Shimano hydraulic disc brakes are a real highlight. These offer powerful speed control that works consistently well in all weather conditions. The Merida Crossway Urban 20 is ideal for rapid urban cycling all-year-round.
All the speed of a road bike but with the comfort of a flat bar. Lightweight, easy to ride and quick.