With a motor to boost your natural pedalling power, electric bikes are a great way to cycle further with less effort. Pedal assist motors add extra power to each pedal stroke, which makes it easier to get moving. The effect is most noticeable on the hills, so you can pedal to the top of the steepest climbs on an e bike without getting into a sweat. You wil still getting in some healthy exercise as you still have to put in some effort to turn the pedals. Pedal assist is only offered up to 15mph on all our electric bikes, this is a legal requirement and means that you can ride e bikes everywhere that you can ride a regular bike.
Just like regular bikes, electric bikes come in many different types, from electric urban bikes to e MTBs. In this review, we have picked out the stand out models in each category to help you choose the best electric bike for your next cycling adventure. While the bikes are different drive technology is shared across the different electric bike categories. There are two basic types of motor; hub drives help to turn the front or rear wheel and are the most affordable, crank drives add power through the chain directly and are the most powerful. All our ebikes use lithium ion batteries, similar to those found in mobile phones and electric cars. The amount of power that the motor offers can be changed by using different power modes. This means that you can the battery capacity by increasing the power for the climbs and reducing it for easier flat sections.
Raleigh Array E-Motion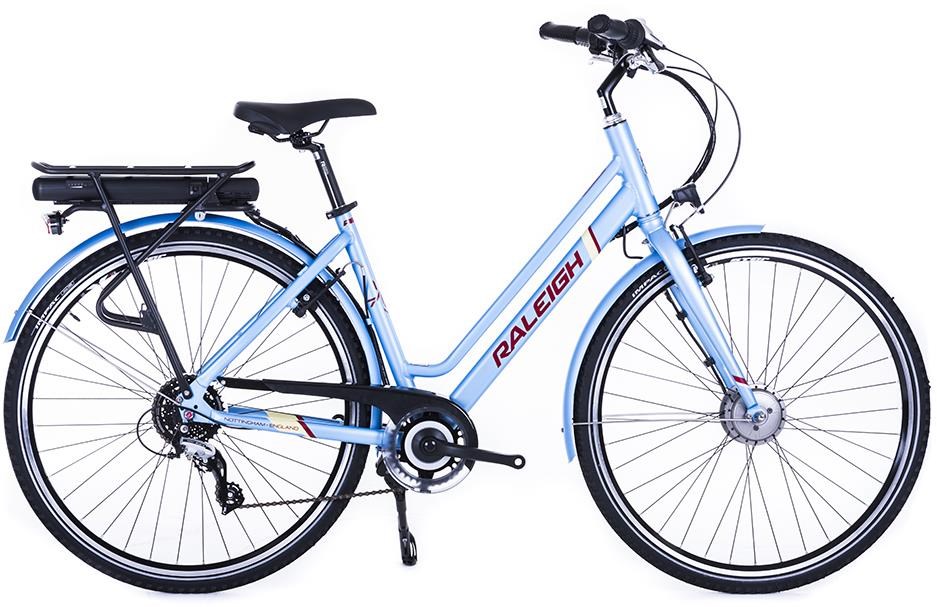 Type Electric urban bike
---
Motor E-Motion front wheel hub motor
---
Battery Pack 300Wh rack mounted
---
User Interface Handlebar LED display
---
Best for Cycling on roads and cycle paths
---
Review
The Raleigh Array E-Motion is one of the most affordable ways to take advantage of the benefits of electric bikes. The E-Motion hub motor in the front wheel offers enough power to really make a difference to you ride. While not as powerful as the other bikes featured in this review, power is delivered very smoothly for a pleasurable ride experience. A handlebar mounted display unit allows you to select the different power modes as well as showing the remaining battery capacity. The 300Wh battery capacity is on the small side for an e bike but will still give you a descent range.
Offering a comfortably upright cycling position the Array E-Motion is perfect for leisurely cycling on roads as well as paved cycle paths. A nice touch is the front and rear lights that are powered by the main battery. Combined with the mudguards and rear luggage rack, the Array is ready for everything from the daily commute to holiday cycling adventures. The Ladies low step model is featured here, the Raleigh Array E-Motion Crossbar men's bike is also available.
This bike is definitely built to assist with inclines rather than take you up serious hills, but for flatter riding it has all the power you need. ebiketips.
Cube Acid Hybrid One 400 29er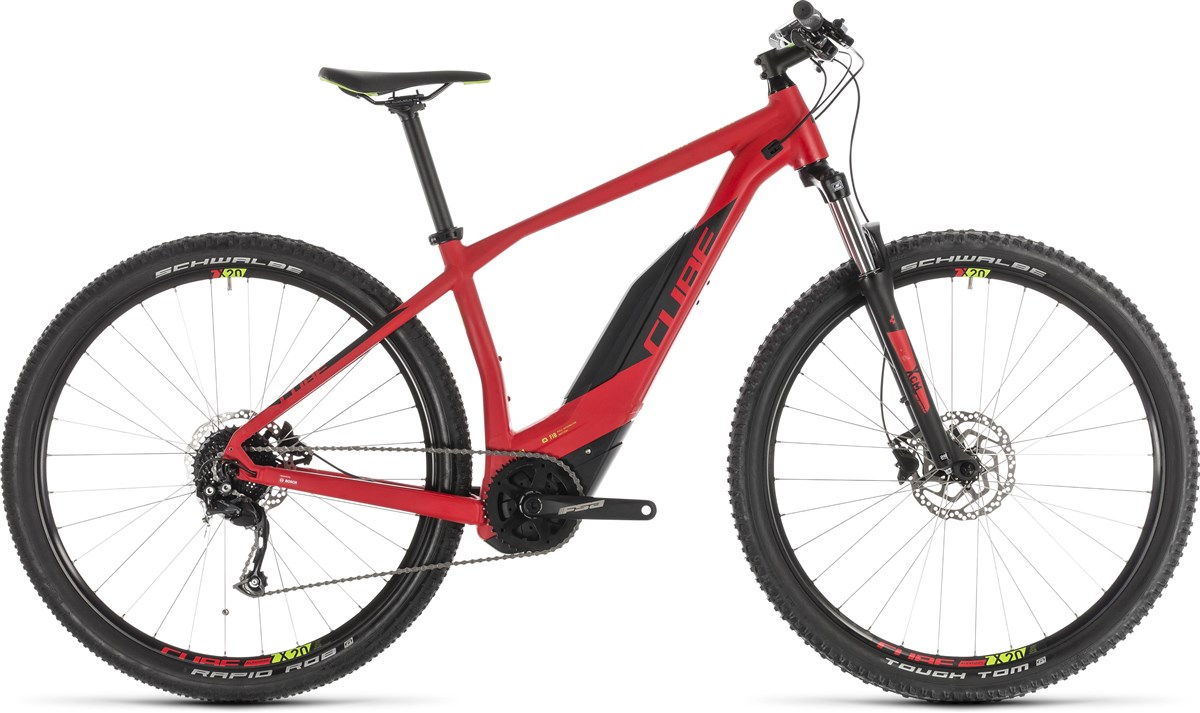 Type Electric mountain bike
---
Motor Bosch Active Plus crank drive
---
Battery Pack 400Wh downtube mounted
---
User Interface Bosch Purion display
---
Best for Cross-country MTB
---
Review
The Cube Acid Hybrid One is a hardtail electric MTB that rolls on 29" wheels and is ideal for cross country mountain biking. Bosch are one of biggest ebike motor brands and are well known for their power and reliability. The Active Plus crank drive motor is a lightweight, mid-range unit that offers up 50Nm of torque for gentle acceleration. The 400Wh battery pack is semi integrated and sits inside the downtube to keep the lines nice and clean. There are four different power modes that can be selected from the handle bar mounted Purion display unit. Remaining battery capacity is also shown on the display unit as well as distance and estimated range.
With fast rolling 29" wheels and 100mm travel suspension fork, the Cube Acid Hybrid is perfect for cross-country mountain bike riding. You get a reliable Shimano 1x9 speed drivetrain with a mid-range cassette which is good for most off-road climbs. Hydraulic disc brakes with 180mm rotors give you plenty of stopping power and the tyres offer a good balance between grip and rolling resistance for efficient off-road cycling.
With its electric motor the Cube Acid is good for riding on regular cycle paths as well as mountain bike trails.
Orbea Gain D30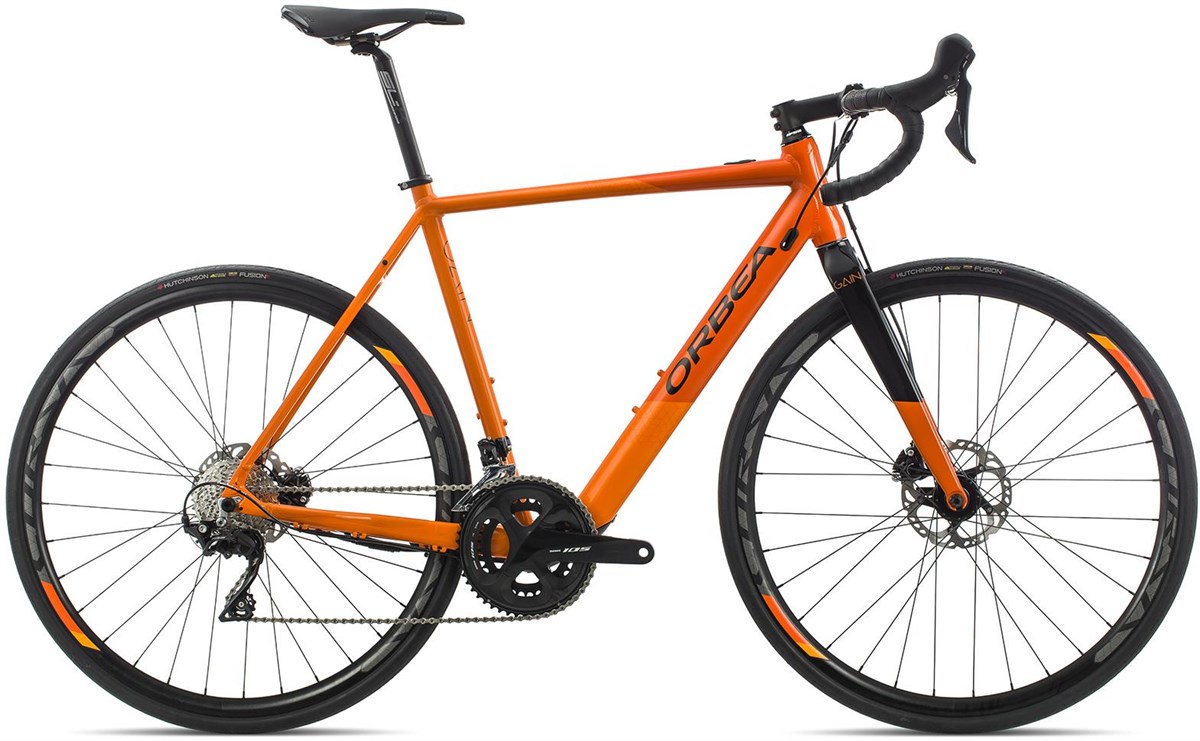 Type Electric road bike
---
Motor Ebike motion X35 rear hub mounted
---
Battery Pack 250Wh downtube integrated
---
User Interface iWoc ONE interface button
---
Best for Road riding
---
Review
Winning the prise for looking least like an e bike, the Orbea Gain D30 is an electric road bike like no other. With the battery pack fully integrated into the downtube and a rear hub drive motor, the Gain looks much like an ordinary road bike. Once you start riding it though the difference become obvious. While not as powerful as crank drive e road bikes the electric assist will get you up the hills far easier than with your natural pedalling power alone. The whole system is lighter than most e bikes too so the Gain rides much like a regular road bike when you are not using the electric assist.
At just 250Wh hours the battery pack is smaller than most ebikes but the lightweight efficiency of the Gain means that you don't need any more capacity for regular rides. For longer rides it is possible to fit an additional piggy back battery pack. The iWoc control system is also one of the subtlest user interfaces. The button on the down tube allows you to cycle through the different modes and a coloured LED ring around the outside shows remaining battery capacity. For deeper control a dedicated smartphone app can connect directly to the bike.
Offering a versatile ride, the Gain gets a proper road bike groupset with a Shimano 105 compact double chainset combined and a wide range 11 soeed cassette. Hydraulic disc brakes give you plenty of speed control while rack and mudguard mounts are great for all-year-round cycling and commuting.
...the X35 'Just Enough' system is every bit as refined, and perhaps even easier to use, than other bottom bracket based systems that we've seen previously. Bike Radar
Cube Kathmandu Hybrid SL 500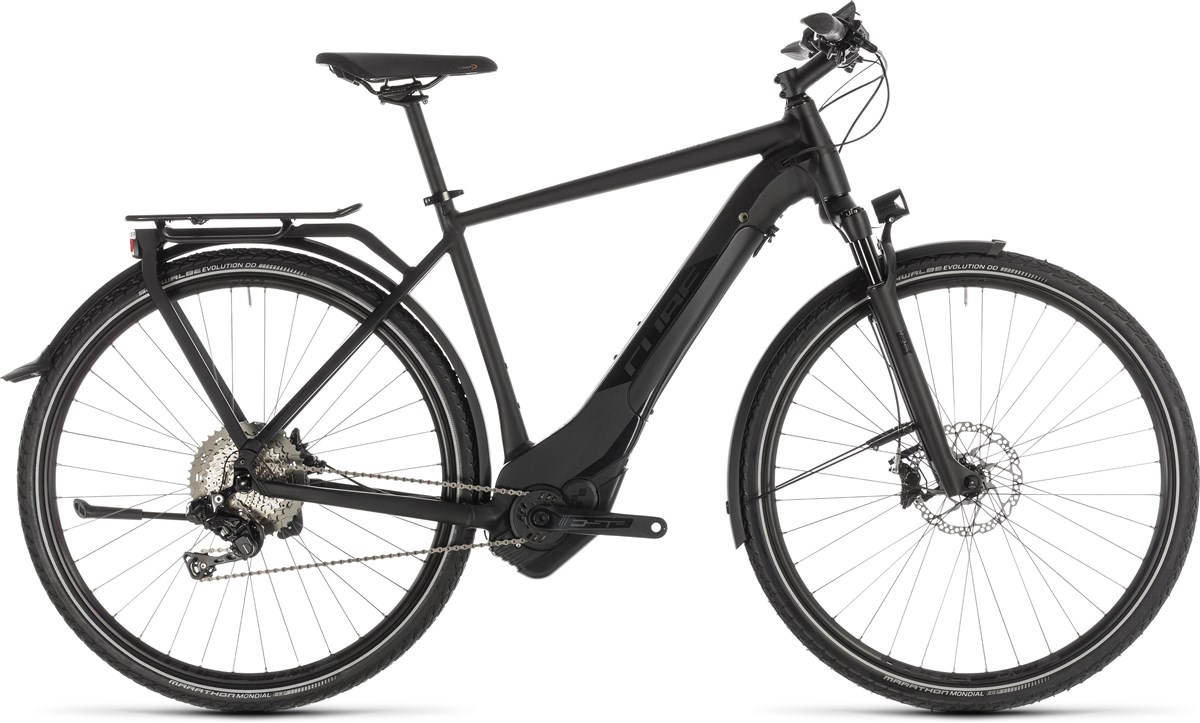 Type Electric Urban Bike
---
Motor Bosch CX drive
---
Battery Pack 500Wh downtube mounted
---
User Interface Bosch Intuvia
---
Best for Touring to city cycling
---
Review
Comfortable, stable and powerful, the Cube Kathmandu Hybrid SL is an electric bike that offers easy cycling on roads, cycle paths and even gravel tracks. At the heart of the Kathmandu Hybrid is a Bosch CX motor that offers a maximum torque of 75Nm. This gives you sporty acceleration, with enough power to ride effortlessly up the steepest hills. The 500Wh battery pack offers as much capacity as you will find on most other e bikes, so you will have plenty of range. The Bosch Intuvia control unit displays all your ride data and you can switch between power modes without taking your hands of the handlebars.
The Superlite Aluminium frame gives you a stable riding position and the RockShox Paragon suspension fork will take the sting out of rough roads and tracks. The Kathmandu even has a suspension seatpost for improved comfort in the saddle. A rear luggage rack is built in and mudguards are ready fitted. The front and rear lights are powered from the main battery pack. With Shimano XT Di2 electronic shifting and XT hydraulic disc brakes you get the very best with the Cube Kathmandu. The unisex model is featured here, the Women's Kathmandu Hybrid SL 500 Trapeze is also available.
Like with anything else you get what you pay for and although you can get a low-grade e-bike for £1000 it won't be nearly as competent as this. Active Traveller
Specialized Turbo Levo FSR Comp Carbon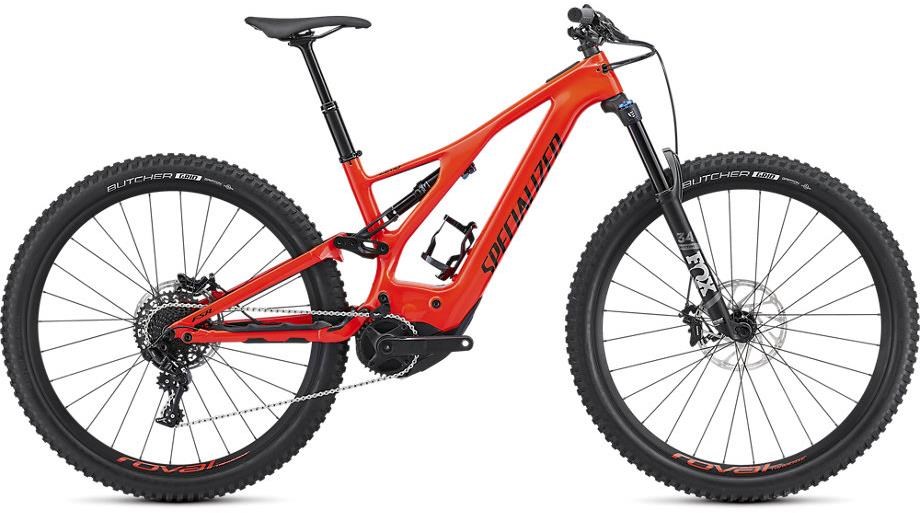 Type Electric Mountain Bike
---
Motor Brose Turbo 2.1
---
Battery Pack 500Wh downtube integrated
---
User Interface Integrated display & remote
---
Best for MTB trail riding
---
Review
For proper mountain bike trail riding you need an electric mountain bike that is capable enough to take on rough MTB trails. The Specialized Turbo Levo leads the way in this sector and offers proper trail MTB performance with a very powerful e bike drive unit. Specialized have worked closely with Brose to develop a custom drive unit that is built around a powerful crank drive motor. Putting out up to 90Nm of torque the Turbo Levo is powerful enough to make it up climbs that are almost impossible on a regular mountain bike. It is also one of the quietest ebike motors. The high capacity 500Wh battery pack is neatly integrated into the downtube which helps to give the bike the cleanest line of any e MTB currently on the market.
Unlike most other ebikes there is no display screen on the handle bars. Instead power mode and battery capacity are displayed on the top tube and a remote allows you to control the various power modes. Bluetooth connectivity allows you connect to a smartphone app, so you can customize the power modes and access various GPS navigation features. You can also connect to your Garmin with ANT+ so you can display some battery info if you wish.
As well as being powerful the Turbo Levo has a great balance and handling is confident and composed. You get 150mm of full suspension travel with a Fox 34 fork and DPS shock for composed performance on challenging trails. The SRAM groupset gives you a wide range of plenty of stopping power.
Even at full power the belt-driven Brose motor is almost silent. There's little trace of the motor and battery weight in the handling, too. Bike Radar