Mountain biking is all about having fun on the trails, so it is easy to see the appeal of an electric mountain bike. With a boost to your natural pedalling power you don't need to use all your energy on the climbs, so you can have more left for the descents. The best electric mountain bikes give you this extra pedalling power while retaining the feel of a regular MTB. This means that you have the energy to ride more of the fun stuff. You'll also find that the climbs can be more enjoyable on an e bike. What's not to like?
We've picked out our best full suspension e MTBs at a range of price points to help you choose your ideal power assisted ride. All the bikes featured here use a powerful crank drive motor which is combined with a long-lasting lithium ion battery pack. By law the pedal assist is limited to 15.5mph, this means that you can ride these e bikes everywhere that you can ride your regular steed.
Cube Stereo Hybrid 140 Pro 500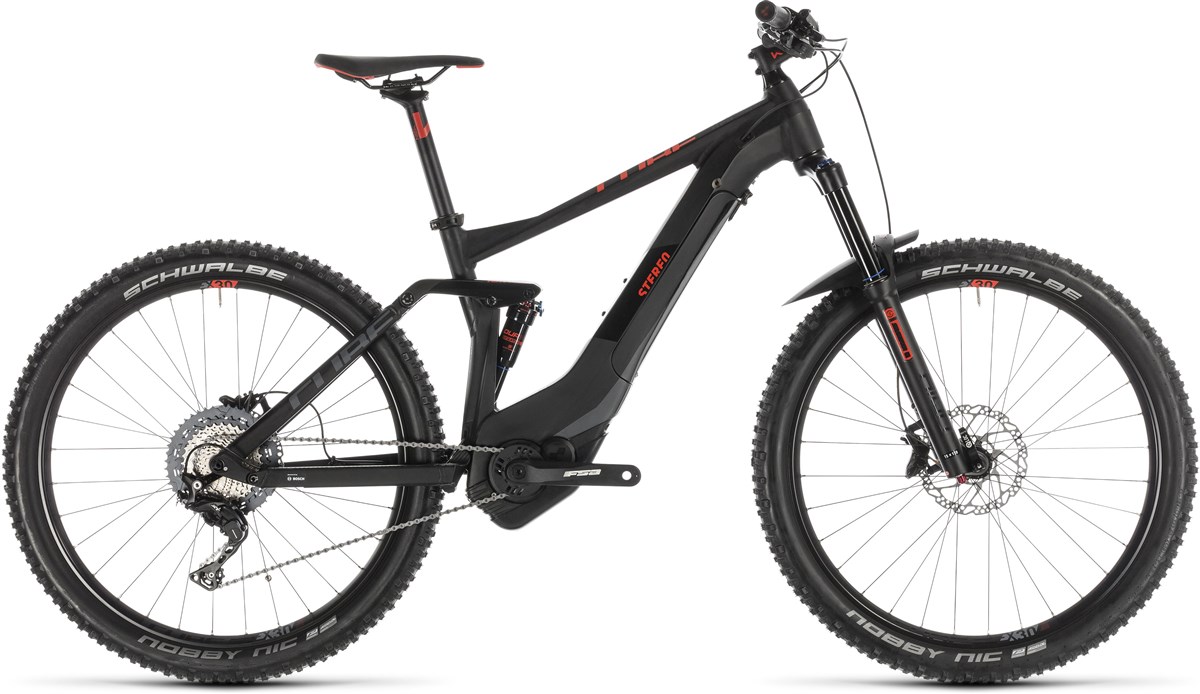 Motor Bosch Performance CX
---
Battery Bosch PowerTube 500Wh
---
User Interface Bosch Purion
---
Suspension Suntour Aion fork / Suntour DUAir shock, 140mm front & rear
---
Wheels Cube / Shimano 27.5"
---
Best for Trail
---
Review
At just over three grand the Cube Stereo Hybrid 140 Pro offers incredible value for a full suspension electric mountain bike. Bosch are one of the biggest players in the e bike drive market and the Performance CX unit is well known for its reliability. The 500Wh battery pack is as big as you will find on most e MTBs and it is easy to charge both on and off the bike. The Purion display unit shows speed, distance and range as well as power mode and battery capacity. Sitting on the handlebars the buttons are easy to reach but the screen is vulnerable in a crash.
You get a Shimano SLX/XT 11 speed drivetrain which gives you all the gears you a likely to need. The Suntour suspension units might not have the same reputation as Fox and RockShox but the performance is hard to fault. The only thing missing form the spec is a dropper post, but this is an easy upgrade as the routing for it is already in place.
A great first step on the full suspension e-mtb ladder MBR.
Giant Trance E+ 3 Pro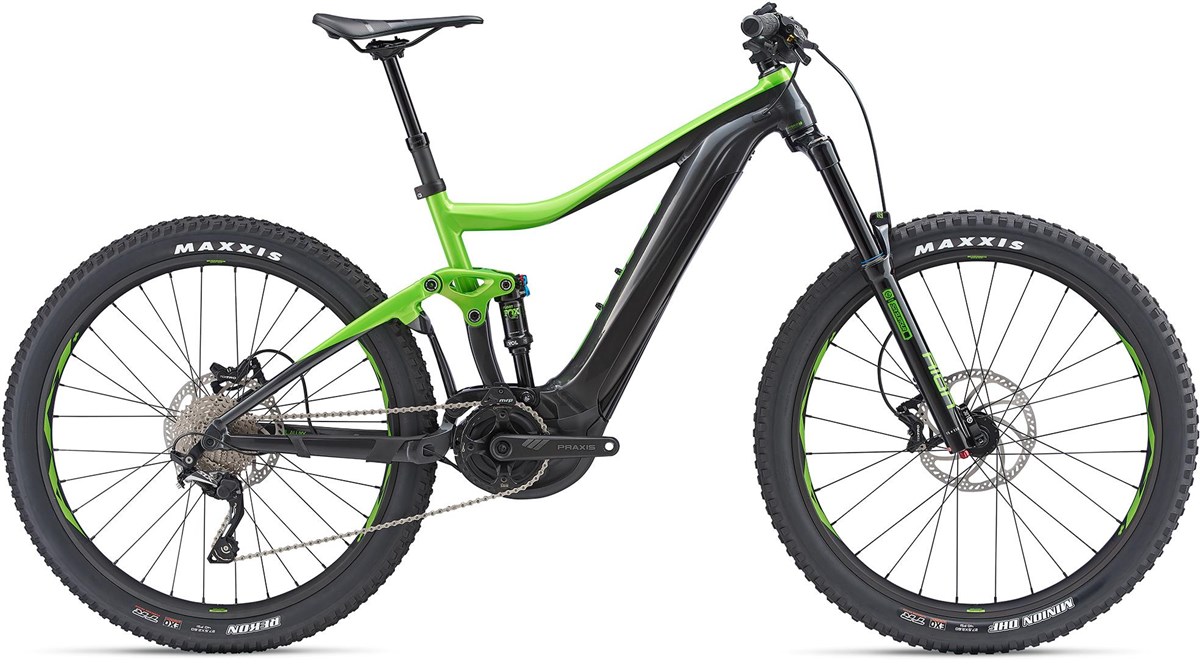 Motor Giant/Yamaha SyncDrive Pro
---
Battery Giant 500Wh
---
User Interface Giant RideControl ONE
---
Suspension Suntour Aion 150mm / Fox Float DPS shock, 150mm front / 140mm rear
---
Wheels Giant eTracker 27.5"+
---
Best for Trail
---
Review
Giant have stepped up their e bike game for 2019 and the Trance E+ 3 Pro is their mid-range full sus e bike. The Yamaha SyncDrive Pro motor is custom tuned by Giant and delivers an impressive 80Nm of torque. The power delivery is smooth even at low cadence while the integrated and easily removable battery pack keeps the lines nice and clean. The simple RideControl One remote gives you power mode and battery capacity info. While the remote sits proud of the handle bars, it's lack of screen makes it less vulnerable than the Bosch Purion.
Based around the regular Trance, the E+ version features the same Maestro suspension system with 140mm of active rear travel combined with a 150mm travel suspension fork. The geometry is similar to the regular Trance too although, like most ebikes the chainstays are much longer. The range of gears offered by the Shimano Deore/SLX is less than is found on all the other bikes featured here, but you do get a dropper post.
Even at a low cadence, the SyncDrive Pro offers a powerful push and is very responsive to the rider's input. Ebike-mtb.com
Merida EOne-Sixty 800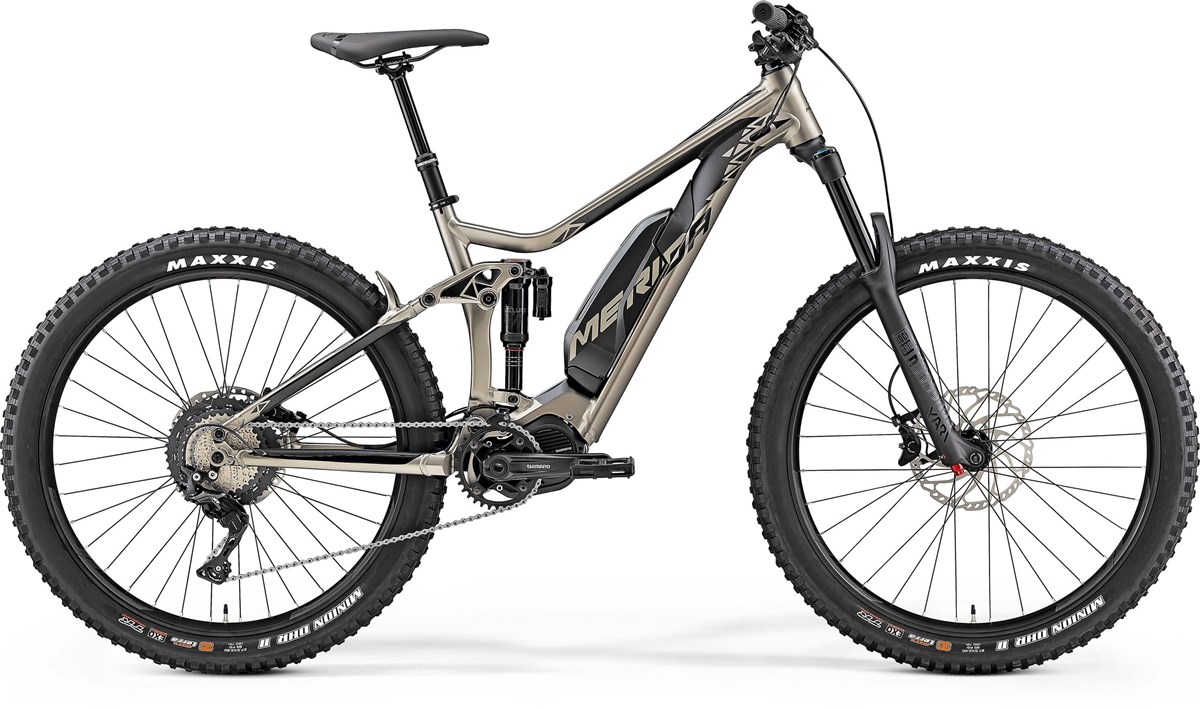 Motor Shimano STePS E8000
---
Battery Shimano STePS 500Wh
---
User Interface Control Switch Unit
---
Suspension RockShox Yari RC fork / RockShox Super Deluxe R shock, 160mm front & rear
---
Wheels Merida / Shimano 27.5"+
---
Best for Trail / Enduro
---
Review
With its on-tube battery pack, the Merida eOne sixty doesn't look as slick as some of the other bikes featured here. Don't let that fool you into thinking that this bike lack performance, because the opposite is true. The eOne Sixty is one of our favourite e bikes here at Tredz because the ride is similar to the regular One Sixty. This is largely thanks to the compact size of the Shimano STePS motor that has allowed Merida keeps the chainstays nice and short. The display screen is tucked neatly out of the way on the bars keeping it out of harm's way, while the shifter style switches are easier to use than on any other e bike.
With 160mm of RockShox Yari/Super Deluxe suspension travel combined with 2.8" Maxxis Minion DHR tyres the eOne Sixty is capable enough to ride challenging enduro trails. Thanks to the compact rear end and lightweight motor you don't feel like you have too much bike on mellower tracks, so it is still a lot of fun to ride at trail centres.
One of the main advantages of using the compact Shimano motor is that Merida can maintain a regular 441mm chain stay length and a similar suspension layout to its 160mm travel non-ebikes. MBR.
Specialized Turbo Kenevo Expert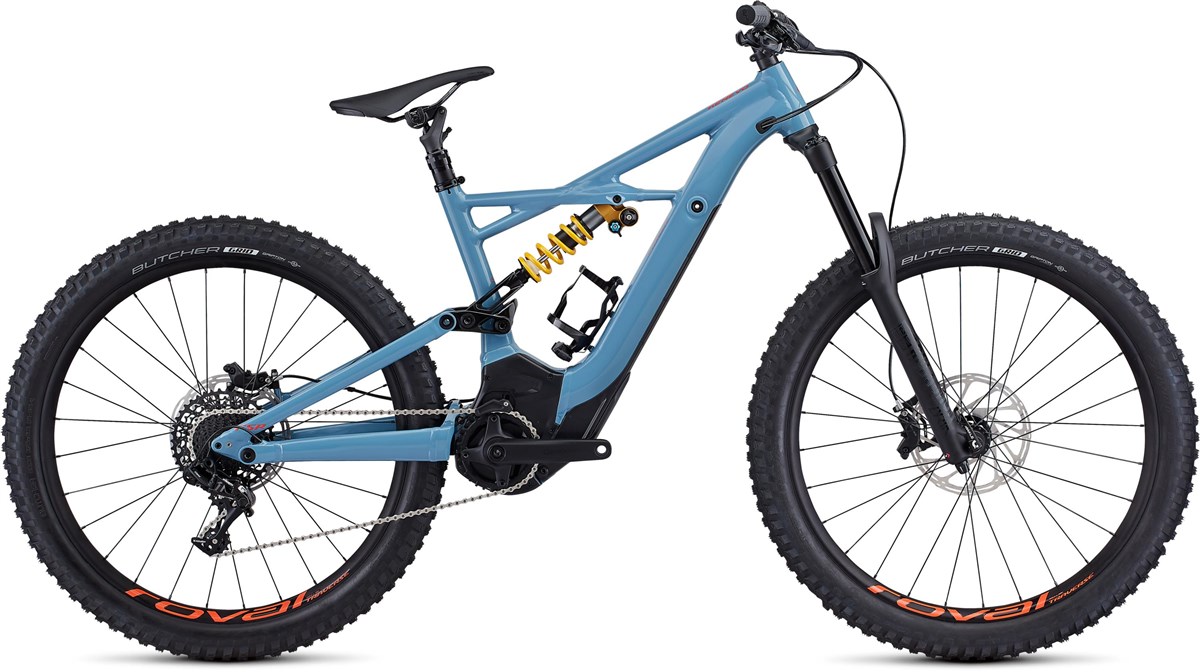 Motor Brose Turbo 1.3
---
Battery Turbo M1 504Wh
---
User Interface Integrated trail display
---
Suspension RockShox Lyric RCT3 fork / Öhlins TTX22M shock, 180mm front & rear
---
Wheels Roval Traverse 27.5"+
---
Best for Enduro / DH
---
Review
The Specialized Turbo Kenevo is the big hitter in the electric mountain bike world. With slack angles and 180mm of suspension travel front and rear this is a bike for riding the most challenging terrain. With a maximum output of 90Nm the Brose motor is one of the most powerful so you will have no trouble flying up the climbs even with such hard hitting components fitted. It is also one of the quietest drive units on the market, so there is nothing to distract you from the ride.
To take on the most technical tracks, this Expert model gets a top-of-the range RockShox Lyric RCT3 fork up front combined with an Öhlins TTX22M coil rear shock. The Roval Traverse wheels have wide 38mm rims which offer plenty of support for the 2.8" Butcher tyres, while the SRAM Code R brakes give you plenty of stopping power. The Turbo Kenevo is ideal for those who like to ride Bike Parks and hand cut enduro trails more than trail centre loops.
It's infectious just how much fun this bike is, no matter the terrain you point it towards. MBR.
Rocky Mountain Altitude Powerplay Carbon 70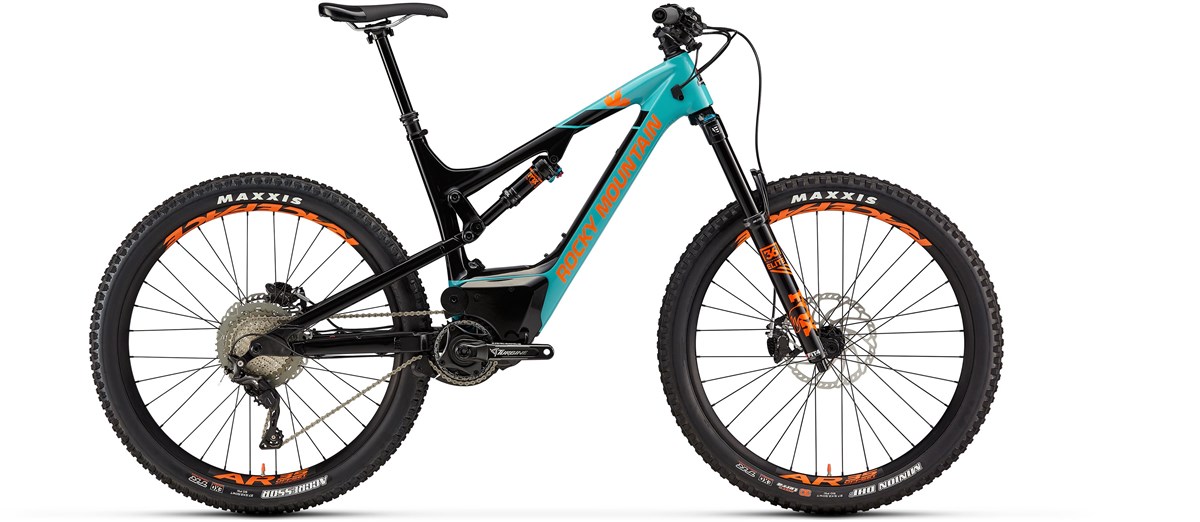 Motor Dyname 3.0 Drive
---
Battery Rocky Mountain 632Wh
---
User Interface iWoc Trio Remote
---
Suspension Fox 36 Float EVOL FIT4 fork / Fox Float DPS EVOL shock, 160mm front / 150mm rear
---
Wheels RaceFace / DT Swiss 27.5"
---
Best for Trail / Enduro
---
Review
With the Altitude Powerplay, Rocky Mountain decided to take a different approach to most other brands and the results have really paid off. Rather than drive the front chain ring directly the chain loops around the motor drive wheel and then the chainring. This means that Rocky Mountain were able to give this bike exactly the same geometry as the regular Altitude. The Powerplay is an e bike that rides as close to a regular mountain bike as possible. While not the biggest featured here, the 632Wh battery pack has significantly more capacity than most which will give you extra range.
The carbon/alloy frame features an innovative geometry and rear suspension rate tuning system. This lets you choose between 9 different configurations to help you get the perfect set up. The component specs leave little to be desired too with Fox Performance Elite shocks and a full Shimano XT groupset. This is a trail bike for those who like to spend time setting up the bike to give the best performance on challenging trails.
The Rocky Mountain Altitude Powerplay really is stunning. Dirt.
Specialized Turbo Levo Expert FSR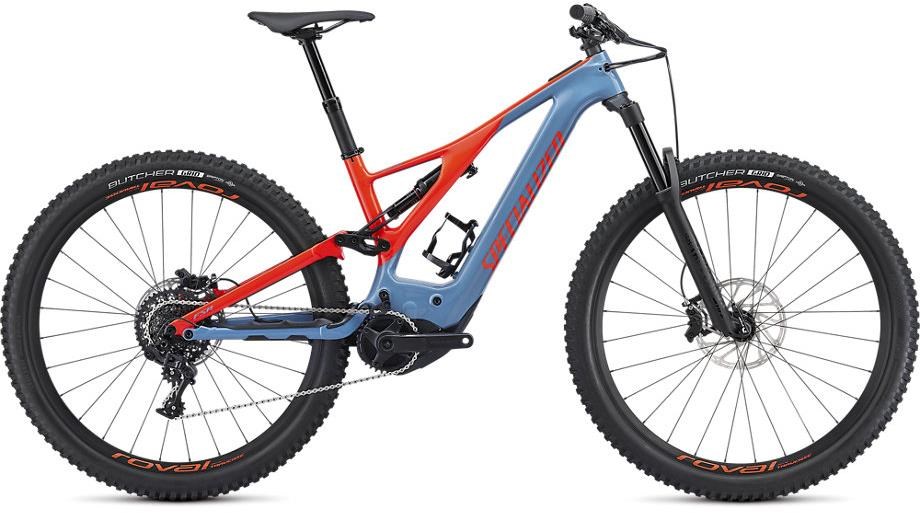 Motor Brose Turbo 2.1
---
Battery Turbo M2 700Wh
---
User Interface Turbo Connect Unit
---
Suspension RockShox Pike RC29 fork / RockShox Deluxe RT3, 150mm front & rear
---
Wheels Roval Traverse 29
---
Best for Trail / Enduro
---
Review
The original Specialized Turbo Levo set the benchmark for all the other brands to follow. This new model takes things to the next level. The new Brose 2.1 motor is just as quiet and powerful (90Nm torque) the original but is now 15% smaller and 11% lighter. The frame redesign has also shaved off some weight making this an impressively lightweight e bike even with the large 700Wh battery pack fitted. The software has been upgraded to so there is more usable power. This new bike offers up to 410% assistance to your natural pedalling power and can be fine-tuned through the Mission Control smart phone app. The minimal display on the top tube is combined with a neat remote with more detailed info on the app.
This eMTB has a full carbon frame and rolls on 29" Roval Traverse wheels with wide 2,6" tyres. You can also run 650b+ wheels if you wish as the geometry is adjustable to suit. Even with larger hoops the chain stays on this bike are shorter than the previous models and you still get 150mm of rear wheel travel. RockShox take care of the suspension duties with a Pike RC up front and a Deluxe RT3 rear shock. SRAM Code R brakes give you plenty of stopping power while the X1 11 speed drivetrain gives you more than enough gears with all this extra power on tap. The Turbo Levo is a trail e bike for those that want cutting edge technology with performance to match.
Riding the Turbo Levo it's easy to forget you're on an e-bike. Bike Radar.