Order Before 19th December for Christmas Delivery
Can I ride up steep climbs?
If hills are the obstacle to your cycling ambitions, then an ebike is the obvious solution. The extra power that the pedal assist motor delivers takes the pain out of the climbs, so you can cruise up every incline. You can also choose to ride up faster if you put more effort in.
That big hill on your route to work won't stop you from enjoying the commute if you ride an electric bike.
Are the hills difficult on an ebike?
The boost that the electric motor gives you is most noticeable on the climbs making them much less difficult than you'd think. We are constantly surprised by the difference that an ebike makes on the hills.
Being pedal assist you still need to put some effort in but most e bikes make even the steepest of hills seem easy. This is even true on the very hardest climbs when using full power mode. If you want more of a challenge, then riding in a lower power mode will give you more of a workout on the climbs. An electric bike really does take away the restriction of steep terrain, so you can ride everywhere with no worries.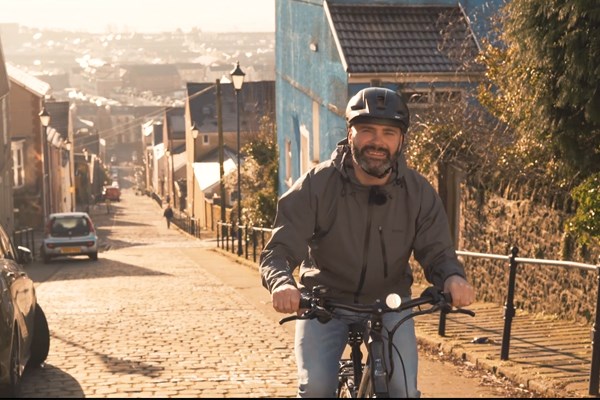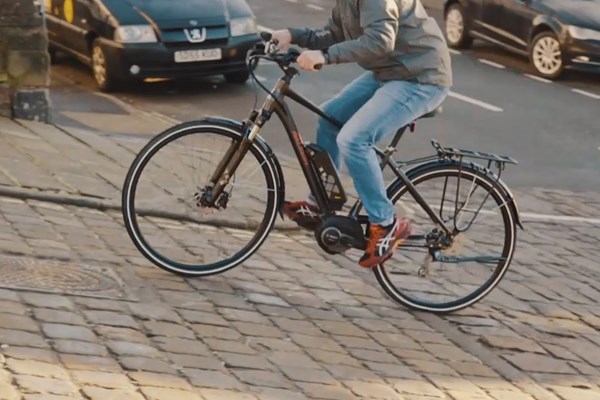 Do motor types make a difference?
A more powerful motor will make more of a difference on the climbs. E bikes with crank drive motors are more powerful, so they make the most difference. Hub drive motors tend to be less powerful, but they still give you enough of a boost to make all but the very steepest hills easy.
E-Mountain bikes tend to have more powerful crank drive motors. This is because MTB routes often include more challenging climbs. Some road and urban e bikes are also fitted with the most powerful crank drive motors.
As we found out when filming on Constitution Hill, even mid-level crank drive motors like the Bosch Active Line make a huge difference. This hill posed a real challenge to the riders in the 2010 Tour of Britain, but we breezed up it on the Raleigh Motus, an affordable urban ebike fitted with the least powerful Bosch crank drive unit.
How much effort do I need to put in on the hills?
The beauty of an e bike is that you can decide how much effort you want put in. In full power 'Turbo' mode you can easily fly up the most challenging climbs. Switch down to a less powerful mode and you will need to put more effort in to ride up at the same speed. Using low power modes helps to preserve the battery capacity so you can ride further.
Just like a regular bike, you can also use your gears. Combined with the power modes this gives you a lot of control over your ride. You can choose to put in lots of effort and ride quickly to the top or take it slowly and save the battery.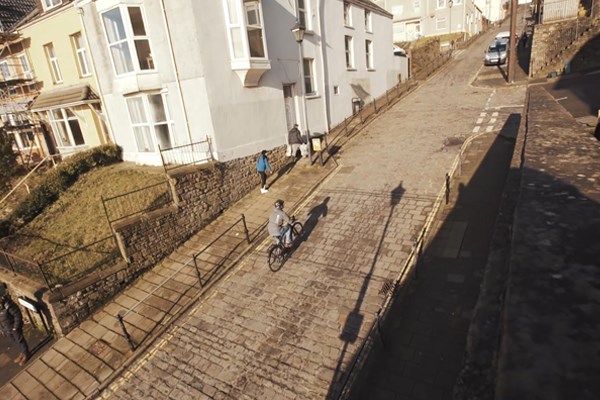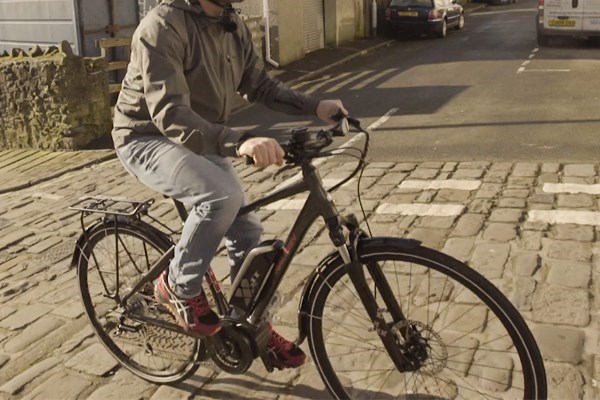 Does the type of ebike make a difference on the hills?
The type of e bike does make a difference when climbing but the difference is less than on a normal bike. Road e bikes and mountain bikes offer an efficient cycling position for climbing which helps to make the hills more manageable. Urban e bikes that offer an upright cycling position will be less efficient on the climbs.
With a powerful electric motor to help you, efficiency and cycling position is less important on an e bike and many urban e bikes breeze up steep hills.
Popular Models
Most Popular Electric Urban Bikes
Most Popular Electric Mountain Bikes
Most Popular Electric Road Bikes