The best women's road bikes are available in many different styles. Featuring cutting edge design and technology these bikes will help you to get more out of your ride. All the bikes featured in this review are designed specifically for female cyclists. The bikes have frames that are built to fit the female form, rather than just a rebadged small size unisex frame. Touch points like saddle and handlebars are also made specifically for women. This means that these bikes offer a better fit than unisex bikes, so you can ride more efficiently.
As with unisex bikes, these road machines are tailored towards different types of riding. Sportive bikes, also known as endurance bikes, offer a more upright cycling position designed to keep you comfortable in the saddle. Road race bikes have more aggressive geometry and are suited to those who like to ride fast uphill and down. Aero road bikes are the fastest in a straight line thanks to the aerodynamic frame shapes that help them to slice through the air more efficiently. Road race bikes tend to be the lightest while aero bikes are the stiffest. Sportive bikes offer the most comfortable ride.
Entry level road bikes are made from aluminium alloy. This material is lightweight and durable. Higher-end bikes have carbon fibre composite frames. Carbon frames are even lighter than alloy and are just a durable. Carbon also has great vibration damping properties, so the ride is much smoother than an equivalent alloy bike. All the bikes featured here have carbon forks which soak up many of the vibrations you get when riding on less-than-perfect road surfaces. Your hands will appreciate this.
To help you find your ideal road bike we've chosen key models from top brands at a range of price points. Road race, aero and sportive bikes are all featured here. We've picked out the most popular model from each range, which is usually the one that offers the best value. If you'd like a bike with a higher component spec then have a look at the other bikes in the ranges. Whether you are new to road cycling or want to upgrade to a high-performance machine there is a women's road bike here for you.
Specialized Dolce Sport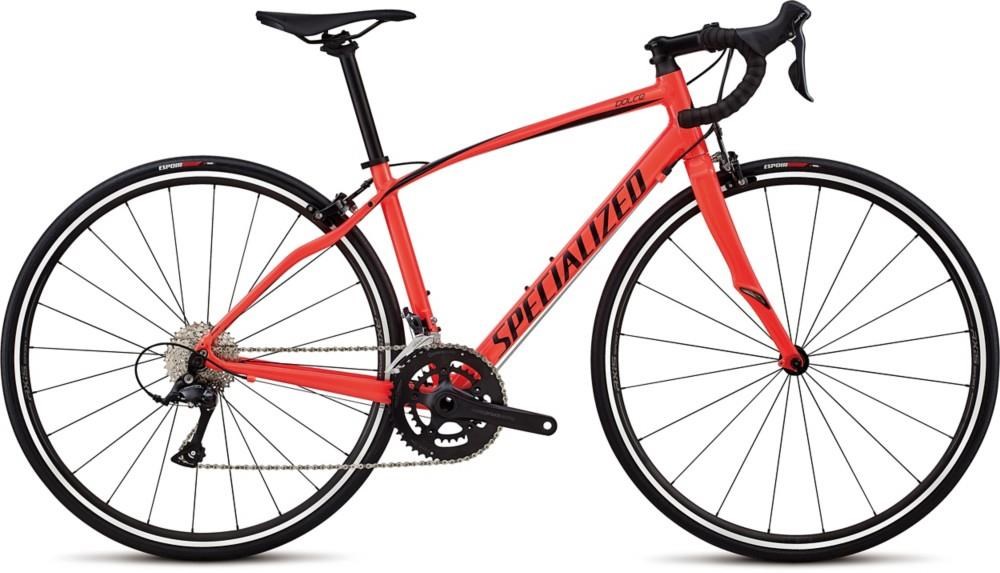 Frame A1 Premium Aluminium
---
Fork Carbon fork blades
---
Drivetrain Shimano Sora 2x9 speed
---
Wheels Axis Sport
---
Brakes Tektro Axis
---
Review
As a first proper road bike the Specialized Dolce Sport is ideal. Designed to offer a comfortable and efficient ride, this sportive bike is great for all sorts of cycling. The endurance geometry gives you a slightly more upright cycling position. New cyclists, as well as those looking to clock up those long-distance miles, will appreciate this more comfortable riding position. The lower top tube is also a great feature as it makes getting on and off the bike easier.
The vibration damping qualities of the carbon fork are enhanced with Zertz inserts that absorb more of the road roughness. This Sport version features functional Shimano components. Slightly smaller chainrings on the Sora 2x9 speed drivetrain give you extra low gears. This will make climbing a little easier.
Out on the road, it's clear Specialized has done its homework, with the built-in Dolce frame compliance managing to balance stiffness and comfort well. Cycling Weekly
Cube Axial WS Pro Disc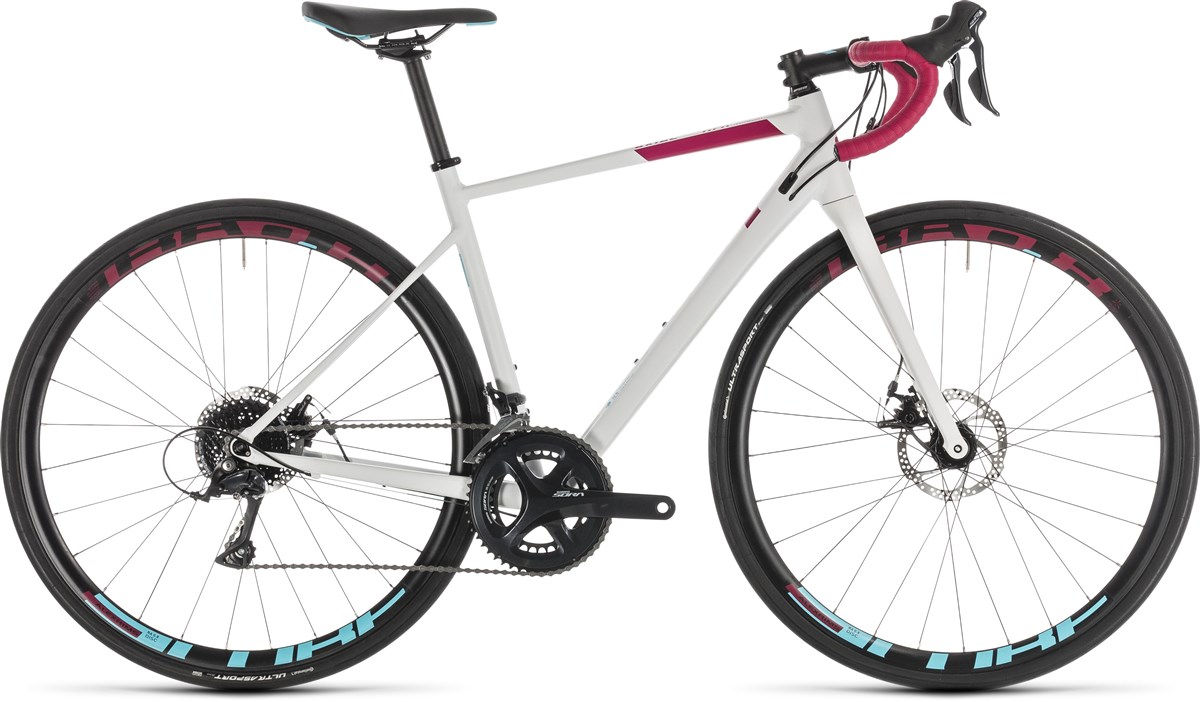 Frame 6061 T6 Superlite Aluminium
---
Fork Carbon blades
---
Drivetrain Shimano Sora 2x9 speed
---
Wheels Cube Aero disc
---
Brakes TRP Spyre mechanical disc
---
Review
The Cube Axial WS bridges the gap between road race and endurance bikes. While the riding position is still quite relaxed, the head tube is shorter than the Dolce. This offers a slightly more tucked riding position for a comfortable racy feel. The alloy frame has full internal cable routing for cleaner lines and better protection from the elements. The carbon bladed fork features a bolt through front axle. This makes the front end stiffer for more precise steering and confident handling while braking.
While not as powerful as hydraulics, the mechanical disc brakes in this Pro Disc model give you consistent speed control in all weather conditions. A great feature on wet rides. The Shimano Sora 2x9 speed drivetrain features a standard compact chainset. This offers more high gears for faster cycling compared to the Dolce while the wider range cassette still gives you a nice low gear for easy climbing.
if you're looking for a race bike that offers relative comfort rather than out-and-out aggro speed, then the Cube Axial is one to take a look at. Bike Radar
Liv Avail SL 1 Disc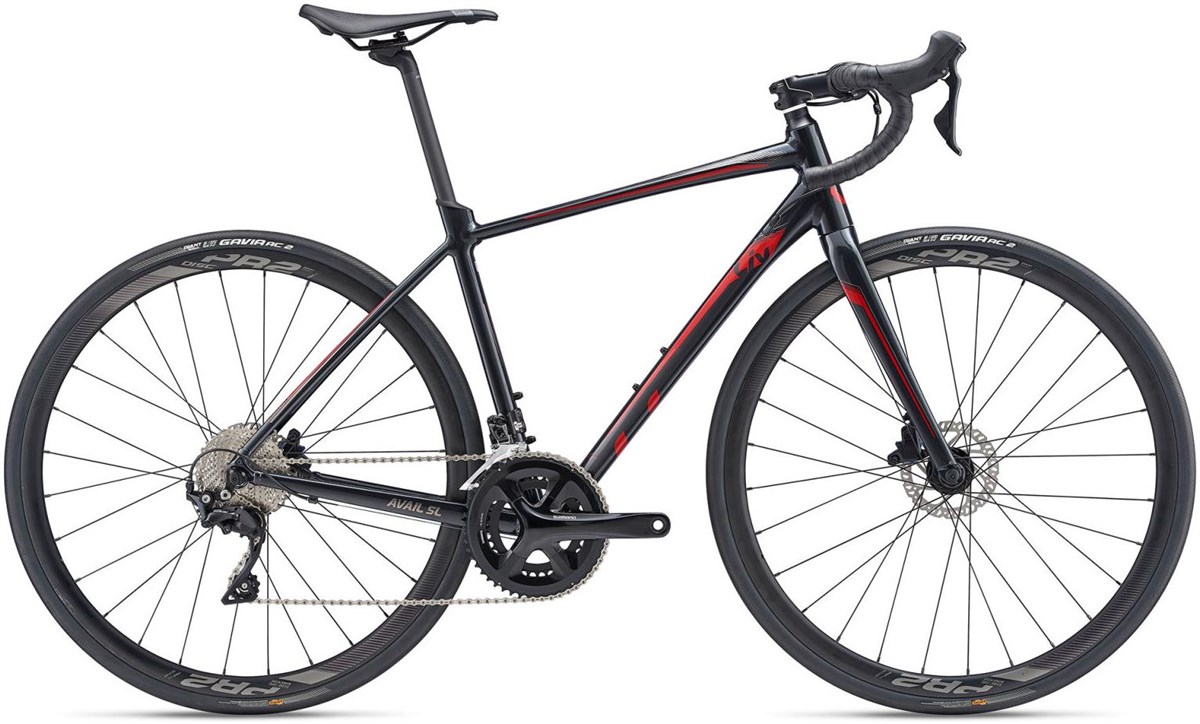 Frame ALUXX SL-Grade Aluminium
---
Fork Carbon blades
---
Drivetrain Shimano 105 2x11 speed
---
Wheels Giant PR-2 Disc, tubeless
---
Brakes Giant Conduct SL hydraulic disc
---
Review
Liv are the only bike company dedicated solely to women. The Avail is an endurance road bike and this SL 1 Disc model is built around a very high-quality aluminium alloy frame. Liv are closely associated with Giant who are one of the few brands that actually manufacture their frames in their own factory. This means that the frame offers incredible value for money when you consider the quality of the component specification.
The Shimano 105 2x11 speed drivetrain offers the same gear ratios as you will find on top end machines. While the overall range is the same as the Axial, the extra number of cogs on the cassette gives you smaller gaps between each gear. This means that it is easier to select a gear that matches your natural pedalling speed to the terrain. This makes cycling easier and more efficient. The hydraulic disc brakes offer the best all weather stopping power. Once you have ridden a bike with hydraulics in the rain you won't want to use anything else. The Giant Conduct brake system is very clever and gives you the power of a hydraulic system, while still using conventional brake levers that fit your hands nicely.
Out on the road the bike performed excellently. Its geometry is aimed at providing comfort over distance, rather than a slammed sprinter style. Cycling Weekly
Liv EnviLiv Advanced 1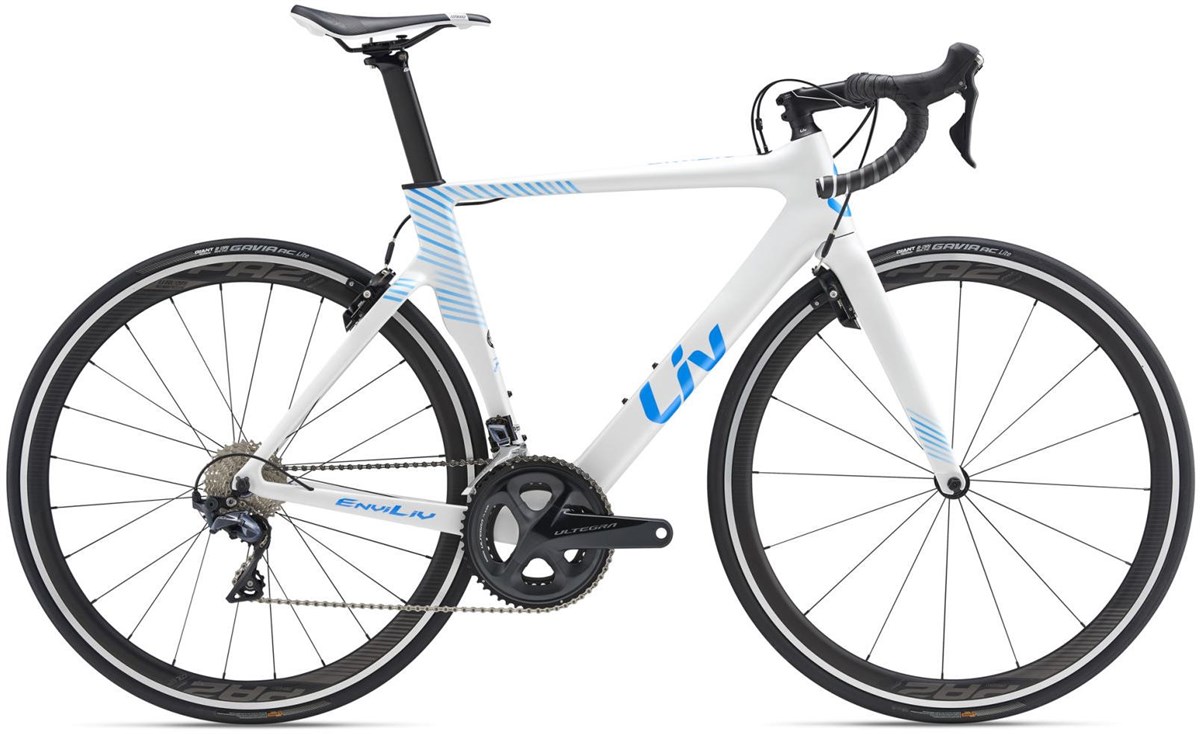 Frame Advanced-Grade Carbon Composite
---
Fork Carbon blades
---
Drivetrain Shimano Ultegra 2x11 speed
---
Wheels Giant PA-2, Aero, Tubeless
---
Brakes Giant SpeedControl SL
---
Review
For the fastest ride you will be hard pushed to find a road bike that is quicker than the EnviLiv. Designed and tested using a wind tunnel the frame is shaped to slice through the air as easily as possible. While the EnviLiv looks bulky from the side, when you look at the bike head on it is significantly thinner than a conventional road bike. The cables are tucked behind the head tube and the front brake calliper sits behind the fork. All these little touches help to make the bike more aerodynamic.
As well as its aero properties, the carbon frame offers incredible lateral stiffness. This means that every Watt of you leg power is transferred straight to the road. Shimano Ultegra offers near pro level quality, so you get slick shifting every time. Big chainrings on the semi-compact chainset are combined with a closer ratio cassette. This gives you more high gears, so you can really get the bike moving. If you like sprinting to the line and riding as fast as possible then this aero race bike is a great choice.
The EnviLiv is unbelievably responsive, partially due to the lightweight, stiff frame that rockets forward with just a few punchy pedal strokes. Bicycling.com
Cannondale Synapse Carbon Disc Ultegra Womens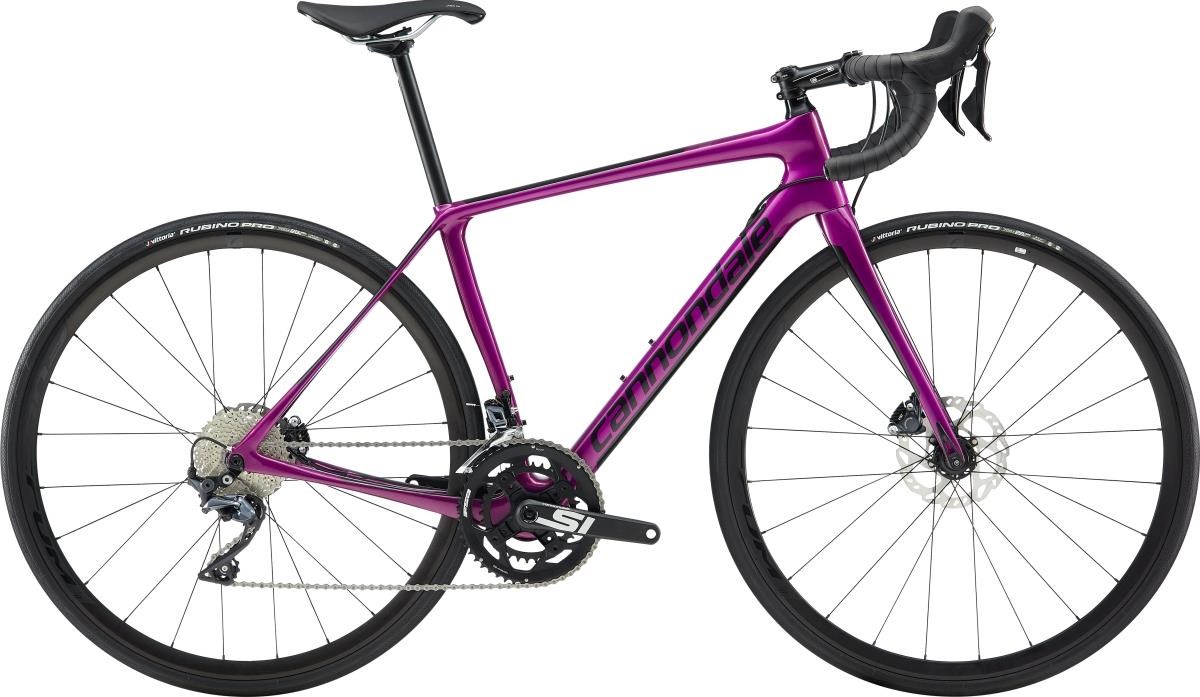 Frame BallisTec Carbon fibre SAVE frame
---
Fork Full carbon
---
Drivetrain Shimano Ultegra 2x11 speed
---
Wheels Fulcrum Racing 600
---
Brakes Shimano Ultegra hydraulic disc
---
Review
The Synapse is an endurance bike with a real race heritage. The carbon frame is incredibly lightweight and is packed full of features that are designed to keep you feeling fresh in the saddle on demanding long-distance rides. The SAVE Micro-Suspension system features engineered flex zones in the rear stays, seatpost and fork. This gives the Synapse an incredibly smooth ride quality. The bike conforms to the road surface to soak up the small bumps on the road and offer more grip for confident cornering. Cannondale have achieved all this while still offering impressive levels of lateral stiffness for efficient power transfer.
The slick shifting Shimano Ultegra drivetrain features a compact chainset with a wide range cassette. This gives you plenty of low gear ratios for climbing. The Ultegra hydraulic disc brakes offer the best stopping power of all the bikes featured here. Fulcrum Racing Wheels with wide 28c tyres also contribute to the smooth ride feel. This women's version of the Synapse Carbon is great choice for those who like to clock up the miles quickly and efficiently while still feeling comfortable in the saddle on the home stretch.
For cyclists who want more out of a bike, the Synapse can tackle long rides over bumpy terrain while also performing perfectly in a technical crit. Bike Radar