The best road bikes come in many different styles but all feature cutting edge design and technology to help you ride faster and more efficiently. Carbon fibre composite is simply the best material for road bikes so all the models in this review feature carbon frames.
Carbon is a versatile materiel and can be used to offer different advantages for different types of cycling. When races are won and lost on the climbs you need a road race bike that is lightweight as well as stiff. For flatter rides and sprint finishes an aero road bike will cut through the air with less drag, as well as being as stiff as possible for efficient power transfer when you're sprinting for the line. Popular on sportives, an endurance road bike is designed for speed and comfort over rough road surfaces so offers a smooth compliant ride with a slightly more upright cycling position for comfort in the saddle mile after mile.
As well as cutting edge frame technology, the best road bikes feature new component technologies like electronic gear shifting, hydraulic disc brakes and carbon wheels to help give you a performance advantage.
While we are highlighting the very best bikes here, more affordable models are available that feature many of the advantages of their higher priced siblings.
Cannondale SuperSix EVO Hi-MOD Disc Team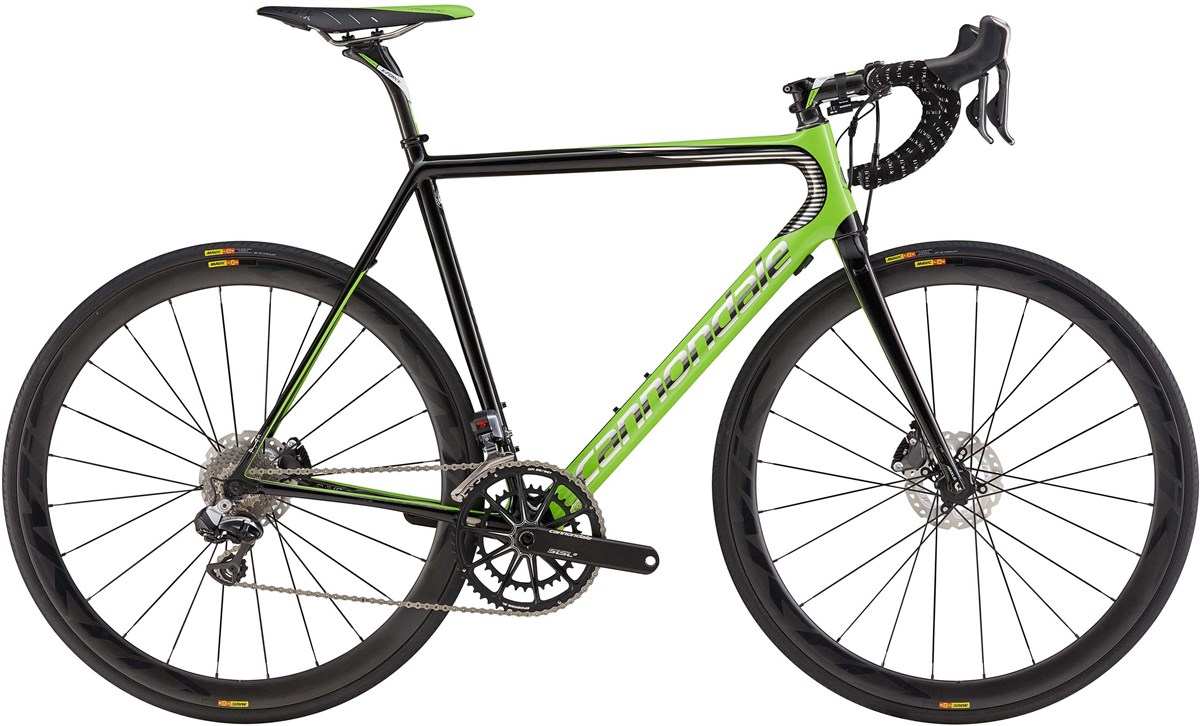 Frame BallisTec Hi-MOD Carbon
---
Fork BallisTec full carbon
---
Drivetrain Shimano Dura Ace Di2
---
Wheels Mavic Cosmic Pro Carbon SL Disc
---
Brakes Shimano Dura Ace hydraulic disc
---
Review
The Cannondale SuperSix Evo Hi-MOD is a superlight road race bike that has a race winning pedigree at the very highest level. Like its rim brake siblings this disc version offers the same brilliant pick-up and acceleration with a rock-solid feel when you stand on the pedals.
The Mavic Cosmic Pro Carbon SL Disc wheels are impressively lightweight and will help you maintain your pace when the road rises. Electronic gearing takes shifting to another level and the Shimano Dura Ace Di2 groupset offers the very best in smooth and accurate shifting. The disc brakes do add a little weight but offer vastly improved braking performance, especially in the wet.
The EVO is easy to encourage up to a high pace and loves staying there. On the climbs it's willing and on descents it's dive-bomber quick - Bike Radar
Specialized Roubaix Expert Ultegra Di2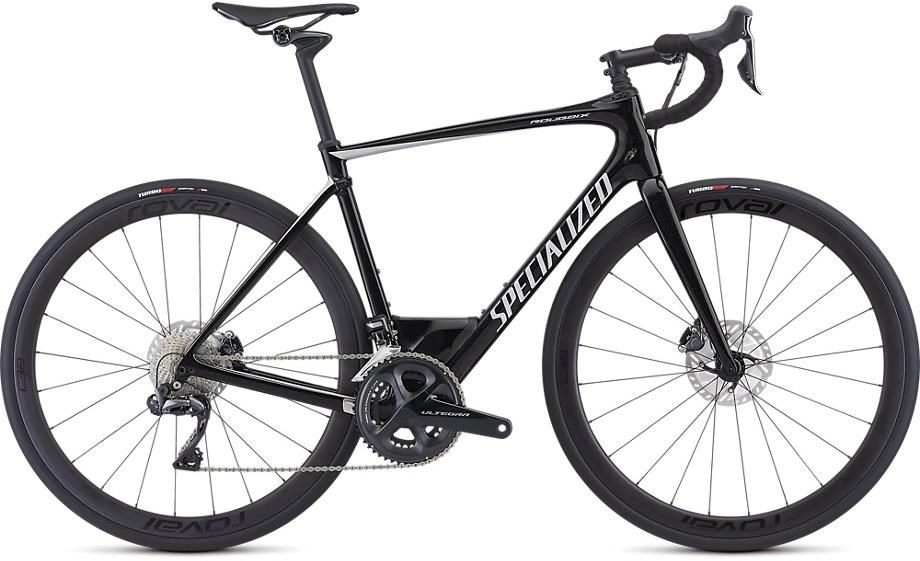 Frame FACT 10r carbon
---
Fork S-Works carbon with Future Shock
---
Drivetrain Shimano Ultegra Di2
---
Wheels Roval C38 Disc
---
Brakes Shimano Ultegra hydraulic disc
---
Review
Possibly the ultimate Sportive bike, the Specialized Roubaix takes endurance cycling to another level. Applying the theory that smoother is faster the Roubaix features cutting edge road bike suspension technologies, developed in conjunction with F1 legends McLaren. A Future Shock cartridge in the head tube offers 20mm of vertical compliance that suspends the rider above the frame. This is combined with 20mm of rearward arc compliance in the seatpost to offer an incredibly smooth ride that must be experienced to be believed. By confining the compliance to the handlebars and seatpost the Roubaix offers more predictable handling than most endurance road bikes while still delivering a more comfortable ride.
The Roubaix Expert Di2's spec leaves nothing to be desired with its Shimano Ultegra Di2 electronic drivetrain, hydraulic disc brakes and Roval C 38 carbon disc wheels.
Going fast around a bumpy curve is a complete revelation, with the front tyre staying glued to the ground rather than juddering – Cycling Weekly.
Giant Propel Advanced Pro 0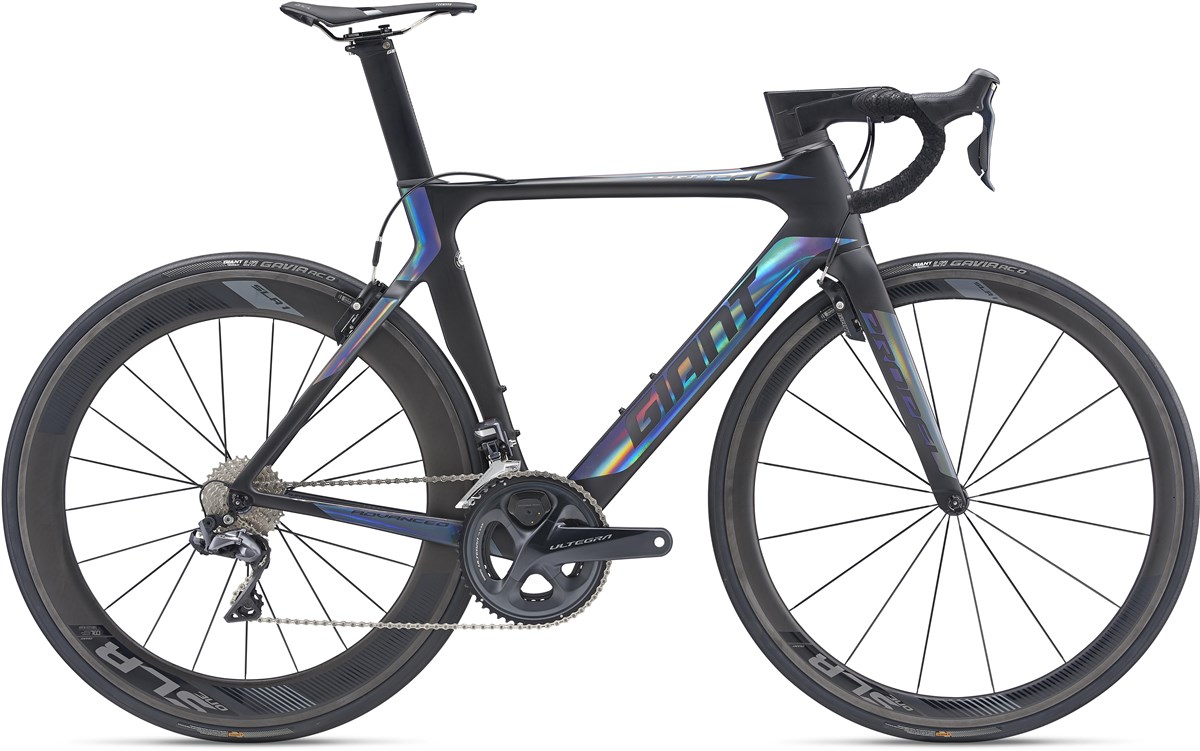 Frame Advanced-Grade carbon
---
Fork Advanced Pro-Grade full carbon
---
Drivetrain Shimano Ultegra Di2
---
Wheels Giant SLR 1 Aero
---
Brakes Giant Speed control SL
---
Review
As well as being one of the best-looking bikes on the market the Giant Propel Advanced Pro 0 is also one of the slipperiest. Offering impressive aero credentials, the Propel was designed and tested in the wind tunnel as a complete system, with all the parts working together to help reduce drag so you can ride faster. The Advanced-Grade carbon frame is one of the lightest in its class yet still boasts impressive stiffness so you can really put the hammer down.
Neat touches - like the aero brake callipers and a swollen down tube that shrouds a water bottle from the wind - really help the Propel to stand out from the crowd, but it is the combination of stiffness and aerodynamics that make the propel such an exciting bike to ride. The Ultegra Di2 drivetrain and lightweight aero wheels round off the impressive component spec but you get the same great ride characteristics on all the Propel models.
You can straight stand up stomp the Propel knowing that all your wattage is going where you want and the riders you're with are probably going backwards – Bike Radar.
Scott Addict RC 20 Disc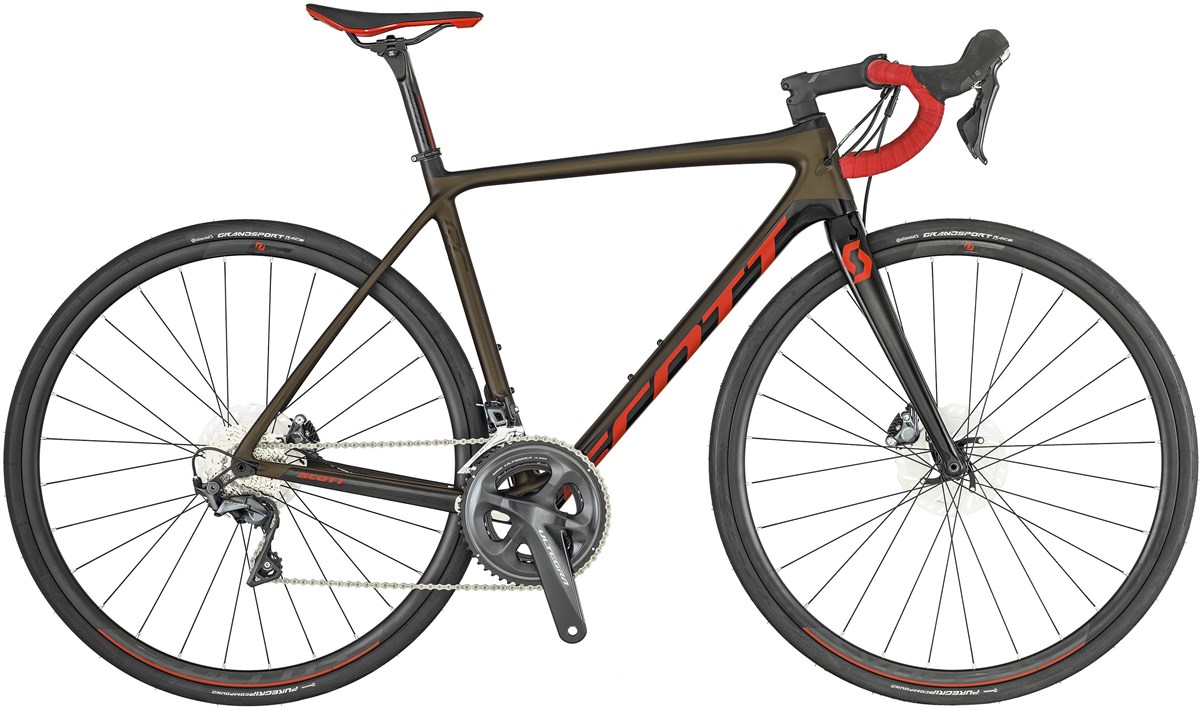 Frame HMF/IMP Carbon
---
Fork HMF Carbon
---
Drivetrain Shimano Ultegra
---
Wheels Syncros RP 2.0 Disc
---
Brakes Shimano Hydraulic Disc
---
Review
The Scott Addict RC 20 Disc is a road race bike that is built around an ultra-lightweight frame and is ideal for rapid climbing. Like the SuperSix the Addict accelerates incredibly quickly and gives no hint of flex under power. Handling is precise and cornering assured thanks to the overall frame stiffness. You do get some compliance from the skinny rear stays for a smoother ride on uneven road surfaces. This disc brake model has exactly the same race oriented geometry as its rim brake siblings and offers aggressive positioning and responsive handling. The 12mm thru-axles add stiffness for more precise handling without negatively impacting the vertical compliance.
The Shimano Ultegra drivetrain offers flawless shifting and features a mid-compact 52x36t chainset so you can really put the hammer down. The Shimano Ultegra, flat mount, hydraulic disc brakes give you unrivalled all-weather speed control. The Syncros RP 2.0 disc wheels are fitted with 28mm tyres that offer a smoother ride with improved traction on the descents.
We like how the Scott is stiff and climbs with outstanding power transfer, but it's also compliant enough for long rides without feeling abused – Road Bike Action.