Order Before 19th December for Christmas Delivery
Enduro mountain bikes are born from the racing discipline of the same name. Designed to descend the roughest and most technical terrain, as capable DH bikes from 10 years ago on the descents but with linkage designs and gearing that allow the bikes to pedal back up to the top. Enduro racing is made up of a series of timed downhill stages, in between those stages riders must pedal back up to the next stage, usually by a certain time, so the bikes must be light and efficient enough to tackle all of this while remaining reliable and strong through the event.
While wheelsize is still hotly debated, and we'll look at this later, Enduro bikes will have more suspension travel than trail bikes, though not as much as downhill bikes. 150mm-180mm front and rear travel are the usual for a modern enduro bike, with slack head angles to give more control on steep descents, steep seat tube angles to aid pedalling efficiency on the climbs, long front centre to give stability at high speed, and short chainstays keep the bike nimble in the tight corners. All these technological advances do come at a cost. So much research and development go into an Enduro bike, often race bikes that are seen ridden by the pros on the Enduro World Series (EWS) can be bought new off the shelf. Luckily while these top-end bikes are available, entry-level bikes start around the £2000 mark with incredibly capable spec and components, all the way to the top end bikes at around £7000 with a kit list dreams are made of.
Is an Enduro Bike for me?
An enduro bike is designed for hard-hitting and fast, technical riding. The bikes are strong, with beefy suspension and components, they are not as light as some other types of mountain bike. If you are not riding steep, fast and demanding terrain then you might be better off with a lighter, more versatile and still incredibly capable trail bike.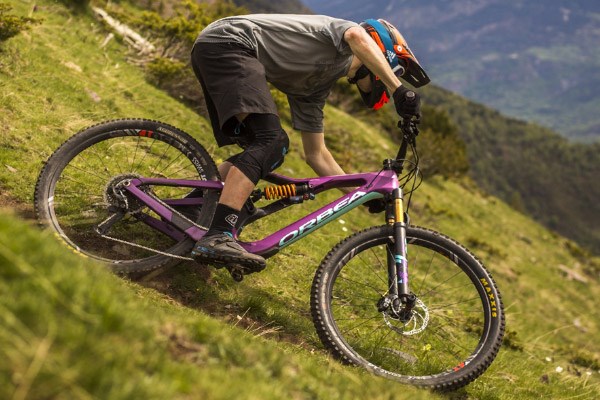 Common features
Modern Enduro mountain bikes are characterised by some common features that enhance their ability on the trail.
Dropper post
A dropper seat post is now an essential part of mountain biking, and with an enduro bike, they are invaluable in the mixed gradients encountered on a trail. Now almost entirely internally routed, dropper posts allow you to raise or lower the seat position to best suit the gradient. Drop the saddle out of the way for steep downhills, or raise the saddle for peddling on a climb, all at the flick of a bar-mounted switch.
1x drivetrains with chain/bash guard
Drivetrains with a single cog at the front are now commonplace across all types of mountain bike. They use narrow/wide chainrings that grip the chain to stay in place. Single ring (1x) setups allow the use of a chain guard to give extra security against a dropped chain, along with a bash guard below the chainring to guard against broken chains from sticking the ground. 1x drivetrains are lighter, more reliable and simpler to maintain than traditional 2 or 3x setups.
Powerful brakes
Fast descending over technical terrain is useless if you cannot control your speed for cornering, modern Enduro bikes will be equipped with power brakes, large discs that are often found on downhill bikes provide even more power. As the price point increases so do the power of the brakes, top tier models will often have 4-pot callipers as found on downhill bikes.
Wide range gearing
Along with the coming of 1x drivetrains, large cassettes provide a huge gear range for climbing. Even the most entry-level bikes will have a 42-tooth large cog, the higher the price point, the wider range gearing is available, all the way up to 50 and even 51 tooth cassettes giving over a 500% gear range.
Aggressive tyres
Following the need for downhill bike components on Enduro bikes like brakes and cockpit are the tyres. Big volume tyres with deep tread and sidewall protection are the norm, the vast majority are tubeless-ready, allowing you to take on the harshest terrain without the tyres letting you down.
Modern geometry
The trend for "long, slack and low" applies more than ever to a modern Enduro bike. Long reach and wheelbase help the bike feel stable at speed. Slack head angles help in the steepest of descents to keep bodyweight back and away from tipping over the bars. Low bottom brackets lower the centre of gravity that helps to give grip in the corners before washing out and make the rider feel planted in the bike.
Enduro bikes below £2,500
Due to the components and build, entry-level enduro bikes are rarely below £2000, but this entry-level price bracket is full of incredibly capable machines, some with the features mentioned above, right out of the box. Frames will be made from aluminium at this price point, with capable components that match the price point. Look for dropper posts, 1x drivetrains with large cassettes, good quality tyres and powerful brakes to get the best bang for your buck. Here are some of our picks for the best Enduro bike below £2500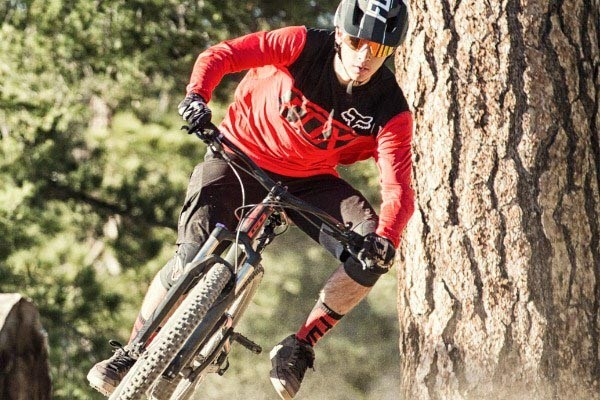 Between £2,500 - £3,500
As the price increases so do the quality, efficiency and durability of all parts. Weight will also come down. Carbon fibre frames start to come into play in this price range. 29-inch wheels now start to become as common as 27 inch. The components used are not stepping away from those found on trail bikes, moving into dedicated Enduro race specification. Bikes at the higher end of this bracket are ready to be raced out of the box.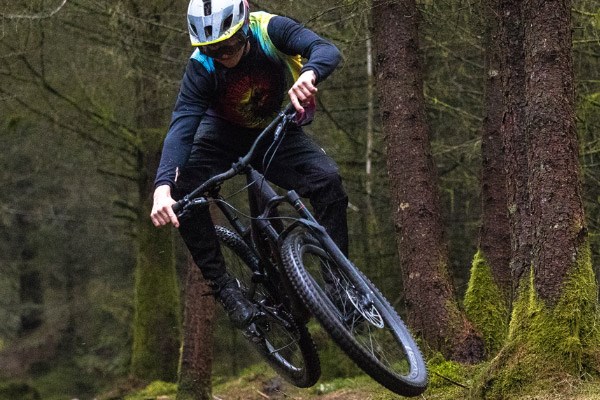 Between £3,500 - £5,000
29er bikes are as common as 27.5" wheels in this high-end price bracket, and the top line aluminium models from each manufacturer are available. This bracket also starts to see bikes with more suspension travel. Sometimes known as "Super-Enduro" bikes, these are even more focused on descending and can come with up to 180mm of wheel travel front and rear for a 27.5" wheeled bike, and up to 170mm for a 29er. Components, wheels and gearing will also take a step up in their hierarchy.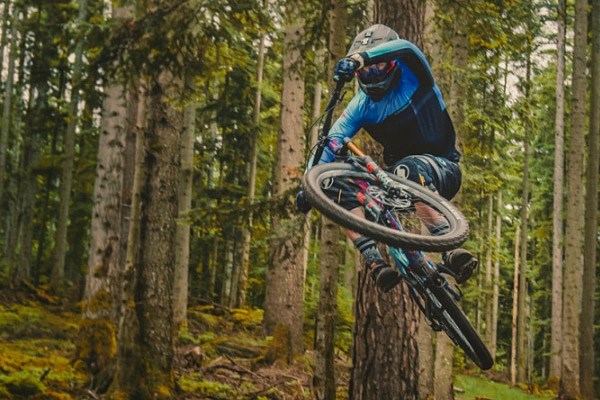 Over £5,000
The highest tier of Enduro bikes sees top-spec dream-machines, carbon fire frames and the best suspension available. The highest tier shocks and forks are on offer as well as carbon fibre wheels and components. The highest tier groupsets are available, with the most powerful brakes, lightest parts and most efficient specifications. Often replicas of Enduro World Series machines, these bikes are the best of the best, as modern as can be, the Lamborghini's and Ferrari's of the mountain bike world.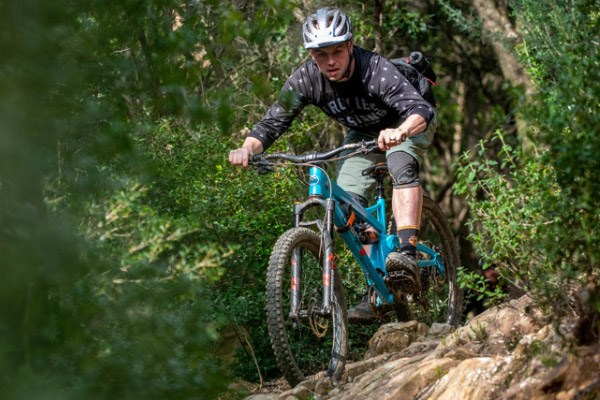 Which wheel size is best for Enduro bikes: 29" or 27.5"
There is no definitive answer to this question, both wheel sizes have their pro's and con's and this is worthy of a separate guide. As a rule, shorter riders might find that on the steepest sections with weight as far back as possible they can buzz the rear tyre with a 29er wheel, so might be better suited to a 29er.
Generally speaking, 29ers are stable and fast, while 27.5 wheels are more nimble, easier to accelerate and slightly stronger, though these preconceptions are being challenged every time a new model with progressive geometry is released. We have ridden 29ers that do not struggle in the tight and twisty, as well as 27.5 bikes that plough through rough sections and are very stable at speed.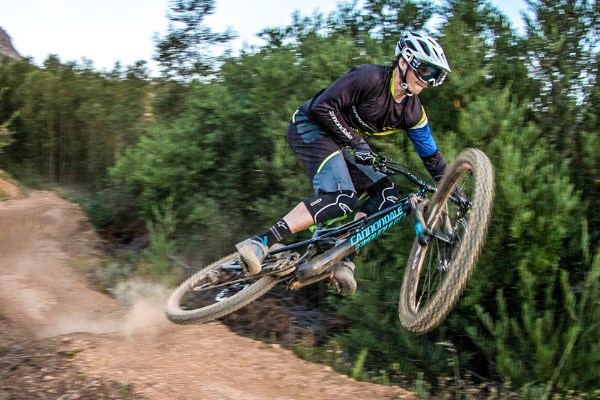 As with most questions of this type, in the end, it comes down to where you ride, how you ride, and most importantly, how you set up your bike.