Cross-country or XC mountain bikes are built for efficient cycling on relatively smooth off-road tracks, with an emphasis on climbing. The tyres are made to be fast rolling, so you get low profile tread patterns which are narrower than you'll find on other mountain bikes. This means that cross-country bikes are lighter weight than equivalently priced bikes from the other MTB categories. XC bikes are the type of MTBs that are closest to the traditional mountain bike style.
XC bikes have a suspension fork that offers up to 100mm of travel. This is enough to absorb smaller bumps on the trail but won't hold you back on the climbs. Most cross-country MTBs are hardtails but there are also a few full-suspension bikes that are designed to prioritise climbing over descending. In this cross-country mountain bike guide we look at what to expect from bikes at different price points to help you choose your perfect off-road ride.
Types of Cross-Country Mountain Bike
The cross-country bike category covers a very wide value range. The design of XC bikes changes from leisure bikes at the entry level right through to full-on XC race machines at the top end. The most affordable XC MTBs tend to be quite heavy but the bikes become lighter in weight as you move up through the price points. We'll look at these differences in more detail to help you choose your ideal cross-country bike.
XC bikes up to £500
Entry level cross-country bikes are hardtail MTBs that are designed for recreational cycling and light off-roading. These bikes offer an upright cycling position and are designed to be comfortable to ride. The tyres are relatively narrow with a low-profile tread. This makes them fast on smooth trails, but the volume is still high enough to help absorb smaller bumps on the trail.
Suspension forks are very basic on XC bikes at this price point. The fork will absorb bumps on the trail, but the action will be a little clunky and you won't be able to adjust the way they feel. The most affordable bikes are equipped with rim brakes but most now have disc brakes. Unlike rim brakes, disc brakes work consistently well in all weather conditions. Controlled by a cable, entry level disc brakes aren't as powerful as the hydraulics found on higher end machines.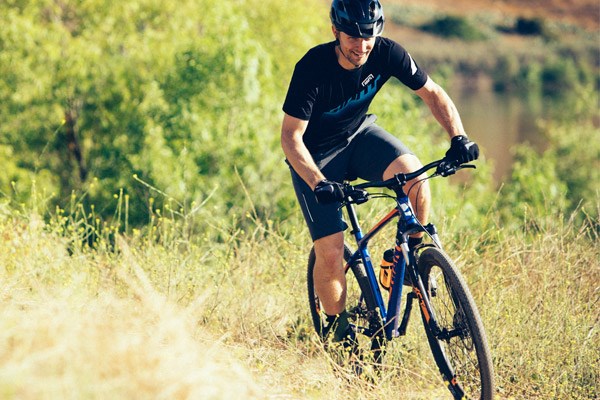 The drivetrains on these entry level XC bikes often have triple front chainrings. Combined with the cogs on the rear cassette this gives you plenty of gears for the climbs and descents. The downside of this type of drivetrain is that it is more complicated to use than the systems found on higher end bikes.
XC bikes between £500 and £1,000
The off-road capabilities of cross-country bikes improve between the £500 and £1,000 mark. The riding position is still quite relaxed and comfortable, but the ride quality improves significantly. The quality of the frames on these bikes are better than the those on entry level bikes. This is because of the better materials and more refined manufacturing techniques that improve the ride quality as well as reducing the weight. While still being fast rolling the tyres on these bikes tend to be made from better quality rubber with more aggressive tread. This will give you more confidence when riding proper off-road trails. There is a good choice of both 27.5" and 29" wheels in this price bracket. We'll look at wheel size in more detail later.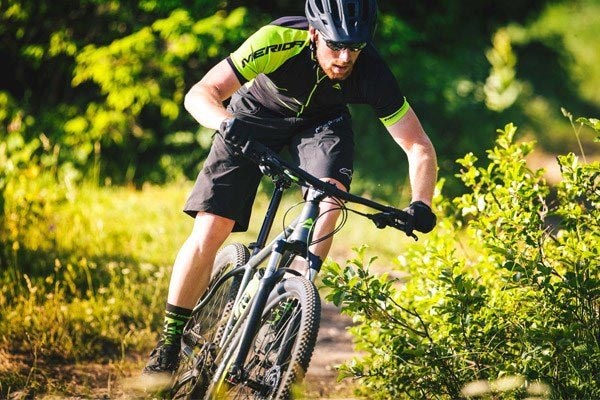 The quality of the suspension fork also starts to improve in this price bracket. Lockout switches enable you to firm up the fork for more efficient cycling on smooth surfaces. With a remote switch you can make this adjustment without taking your hands off the handlebars. The coil springs found in entry level forks are replaced with air as you move up the price points. As well as being lighter, air springs are easy to adjust (with a shock pump) for specific rider weights. Rebound damping is another useful adjustment to look out for. This adds control to the action of the fork so that the bike feels more composed on rough terrain.
The drivetrains on mountain bikes over £500 start to improve with triple chainsets being replaced with double and single chainrings. Even though there are less chainrings you actually get a wider range of gears on these bikes. This is because you get more cogs on the rear cassette with more larger ones, so you get a very wide range of gears. With their single front chainrings 'One by' drivetrains are the easiest to use.
XC bikes over £1,000
Once you get over the £1,000 mark XC bikes start to get racier. The riding position is a little more stretched with lower handlebar heights that are ideal for rapid climbing. The frames are made from the very highest quality aluminium alloy or carbon fibre composite. Carbon fibre frames are the lightest and also offer a more refined ride quality.
High quality air sprung suspension forks are lightweight with fully adjustable rebound and compression damping. This helps keep the wheel tracking the ground efficiently without bobbing around on the climbs. Moving up through this price point you start to see full suspension cross-country bikes. Compared to hardtails these bikes are much easier to pedal over rough ground.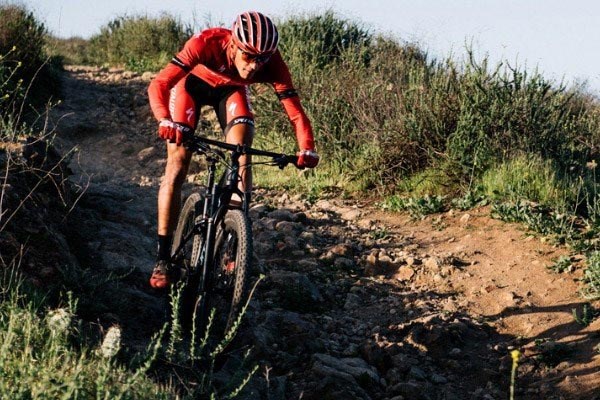 'One by' drivetrains with very wide 11 and 12 speed cassettes give you plenty of gear options with intuitive gear shifting and quiet running. The 29" wheel size is most common on these bikes. With high quality wheelsets combined with lightweight race tyres these bikes are seriously quick.
---
Which wheel size is best for XC bikes: 29" or 27.5"
When it comes to cross-country racing 29" wheels are clearly the best option as almost every top-level racer uses them. This is simply because they are faster rolling than 27.5" wheels over both rough and smooth terrain. A 29" wheel will also offer more grip than a 27.5" wheel with the same tyre fitted. This can be useful on slippery terrain, especially with low profile XC tyres fitted.
That said, if you're not racing the choice isn't so clear-cut as there are disadvantages to 29" wheels. When it comes to manoeuvrability 27.5" wheels are better. This is because it is easier to turn a smaller wheel and the frame can also be made smaller, especially at the back end. Smaller wheels are also easier to get up to speed.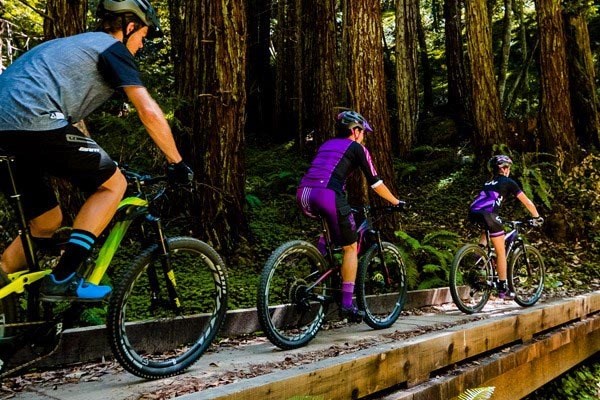 Rider size is also something to consider. 29" wheels are great for taller riders, but for smaller riders a 27.5" wheeled bike might offer a better fit. While smaller XC racers love their 29ers for the speed, leisure riders may prefer the easier handling and better fit of a bike with smaller 27.5" wheels. If you want an XC bike for gentle rides on forest roads and bridleways, then a smaller 27.5" wheeled bike will be ideal. If on the other hand you want to do long rides in the mountains then 29" wheels are a good choice as they will improve your speed and efficiency.
Gentle off-road cycling to XC racing
Cross-country bikes are a great way to experience off-road riding. For riding on canal tow paths and forest roads then an entry level cross-country bike will be ideal. If you want to push your limits and fly up the climbs on proper mountain bike trails then it is worth stretching your budget to a lightweight racier mountain bike.