National Downhill Series Round 1 - Cwmcarn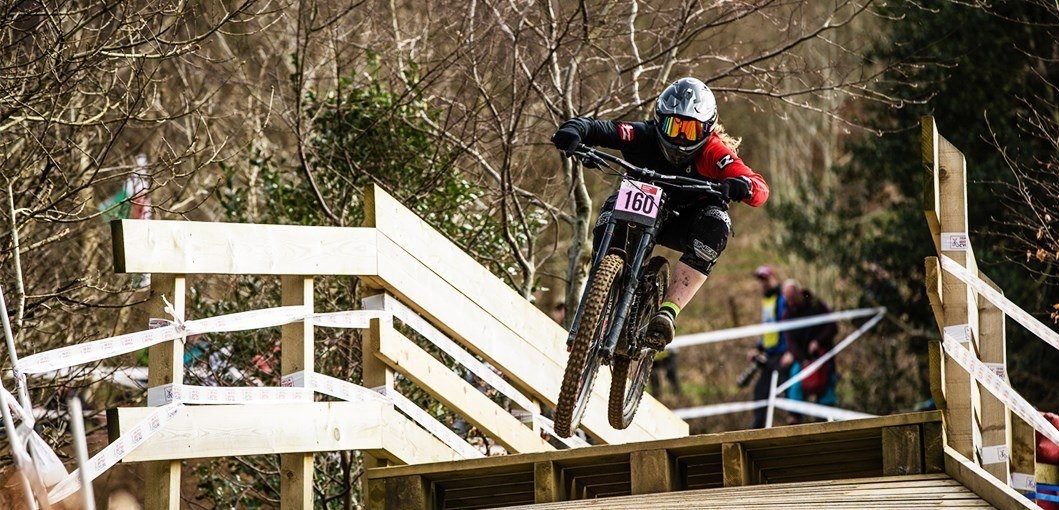 Despite the track being relatively local only 45 minutes down the road its one place I have never ridden. That was until I found out it was being used for this years national series. So after a couple of pedal up laps on the Giant Reign I booked an uplift for the Saturday before the race weekend to learn the basics of the track. This was to take the pressure off official practice.
It's a fun track but nothing technical and far from steep, its the same type of terrain I ride my trail bike on around Afan. So it felt strange being on a DH bike and I won't lie, the jumps at the bottom were a little steep and too big for my liking.
---
Friday Track Walk
Having only ridden the track last week and a cheeky little brush up session Thursday. I wasn't too worried as to what I was going to find, it was just seeing how it had been taped and what line choices were available.
---
Saturday Practice
In true Welsh style it was hammering it down most of the night and still going for it when it was time to head out for first practice. Not letting the rain stop play I went to practice on schedule. Lucky enough the rain had stopped by the time I got off the uplift, the first run down was a nice chilled one and the track was running prime despite the weather.
Practice was going well, getting up to speed as the day went on and enjoying the fast track. The jumps at the bottom were causing me some concern. I had mastered the first 2 in the sequence but the third you approached at such speed after railing a berm, it was catching a lot of riders out and causing a lot of red flags. With speeds increasing, the jump was spitting riders up in the air nose down even when they were trying to squash it. With many riders nose diving to the ground with a broken collar bone after broken collar bone, and then it seemed that those that didn't fall off, jumped it causing them to flat land heavily.
With so many top riders getting it wrong it didn't fill me with confidence and I chose not to send this jump, but to scrub my speed and squash the jump, dow. Down side to this I didn't have the speed to clear the next one so the whole section is messed up and it's in front of all the spectators. But my decision was final, as much as I wanted a good result I was not prepared to take the gamble with injury and if it meant losing time and race position then so be it. 2 girls in my class were already out with injury from that jump, one with a broken collar bone and another got off a bit lighter with just bruising.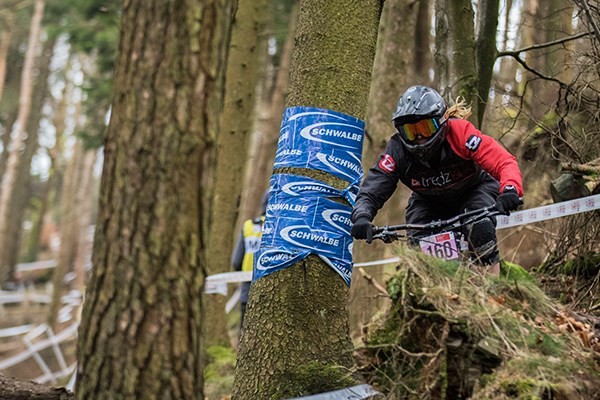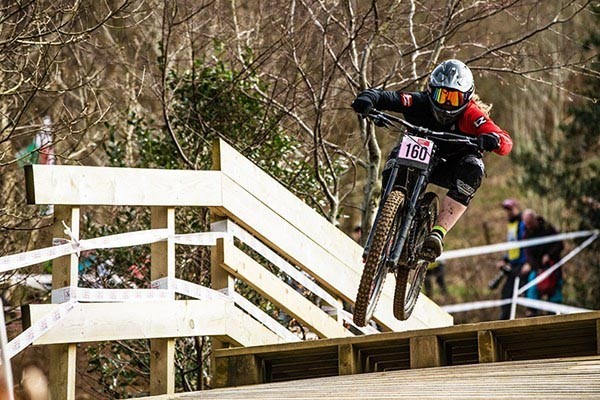 ---
Sunday Practice
The track was better in the rain yesterday, the top was fine and still running fast. But the tight middle section was getting cut up and tacky which was zapping your speed.
---
Seeding run
Sat on the start with the countdown timer on, when a message came over the radio RED FLAG. I was told to stand down while the casualty was cleared off the track, this never fills me with confidence and messes with your head as your all psyched up and ready to go. Then you have to wait around for several minutes knowing one of your friends / competitIon has gone down and possibly hurt.
Within minutes I was back on the start timer and waiting for the Green light. I was away, and things seemed to be going ok, well that was until I went into the tunnel. I'm not sure what happened but as I turned the corner I spun around almost facing the way I had just come from, I was a bit surprised but soon straightened up and back on my way and the rest went pretty much to plan. Even muddling my way through the jumps didn't go too badly and I seeded in 3rd so was happy with that, as I had plenty of room for improvement.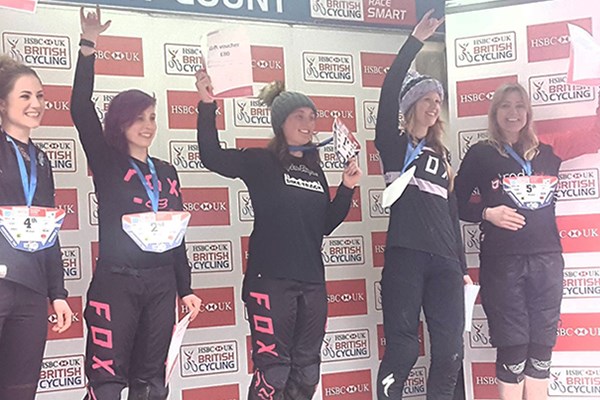 ---
Race Run
Running almost 2 hours behind schedule with all the red flags down in the jumps. I had gone off the boil, sitting around at the top of a hill in the sun is nice, but it also makes you feel sleepy and all lethargic. This late in the afternoon I am past my best, I struggle enough with second race runs but in the nationals you only get one race run. After a full on weekend of practice and seeding it all comes down to this one race run and all I want to do is sleep.
Eventually I was off luckily its a fast sprint start so the Adrenaline kicks in quick and before I knew it I was on the approach to the tunnel. So taking no chances I entered a lot more cautiously, although that was a waste of time as I did exactly the same as my previous run, not as bad but probably lost more time as I slowed down more as I entered it. I tried the best I could to rescue my run but the best I could manage was 5th. I was still happy with that knowing I was faster through the main track and just lost speed in the jumps, but I walked away un-injured and that was my plan.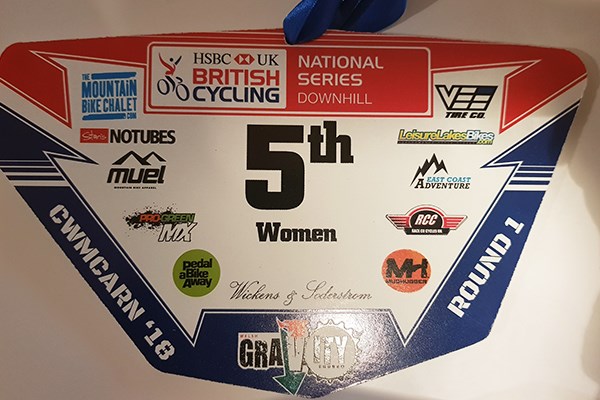 ---
Seeding 3rd
Race 5th