Welsh Gravity Enduro - Glyncorrwg, Wales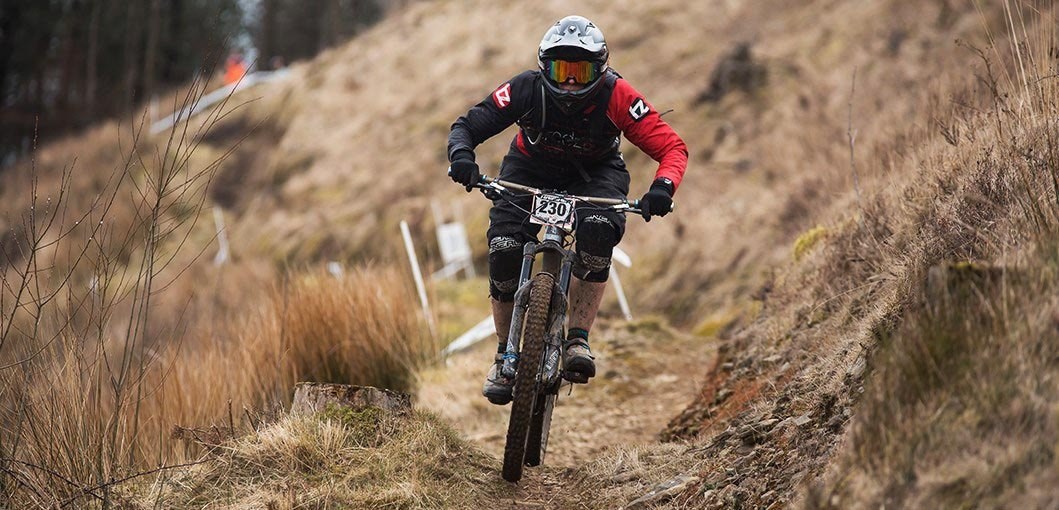 This race was originally scheduled for round 1 around the 3/4th March, but due to Snow was postponed until April 1st. Not ideal as I was already booked on an uplift at Cwmcarn for the 31st of March to prep for the first round of the National Downhill Series.
So this meant I couldn't practice on the Saturday like everyone else. I would also be tired from smashing runs out all day.
---
Practice
My aim of the day was not to smash runs out, but to scope each trail out to study the tricky technical sections. Then go back and put a full run in, keeping my legs fresh for race day.
---
Race Day
My plan was to do stage 3 -Tyn Y Pan first being the most physical with the most climbing, then to head up to the top of the hill to do Stage 1 Hokey Pokey and then Stage 2 - The Rock. I was then going to sit on top of the mountain, keeping an eye on the live timings to see where I was losing time against the other girls. As well as see where I needed to go next to try and shave a few seconds off.
---
Run 1
Stage 3
I arrived at the start with 30 mins before live timing started, giving me chance to recover from the transition from race HQ and to make sure I was first off the line and not stuck in a que. This didn't quite go to plan, as I ended up baby sitting Dan Tay & Morgan Tyrell for the first hour. This was as they wanted to use my knowledge of the mountain side, to show them the short cuts between stages to save their young lazy legs.
I let Dan and Morgs go off the start first, knowing they are both way faster riders than me and not wanting them pushing me down the rankings. I was caught off guard straight from the start with how greasy the track was. I really didn't expect it and had not experienced it up there before, but despite the messy start and then a more cautious approach it was an ok run. At the bottom Dan and Morgs were waiting for me to get them to the start of stage 2, the locals way.
While on route we bumped into ex CRC now Mondraker rider Mike Jones who had just finished stage one. Despite this literally being his back garden he was already coming up with excuses as to why he wouldn't do very well with far too much pedalling for his liking and no uplift service, hmmm I know that feeling.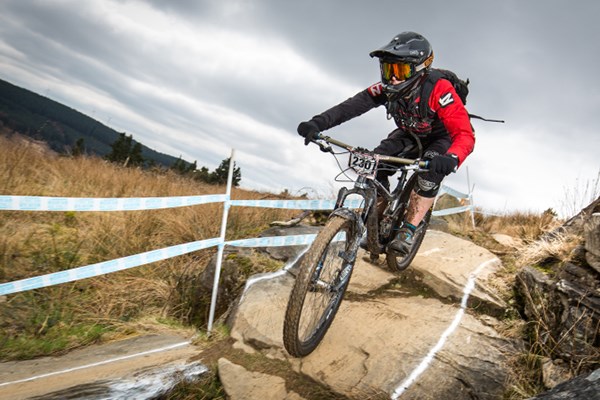 ---
Run 2
Stage 1
Not really knowing this track and the first half being a little on the flat side, I did ok. But it was a bit messy in places as I was riding on sight and instinct not memory, but not bad. Nothing a second run through the day later wouldn't fix - hopefully.
---
Run 3
Stage 2
This track I know and love as I had raced it a number of times previously. It all started so well but then for some reason the "The Rock" (a short sharp rocky climb) which I normally have no problems getting over, caught me out as. I wheel spun while trying to get over it stalling me out and having to put my feet down to push it over the top. A little annoyed with myself I set off trying to make up the time lost, now that in it's self never normally ends well. But for some strange reason I flew through it and could barely stop at the end clipping my bars on the posts as I left the trail. I knew the last section was fast as the Marshal on the finish came running up to me telling me I was flying down the finish straight.
One run down on all tracks and I was already flagging, not great knowing that all tracks need to be done again. This was as none of them had been what I'd call a good run. Stopping to look at the live timing I was sat in 1st place with a 14 second lead across the 3 stages. I now needed to do each stage again to improve my times and maintain my lead.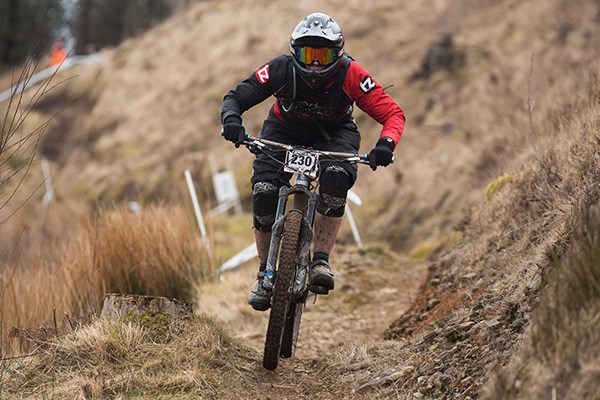 ---
Run 4
Stage 1
Off the start I seemed much quicker, I made a mess in the middle where the track had deteriorated and ended up in a boggy bit losing speed. But I was soon back on it. It wasn't brilliant and the track conditions were a lot messier than I went through it the first time. But that said, I still managed to take 3 seconds off my time so it was all good.
---
Run 5
Stage 2
I got over the rock fine this time, but by now I was quite fatigued so despite being a nice clean run I only managed to shave 1.5 seconds off my time. But on that particular stage I had a 12 second lead over 2nd place.
My tactic now was to sit at the top of stage 3 until my competition had gone through for a second time, so I knew what I needed to do to keep my lead. Hopefully put off riding the most pedally of tracks as long as I could to recover from the day so far. As much as I needed to do this final run, I really didn't have any energy left.
After all my class had gone down and with no time left for them to do another run I knew I had taken the win. I could just take a chilled run down. but what the hell this was a race and despite my aching legs I wanted to increase my lead.
Yes it was hard, yes it was a slog, especially the uphill section where all I wanted to do was sit down. But I didn't, I pushed on, telling myself to PEDAL. Relieved to get to the finish but also in no state to stand, breathe or function properly. I checked my time and somehow I had dug deep enough to take 4 seconds of my time increasing my lead again.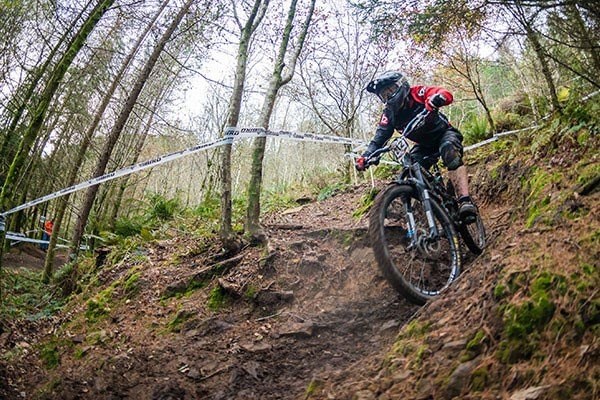 ---
Result
1st Class win – Female Vets
3rd fastest female of the day
As it was Easter Sunday the organisers put on a little Easter bunny hunt placing little tags with bunnies on along the transitions and the person with the most won a prize. My heading out early to get to the top of stage 3 first paid off as I cleaned up all the tags along this route and spotted a few others later on giving me the most and so winning a weeks holiday with Mountain Bike chalet in Les Arcs.