Bike child seats, trailers and tag-alongs are a great way to go cycling with your children when they are still too young to ride by themselves. Both child seats and trailers are suitable for very young children, aged 6 months to 4 years. Tagalongs are ideal for older kids who are still learning to ride or haven't yet got the legs to cycle very far.
Bike Child Seats
With a child seat on your bike you can safely carry your children when you cycle. Child seats attach to your bike, either behind you or in front of you. Front child seats are usually designed for younger children while rear child seats can accommodate a wider age range. Most child seats feature a full harness with foot straps to ensure that your child stays safely seated while you ride. Child seats attach securely to your bike and often feature a quick release bracket that makes them easy to take on and off once fitted.
Rear Mounted Child Seats
Rear child seats are the most common type of child bike seats and fit over the back wheel of your bicycle. Usually made from tough moulded plastic, rear child seats feature a high back with raised sides and leg rests so your child fits snugly inside and will be protected in case of an accident. Sitting behind you, a child on a rear child seat will be sheltered from the wind as you ride. Rear child seats either fix directly to the frame of your bike or attach to a rear luggage rack.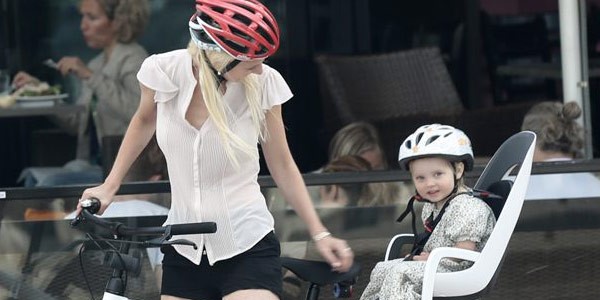 Front Mounted Child Seats
Front child seats are smaller than rear seats and come in two types. Front kids seats for younger children feature a moulded design with a high back, sides and leg rests with a full harness and foot straps much like a rear child seat. Front child seats for older children feature a minimal design without sides and with simple foot rests instead of full leg rests. Sitting in front of you, a child on a front bike seat will have a better view but will not be sheltered from the wind as you ride. Windscreens, that attach to your handlebars or the seat itself, offer wind protection without restricting their view. Front child seats either attach to the handlebar stem or to one of the frame tubes of your bike.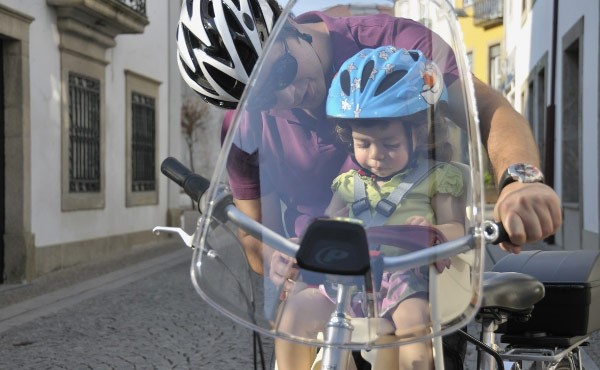 Cycling with a Child Seat
A child seat will change the way your bike rides so it will take some getting used to. Putting your child in a child seat adds weight high up on the bike which changes the balance and will affect the handling. It is a good idea to get used to this extra weight by loading the child seat up with a heavy weight, like a 7-10kg bag of potatoes. Go for a ride to get used to the way the bike feels before you go cycling with your child aboard. It is important to ensure that your child is fully strapped in when you ride. Pay special attention to their feet to make sure there is no danger of little toes going into the spokes of your wheel. While the wrap around design offers some protection, your child will need a properly fitted bike helmet to keep them safe if the bike falls over.
Trailers
Child bike trailers are a great alternative to child seats and offer some distinct advantages. Trailers easily attach to the rear of most bikes and while they add weight, they don't affect the balance of the bike as all the extra weight is supported by the wheels of the trailer itself. While trailers require a bit of care to handle in tight corners, they are generally much easier to cycle with than a bike with a child seat. As bike trailers are fully enclosed they also offer much better protection from the elements. Another advantage of a trailer is, if your bike falls over, the trailer will stay safely upright.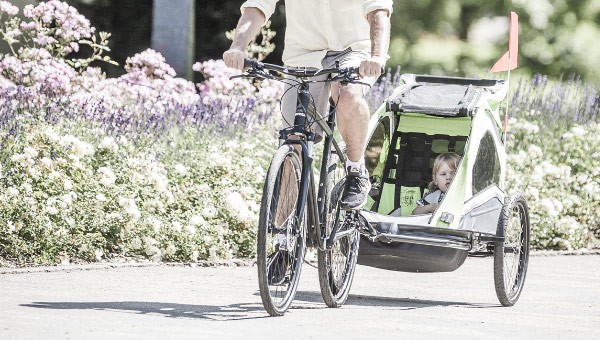 Most child bike trailers have room for two kids, sitting side by side, and have harnesses to keep them securely in place. Some trailers are designed for a single child and these are narrower than the two seaters. Trailers also include some room for luggage so you can cycle unencumbered with the picnic safely stowed in the back of the trailer. When you unhitch the trailer, you can add a front wheel which to make it easier to wheel the trailer about. Bike trailers usually feature a rear handle so, with the front wheel fitted, they can double up as strollers and you can even take them jogging.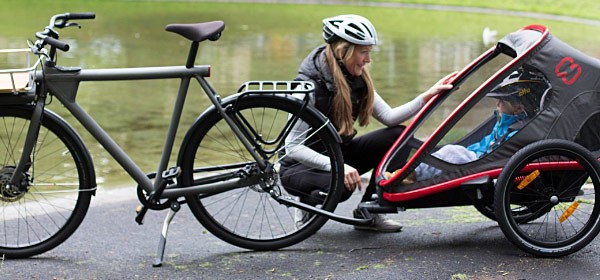 Tag alongs and Cycle Towbars
Tag along bikes
A tag along bike is a kids' bike that exchanges the front wheel and fork for a long towbar that fits to the back of an adult bike. Tag alongs are ideal for children that are too old for a child seat or trailer but aren't old enough, or fit enough, to keep up with you on a cycle ride. Your child can choose to pedal or freewheel on the tag along and will get a real feel of a proper cycle ride without having to put in all the effort. Tag alongs fit easily to the seatpost or rear rack of most road, hybrid and mountain bikes. Some tag alongs come with a splash guard, to minimise spray from the rear wheel of the adult bike, but it is a good idea to fit a full wraparound rear mudguard to the adult bike before cycling on wet roads.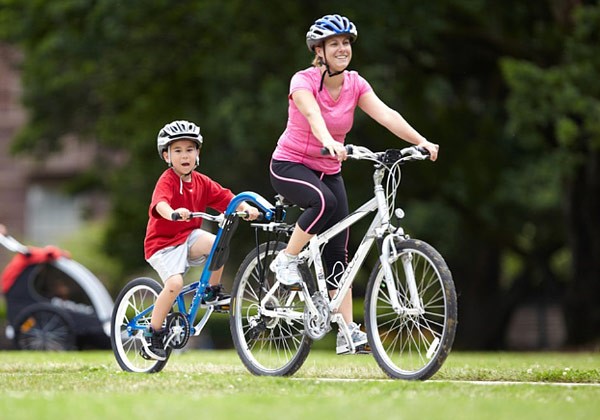 Cycle Towbars
A cycle towbar will allow you to convert your kids bike into a tag-along. The towbar attaches to the seat post of and adults bike and the head tube of the child's bike. When fitted, the towbar lifts the front wheel of the child's bike off the ground and locks the steering. This effectively turns the kid's bike into a tag along so you can cycle further with them. The great thing about towbars is that you can unhitch the child's bike so they can cycle part of the ride independently.